Are you enthusiastic about boosting your mobile game downloads? Look no further – TikTok Playable ads are your ultimate secret weapon. In the fiercely competitive mobile gaming market, getting your game noticed can be a daunting task. Conventional methods like banner and video ads often fall short and burn a hole in your pocket. But fear not, because TikTok Playable ads provide a game-changing solution. What are they, and how can you make the most of them? Find all the answers in this article. Let's dive right in now!
What is TikTok Playable Ads?
Imagine being able to test out a mobile app before deciding to download it. Well, that's precisely what Playable Ads offer. Playable Ads are like your app's sneak peek – they're interactive videos that give users a taste of what your app has to offer before they hit that download button.
In a nutshell, Playable Ads lets users try before they buy – a great way to ensure they know what they're getting.
How do TikTok Playable Ads work?
When you watch a Playable Ad, it's not just a passive viewing experience. You get to dive into a full-screen interactive demo. Try out the app's features by tapping and swiping, and if you like what you see, there's a button to download it instantly. Here are 2 most significant benefits of TikTok Playable ads:
Outperforming Traditional Ad Formats: According to Pangle's data, Playable Ads offer a remarkable boost in both click through rates (CTR) and conversion rates (CVR) when compared to non-Playable Ads.
Efficient Cost Optimization: When it comes to cost efficiency, Playable Ads are the way to go. Pangle's data reveals that Playable Ads consistently deliver a lower cost per result compared to non-Playable Ads.
For app developers and marketers, Playable Ads are a game-changer. It provides an immersive way to showcase your app's capabilities and turn potential users into actual users. These ads work best as video content, making them a dynamic addition to your advertising arsenal.
>>> Learn more: Unfold the top 11 TikTok Video Ideas to captivate your audience
TikTok Playable Ads for Game Ads: Benefits and Features
Benefits
Getting users to download your mobile game is no walk in the park. With traditional ads falling flat, how can you truly engage your audience and boost conversion rates? The answer lies in Playable Ads.
Enhanced Engagement
Playable ads are a hoot to engage with. Users get to roll up their sleeves and dive into your game before deciding to download it. This hands-on experience tends to spark excitement and keeps them hooked. Studies by Pangle show that playable game ads boast an impressive 5x higher click-through rate (CTR) compared to old traditional ads. They're also twice as good at converting users. So, if you want more clicks and downloads, the Playables ad is the way to go!
Improved Game Comprehension
Playable ads help users get the hang of your game and its features even before they hit the download button. This leads to users who know what they're getting into and, when they do download your game, they're usually happier with their choice. Liftoff's research reveals that playable game ads can amp up brand awareness by up to 70% and make users more likely to buy by up to 40%. In a nutshell, Playables ads give users a taste of your game's awesomeness, resulting in happier downloads.
Elevated Conversion Rates
Playable ads aren't just fun; they're serious business when it comes to conversion rates. Users can try out your game before making that download commitment. Appnext's research shows that playable game ads can boost conversion rates by up to 30%. This means more users hitting the download button, which spells out more moolah for you and bigger growth.
Reduced Cost per Install (CPI)
Playable ads are your wallet's best friend. They'll help you get more bang for your buck by reducing the Cost per Install (CPI). Adjust's research indicates that playable game ads can cut your CPI by up to 20%. That means you're paying less for each download, saving you cash on your advertising campaigns, and potentially padding your pockets with more profit.
Features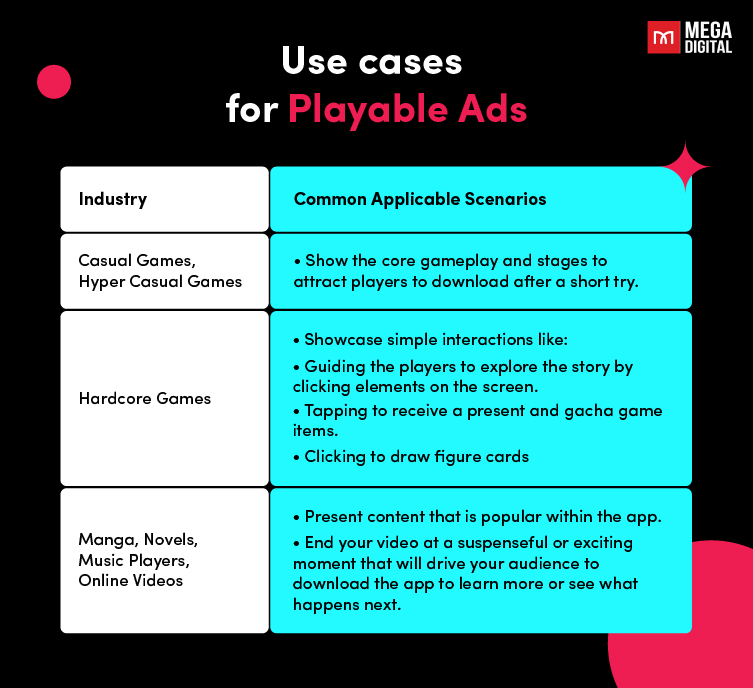 Traditional ads often struggle to captivate users, leaving them uninterested and unengaged. With so many distractions and quick scrolls on various platforms, making an impact is a real challenge. But when Playable Ads come into play, it offer 3 features that can determine the problem:
Full-Screen Interactive Demos: Playable ads immerse users in an interactive full-screen demo of your game.
Tapping and Swiping: Users actively engage with the ad, exploring your game's features by tapping and swiping on the screen.
Download Button: To get the game, users simply click a visible "Download" button. It offers a swift and convenient way to access your game.
These features turn passive viewers into active participants, making Playable Ads an effective and engaging way to promote your game.
How to make TikTok Playable Ads?
Creating interactive ads for your app doesn't have to be complex. TikTok has designed 3 user-friendly tools for you:
Interactive Video Tool
The Interactive Video Tool is like a user-friendly video editor that makes creating interactive content a breeze. You can easily piece together your playable content by dragging and dropping your images and videos into customizable templates. The best part? You don't need any coding skills – it's all done with a few clicks of your mouse.
This tool is perfect if you're not a developer but still want to create interactive content. It's great for simple, engaging interactions, like telling an interactive story or showcasing basic gameplay, such as clicking or dragging elements. Whether you're in a hurry to create fun content or want to show off cool interactive features, the Interactive Video Tool is here to help – no tech skills required
Access the Interactive Video Tool here: https://ads.tiktok.com/powerplayable 
Template Tool
The Template Tool simplifies the process of making interactive ads. It offers pre-made templates that you can customize by changing images, icons, and audio. This tool is great for simple interactive ads that may just involve clicking a button. It's especially helpful if you're new to creating such content and need a quick solution. You can use it to craft interactive ads without needing advanced design skills.
Access the Template Tool here: https://ads.tiktok.com/playtemplate/templates 
Adaptation Tool
The Adaptation Tool is like a conversion wizard. It helps you change your current interactive content into a format that works smoothly on Pangle. Here's why you might find it useful:
File Format Shift: This tool primarily deals with adjusting the type of file you're using. It makes sure your content matches what Pangle needs.
Preserve Your Interactive Elements: Don't worry; it won't mess with the fun, interactive things you've already added to your content. It keeps all those cool features you created.
For Multi-Platform Creators: If you've made interactive ads for other platforms, the Adaptation Tool is your go-to. It makes it easy to adapt your content for Pangle without redoing all the work.
So, in simple terms, it's your helper for making your interactive ads fit and work smoothly on Pangle. It keeps your fun stuff and is super handy if you're already creating ads for other platforms.
Access the Adaptation Tool here: https://ads.tiktok.com/playable_tools 
Tips: For better results, consider breaking down your Playable Ads content into smaller parts and allowing them to download simultaneously at a faster rate. This can help improve loading speed and provide a smoother user experience.
How to set up TikTok Playable Ads?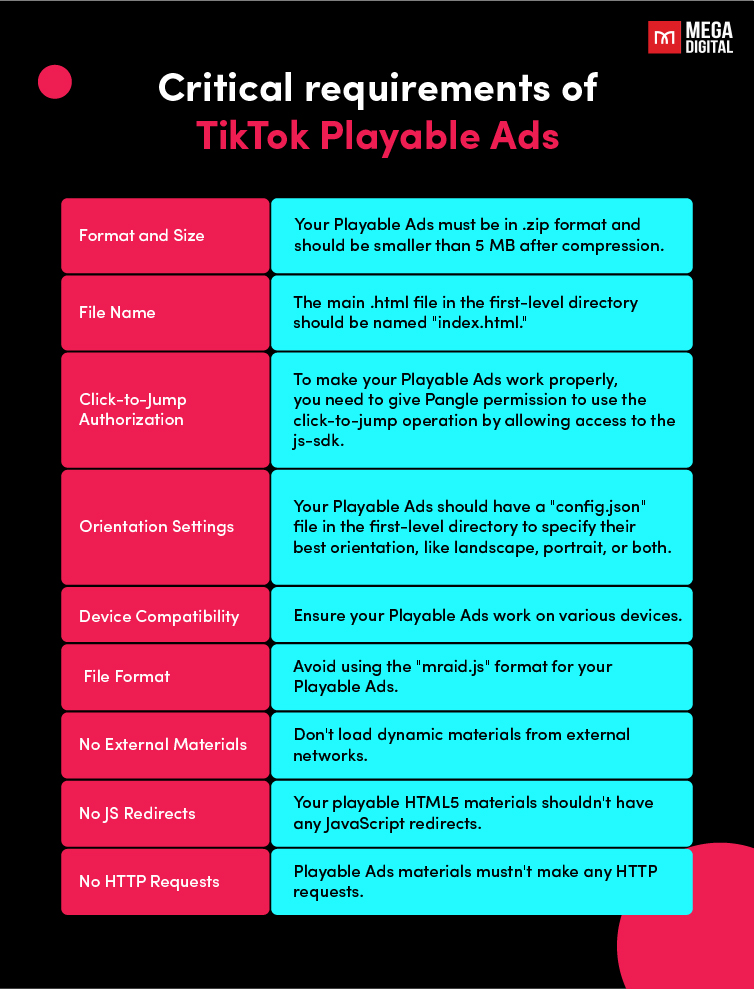 To get your Playable Ads up and running, you'll need to take care of 2 key things:
Upload Playable Creative
Start by logging in to TikTok Ads Manager.
Go to Assets, click on Creative, and choose Playable list.
Hit the Upload button and add your .zip file.
Create Playable Ads

Log in to TikTok Ads Manager.
Begin by creating a new campaign.
Select App Installs as your Advertising Objective.
For Placement, ensure you include Pangle as one of the Placements.
In Targeting, navigate to Demographics, and under Location, choose a market supported by Pangle.
Check Single video under Ad Format.
Then, in the Playable module, click +Add From Library or Add New to add your Playable Materials to the Ad Group.
If you want to create another ad, simply click +Add. This allows you to associate another video ad with your Playable Material.
Note: All ads within an ad group will be linked to a single Playable Material. If you want ads with different Playable Materials, you'll need to create a new Ad Group for them.
One more, to check how well your Playable Ads are doing, follow these steps:
Go to Assets.
Click on Creative.
Select the Playable Ads list.
On this page, you'll find important performance stats for each Playable Ad, like the number of related ads, total cost, CPM (cost per thousand impressions), impressions, clicks, conversions, CTR, CVR, and cost per result.
TikTok Playable Ads Examples
Clash of Clans
This TikTok ad for Clash of Clans lets you test the game before installing it. It starts with a quick video showcasing the game's features like base building and troop training. Then, you can play a demo of the game to try it out. This approach helps users download games they're truly into, making them effective, visually appealing, and attention-grabbing.
Brawl Stars
A TikTok ad for the mobile game "Brawl Stars" shows a video of a player playing the game with friends. The ad is fun and engaging, and it features upbeat music. This ad also includes a button that users can tap to play the game immediately or a link ad that redirects users to the game's landing page.
>>> Learn more: TikTok Game Ads: A Winning Strategy for Boosting Downloads
Mega Digital's Tips to Optimize Playable Ads
TikTok Playable ads is a fantastic way to showcase your game, but not all ads are created equal. A poorly designed ad can turn users away before they even get a taste of your game. To maximize your success with playable ads, you need to ensure they're quick to understand, captivating, and designed to convert. So here are our 4 tips for you before rolling in this marketing game:
Choose the Right Game Genre
Not all games are suitable for playable ads. Simple and quick games like casual and mid-core games work best. Complex games like hardcore or strategy games are not a good fit due to their learning curve.
Target the Right Audience
Show your ads to people interested in your game genre. Use demographic, interest, and behavioral targeting to reach the right audience.
Use Multiple Creatives
Experiment with different elements like videos, images, and text to find what users like the most. This flexibility helps your ad adapt to changing user preferences.
Track and Analyze Results
Keep an eye on metrics like click-through rate (CTR), conversion rate (CVR), and cost per install (CPI). Analyze this data to refine your ad strategy for better results and cost-effectiveness.
Final word
TikTok Playable Ads is not just a trendy advertising method; it's a powerful tool to boost user engagement and drive better results for your brand. If you're considering using Playable Ads to enhance your marketing strategy, don't hesitate, it's a great choice!
Furthermore, TikTok provides a versatile range of 11 ad formats, giving freedom to pick the one that perfectly aligns with their goals. If you're ready to elevate your advertising game on TikTok, grab our TikTok Ad Types eBook today! Get the insights you need to supercharge your campaigns and make the most out of TikTok's dynamic advertising options. Your next big TikTok campaign awaits, so why wait? Dive in now!