With over a billion active users, TikTok is a prime platform for brands and developers to attract potential users to their video games. So, how to make your game a highlight on this platform, spark curiosity in interested users and increase downloads? That's where TikTok game ads can help you! In this post, discover strategies to supercharge your game downloads on TikTok. Get ready for a gaming revolution!
What are TikTok Game Ads?
TikTok game ads include all ad types that fit to brands' objective to promote mobile games. These ads are typically short and visually appealing, and they often feature gameplay footage or user-generated content. TikTok game ads can be targeted to users based on their interests, demographics, and behaviors.
These ads are very effective in promoting mobile games and getting more players. Why? Because it has a powerful driver of results and conversions. According to TikTok's data and a study by Material revealed that:
75% of gamers found out about games they hadn't heard of before on TikTok
41% of people downloaded a game in the first seeing
About 36% of folks ended up buying stuff from the games they played.
26% made a purchase and started playing.
These ads leverage TikTok's platform features, including its user base, targeting options, and interactive capabilities, to drive app installations and boost mobile game sales. Advertisers can measure their campaign's success and refine their strategies to achieve better results over time.
Why you should use TikTok Game Ads?
TikTok is a great platform for mobile gamers
TikTok has over 1 billion active users worldwide, with many of them interested in mobile games. Notably popular with Gen Z users, who account for over 60% of the platform's active users, Gen Z is also the largest generation of gamers.
TikTok game ads are highly customizable
You can target your ads to users based on their interests, demographics, and behaviors. This allows you to reach the people who are most likely to be interested in your game.
For example, you can target your ads to users who have shown an interest in mobile games, or users who have played similar games in the past. You can also target your ads to users based on their age, gender, location, and other factors.
This level of customization allows you to create very targeted ad campaigns that are more likely to convert.
TikTok game ads are interactive
Game ads on TikTok can be interactive, with call-to-action buttons, interactive overlays, and gamified elements to make them more engaging and likely to convert.
For example, you can let users download your game directly from TikTok with a call-to-action button, or play a short demo within the ad with an interactive overlay.
TikTok Game Ads are affordable
TikTok game ads are billed on a cost-per-click (CPC) basis, which means that you only pay when a user clicks on your ad. Plus, TikTok has an average cost of just $1.00 per click, much cheaper than other advertising. Creating ads is easy too, even if you're not an expert, thanks to user-friendly tools that match TikTok's popular content style.
>>> Learn more: TikTok Ads Cost: How Much Should You Budget for Your Campaigns?
| | |
| --- | --- |
| Social Media Platform | Average Advertising Cost (CPC) |
| Facebook | $0.97 per click |
| Instagram | $3.56 per click |
| YouTube | $3.21 per click |
| LinkedIn | $5.26 per click |
| Twitter | $0.38 per click |
| Pinterest | $1.50 per click |
| TikTok | $1.00 per click |
Average CPC for social media ads. Source: Webfx
Overall, TikTok Game Ads are a great way to promote your mobile game. They are effective, affordable, and customizable. By using TikTok Game Ads, you can reach a large and engaged audience of mobile gamers, increase your app installs, direct users to websites, create fun hashtag challenges, or boost your brand awareness.
How to launch a mobile game advertising campaign on TikTok?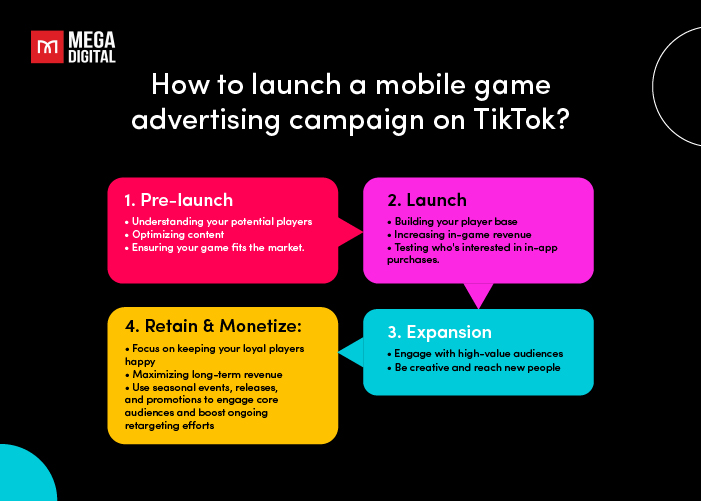 TikTok offers a range of tools to help you at every stage of growing your mobile game. These stages encompass the pre-launch phase, the launch phase, the expansion phase, and the retain & monetize phase, each offering distinct opportunities and challenges.
Pre-launch: At this stage, you're preparing to launch your game or update. It's about understanding your potential players, optimizing content, and ensuring your game fits the market.
Launch: This is when you want more people to download and play your game. It involves building your player base, increasing in-game revenue, and testing who's interested in in-app purchases.
Expansion: Now, it's about standing out and creating lasting connections. Engage with high-value audiences, be creative, and reach new people. Brands that excel here become cultural wonders.
Retain & Monetize: In this phase, you focus on keeping your loyal players happy and maximizing long-term revenue. Use seasonal events, releases, and promotions to engage your core audience and boost ongoing retargeting efforts. In the seasonal events, as you aim to keep your loyal players happy and boost long-term revenue, we have a special resource for you. Our ebook 'TikTok Holiday 2023: How to Drive Engagement and Sales during the Festive Season' is packed with strategies to engage your core audience effectively. Learn how to maintain player satisfaction while enhancing your ongoing retargeting efforts for sustained success.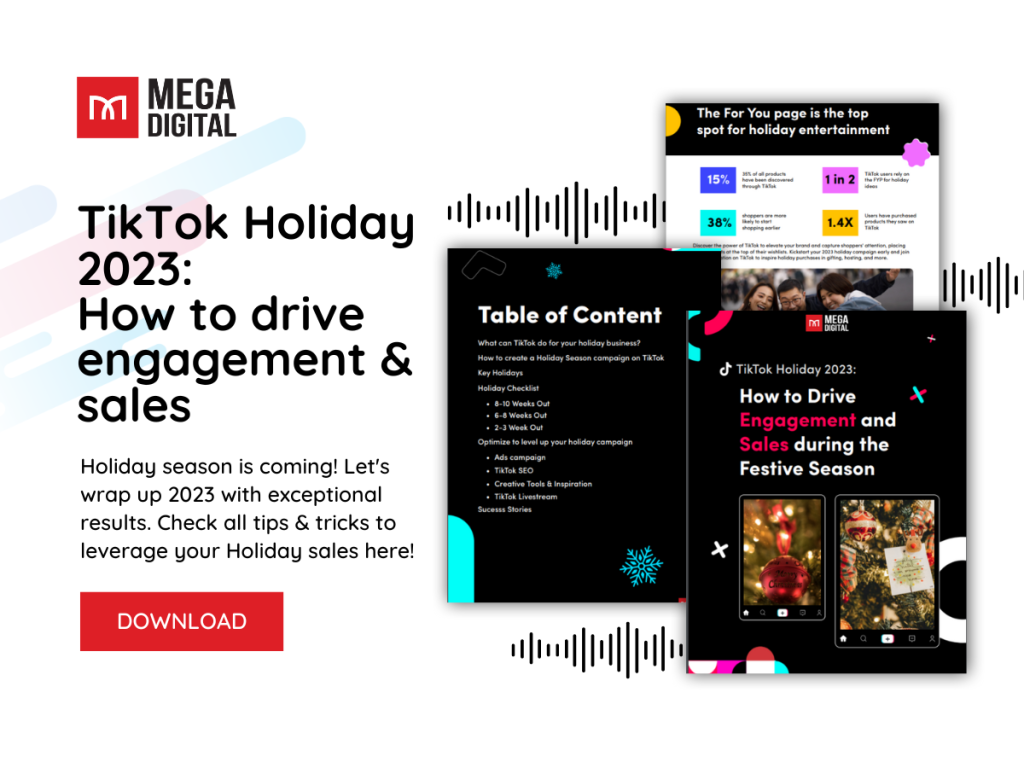 These stages collectively form a comprehensive growth journey, and TikTok's products are designed to support your efforts at every step, ensuring that you can effectively navigate the dynamic mobile gaming landscape and achieve your desired outcomes.
Which TikTok ad solutions fit for the gaming industry?
TikTok Playable Ads
TikTok Playable Ads are a special type of ad on TikTok that lets people try out a mobile game before they decide to download it. These ads are a fantastic fit for the gaming industry, and here's why:
TikTok gamers: TikTok has lots of people who enjoy playing games on their phones, with over 60% of its users falling into this category. So, it's a great place to reach potential gamers.
Super effective: TikTok Playable Ads are really good at getting people to take action. They're about five times better at convincing users to download your game compared to regular mobile ads.
Flexible ads: You can use TikTok Playable Ads to promote any kind of game, no matter if it's a simple puzzle or a complex action game.
Affordable: These ads work on a "pay-per-install" system, which means you only pay when someone actually downloads your game.
In a nutshell, TikTok Playable Ads offer a unique way to engage with gamers and encourage them to give your game a try. They're a perfect match for the gaming world, given their effectiveness, adaptability, and budget-friendly nature.
TikTok Pulse
TikTok Pulse is a premium contextual advertising solution that allows brands to reach users who are already interested in gaming content. Also, TikTok Pulse is placed next to the top 4% of trending gaming content on the For You Page, which means that they are seen by users who are more likely to be interested in what the brand has to offer.
Also, this ad type is highly visible and engaging. They are placed in a prominent position on the For You page, which means that they are more likely to be seen by users. If you are a gaming brand, the TikTok Pulse program is a great ad solution to consider. By using it you can reach your target audience more effectively and achieve your business goals.
Spark Ads
Spark Ads helps game advertisers reach a wider audience by promoting their organic TikTok content as ads. This allows you to leverage content that your audience is already familiar with to promote your games.
Look at Genshin's example, you could use a popular TikTok video showing a gamer's enthusiastic reaction to your game. This engages users who resonate with such content.
TikTok Instant Page
TikTok Instant Pages are landing pages that are hosted directly on TikTok. They are designed to load quickly and provide a seamless user experience. This makes them ideal for the gaming industry, where users are accustomed to fast-paced gameplay and expect a mobile-first experience. Here are some of the benefits of using TikTok Instant Pages for gaming ad campaigns:
Speed: TikTok Instant Pages load up to 11 times faster than traditional landing pages.
Seamless user experience: Users can stay on TikTok and complete their desired action, such as downloading a game or making a purchase, without having to leave the app.
Mobile-first design: TikTok Instant Pages are designed for mobile devices, where the majority of users play games.
Here are some examples of how gaming brands can use TikTok Instant Pages to promote their games:
A mobile game developer can use TikTok Instant Pages to launch a new game. These pages provide game details, screenshots, and a trailer, allowing users to download the game on TikTok.
A gaming console manufacturer can also utilize TikTok Instant Pages to promote new consoles or accessories. Users can get product info, images, and see a demo, with the option to pre-order directly on TikTok.
For gaming streaming platforms, TikTok Instant Pages are handy for promoting shows or tournaments. Users can access info, trailers, and even sign up for a free trial of the platform without leaving TikTok.
If you are a gaming brand, TikTok Instant Pages is a great ad solution to consider. By using TikTok Instant Pages, you can reach your target audience more effectively and achieve your business goals.
App Event Optimization (AEO)
App Event Optimization (AEO) is a powerful TikTok ad solution that can help you grow your gaming business. AEO allows you to target users who are most likely to perform specific actions in your app, such as making a purchase, completing a level, or signing up for an account. Here are 3 ways to use AEO to grow your gaming business on TikTok:
Target users who are most likely to make a purchase
Target users who are most likely to complete a level
Target users who are most likely to sign up for an account
To use AEO on TikTok, simply select the app event that you want to optimize for and TikTok will use its machine learning algorithm to identify users who are most likely to perform that event. TikTok will then show ads to these users.
Campaign Budget Optimization (CBO)
Campaign Budget Optimization (CBO) is a TikTok ad solution that allows advertisers to set a budget for their campaign and let TikTok allocate the budget across ad sets based on where it is most likely to drive results. This can be a great ad solution for the gaming industry on TikTok because it allows advertisers to focus on creating high-quality ad creative and targeting the right audience, without having to worry about managing individual ad set budgets. Here are some of the benefits of using CBO for TikTok ad campaigns in the gaming industry:
Improved efficiency: CBO can save you a lot of time and effort by automating the budget allocation process.
Better results: CBO can help you achieve better results from your TikTok ad campaigns by allocating your budget to the ad sets that are performing the best.
Greater flexibility: CBO gives you more flexibility in how you manage your budget.
Overall, all 5 of these TikTok ad types can be effective for game advertisers. The best ad type for you will depend on your specific goals and budget. It is important to note that the effectiveness of TikTok ads for game advertising can vary depending on the game itself and the target audience. However, TikTok ads are still a very effective way for game advertisers to reach their target audience and to generate downloads.
5 best practices to launch mobile game ads on TikTok
Leveraging TikTok's immense potential for app marketing needs creating a compelling ad that entices users to download and engage with your game. Here are some key considerations when crafting a TikTok ad for your mobile game:
# 1: Find Your TikTok Vibe
Start by discovering your TikTok personality. Think about what aspects of your game resonate with TikTok culture. Create a unique character or vibe for your brand that stays consistent across your TikTok content. Let's take a look at the adorable vibe culture of @amongus:
# 2: Get Creative with Content Ideas
Now that you've set the tone, it's time to brainstorm fun content ideas. Think about how you can use your game's elements, and company assets, and even join trending TikTok challenges. Share exciting game updates, give a sneak peek behind the scenes, and keep an eye on what's hot in the TikTok community.
>>> Learn more: Unfold the top 11 TikTok Video Ideas to captivate your audience
# 3: Plan Your Posting Schedule
To keep the TikTok party going, create a content calendar. Decide how often you'll post—whether it's occasional big announcements, regular promotions, or daily engagement with trends and subcultures. Consider using handy tools to help you schedule your posts efficiently.
# 4: Boost Interaction and Fun
The heart of TikTok is interaction! Join the conversations in the comments, and don't forget to sprinkle your videos with friendly calls to action. Ask your viewers questions, encourage them to comment, or even invite them to join your videos through Duets or Stitches. Let's make TikTok a two-way street of fun and engagement!
# 5: Mix Organic and Paid Strategies
Balance your organic charm with a sprinkle of paid magic. Use Spark Ads to give a boost to your already successful organic content. When it's time to level up, consider paid solutions like Branded Effect and Branded Hashtag Challenge to reach a wider audience and achieve your marketing goals.
Case studies of game brands on TikTok
Axlebolt
Objective:
Axlebolt, a mobile game developer, aimed to promote its game, Standoff 2, and its seasonal in-app updates in Turkey and Brazil by leveraging TikTok's gaming community.

Solution:
Teaser Stage: Axlebolt created a teaser campaign to build anticipation for the update. They used TikTok's Reach & Frequency buying to target males aged 18+.
Announcement Stage: TopView and Top Feed placements were used to announce the update and boost awareness of Standoff 2 upon app launch.
Performance Stage: Axlebolt focused on driving game installs and in-app purchases. They used App Event Optimization (AEO) to target engaged users and utilized Spark Ads with over 20 creators to showcase their preparations for the update.
Results:
Cost per unique purchase decreased by 24%.
The conversion rate for app installs increased by 15%.
The 6-second view-through rate for Spark Ads was 3 times higher than non-Spark Ads campaigns.
Ad recall was 21% higher than the market average, benefiting brand building.
In summary, Axlebolt's campaign achieved its goals through a full-funnel approach on TikTok, demonstrating the effectiveness of this strategy.
LoadComplete
Objective:
LoadComplete, a Korean mobile games developer, aimed to increase ROAS and in-app purchases for its game "Legend of Slime" among mobile gamers in Canada and the US.
Solution:
Partnership with Adjust: LoadComplete collaborated with TikTok Measurement Partner, Adjust, to create an iOS14 Dedicated Campaign.
App Event Optimization (AEO): LoadComplete optimized the campaign for in-app purchases on TikTok, utilizing high-intent actions from the App Profile Page for efficient performance.
Broad Targeting and Lowest-Cost Bidding: To maximize conversions, LoadComplete employed broad targeting and lowest-cost bidding strategies.
Customized App Profile Page: LoadComplete customized elements on the App Profile Page to highlight game ratings, number of ratings, and the free price to build credibility. They also included a clear CTA "Play" to drive immediate actions.
Results:
LoadComplete achieved a 51% increase in conversion rates.
Cost per acquisition decreased by 6%, and cost per app install decreased by 8.3%.
LoadComplete's partnership with Adjust and TikTok, along with strategic optimizations, led to improved campaign performance and cost efficiency.
In conclusion
Launching a game ad on TikTok is a smart move. With its massive and youthful user base, global reach, and proven effectiveness in driving game discovery and engagement, TikTok game ads offer a unique opportunity for mobile game marketers. By following best practices and leveraging TikTok's advertising features, you can level up your game's visibility and success in the competitive mobile gaming landscape. So, don't miss out on the TikTok advantage—get ready to launch your game ad and achieve mobile gaming triumph!
Unlock the full potential of TikTok game advertising with Mega Digital. Don't navigate the TikTok gaming landscape alone. Our expert team knows the ins and outs of TikTok advertising and can help you maximize your game's reach and impact. Elevate your game advertising today with Mega Digital by your side.