With over 1 billion monthly active users, TikTok is the hottest social e-commerce platform that can drive purchase demand through a diversity of videos. Therefore, every seller and brand should seize this mega sale opportunity to boost last-season deals through Black Friday on TikTok. So, let's take note of these 7 tips to build buzz for your Black Friday deals!
Why is TikTok important for Black Friday Sales?
The diversity and relevancy of the content available on TikTok are major factors in its popularity among teenagers and young adults. 42% of TikTok users say they use the app to find new things, and 30% keep up with the newest products and trends. As a result, TikTok serves as a fantastic marketing tool for both large and small companies looking to launch new products and services or promote special deals like Black Friday.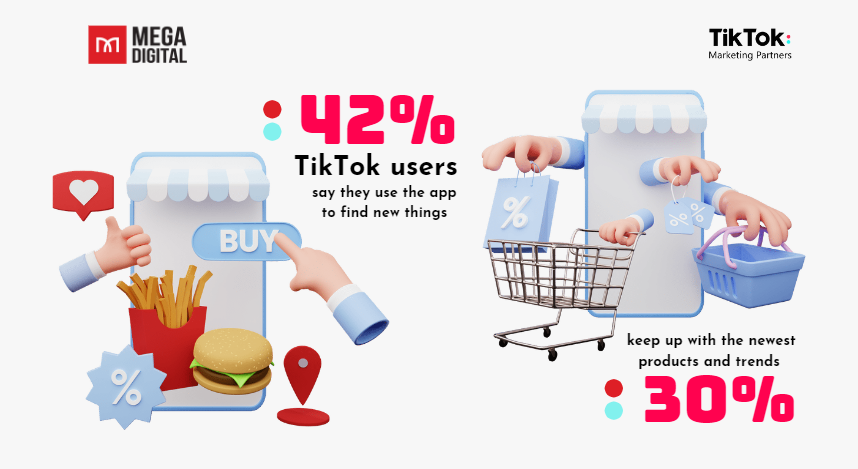 The user base is another factor that makes it a good choice for Black Friday marketing on TikTok. More than 60% of users on TikTok are from Generation Z. As members of the "digital native" generation, they are sharp at discovering products. According to 61% of Gen Z, discounts and coupons can motivate them to try a new product.
Another benefit is that TikTok makes it simple for consumers to share their favorite purchases. UGC is ideal for building trust, which will lead to an increase in sales. Your revenues could soar if you successfully market to your original TikTok audience.
For the above-mentioned reasons, TikTok is the perfect fit for your brands to start promoting deals and coupons for this Black Friday Sale Season.
8 tips to stay on top with Black Friday on TikTok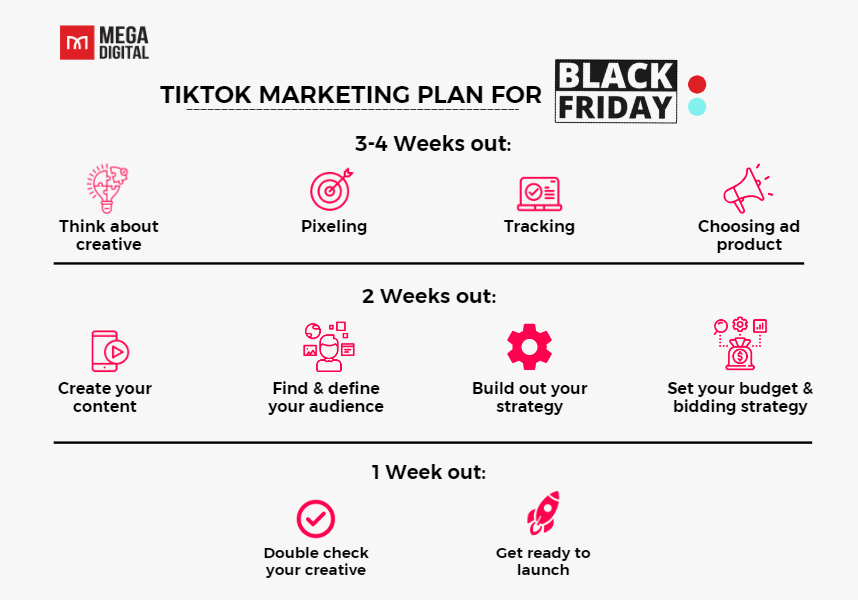 So, how to get started with the Black Friday campaign on TikTok? What should you do first? Thankfully, TikTok has many functions optimized for selling and marketing products on its platform. You could check out some of our advice for TikTok marketing tips and best ad examples to operate on TikTok all year around. Or get all these 7 tips to boost your TikTok sales in the Black Friday season!
#1 Use the Black Friday hashtag for your caption
Hashtag is one of the most influential factors that work so well on TikTok. It is somewhat like the Google Search system which shows users the content if they actively search or follow relevant hashtags on TikTok. Therefore, containing Black Friday's hashtags in the caption will get your videos the high-quality users that have engaged with a specific objective in mind.
By positioning yourself in the path of these active users, you can trick the TikTok algorithm into considering your video to be highly engaging, which will get you more viewers. The key to do right now is choosing the ideal hashtag. Make sure your hashtag includes fitting terms and is simple to find. You can combine both short-tail and long-tail keywords to target as many customers as possible.
Example: Use #BlackFridayDeals (1.2B views) to promote products to viewers who are interested in purchasing deals. And utilizing the 60.2 million viewers of #makeupdeals to cater to users that enjoy shopping for cosmetics.
Mega Digital suggests some specific hashtags that have large followings and are perfect for sales on Black Friday: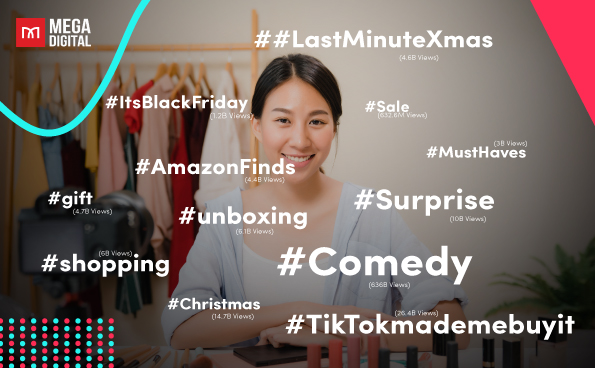 #2 Offer privileged purchase options and discount vouchers
TikTok campaigns for Black Friday are a terrific way to gift your audiences with discounts and coupons. By establishing exclusivity for your TikTok audience, you may boost that perceived value. Give special early access to deals to your TikTok audience as a reward for completing challenges or doing additional tasks.
Include a discount code in your video and caption, such as "TikTok20%Off". Tracking this can help you determine where your sales are coming from and also interact with your users.
Example: Walmart with the #DealDropDance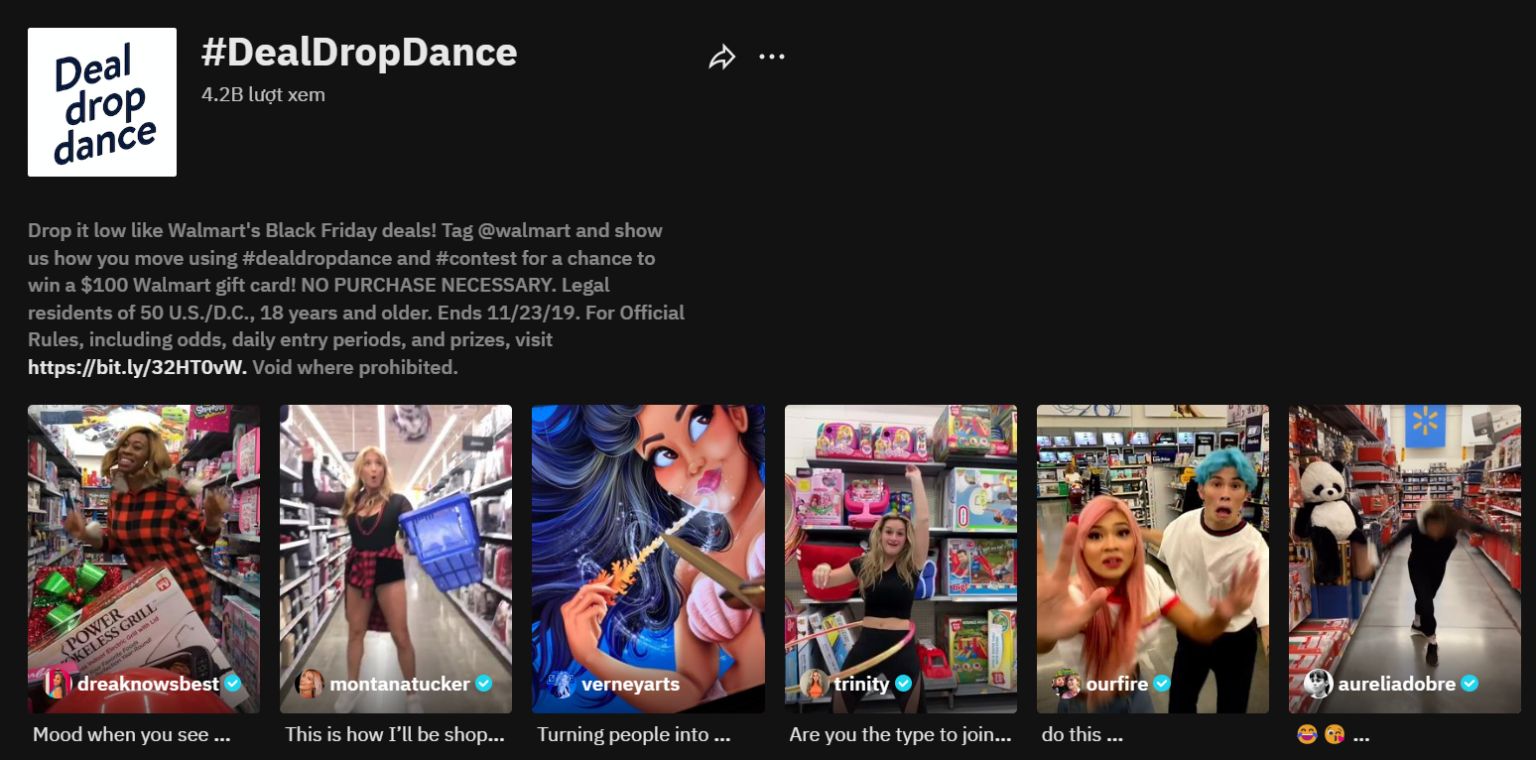 The #DealDropDance hashtag challenge has raised enthusiasm for Walmart's Black Friday special offers. For a chance to win a $100 Walmart gift card, users were encouraged to post a video using the hashtag #DealDropDance, which generated over 2B hits in less than a week, while the content received more than 700M total impressions.
#3 Make use of UGC for Black Friday
Nothing is more effective and influential than UGC content on TikTok. That's because 92% of customers are looking for reviews and recommendations from existing customers. Moreover, 87% of brands are using UGC to share authentic content with their consumers. Promoting participation in contests and giveaways is an excellent approach to getting UGC for Black Friday. If you collaborate with an influencer to spread the word, it will have even more of an impact.
Don't get too immersed in promoting your deals and coupons while forgetting that TikTok is a content playground for users. There are some popular types of content that you can apply to your videos in the Black Friday season like shopping hauls, tips & tricks, Q&A, before & after, etc. Haul videos, for example, where a favorite creator gives product comparisons and breakdowns, can help audiences feel more confident in their purchase decisions.
Including giveaways in your videos is also a great way to attract customers. A nice prize plus an interesting competition form is the core of a successful selling trick. Ensure that your award is something for which participants will want to compete. Your audience can take part in the activity by filling out a form or by tagging others.
#4 Stay updated and catch the trends
Black Friday in 2022 is nowhere similar to 2023's Black Friday; therefore, it is necessary that you should make new and updated content tailored only for this season. Catching TikTok trends is a superb method to guarantee that your content is always fresh. TikTok has a Discovery section that includes all the happening trends with hashtags and sounds. Use popular hashtags or include popular sounds in your TikTok video or even create your own original sound to stay unique.
>>> Read more: How to Go Viral on TikTok: 17 tips to get a Million views
#5 Work with KOC/KOL/influencers
Working with influencers can help you to track down both UGC content and going viral objectives. TikTok influencers always have a loyal fanbase ready to buy the products that they recommended. And they also know exactly what to do to make it out on the trending sections. For instance, brands can cooperate with influencers to make a shopping haul list including all items and deals for audiences who interact with the video.
The key factor in this campaign is how to choose the most suitable influencer. You can make use of TikTok Creator Marketplace and remember to choose the influencers that connect with the audience in your niche to target the most out of them.
Example: To promote its Black Friday sale, Ulta Beauty hired TikTok star @mikaylanogueira, who has 14.6 million followers, to produce make-up content like tutorials and product demos.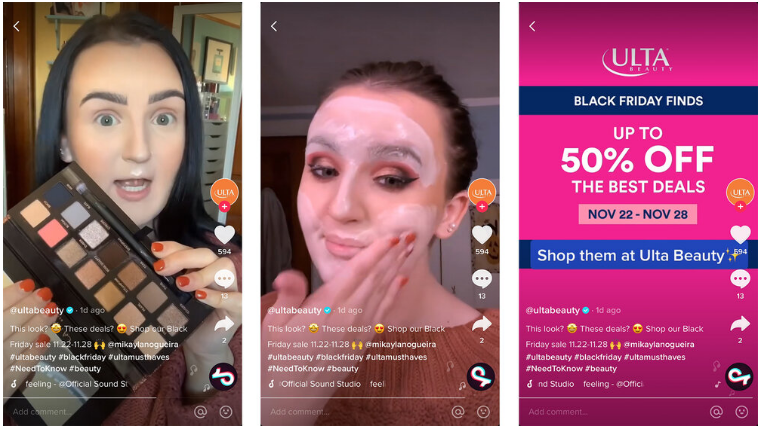 #6 Utilize the built-in shopping features of Tiktok.
The long-awaited in-app purchasing function of TikTok has now been smoothly linked with Shopify, allowing users to purchase items featured in the videos they watch. This feature facilitates the process of turning interest into conversion. E-commerce sellers are all aware that the fewer barriers buyers face before making a purchase, the more likely it turns to sales.
Even if your Black Friday sale offers a great deal, there's a potential that many consumers won't hesitate to skip it because they're not yet ready to leave TikTok. This Shopify integration is major news since it allows all those users to access your deals while still on TikTok. In addition to labeling products in videos, brands can design a small storefront where users can make purchases.
#7 Get worldwide with TikTok Ads
The greatest method to make sure that your brand's videos are included in the daily stream of diverse material that the global audience watches is through TikTok ads. Got a game or shopping app to promote? Run In-Feed Ads that show up alongside other native content in a user's personal feed to create awareness and drive app downloads. Or advertise your brand's amazing Black Friday deals with TopView Ad and capture 100% of every user's attention the moment they open TikTok this Black Friday.
>>> Read more: How to triple your sales with TikTok ads for e-commerce!
#8 Boost Your Visibility with TikTok SEO
TikTok has become the go-to search engine for Gen Z, even surpassing Google's popularity when it comes to discovering content. As Black Friday interest starts weeks before the date, businesses must leverage TikTok's search capabilities.
TikTok's search engine is advanced and looks at keywords in captions, as well as text within videos, words spoken aloud, hashtags, and bio text. To enhance your presence, focus on using relevant Black Friday keywords, especially those related to your products.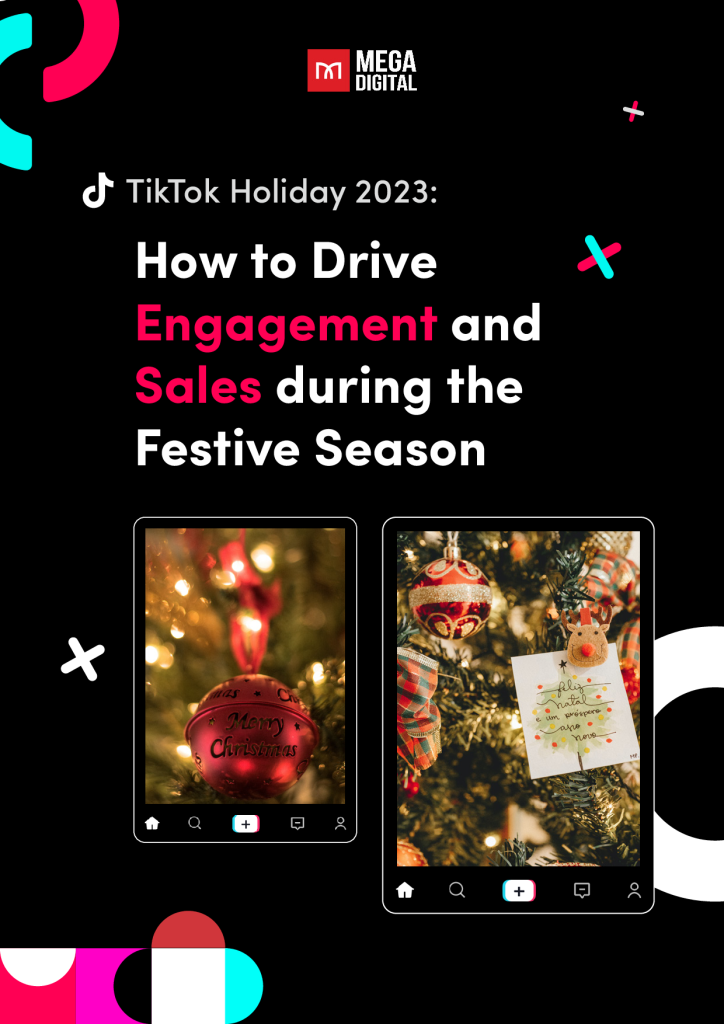 However, TikTok SEO isn't just about keywords. Understand your audience and prioritize creating entertaining TikTok videos. Avoid keyword stuffing and strike a balance that resonates with Gen Z shoppers.
>> Read more: TikTok SEO Techniques: How to Dominate the TikTok Algorithm?
Top 5 TikTok Trends for Black Friday 2023
TikTok is fast-paced, making pre-planning content a bit of a headache. Missing the timing of a trend can be pretty obvious and awkward. For swiftly rising trends, the key is to hop on them promptly. As you spend more time on the platform, you'll grasp which short-lived trends have staying power. If you're not yet a TikTok expert, no worries. We've compiled proven formulas that consistently work. These trends revolve around crafting a hook that grabs users' attention and halts their scrolling.
Black Friday Hauls
Craft a video of a shopping spree, either online or in your physical stores. Transition to showcasing the haul of new goodies. Detail the discounts, bundles, and special offers.
Hashtags to consider: #blackfridaydeals #blackfriday2023 #haul #christmashaul #shoppinghaul
Must-Know Deals
Curate a video spotlighting your brand's enticing deals. For an extra touch of authenticity, highlight complementary offers from your collaborative partners. Let's build that sense of community! And don't forget to make your ads appealing with TikTok interactive add-ons for superior placement for promotions.
Hashtags to consider: #blackfriday2023 #blackfridaydeals #christmasgiftideas #giftguide2023
Unboxing Adventures
Especially effective if it's "oddly satisfying" or ASMR-inspired. Mention that the product was snagged during a Black Friday deal.
Hashtags to consider: #unboxing #blackfriday2023 #ASMR
Get Ready With Me (GRWM)
Make Black Friday a part of your "Get Ready With Me" routine with a "GRWM: Black Friday edition." Display your array of Black Friday deals, mixing them with non-sale items or going all-out on sale items. Whether it's clothing, makeup, beauty, or accessories—flex your creativity!
Hashtags to consider: #outfit #winter (or relevant season) #grwm
Join Me on a Shopping Spree
For brick-and-mortar stores, give viewers a virtual shopping experience. Begin with a time-lapse of your journey from the street to your store. Slow down as you explore and pick up products and deals. Showcase the process of adding items to your basket while highlighting in-store attractions.
Hashtags to consider: #comeshopwithme #mallshopping #shoppingaddict
FAQs
What's the best way to announce Black Friday sales?
Utilize multiple channels like email, chatbots, targeted ads, social media, notifications, SMS, and word-of-mouth marketing. Personalize your messaging by segmenting email lists and sending tailored offers to pique customer interest.
When should I start promoting Black Friday sales?
Begin emailing ahead of time, especially if you're launching early deals in September or October. Prepare your audience mentally and set the buying mood in advance. However, the emails right before Black Friday are pivotal. Sustain the momentum through Small Business Saturday and Cyber Monday by sending promotional emails.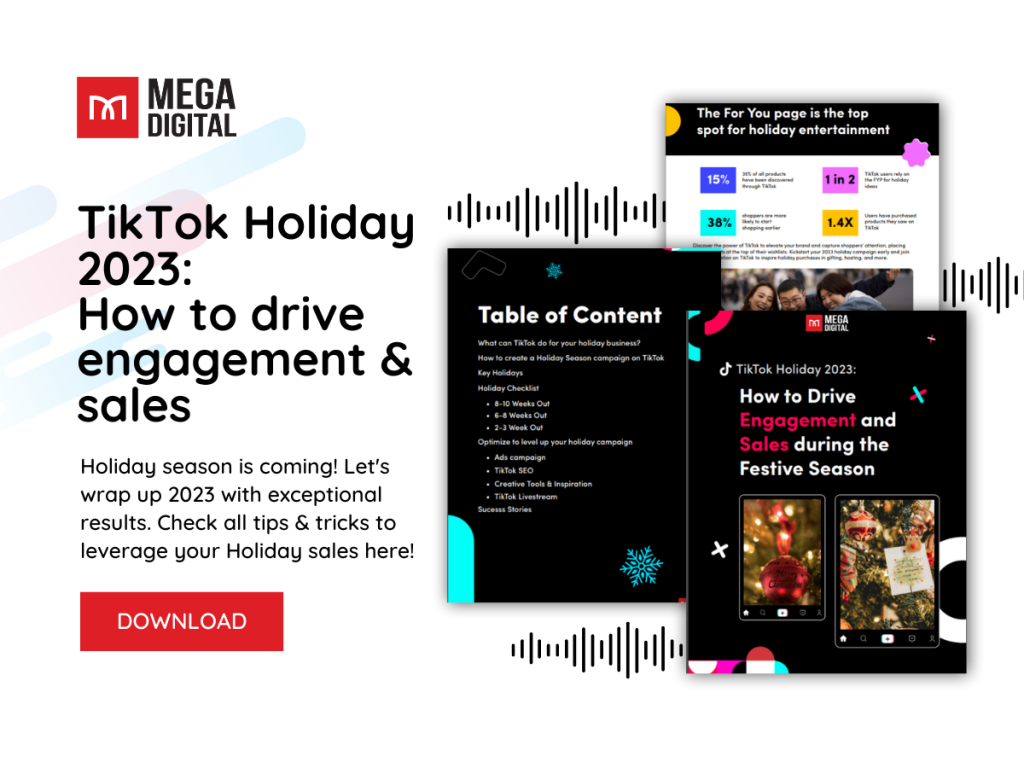 Black Friday TikTok is easy!
TikTok is a fantastic platform for engaging with users and igniting their passion for your brand. Black Friday and TikTok are the ideal combinations to gain attention and entice customers with fantastic discounts. By doing this, you can break through the clutter during this hectic time and establish a genuine connection—for Cyber Monday and beyond.
Don't miss the opportunity, to save time and promote your products quickly for your mega sales this year, contact Mega Digital now!