TikTok is often referred to as an effective tool that helps many unknown brands become popular easily. However, if you tried many ways but still failed to making your business attractive on this social platform, it was highly likely because you were unaware of the following 13 secret TikTok Marketing Tips. Let's check out what are they!
1. Make use of the existing trends
The TikTok algorithm prioritizes content based on popularity and views. Marketing teams should therefore use trending hashtags and memes to develop relevant content that appeals to their target audience. TikTok, unlike other social media networks, requires your crew to be involved in order to keep up with the current trends.
This platform's users will look for material with hot hashtags, which can help introduce your business to a new audience. Leveraging existing trends might help you expand your ideas and tap into information that you already know attracts viewers.
Look for trending hashtags in your niche, then like or comment on the videos you find. The For You Page (FYP) will change to display more trending videos in this category. Evaluate what you see and respond quickly so you don't get lost in the crowd.
Best practice: The #tiktokmademebuyit had been an incredible opportunity for brands to attract billions of views and also drive sales for brands. Early in 2021, the most-searched term on Amazon was "TikTok leggings," which referred to a pair of pants featured in viral TikTok using this hashtag.
2. Find your audience and niche
Understanding your target market is essential for any marketing strategy, especially for TikTok. Understanding your target audience is half the battle when it comes to TikTok marketing. You need to understand your customers' touch points and insights to produce customized content.
Keep your audience engaged by identifying relevant material that corresponds to what they are interested in their everyday life.
Best practice: Many cosmetics brands do excellent jobs at finding targeted customers and customizing videos to fit their niches like Fenty Beauty, Kylie Cosmetics, and Bobby Brown Cosmetics,…
3. Create user-generated content
One of the most important TikTok marketing tips is using user-generated content for your channel. If you're a brand or business, you should encourage your community to contribute videos of themselves utilizing your products, services, or challenges you've created.
This type of content has a far higher engagement rate than brand-generated content and will raise brand awareness without the need to promote.

Best practice: Converse has used UGC content to challenge fans to make content with the hashtag #ConverseAllStar. This challenge gave the Converse community the opportunity to be as creative and unique as possible. On TikTok, the hashtag has received over 191 million views to date.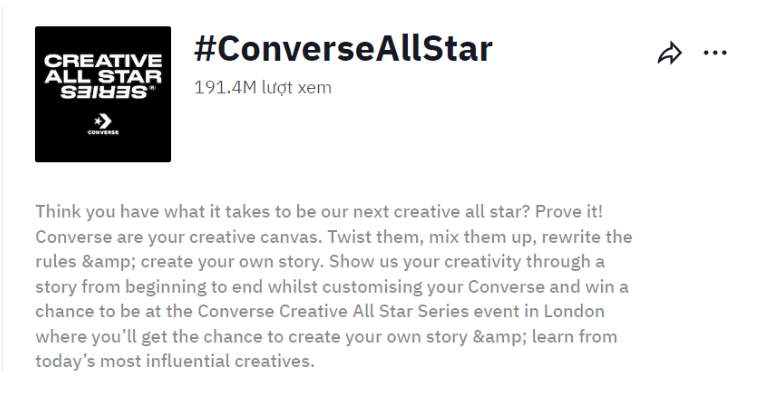 4. Make your beginning attention-grabbing
TikTok is a short-form video app in that the average length of videos is approximately between 30 seconds and 45 seconds. In such a short amount of time, you need to create a banging introduction to make people interested and want to watch your video.
So, get right to the point – don't tease your audience or keep them waiting for 10 seconds before delivering the value, humor, or motivation. Outline your TikTok movies such that they are concise and valuable from the first second to the last.
Best practice:
5. Boost your brand identity
Keeping your business identity in mind is one of the essential TikTok marketing tips to generate amazing content. When you maintain brand consistency on TikTok, you make it easier for viewers to remember your company later.
Make sure to showcase what makes your brand distinctive on TikTok in order to deliver more value to your engaged audience while also aligning with what they already know about your company.
Best practice: Try to take Duolingo as one of TikTok's creative best practices in this segment. They have done an amazing job in identifying their brand while interacting with audiences.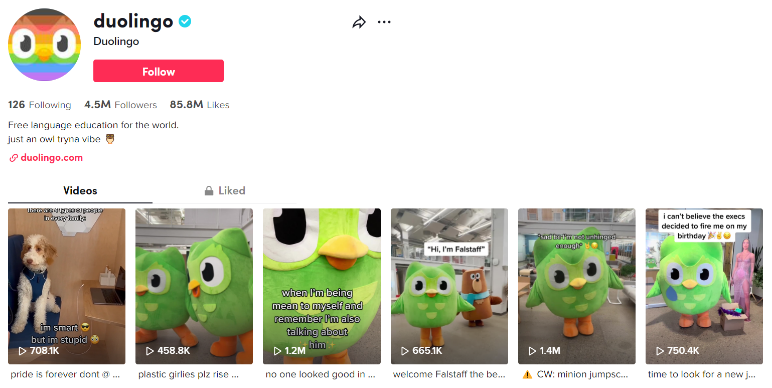 6. Share stories and funny educational content
There are numerous types of TikTok you might make, but if you're seeking specific ideas, focus on telling a story and offering instructional content. You receive extra points if you can bring a fun twist to the value and education. Cause, after all, people turn to TikTok as a means of entertainment, if you can capture their attention, you will absolutely go viral.
Travel, fashion, interiors, and culinary brands are all ideally suited to providing tutorial-style material, but even other industries like automobile, technology, etc are also successfully employing this method.
Best practice:
7. Work with KOLs/influencers
In addition to using user-generated content, you can take your TikTok marketing to the next level by collaborating with TikTok influencers. If you don't have the funds for a paid endorsement from an influencer, you can still use them for video ideas.
TikTok influencers are usually on top of the current trends, or even setting them, so follow a few to stay up to date on what's happening in the app.
Best practice:
8. Keep an eye on your competitors
Coming up with ideas can become your toughest challenge as you publish more material. Your competitors may be using different types of marketing videos than you had imagined, and this might help you decide what to do or not do.
Check to see who is following your competitors. Your competitors' TikTok followers are likely to be comparable to your own, and you can explore those pages to uncover new ways to communicate with your audience.
9. Take advantage of cross-promotion
Why not combine all these popular social media for your brand? It's a good idea to cross-promote your TikTok content to other social channels, especially if you already have a following on those sites. Crossposting will improve awareness of your TikTok account, enhance engagement, and develop your TikTok following.
Best practice: Jasmine Star – a business strategist and Instagram influencer, excels at cross-promoting between TikTok and her Instagram. She does not remove the TikTok watermark from her videos, so Instagram users can see her TikTok username and easily discover her there.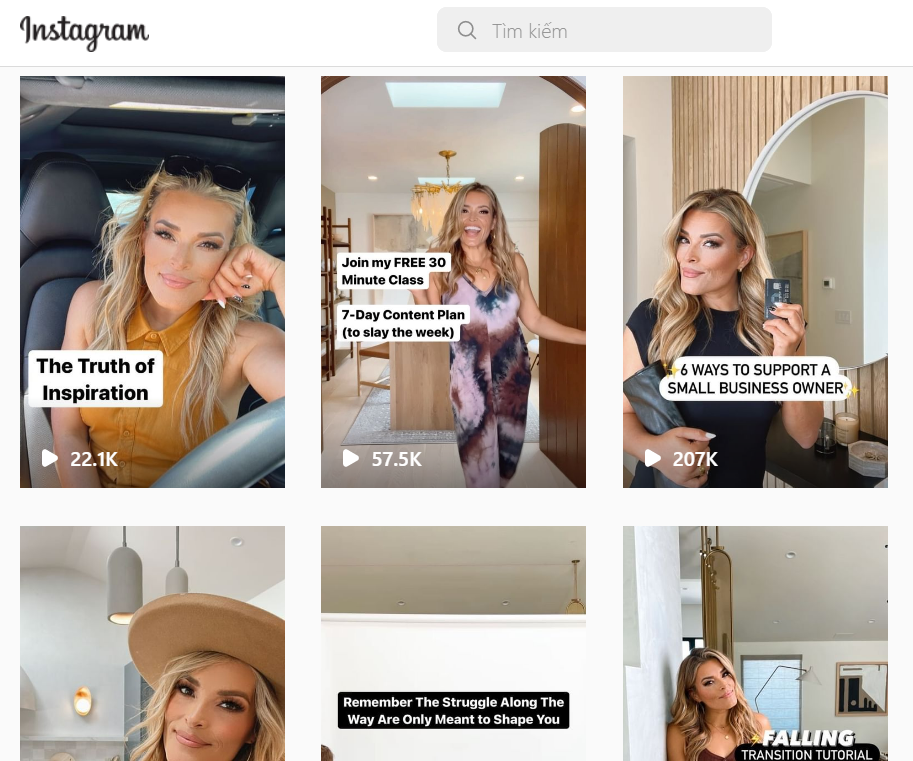 10. Post frequently
Because TikTok is such a popular platform, the more posts you make, the better! Every day, millions of films are posted; try to keep yourself occupied and post on a regular basis, or else you'll be lost in the crowd.
Maintaining brand consistency will be easier if you stick to a publishing schedule. Moreover, posting regularly will help maintain interaction with a certain number of users who are already familiar with your channel's timetable or available on TikTok at that same time every day. So, choose the best time to post on TikTok that fits your viewers' schedule for a higher engagement rate.
Best practice: Hero Cosmetics used TikTok in its 'Get Ready with Me' campaign last year, with 20 creators showing their morning procedures and posting them regularly. The campaign was a huge success, reaching 4.3 million users and earning a 12 percent engagement rate
11. Monitor your analytics
No social media strategy is complete without statistics to tell your success story. One important TikTok marketing tip to remember is that your videos should be trackable.
Keep an eye on your TikTok Analytics and set a target for each TikTok marketing video. You can toggle between Overview, Content, and Followers to gain a better picture of your performance over the last 7 and 28 days, as well as which of your videos trended the most during this time. Try publishing several times of day to see which day and hour works best for your brand or the time when your audiences are most available. There are also numerous ways to help you determine the optimal times to post on TikTok.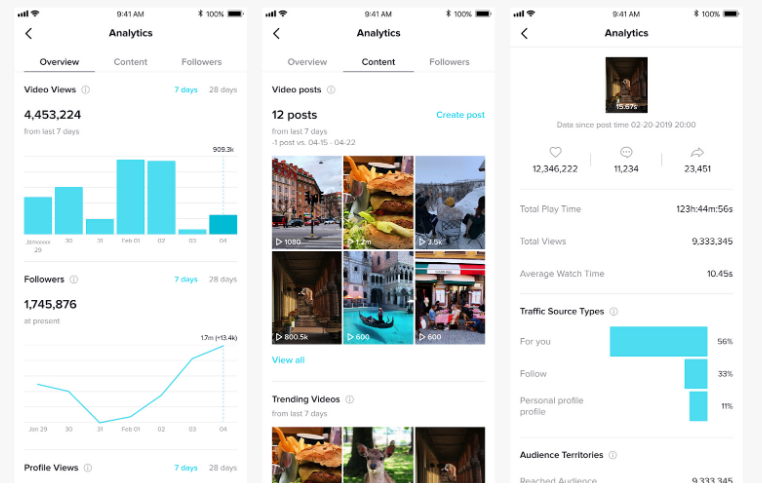 12. Scale up with TikTok Ads
You can't leave out TikTok Ads as a tip for your TikTok Marketing Strategy. TikTok ads are an excellent way to promote brand awareness, leads, and revenue for your company.
If you want to scale up your business as fast as possible, consider using TikTok ads agency accounts which are distributed by Mega Digital. With the complete function of every format and targeting options, agency accounts give businesses a chance to promote themselves to the fullest while directing ads to the right customers. There are best practices to show you how magnificent your campaign gonna be with TikTok ads. So, make sure not to leave this out when you start planning.
Best practice: Little Caesars used Spark Ads to amplify content from 13 different producers for their #GoCrazy campaign.
13. Collaborate with TikTok Marketing Agency
One of the most impactful options to up-level your brand on TikTok is partnering with marketing agencies. There are now many TikTok Marketing agencies that support clients and businesses in building and planning campaigns to promote products and services.
We offer our list of top best marketing agencies for you to choose your perfect partner. Or, easier, we – Mega Digital are just one call away. As an official TikTok agency, we will give our customers the best service possible.
Final Word
Now that you have embraced the 13 secret TikTok Marketing tips, it is important that you combine them properly and develop them into a full complete strategy. Supposedly you face difficulties in coming up with ideas to shape an effective TikTok marketing strategy for your brand; check out the following article.