Since TikTok was released in 2016, many companies and brands have got great success on this platform. While some stumble into fame by chance, most must depend on a skillful TikTok Marketing Strategy. Therefore, having an organized strategy can be the key to dominating this social media of 3 billion users. With this article, as a TikTok agency, Mega Digital will give you comprehensive instruction.
What is TikTok Marketing?

TikTok Marketing is simply an aspect of business or individual aimed at promoting and selling products or services to customers on TikTok. As compared to other social networks, TikTok is a new, emerging video-sharing platform; therefore, methods to do marketing here are considerably different.
There are three major ways of marketing on TikTok, which are:
Influencer Marketing
Self-promoted Content
TikTok Advertising
Influencer Marketing

TikTok influencer marketing is a significant component of the app's ecosystem. Top stars such as Charli D'Amelio can have a significant impact on a company's success with their tremendous followers.
Source: TikTok
However, a high-profile influencer is not required for successful marketing; you still can look for rising stars or influencers in your niche that are suitable to your budget and campaign.
Self-promoted content
This choice gives you the most freedom. Make a TikTok Business account for your brand and begin creating your organic content.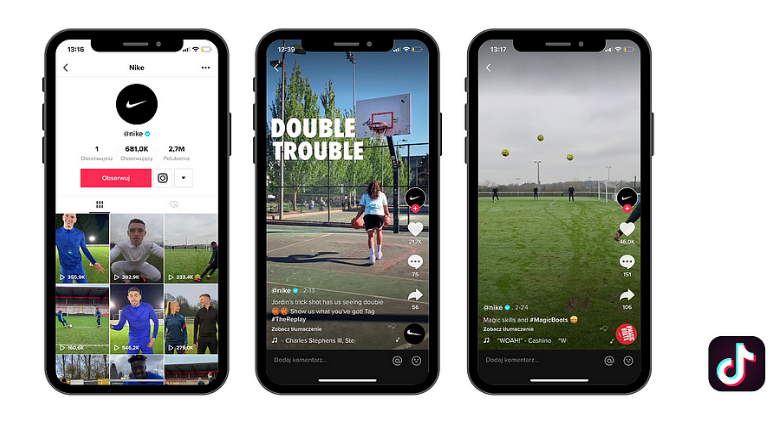 You can do everything with this content from showing product demos to day-in-the-life videos to doing dance challenges. Spend some time looking through your For You page for ideas.
TikTok Advertising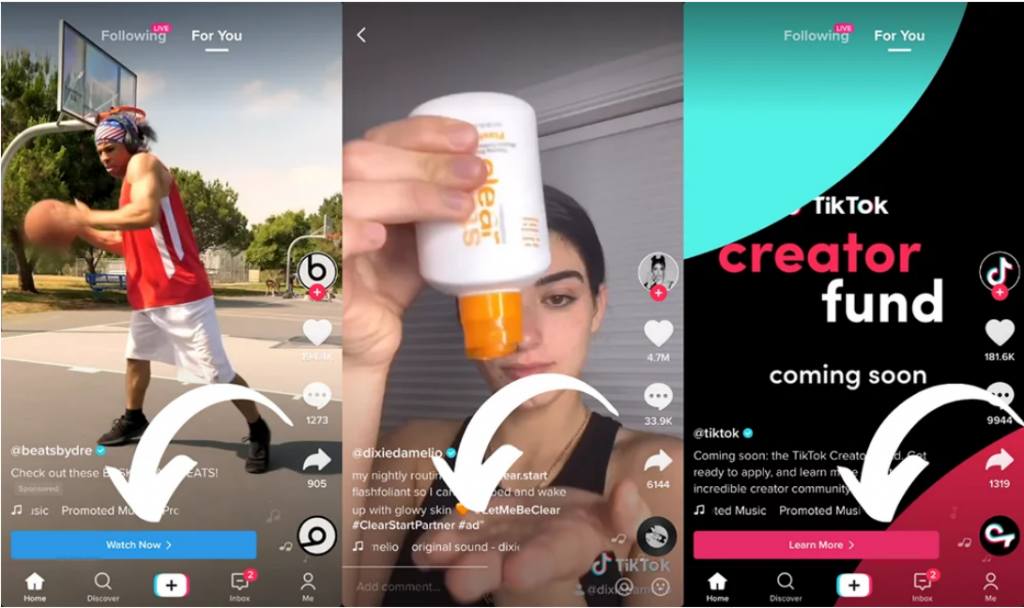 TikTok Ads is the most common way for businesses to do marketing. Many popular businesses are creating their brands' stories successfully on this platform using TikTok Advertising like Aerie, Little Caesars, and Maybelline. Similar to Facebook and Instagram, TikTok also uses a bidding model to estimate the cost of your TikTok Ads.
Why is TikTok Marketing worthy?
Tiktok has 3 billions active users and it is surging rapidly. The impressive growth of TikTok is attributed to its very operating principle. TikTok only allows sharing short videos which turns out to coincide with entertaiment needs of social network users nowadays.
The majority of TikTok's user is young generation who are more and more skeptical of traditional advertising. They almost watching conventional television or listening to the radio, and get their news from social media rather than newspapers. They utilize ad blockers online and "suffer" from banner blindness, rendering much of the more obvious internet marketing ineffective.

Many of them, however, spend time on TikTok, an average of 52 minutes each day, and they pay attention to their favorite TikTok influencers. If any of these TikTok stars recommended a brand, their followers would most certainly take notice. In a study on young people that TikTok conducted in March, 2021, roughly half of attendees (50%) admitted to follow TikTok creators after surfing TikTok while 25% started researching for a products or made purchasing decision when watching TikTok advertisements.
This platform is expected to boom in the next couple of years and will take the dominance of the world marketplace. Therefore, it will be a sensible to start doing TikTok Marketing right away.
How to create a successful TikTok Marketing Strategy
A right TikTok Marketing Strategy must go through 5 following steps:
Define your goal and type of branded content
Collaborate with TikTok Influencers
Understand and take advantage of TikTok Trends
Track engagement with TikTok Analytics tool
Make use of TikTok Advertising
#1 Define Your Goal and Type of Branded Content

Firstly, consider your reasons for why you want to access TikTok. TikTok audiences usually enjoy short-form videos to watch honest, inspiring, and humorous material. So you should utilize this channel to expand your brand's voice via product reviews and user-generated content (UGC). People visit TikTok for lighthearted fun rather than professionally produced videos.
Also, one of the most popular content for brands is showing your behind-the-scenes footage to demonstrate what goes into creating your brand. This perspective will also display what it's like to work for your brand. You could film footage from campaign shoots, influencers unwrapping items, lip-syncing to related voices, and staff having fun on the job for your TikTok channel.
#2 Collaborate with TikTok Influencers

Consumers are now searching for TikTok content that entertains and educates them since influencer marketing has transformed into a creator-driven world. Your brand should work with creators who can bring your marketing message to audiences in meaningful ways.
Your collaborated influencer does not have to be a big TikTok star. They should be the ones that not only have suitable images for your brand but also fit your desired budget. Therefore, it is important that you research influencers and your competitors' channels.
#3 Understand and take advantage of TikTok Trends

One of the most crucial aspects to consider when determining how to go viral on TikTok and developing your plan to jump on trends. Keep an eye on what's hot on For You tab to adapt the material to your brand voice. Make it a habit to view the first ten videos and look for consistency in hashtags, sounds, special effects, and transitions.
There are definitely some trends that your brand can use to expand its reach. Find innovative ways to incorporate your business into current TikTok trends and stand out from the pack.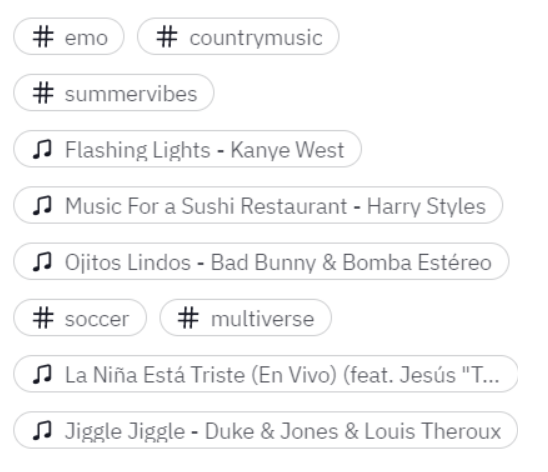 #4 Track engagement with TikTok Analytics tool

Every TikTok account has analytics that shows you the metrics of reach, views, and shares. You can follow your account's statistics by using TikTok For Business to obtain insight into your target audience. Then, your brand can use it to create engaging content. The most significant advantage of adopting these indicators is that they eliminate all guessing from your TikTok marketing plan. Therefore, all of these metrics also can help you to identify and strategize KPIs for your plan better.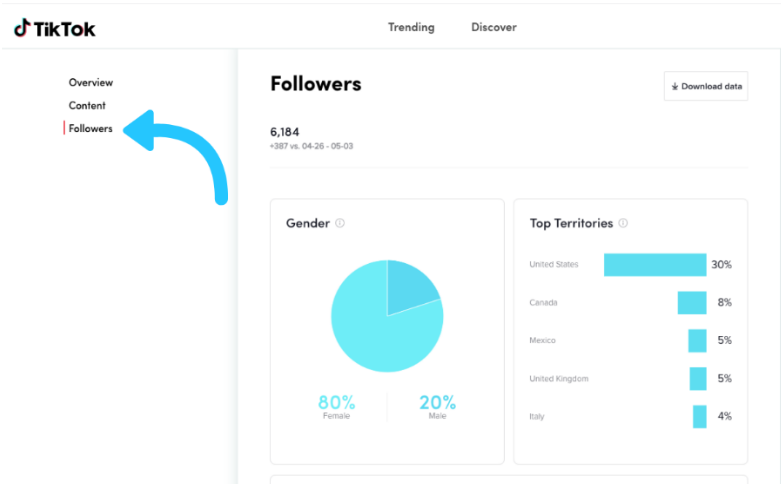 TikTok's in-app metrics are classified into four types:
Overview: Monitors engagement and follower count.
Content: Keeps track of your most popular videos.
Followers: Audience growth and demographics are broken below.
Live: Displays information from live videos.
Global data points, such as hashtag views and the Discover page, allow you to monitor trend performance over time. As a result, you'll be able to tell if a trend is still current and worth developing material for.
#5 Make use of TikTok Advertising

TikTok advertising is one of the most effective ways for a brand to optimize its TikTok marketing plan. If you are new to TikTok, surely the hardest thing for your business is to introduce and connect your channel to a wider range of customers. And TikTok Ads will be the ideal choice to first increase traffic to your page. There are many ad formats that allow brands to customize their campaigns to their specific need.
Creating an ads campaign includes identifying the purpose, establishing a budget, picking placements, targeting the appropriate audience, and determining your bidding approach. Once these conditions have been completed, you may begin creating your ad.
3 examples of Brands' successful TikTok Marketing Strategy

Duolingo, Crocs, and CashApp are many of the most successful cases that blow up on TikTok thanks to excellent TikTok Marketing strategies. TikTok is a haven for creativity and independence which made it a wonderful playground for users and brands. These three brands have skyrocketed in popularity and become more user-friendly with customers.
Duolingo
Duolingo has made a change with TikTok and successfully nailed 1.5 million followers in a year. The company's social media staff publicly discloses how it uses slightly unhinged content to appeal to TikTok's audience. This content strategy is typical on TikTok, but some businesses struggle to embrace the seemingly abrasive comedy required to boost brand reach.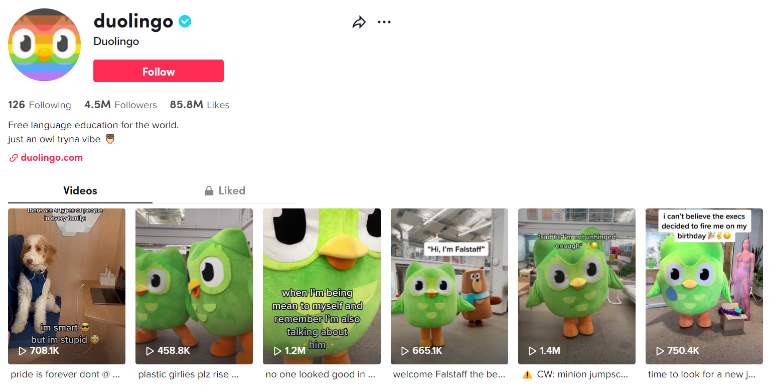 The goofy mascot antics of Duolingo surely paid off. From being a well-known player in its sector of language study to becoming a household name even among those who do not use the program. Duolingo understands its target audience and TikTok users to produce easy-to-understand content and become a TikTok trendsetter.
Crocs
Crocs has performed admirably on TikTok since its debut in October of 2019. Furthermore, Crocs is going all-in on the short video-sharing platform, from challenges to viral videos to advertisements. The company did a challenge with Post Malone in 2019 called the #ThousandDollarCrocs challenge, which has over 3 billion views.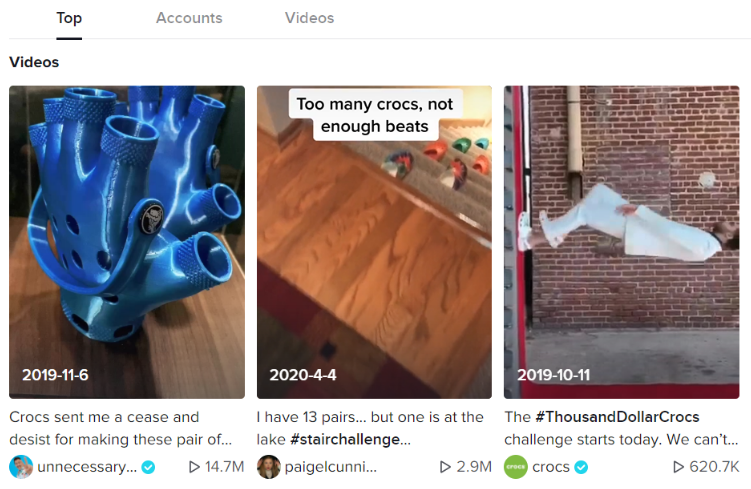 Crocs has definitely made good use of TikTok Ads with branded hashtag challenges to connect and interact with customers. This level of sincerity, paired with their innovative approach, has resulted in over 2.9 million account likes and 400k followers.
CashApp
Cash App, a mobile payment application operated by Square, has gone viral on TikTok. In December, the company began an influencer marketing campaign on TikTok, paying dozens of high-profile producers, including inhabitants of TikTok "collab homes" Sway LA and the Hype House, to create films promoting its mobile payment app with the hashtag #cashappthatmoney.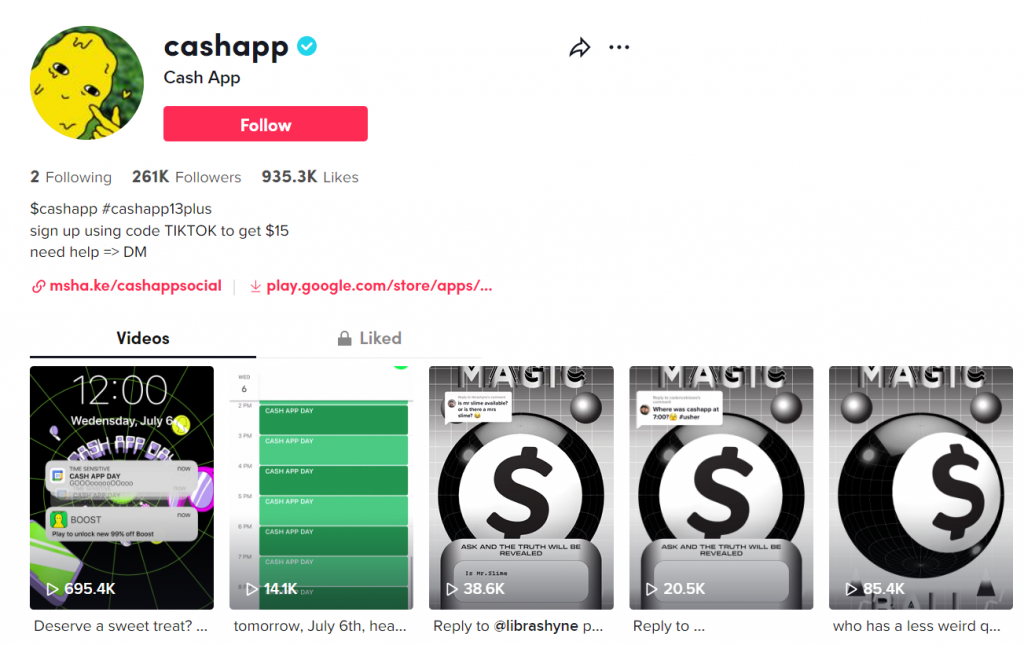 To date, Cash App's TikTok marketing campaign, which began in December, has generated over 136 million video views and 9,600 paid and organic videos.
Final Word
Now that you know how to establish a successful TikTok Marketing strategy, the next step is to register a TikTok account and let your imagination go wild with TikTok.
If you find it harder to do it alone, we – Mega Digital are here to help. We have all the expertise with TikTok on how to develop a TikTok channel, plan and execute an effective TikTok Marketing strategy for your brands. As a TikTok Agency, we are proud to say that we have worked on the TikTok platform and can provide clients with the greatest information to help them optimize their campaigns.
Connect with us to get ahead in your TikTok competition!