Today, lead acquisition plays a crucial role in the success of businesses. Therefore, TikTok's innovative advertising platform offers a special opportunity to capture high-quality leads from targeted audiences at scale, which is TikTok Lead Generation Ads. Whether you're a brand looking to expand your customer base or a marketer seeking new strategies to drive conversions, this TikTok ad objective type has the potential to transform your lead acquisition efforts. Let's unlock the limitless possibilities of TikTok Lead Generation Ads together!
What are TikTok Lead Generation Ads?
TikTok Lead Generation Ads (or TikTok Lead Gen) is an advertising objective type that allows you to cultivate potential customers and engage with leads on the TikTok platform, as well as collect lead information for your website.
When users interact with the lead ads on TikTok by tapping the CTA button on them, there are two options:
Access an Instant Form within TikTok, where they can learn more about your business, provide their contact details, and indicate their interest in your product or service. When interacting with the CTA button on your Lead Generation TikTok ads, users are presented with a pre-populated instant form that contains the essential contact information.
Be redirected to your own website, where they can submit their contact information directly to you.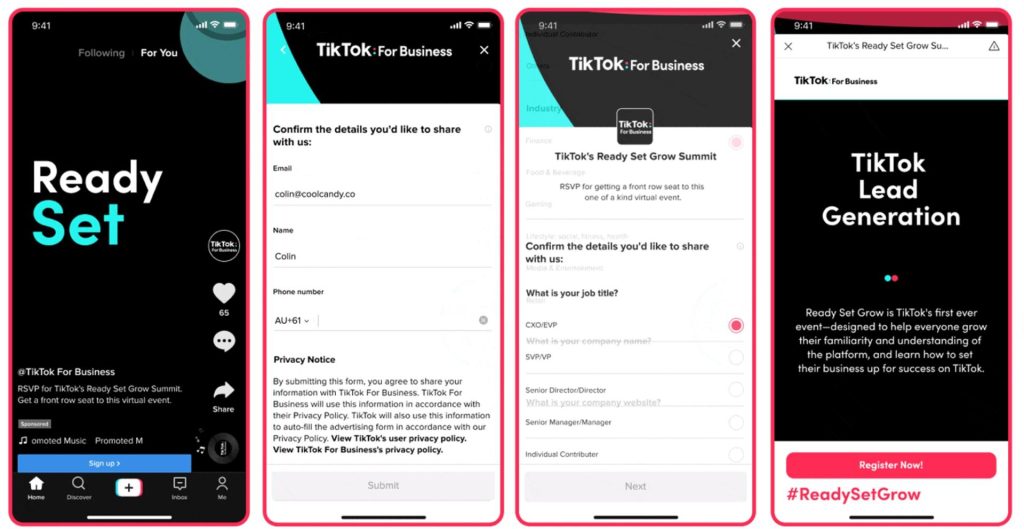 Differences between using an Instant Form vs. your own Website
Lead generation through either an Instant Form or your own Website provides more advantages than just collecting customer information.
| | | |
| --- | --- | --- |
| Aspect | In-App Instant Form | Your Website Form |
| When you should use | You want to decrease friction for potential leads and qualify them later. | You already have a lead form on your website with qualifying logic built in. |
| User Experience | Seamless experience within the TikTok app | Navigate interested users to your website to take action |
| Data Fields | Fields can be pre-filled with available user data | Require users to manually input information |
| Integration and Automation | Seamless integration with CRM systems and platforms like Zapier, LeadsBridge, or Custom APIs | Require additional setup and configuration for integration and automation |
| Questions | <10 questions and have limitations on the information allowed to ask (See more in the below image) | Allow for more detailed qualifying info/questions (i.e., age, credit score) providing you with additional insights into your leads |
In-app Instant Form vs. Your Website Form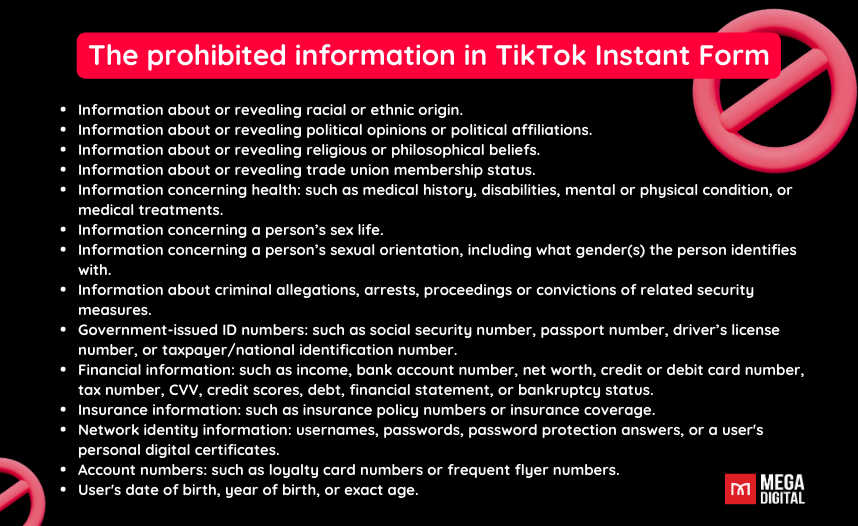 How to Set up a TikTok Lead Generation Campaign
Before getting started, ensure that you have a TikTok Ads Manager account established to initiate the setup of your ad.
Following that, create a new campaign and choose Lead Generation as the Advertising Objective. When you reach the ad group level, you will encounter two alternatives to choose from: Instant form and Website form.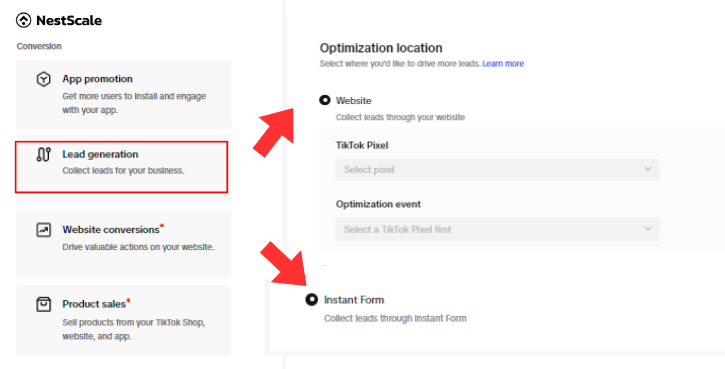 Set up with an Instant Form
When setting up a lead generation ad using the Instant form option, it is important to keep in mind seven essential steps: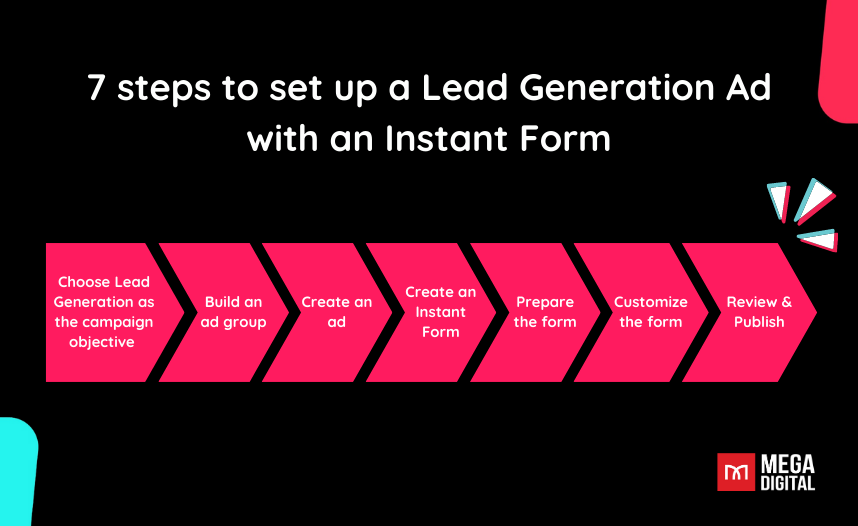 You can refer to the detailed instruction from TikTok for Business in the video below.
Set up with your Website Form
There are 4 steps to create a TikTok Lead Generation Campaign using your Website Form.
Set up Pixel and Events: TikTok Pixel is a tool provided by TikTok, that enables brands to monitor and track the actions taken by their customers on their website after clicking on the ad. Install TikTok Pixel and set up events to track lead gen conversions on your website.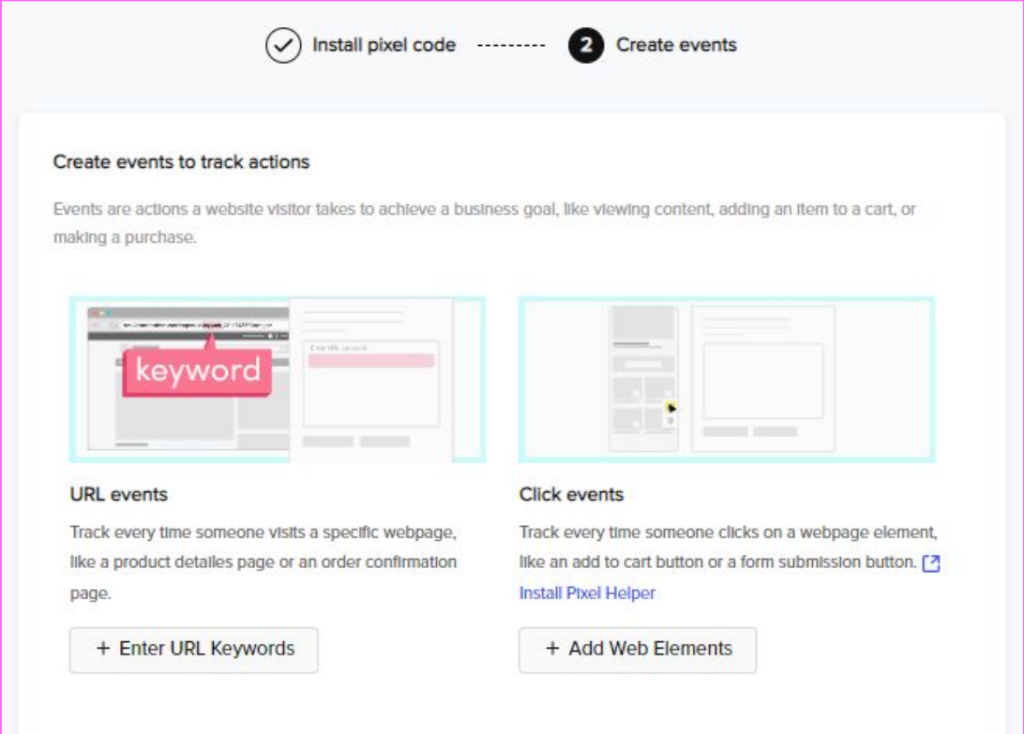 Select Objective: Create a new campaign and choose Lead generation as your campaign objective in TikTok Ads Manager.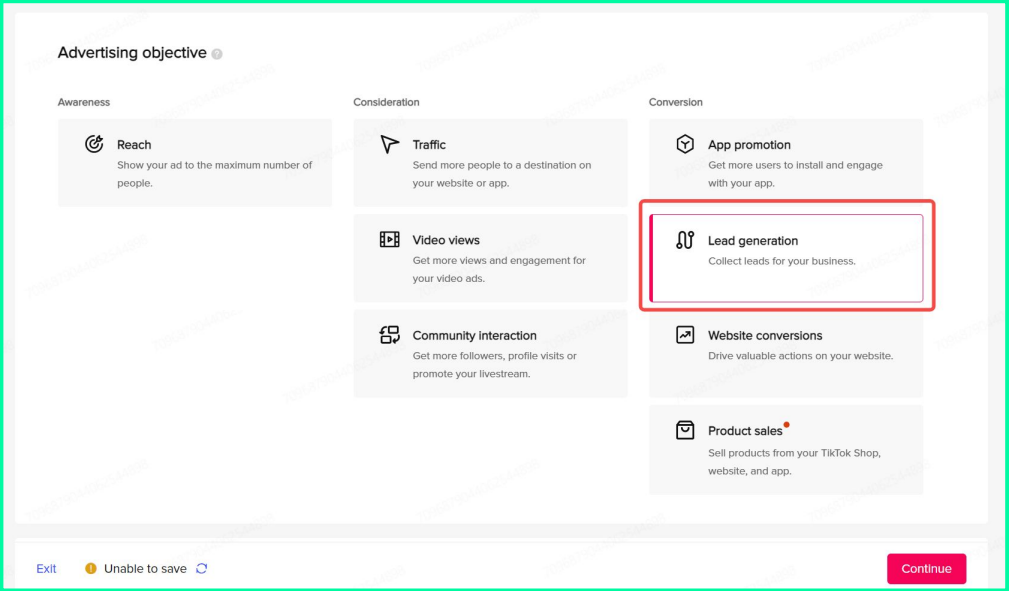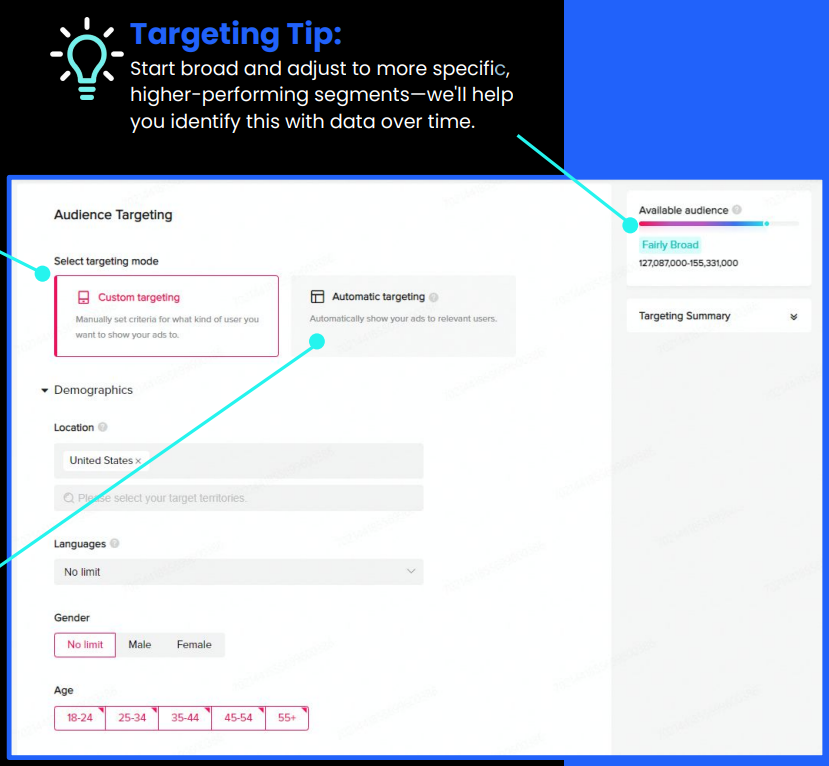 Here are a few important points to consider before uploading your creative:
Your ad should be in portrait mode and always sound on with music and subtitles.
Include a clear call-to-action and be sure to keep your video length around 21-34 seconds. (either in audio or on-screen text).
Promote special offers to drive even more engagement and conversions!
Click here for more info on creative best practices!
Choose Destination Page: Input the landing page with your lead generation form.

Destination page: Select Website under the destination page.
URL: Copy and paste the URL that directs users to your website and lead form.
Call to action: Select an appropriate CTA such as "Subscribe" or "Sign up".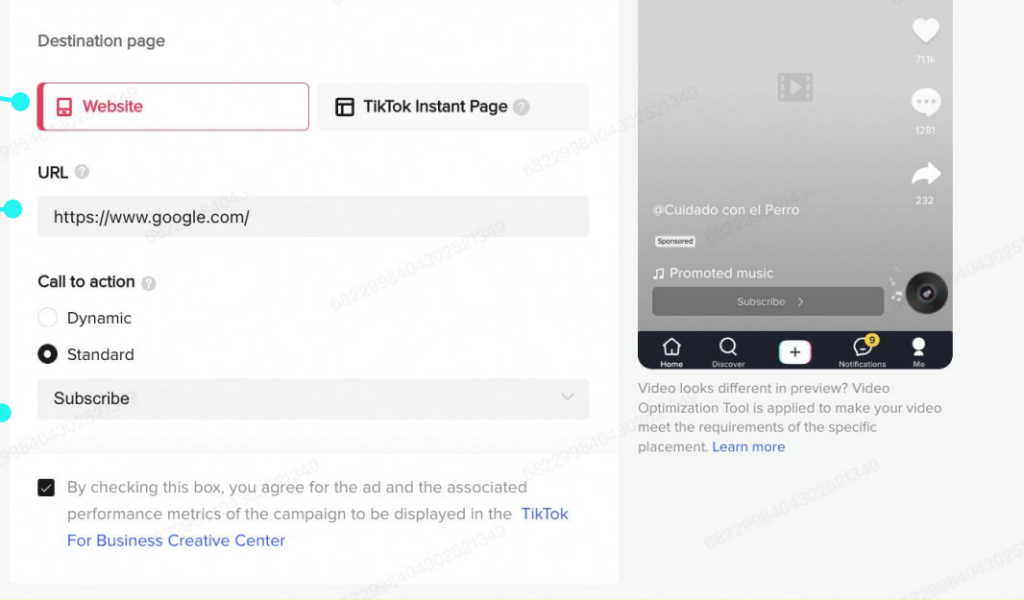 ProTips for Campaign Setup
As a TikTok Agency, Mega Digital recommends that:
You should launch a Lead Generation campaign with a minimum of three ad groups, each employing distinct targeting settings and creative content. This approach will assist in identifying the most suitable audience for your campaign.
To ensure optimal performance, we suggest setting a daily budget for each ad group that is at least 20 to 50 times higher than your anticipated cost per lead. This budget allocation allows sufficient room for each ad group to progress through the learning phase.
For your initial Lead Generation campaign, it is advisable to create broadly defined audiences. By evaluating the campaign's performance, you can then refine your targeting to focus on segments that demonstrate superior results.
If you opt to use Instant Form for lead collection, consider integrating TikTok Lead Generation Ads with your CRM system. This integration can be achieved through platforms like Zapier, LeadsBridge, or Custom APIs, enabling the automation of your marketing funnel and subsequent steps.
The Application of Lead Generation in Key Industries
Lead Generation is a versatile advertising objective that can be applied to different industries, use cases, and scenarios, providing flexibility and adaptability in your marketing efforts. Let's discover how the key industries are applying this ad objective now!
Key Industries
How they are using TikTok Lead Gen Ads
Retail and E-commerce
– Establish a form where individuals can enroll in your loyalty program.
– Offer complimentary samples, discounts, codes, and vouchers to expand your customer base.
– Organize a contest to boost engagement and gain valuable customer insights.
Service
– Recruit suppliers or salespeople.
– Find B2B Leads for your services.
– Schedule consultation.
– Newsletter opt-in to stay in touch.
– Collect Leads for aggregation.
– Share business quotes.
Entertainment
– Amplify the promotion of new releases and encourage sign-ups for free or trial subscriptions.
– Drive ticket pre-sales for upcoming releases or live events.
Gaming
– Announce new game titles and encourage players to register for pre-launch access.
– Encourage players to sign up for exclusive gifts or participate in in-game events.
Education and Training
– Share detailed information about your programs and courses to attract potential students.
– Motivate prospective students to visit your website after they submit the form.
– Recruit teachers or staff.
– Schedule sessions or campus visits.
Automotive
– Enable interested customers to schedule test drive appointments at your dealership.
– Showcase specific car makes and models and redirect traffic to your website.
How key industries are using TikTok Lead Gen Ads
Beyond TikTok Lead Generation Ads, you should continue experimenting with other effective ways to generate leads on TikTok.
>>>> Read more: 6 effective ways to generate leads on TikTok [Agency's Guide]
Final Words
We hope this blog has provided you with a deep understanding of the power of TikTok Lead Generation Ads. By embracing this advertising format, you can open doors to a multitude of opportunities for attracting, engaging, and converting valuable leads. Now, take your TikTok campaigns to the next level with our ebook "Explore 11 TikTok Ad Types for Growing Rocket". This comprehensive guide will equip you with the knowledge and strategies to maximize your success on the platform and propel your business to new heights!