Recently, TikTok launched a new feature named Script Generator. This feature changed the game creators and advertisers are playing by reducing the time, money, and effort to create a video on this platform. Let's discover what is TikTok Script Generator and what can it do?
What is TikTok Script Generator?
The Script Generator in TikTok Creative Center is a clever tool that uses AI technology to create video scripts quickly. By providing important information about your product, you can get ready-made ad scripts in just a few seconds. This feature will be a helpful solution for brands, creative agencies, production agencies, and small to medium-sized businesses (SMBs).
Note:
You'll need a TikTok for Business account and access to the TikTok Creative Center to use Script Generator Link.
Recently, the Script Generator only supports English, but it will be available in other languages in the future.
How to use TikTok Script Generator?
Using Script Generator is a breeze. Advertisers need to provide essential information like product name, item description, and relevant keywords. Additionally, they can choose the desired video clip duration, either 15-30 seconds or 31-60 seconds. Upon clicking the "Generate scripts" button, the tool produces a range of video scripts complete with engaging hooks, scenes, calls to action, and visual/audio cues.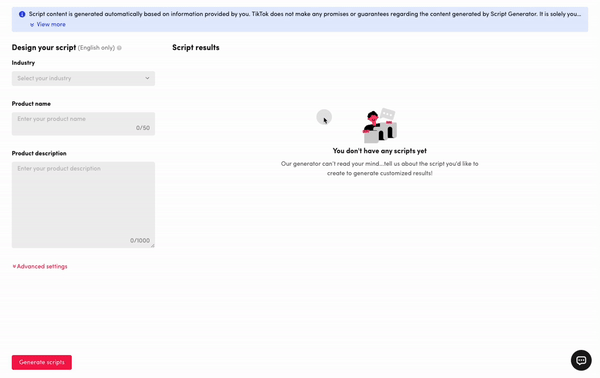 Step 1: Input your product information
Step 2: Click generate scripts
Step 3: Wait a few sec for AI do all the works
Step 4: Select the script that you want by clicking copy
Note: You can rerun the results by clicking generate scripts again
Pros and cons of the TikTok script generator
One of the key advantages of Script Generator is the ability to rerun the tool if the generated scripts don't meet the marketers' expectations. Advertisers can make as many attempts as needed, free of charge. However, it's crucial to consider the potential risks associated with relying solely on AI-generated content.
While Script Generator offers convenience, there are a few things to keep in mind. AI-generated content carries the risk of publishing inaccurate information. Additionally, excessive reliance on AI-generated scripts can lead to generic content lacking originality, potentially affecting branding efforts and audience engagement.
What does TikTok say about this?
To address concerns regarding accuracy and responsibility, TikTok has explicitly cautioned digital marketers against relying solely on AI-generated scripts. The company emphasizes that the accuracy and compliance of content created with Script Generator rest solely on the marketers' shoulders.
How can advertisers take advantage of this feature?
TikTok's Script Generator is a helpful and affordable tool for advertisers to create video scripts. While it makes the content creation process easier, marketers should be cautious about relying entirely on AI-generated content. It's important to find a balance between AI and human creativity to get the best results. This way, advertisers can make the most of Script Generator's advantages while ensuring their advertising campaigns are accurate and stand out from the crowd.