If you're still having trouble executing campaigns, like getting a suspension, having account management issues, limited targeting options, etc., then a TikTok agency account is the solution you need. With an agency account, you can access advanced features and tools unavailable to regular users, giving you a competitive edge in a crowded market. From custom audiences to in-depth analytics, our expert guide will show you how to leverage the power of TikTok to achieve your advertising goals.
Whether you're looking to drive sales, increase brand awareness, or connect with new audiences, a TikTok agency account is the key to success on the platform. Let us show you how to get started today.
What is a TikTok Agency Account?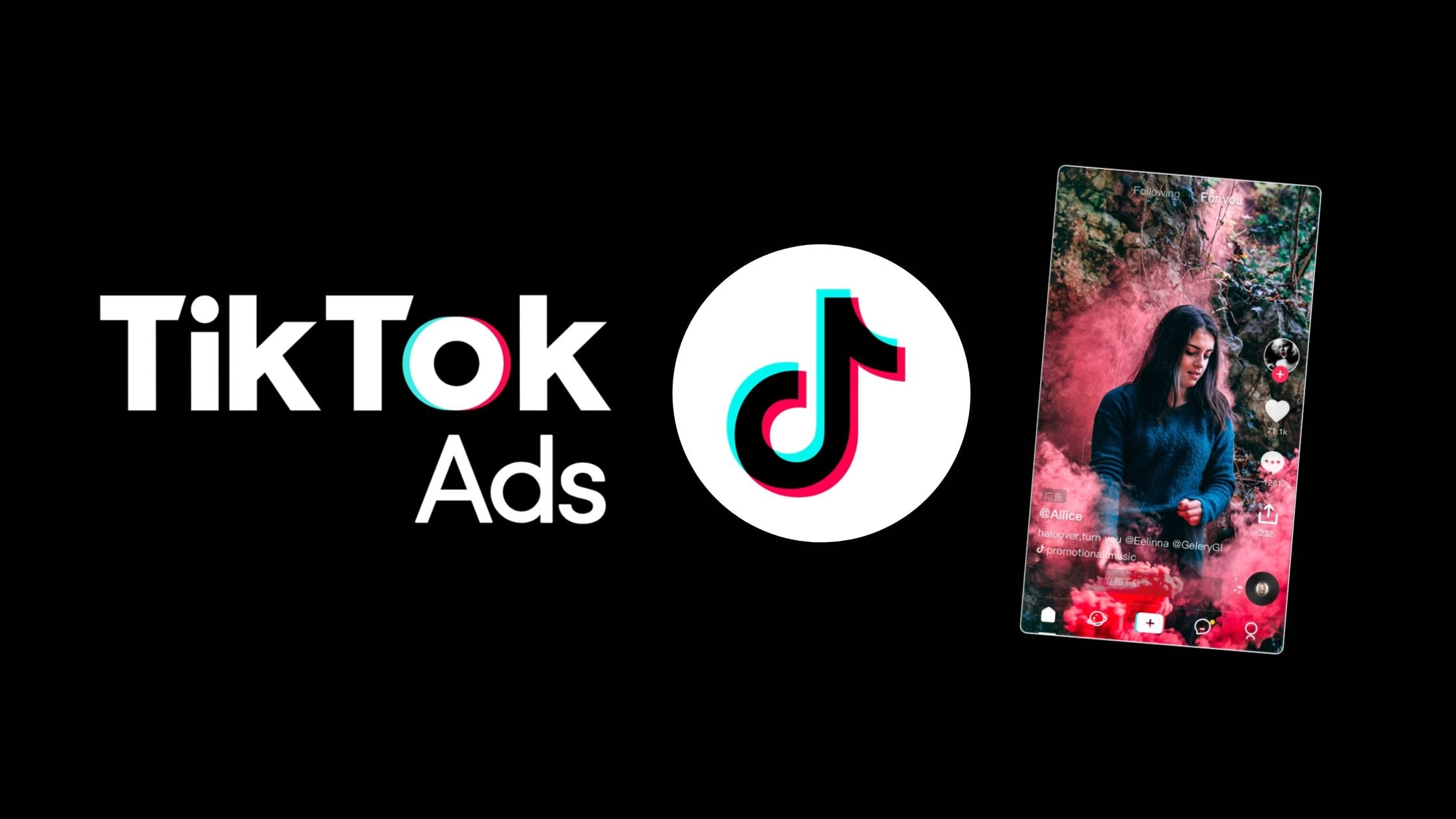 TikTok Agency Account is an ad account authorized by TikTok and distributed among its partners. It provides advanced features and tools to businesses, brands, and individuals looking to establish a more substantial presence on the TikTok platform. Unlike regular TikTok accounts, agency accounts are designed for marketing and advertising and are only available to approved users.
TikTok agency accounts have various benefits, including access to custom audiences, in-depth analytics, and working with TikTok's creative team. They also offer expert support from dedicated account managers, who can provide valuable insights and advice to help users optimize their campaigns and achieve their goals.
Additionally, this type of account allows users to manage multiple accounts from a dashboard on Business Center, making monitoring and optimizing campaigns easier. They are also eligible for verification, which can help to increase visibility and build trust with audiences.
Who should use an agency account?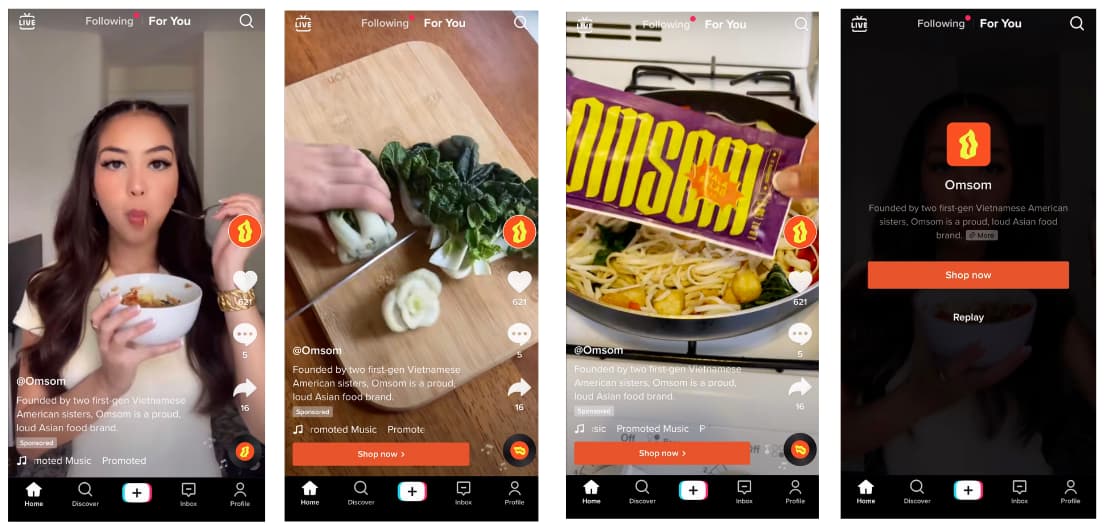 TikTok agency accounts are ideal for businesses, brands, and individuals looking to take their presence on the platform to the next level. Here are some examples of who should use a TikTok agency account:
Customers from countries are limited to setting up and using TikTok Ads accounts (e.g., Pakistan, Iraq, Morocco, etc….).
The client desires to market nationwide.
Customers have difficulty with TikTok account issues like suspension, delivery status, payment issues, etc.
Customers want to optimize performance ads with beta features and optimize retargeting campaigns.
What is the difference between a Personal Account and Agency Account?
In addition to supporting special features, agency accounts have more outstanding advantages than personal accounts.
| | | |
| --- | --- | --- |
| Features | Regular Account | Agency Account |
| Eligibility | Access for all users and quickly set up accounts. | Only available to approved clients of agencies. |
| Access to Advanced Features | Limited access to features such as custom audiences and in-depth analytics. | Full access to advanced features and tools |
| Issues Support | File appeals on Customer Support and wait 24-48 hours for feedback. | Immediate support from the agency and get priority from TikTok. |
| Streamlined Account Management | Limited ability to manage multiple accounts. | Ability to manage multiple accounts from a single dashboard. |
| Target range | Limited in the ad setups. | Can target up to 55 countries. |
| Payment method | Only accept credit card payments | Accept a variety of payment options. |
| Ad balance | Cannot be withdrawn. | Reallocate balance between accounts if suspended. |
| Creative Support | Self-optimized ad campaigns. | Agency support to run ad campaigns. |
6 whitelisting features of an agency ads account that you may be missing
Campaign Budget Optimization (CBO)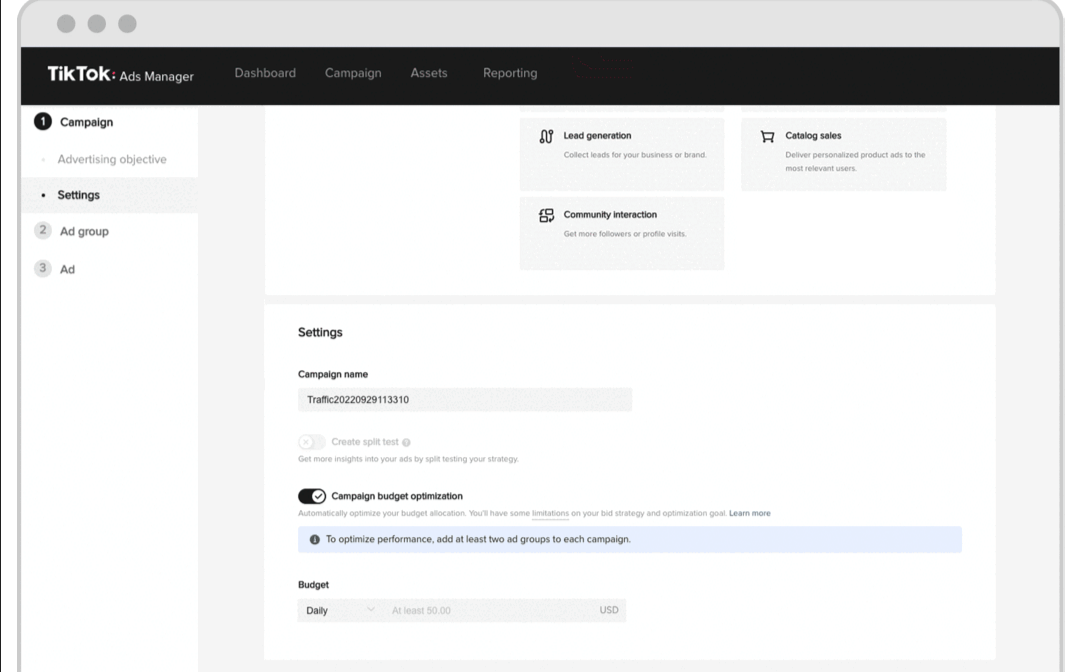 Using a "Campaign Budget Optimization" feature, you may manage your spending at the campaign level rather than the ad group level. Instead of setting up each ad group separately, you can use this feature to apply a single set of budget optimizations to all ad groups that are a part of your campaign.
Benefits of Campaign Budget Optimization (CBO) feature
Set a campaign budget with flexibility in how that budget is spent across ad sets.
Get the most results possible from your campaign at the lowest cost.
Simplify campaign setup and reduce the number of budgets you must manually manage.
How does it work?
To create a campaign with CBO, you will need to set up your campaign within the following criteria:
Advertising Objective: Video View, Traffic, Catalog Sales, Lead Generation, Community Interaction, App Promotion, Website Conversions, and Reach
Scenarios:

Bid Strategy: Lowest Cost and Bid Cap
Budget Mode: Daily Budget and Lifetime Budget
Delivery Type: Standard
Split Test: Not supported
Display Card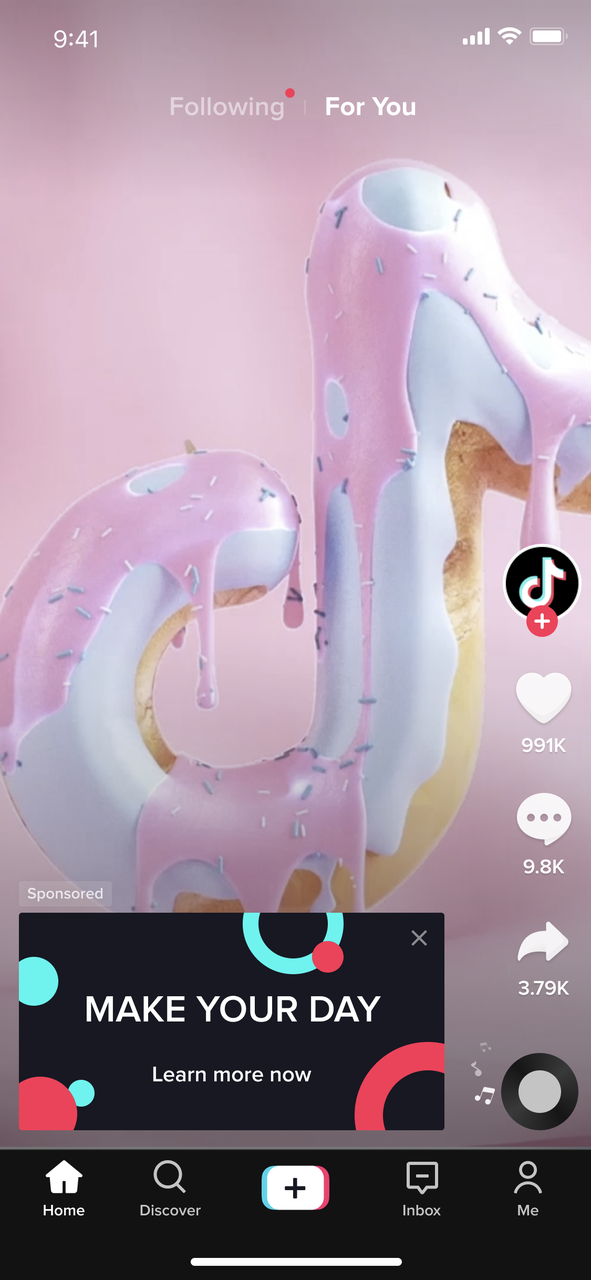 Display card allows advertisers to upload a customized card design, or generated card design. Advertisers can extract key elements from the creative and landing page based on a vertical template solution, to better show additional info about the ads to further engage with users.
Benefits of Display Card Feature
Showcase your product & brand information with customized visuals.
Communicate special offers, such as discounts and incentives, during significant events and the shopping season.
Accentuate your brand's appeal using characters, key game scenes, registrations, app features, etc.
How does it work?
Customized Solution: Showcase your product or brand with your customized graphic card.
Template Solution: Available for US/UK/AU/CA for Retail & E-commerce, Fashion & Accessories, and CPG verticals. Generate a Display Card design via the template tool based on your creative, ad caption, and landing page information.
Dynamic Showcase Ads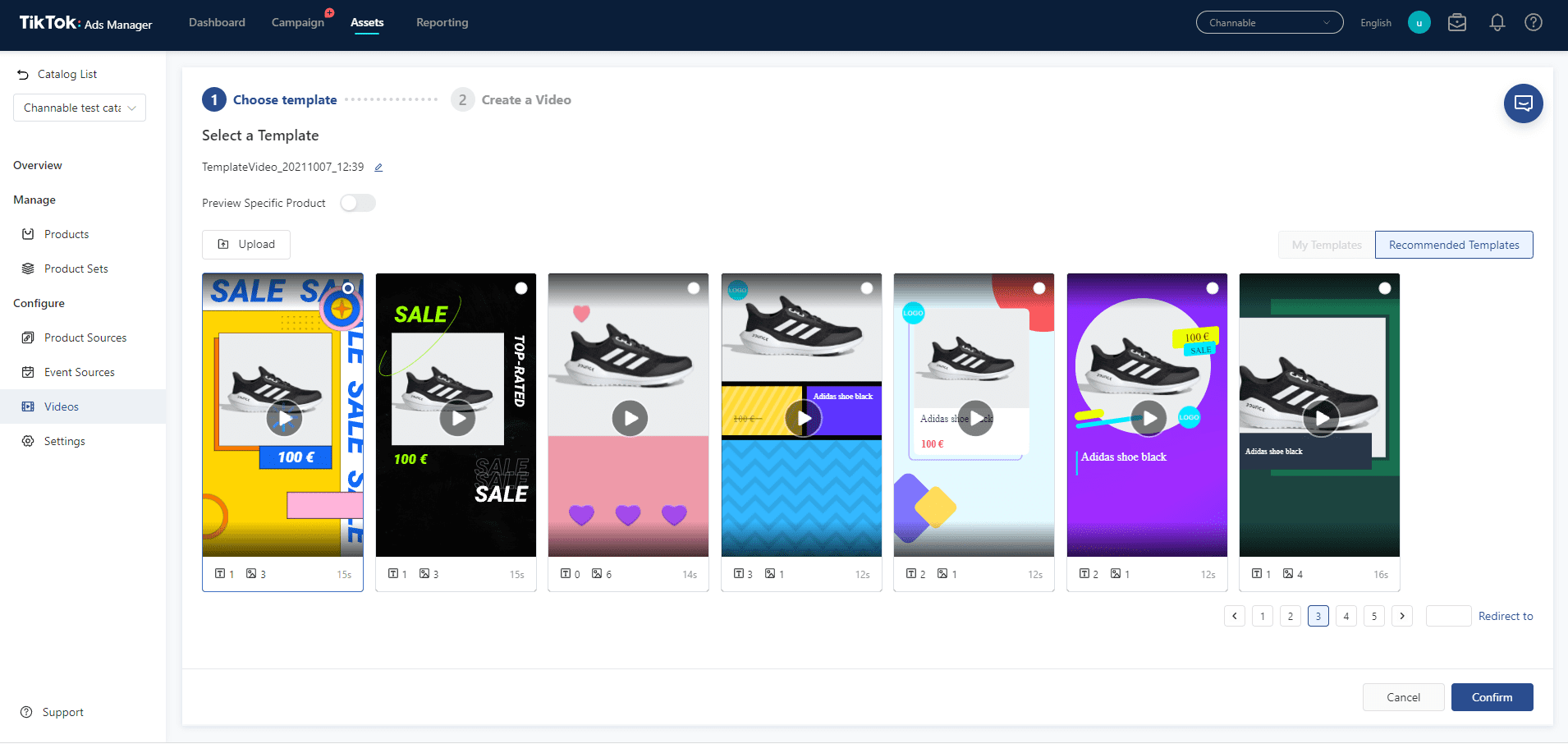 TikTok Dynamic Showcase Ads (DSAs) are customized video ads. They're created in real time based on an ad template. This template is filled with product information from a product catalog that's regularly updated. DSAs are TikTok's version of Dynamic Product Ads.
Benefits of Dynamic Showcase Ads feature
Create efficiencies: With DSA's automated ad creation system, you can craft thousands of bold and beautiful ad units simultaneously.
Increase Reach & Scale: DSA allows you to create custom video ads for every product in your catalog – enabling you to serve a broad audience.
Boost ROI: DSA can help find new customers and also prompt existing customers to take action- supporting both upper and lower-funnel goals
How to set up Dynamic Showcase Ads?
Upload catalog: Via manual product or scheduled feed upload
User event postback: Post back View Content Add to Cart, and Purchase events, with the content_id to TikTok. Upload ad templates or use the Dynamic Video Generator to create your videos.
Set up tracking & Measurement: Click & import tracking URL and UTM via Deeplink or URL. or click on event source to catalog.
Note: Create your campaign by selecting either prospecting (App or M-Site) or retargeting (App only).
Please wait 48 hours before turning on the campaign after the catalog is uploaded to the account for review.
Customers file
On TikTok Ads Manager, you can upload your own Customer File to create a Custom Audience. TikTok offers the ability to upload Customer Files using Mobile Ad Identifier (MAID) and accepts both Apple Identifier for Advertisers (IDFA) and Google Advertising ID (GAID).
How to set up Customers File?
Supported file formats: .csv or .txt format (zip file is not supported).
Size: Up to 1GB.
Accepted IDs:

​Apple IDFA (Identifier for Advertisers).
​GAID (Google Advertising ID).
Accepted hash:

MD5 Hashed.
​SHA256 Hashed.
​"Original" (unhashed/raw) value. If providing unhashed/raw values (which will be hashed automatically), the file's content before hashing must contain consistent capitalization – either all uppercase or all lowercase. ​IDFA and GAID data can be combined in the same file, each entry on a separate line. Only matched data will process; all other data will be ignored – including column headings/names or other unmatched data.
Deep Link To Marketplace
A deep link is a URL that directs users to a specific page on a website or mobile application, such as a form, a product page, or another significant page that the advertiser selects. Deep Links are used in TikTok app advertising to redirect consumers who have already downloaded the advertiser's app directly to a specific piece of content there.
Benefits of Deep Link:
Shorten the journey of Tiktok users to eCommerce sites
Improve customer retention and engagement
Boost marketing: target customers and upsell, help improve ROI
How does Deep Link work?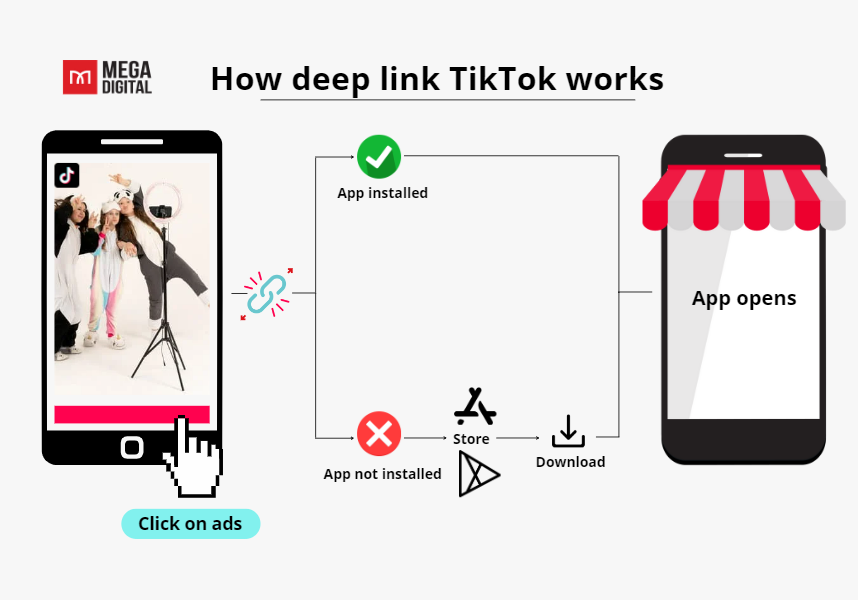 Purchase Intent
Purchase Intent Targeting is a new targeting capability that leverages offsite and onsite user behavior to indicate purchase intent better. This feature leverages 'in-market audiences' who are users actively researching or purchasing one specific product or service category. Purchase Intent Targeting makes identifying and targeting customers most likely to purchase.
Benefits of Purchase Intent
Optimize purchase conversions: Easily target users who are at the end of the buying funnel and most likely to convert
​Optimize spending by reducing setup and optimization costs: It requires less manual optimization since it targets the most relevant audiences from the start and provides greater accuracy to help increase overall ROAS
​Reach customers with the right message at the right time: Tailor your marketing based on where customers are in their journey and present the right message at the right moment to those most likely to purchase their products and services
How to set up a Purchase Intent Feature?
​Log in to TikTok Ads Manager and select Campaign in the top navigation bar.
​Select Create to go to the campaign creation page.
​Select Auction as the Buying Type. Choose between Conversion or Catalog Sales as the Advertising Objective.
​In Placements, choose Select placement and ensure only TikTok is selected by checking the box.
​In Interests & Behaviors, click Include people with the following interests, and select Purchase intention.
​In the Search interests field, choose relevant interests to your audience.

​Note: We recommend only selecting the category that your product belongs to and its parent category if the audience is not broad enough.

​In Device, toggle on Targeting expansion. This helps to broaden the target audience and optimize performance.
Final Word
TikTok agency account is a powerful tool that can help businesses, brands, and individuals establish a more robust platform presence and achieve their marketing or advertising goals more effectively. With advanced features, expert support, streamlined account management, and access to the platform's in-house creative team, a TikTok agency account is ideal for those looking to take their presence on the platform to the next level.
If you want to stand out from the crowd, contact Mega Digital today to learn more about our TikTok agency account services. We look forward to helping you achieve your goals on this exciting and dynamic platform.