Imagine starting your dream business for as little as $100, with no need for storage space or inventory headaches. That's the magic of dropshipping, a favorite among aspiring entrepreneurs. In this article, we've got your back with a step-by-step guide on how to start dropshipping from scratch. From essential steps to handy tools and crucial insights, we're here to help you take that confident first step.
What is dropshipping and how does it work?
Dropshipping is a business method where you run a store without stocking inventory. When you make a sale, the manufacturer ships the products directly to the customer, saving you the hassle of storage and shipping.
There are 3 main players:
The manufacturer creates and ships products.
The retailer sells them, sets prices, and handles marketing and shipping.
The customer buys from the retailer. If there are questions or issues, the customer contacts the retailer.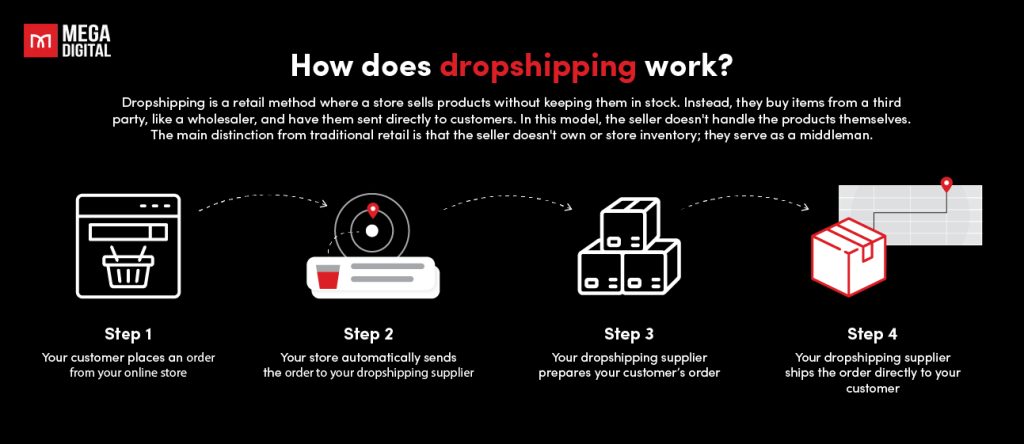 Benefits of Dropshipping:
Low Startup Costs: You only pay for what you sell, minimizing initial expenses.
No Product Creation or Storage: You don't need to create or store products.
Inventory Management: Avoid costs related to unsold inventory and hiring packaging staff.
Automated Order Processing: Streamlined processes for efficient business operations.
Flexibility and Opportunities: A versatile business model with room for growth and innovation.
It's a flexible business with lots of opportunities, take the first step.
How to start dropshipping in 2024?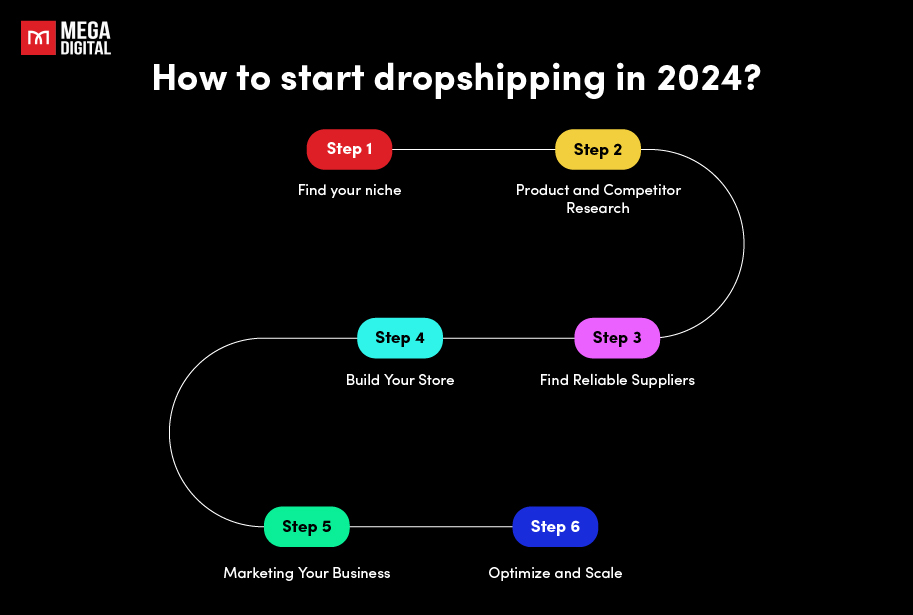 Step 1: Find your niche
Selecting the perfect dropshipping niche is a critical step in ensuring the success of your business. While having a personal passion for a particular market is great, it's important to keep profitability as your primary goal. To help you discover the right niche for your dropshipping venture, there are various tools and strategies available:
TikTok Insight: TikTok Insights is a research tool that provides businesses with data and insights about TikTok users, trends, and content. It is a free tool that is available to all users. TikTok Insights provides users with a variety of data, including:

Demographics: Age, gender, location, and interests of TikTok users
Trends: Popular hashtags, challenges, and effects
Content: Performance of videos, including views, likes, shares, and comments
By using TikTok Insights, you can gain a better understanding of your target audience, identify trending topics, and analyze the competition. This is the easiest way to start dropship and find perfect niches for your dropshipping business.
Google Trends: Google Trends can show whether a niche is gaining or losing popularity. However, it alone cannot confirm a niche's viability, as some trending niches may lack sufficient search volume.
Analyze Leading Websites: Visit established websites in your target niche to gather valuable insights. Many fashion retailers categorize their products based on current trends, which can help you identify products to include in your store. Additionally, reviewing a store's bestsellers can pinpoint profitable products to offer.
Pro Tip: Successful dropshipping stores often focus on trends within broader niches. For example, denim apparel is a trend within the fashion niche, and artificial eyelashes are a trend in the beauty niche. Incorporating these trends into your product lineup is smart, but they shouldn't dominate your entire store if you aim for long-term success.
By following these tactics and using the recommended tools, you can simplify the process of choosing the right niche for your dropshipping business. This can significantly improve your chances of achieving impressive success.
Step 2: Product and Competitor Research
The drop shipping landscape has evolved, and you must choose your products wisely. Generic stores and niches are no longer as effective as they used to be. To find a winning product, consider these strategies:
Identify trending products.
Utilize Google Trends, TikTok Creative Center, or TikTok Insights to discover trending products.
Check Amazon Movers and Shakers or eBay best sellers.
Once you have product ideas, research your competitors. Analyze their ads, website, pricing, and customer experience. This step helps you understand the market, validate your ideas, and identify gaps you can exploit.
Step 3: Find Reliable Suppliers
Most drop shippers source products from platforms like AliExpress. It's essential to find suppliers that offer good quality products, efficient shipping, and possibly custom branding options. Contact multiple suppliers to compare their offerings.
Step 4: Build Your Store
The best way to dropship is to build a clean and attractive e-commerce website for your products. Focus on effective product landing pages rather than overly fancy home pages.
Choosing the right platform is a crucial decision, too. Here's a breakdown of some of the best platforms for creating your dropshipping business:
Shopify: It's user-friendly with lots of features and connects easily with dropshipping suppliers, perfect for quick store setup. Plus, Shopify has a TikTok integration to create and manage TikTok ads from your Shopify dashboard. You can connect your Shopify store to your TikTok account to track ad performance and its impact on sales.
TikTok Shop: TikTok Shop is an exciting platform for dropshippers because it's where all the action is! With loads of users scrolling through fun videos, your products can catch their eye and go viral. Plus, people can shop directly from your TikTok videos! You can also team up with TikTok influencers to boost your brand. So, setting up shop on TikTok is like having a booth at the coolest fair in town, and it's a fantastic way to grow your dropshipping business.
WooCommerce: If you're familiar with WordPress, this free plugin offers flexibility and customization for your dropshipping store.
BigCommerce: A robust cloud-based platform for scalable solutions that support store growth.
Magento: For tech-savvy users looking for extensive customization, Magento is an open-source platform.
OpenCart: A free, open-source option that allows full control over your dropshipping store without extra costs.
Step 5: Marketing Your Business
Effective marketing is crucial for driving sales. You have 2 main options: organic and paid marketing. Organic strategies include content creation, viral marketing, and SEO. Paid strategies encompass Facebook ads, TikTok ads, Google ads, influencer collaborations,… Learning and mastering paid advertising is a key to scaling your business.
Are you enthusiastic to boost your marketing game on TikTok and turbocharge your sales? Grab your free ebook of 'The Best 5 Marketing Strategies for Brands on TikTok' now to uncover the insider tips for crushing it with both organic and paid marketing. Discover the art of creating viral content, nailing influencer partnerships, leveling up your SEO, and dominating with paid advertising.
Step 6: Optimize and Scale
After getting your first sales, continuously optimize your sales funnel, ads, and website. Expand your product range and experiment with different offerings. Keep your customers happy and seek growth opportunities.
Two actionable tips for success:
Don't fear losing money initially; testing is crucial.
Validate your product by ensuring it solves a problem, is reasonably priced, and has a high-quality landing page. If you don't see sales, reevaluate these factors.
Remember, it may take some time and testing, but persistence and continuous improvement can lead to success in the drop shipping business.
If you're looking for valuable tips to optimize your TikTok ads, Maximizing CRV: Strategies to Optimize Your TikTok Ads ebook is your perfect guide. It's packed with insights from TikTok experts, helping you optimize your ad campaigns for outstanding results. Get your copy now and unleash the full potential of TikTok advertising!
FAQ on how to start dropshipping
Is dropship for free hard?
Starting dropshipping for free is possible, but it comes with challenges. The direct issue is the time investment required and the risk of lagging behind competitors. To tackle this, you can explore a few avenues:
Online Directories: Look into online directories listing dropshipping suppliers. Some provide free listings, while others may require a fee.
Direct Contact: Reach out to suppliers directly and ask about their dropshipping programs. Make sure to inquire about any fees or minimum order requirements.
Promotions: Keep an eye out for suppliers offering temporary free dropshipping services, especially for specific products. You might also find those offering free shipping for orders over a certain amount.
Here are some extra tips for success in the world of free dropshipping:
Begin with a small product selection that you're familiar with. This simplifies your marketing efforts and allows for better customer service.
Concentrate on building a strong brand identity. Your brand will set you apart from competitors. Ensure that your website and marketing materials align with your brand images.
Provide exceptional customer service. This is crucial in dropshipping, as customer satisfaction is a significant factor. Be prompt in responding to customer inquiries and swiftly address any issues.
While starting dropshipping for free can be a fantastic business venture, it's vital to be realistic about the challenges. By following these tips, you can boost your chances of success in the dropshipping world
How profitable is dropshipping?
Dropshipping is a potentially lucrative business model, but success depends on making smart product choices. Typically, dropshippers earn profit margins ranging from 10% to 20%, although some manage to reach margins as high as 50%.
Several factors influence your dropshipping profits:
Product Selection: Choose products in demand with good profit margins. Avoid expensive or fragile items, as they can be tricky to handle.
Target Audience: Understand your audience's needs to select the right products and market them effectively.
Marketing Strategy: Employ diverse marketing channels like social media, SEO, and paid ads to attract customers to your store.
Customer Service: Excellent service builds loyalty. Respond promptly to inquiries and resolve issues efficiently.
While dropshipping has potential, it's vital to invest time and effort. Success takes time, so it's essential to manage your expectations and remain patient while building a thriving dropshipping business.
How much does it cost to start dropshipping?
Starting a dropshipping business is budget-friendly, especially compared to other types of businesses. You can kick off your dropshipping venture with just a few hundred dollars. However, it's crucial to consider expenses like your website, domain, hosting, and marketing.
Here's a breakdown of the typical costs linked to launching a dropshipping business:
Website: You can create a free website using platforms like WordPress.com or Shopify.com. For a more professional look, you'll need to invest in a custom domain and hosting. A custom domain costs around $10 per year while hosting can range from $10 to $20 per month.

Example:

Domain name: $10-$20 per year
Hosting: $10-$20 per month
Theme: $50-$200
Plugins: $0-$200
Marketing: To attract customers to your dropshipping store, you'll need to allocate funds for marketing. Popular marketing channels include social media, search engine optimization (SEO), and paid advertising. Marketing costs vary based on your chosen channels and the time you invest, but you should budget at least a few hundred dollars per month.

Example:

Social media ads: $0-$200 per month
Search engine optimization (SEO): $0-$500 per month
Paid advertising (TikTok Ads, Google Ads, Facebook Ads, etc.): $20-$2000 per month
Products: While you'll need to pay for the products you sell, most dropshipping suppliers don't require upfront payments. Instead, you pay for each product after it's sold. This flexibility is a significant advantage of dropshipping, allowing you to start with minimal initial investment.
Besides these costs, other expenses might pop up, like business insurance or hiring a virtual assistant. However, these aren't essential, and you can begin dropshipping without them.
But there is still a cost-effective way for beginners; it's TikTok. Starting a dropshipping business on TikTok can be a budget-friendly choice compared to other platforms. Here's why and how it can save you money:
No registration and posting fees: TikTok is a free platform. You don't need to pay for setting up your TikTok account or sharing your videos. This eliminates the expenses associated with website development and hosting fees, which you might encounter on other e-commerce platforms.
A vast user base: TikTok boasts more than 1 billion active users. This broad audience provides a massive pool of potential customers at your fingertips. With such a wide reach, you can rely less on paid marketing, as TikTok enables you to engage a significant audience organically.
Visual appeal and cost-effective videos: TikTok's visual nature is a bonus for dropshippers. It's easy to showcase your products and craft captivating videos that catch customers' attention. No need to splurge on costly video production equipment, as you can create high-quality videos using your smartphone.
>>> Learn more: How to sell on TikTok: 7 easy steps for beginners to boost sales
You can save money on website development, hosting, marketing, and video production costs by leveraging TikTok's free features for product videos or ads.
Mega Digital's Dropshipping Ideas Inspired by Holiday Sale Season
If you're a newcomer to the dropshipping industry, here's a valuable tip: consider selling seasonal products. The holiday sale season is a lucrative time for dropshippers, with a multitude of opportunities to offer products that cater to the festive spirit. Leveraging the high shopping demand during sale seasons can give your dropshipping business a significant boost right from the outset. Let's explore a range of ideas tailored to different holidays, helping you tap into the joy and enthusiasm of each special occasion.
Halloween (October 31st)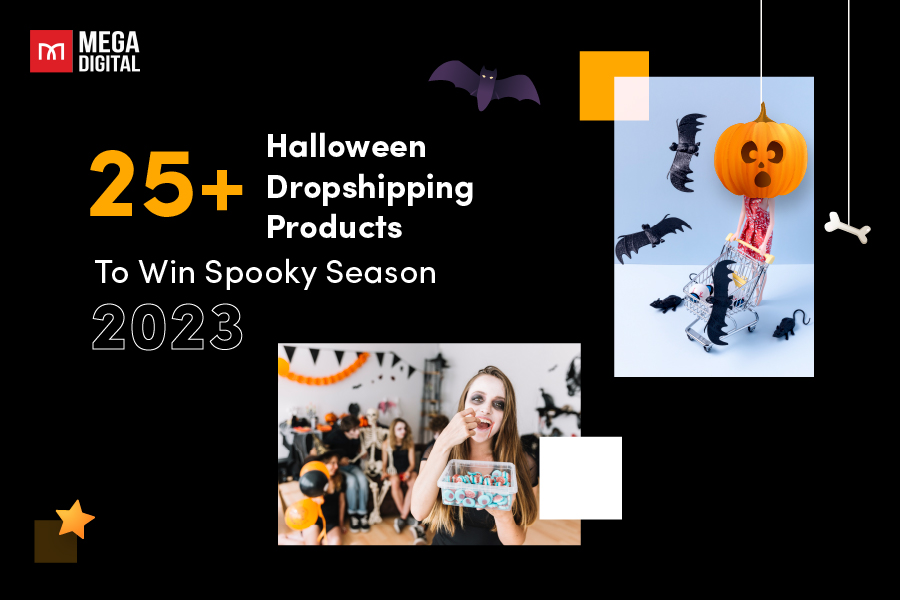 Halloween, a beloved holiday characterized by creativity and self-expression, provides dropshippers an excellent opportunity to offer an array of costume accessories. From wigs and masks to makeup, you can cater to those seeking the perfect Halloween ensemble. Additionally, people love to adorn their homes with spooky decorations, so consider adding items like eerie lighting, inflatable décor, and themed tableware to your offerings. Of course, don't forget the treats – candy and goodies for trick-or-treaters are a must. And let's not overlook our furry friends; pet costumes are a hit with pet owners who want their companions to join in the fun!
>>> Learn more: 25+ Halloween Dropshipping Products To Win Spooky Season
Thanksgiving (4th Thursday in November)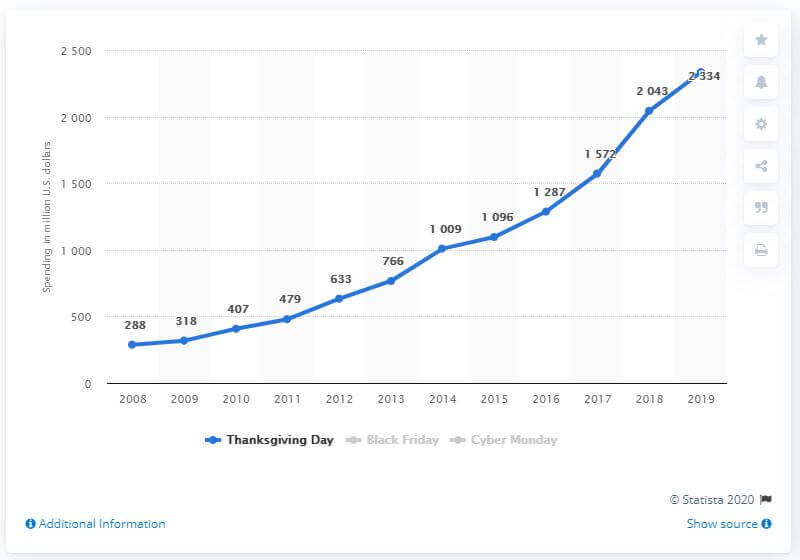 Thanksgiving is all about gratitude and family, but for dropshippers, it's a chance to elevate the holiday experience. Offer handy kitchen tools and appliances for an effortless feast, along with elegant tableware and decorations to set the festive mood. Gratitude journals and Thanksgiving-themed décor are hot trends, so consider adding these to your product lineup. Don't forget customizable items like place settings and aprons, perfect for creating a memorable Thanksgiving atmosphere and thoughtful gifts for hosts. Expanding with these personalized items can help your dropshipping business stand out during this holiday.
Black Friday and Cyber Monday (November 24th-27th)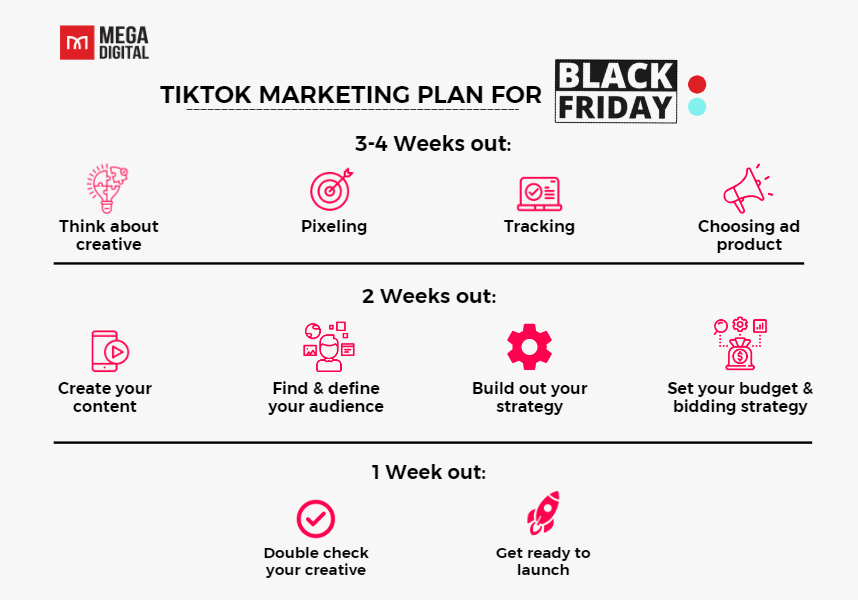 Black Friday and Cyber Monday (BFCM) bring about the ultimate shopping frenzy, with shoppers eagerly hunting for incredible discounts. To succeed during this retail extravaganza, ensure your online store is primed and ready for the rush. High-demand product categories include electronics like headphones, smartwatches, and gadgets. Fashion items, such as clothing, shoes, and accessories, are top sellers during BFCM. Don't overlook home appliances and kitchen gadgets, as shoppers often seize the opportunity to upgrade. Beauty products like skincare sets and makeup kits are in high demand as well. Preparing your inventory for these days is key to the success of your dropshipping business.
>>> Read more: 9 tips to catch up with Black Friday on TikTok Mega Sales 2023
Christmas (December 24th)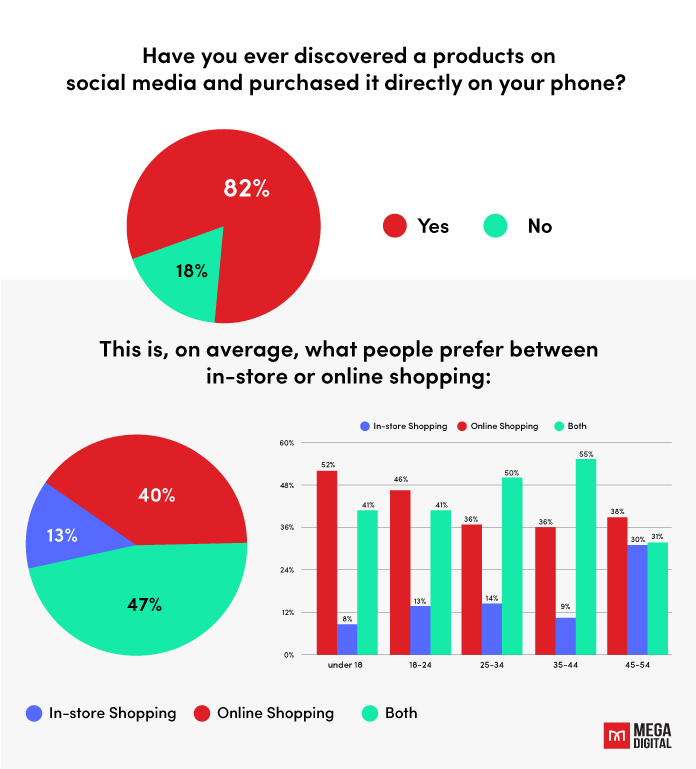 Christmas, a season of magic, gift-giving, and spreading joy, is an incredibly lucrative time for retailers. For dropshippers, consider offering Christmas ornaments and tree decorations that allow customers to personalize their holiday décor. Don't forget holiday-themed apparel, including the perennial favorite, ugly Christmas sweaters – they're sure to be a hit. Remember to include a variety of gifts for family and friends, such as personalized items and toys. Essential for creating a winter wonderland, festive lights and outdoor decorations should also be part of your inventory. The focus during this season is on creating warm and memorable moments, so make sure your product selection helps customers achieve just that.
>>> Learn more: 2023's Hottest Christmas Dropshipping Products
Conclusion
Now you know how to start dropshipping, it is an exciting opportunity for dropshippers of all levels. With its low startup costs, flexible business model, and endless possibilities, dropshipping can be a rewarding way to achieve your financial and professional goals. As you embark on your dropshipping journey, remember to stay focused, persistent, and adaptable.
If you're a dropshipper looking for a new and potential platform to sell on, TikTok is a great option. But with so many users and so much content, it can be difficult to stand out. That's where Mega Digital's TikTok advertising service comes in.
Mega Digital can help you create and run effective TikTok ads that will reach your target audience and drive sales. We have a team of experienced TikTok marketers who know what it takes to succeed on the platform. Contact Mega Digital today to learn more about our TikTok advertising service and how we can help you boost your dropshipping business.