Hello, brands and sellers! Are you ready to dive into the exciting realm of TikTok Shop? Earning money on TikTok Shop by connecting with users through online businesses today! Uncover easy-to-follow guides for creating your shop, linking accounts, and boosting profits. Embark on a journey of digital commerce and tap into the power of TikTok's dynamic ecosystem right now!
How to get on Tiktok Shop?
TikTok Shop is an innovative e-commerce platform that lets creators and merchants establish and manage their online businesses directly within the TikTok app.
Users can conveniently explore a wide range of products from merchants' and creators' accounts through various channels, including Livestreams, Video content, Product cart (the shopping tab under the account profile) and multiple types of shopping ads. This seamless and native shopping experience takes place entirely within the TikTok app.
As TikTok continues to enhance its commerce features and explore new opportunities, the goal remains to empower its community to discover and interact with products they love effortlessly. In the meantime, sellers who utilize TikTok Shop gain access to a suite of marketplace tools to enhance their e-commerce journey:
TikTok Seller Center: A complete workstation portal. It provides all-in-one solutions to launch and manage TikTok Shopping effortlessly.
TikTok Affiliate: Sellers can partner with Creators to create commission-based product marketing content, reaching a wider audience.
Native Checkout Flow: A built-in payment solution. It streamlines the buying process for customers.
TikTok Shop is available for different users:
Sellers
Creators
Partners
Affiliates
– Located in the UK, Chinese mainland, Hong Kong, or Indonesia.

– Need to provide a phone number from that region, a certificate of incorporation for your business, and identification.
Account must be in good standing, and you must have:
– 1,000+ followers
– 50+ video views in the last 28 days
– Be 18 years old
– Have posted a video on TikTok in the past 28 days
Must have a registered business in these countries:
– China
– Indonesia
– Italy
– Malaysia
– Philippines
– Singapore
– Thailand
– Turkey
– UK
– Vietnam
Registered as a TikTok Shop seller from:
– United Kingdom
– Chinese mainland
– Hong Kong SAR Seller (cross-border only)
– Indonesia
– Malaysia
– Thailand
– Vietnam
– Philippines
– Singapore
These users can leverage the platform to showcase their products, engage with customers through unique content, and offer a seamless shopping experience to TikTok's extensive user base.
How to set up a TikTok Shop?
TikTok Commerce offers two eCommerce solutions: TikTok Shop and Storefront, each with its unique setup process.
Set up TikTok Shop at TikTok Seller Center
TikTok Shop is currently a pilot program available in select markets and platforms. If you meet the requirements and TikTok Shop is available in your region, here's how you can set up a TikTok Shop:
Sign up at TikTok Seller Center: Head over to the TikTok Seller Center to start the process.
Upload Necessary Documents: Provide all required documents and information.
Add Your Products: Showcase your products on TikTok.
Link Your Bank Account: Connect your bank account for seamless transactions.
Congratulations! You're now an official TikTok merchant. With your TikTok Shop now fully set up, you can conveniently manage all aspects of your business through the Seller Center. This includes tasks such as:
Add new products
Handle inventory
Process orders
Manage TikTok promotions 
Collaborate with creators
Provide customer service
Embrace your role as a TikTok merchant and delve into the dynamic world of eCommerce on the TikTok platform!
How to link TikTok Shop to TikTok account?
For official accounts, when you utilize them during the TikTok Shop registration process will automatically be designated as the official account for your store. If you wish to link your TikTok account to TikTok Shop, follow these steps:
Access TikTok Shop SellerCenter: Log in to your TikTok Shop SellerCenter account.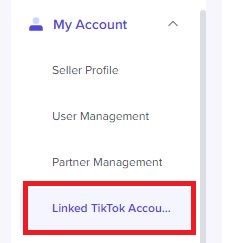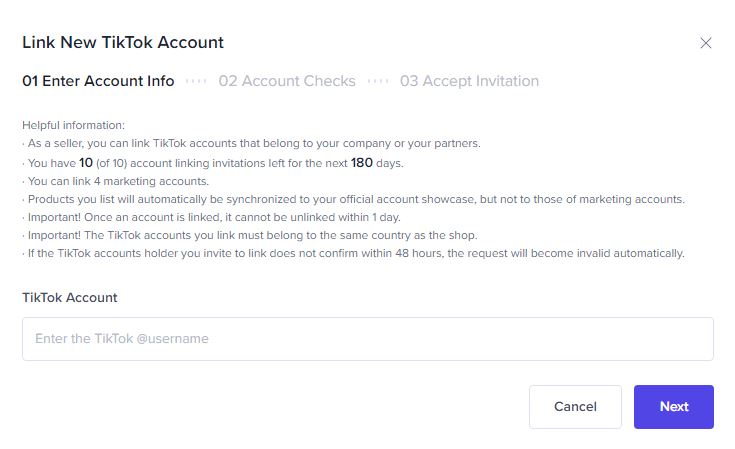 Choose Account Type: Select either the "Official Account" tab to link official accounts or the "Marketing Accounts" tab to link marketing accounts.
Start Linking Process

Click on "Add New TikTok Account" to begin the linking process.
Click "unlink" on the account you wish to unlink. A pop-up window for account changes will appear. Click "Unlink Existing Account" to remove the link.
Account Eligibility Check: TikTok will assess whether the account meets the required criteria. If it does, click "Send Invitations" to send official or marketing account invitations.
Approval and Registration: Once the invitations are approved, the accounts will be registered on your official account page and TikTok Shop marketing account.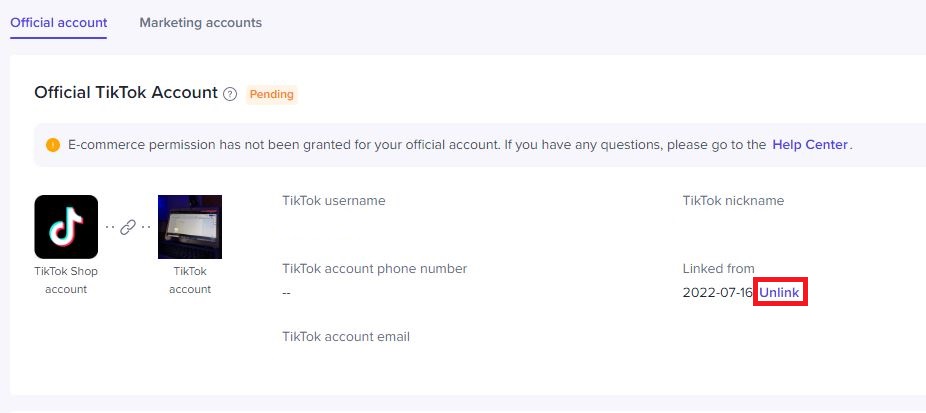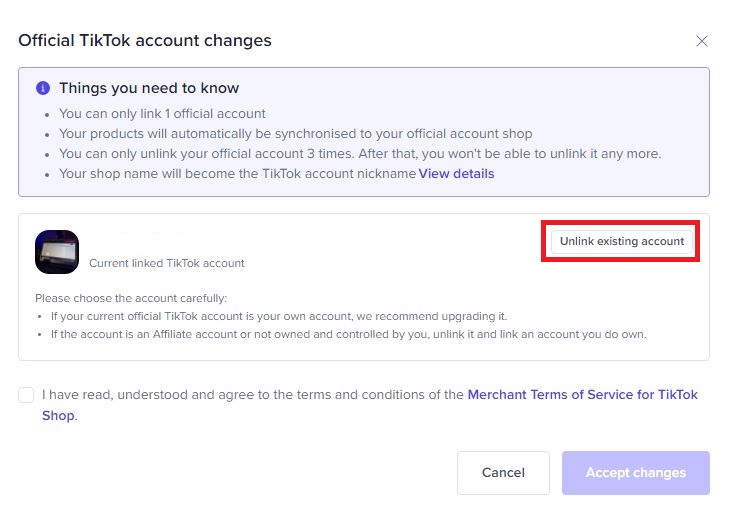 NOTE: For official accounts, you can remove the account up to three times. After that, further deletions won't be possible. Ensure that you link your official accounts accurately.
How do you make a shop on TikTok?
TikTok Storefront is currently available only to merchants who have completed onboarding. Stay tuned for updates as we continuously evolve our products to support business growth through TikTok!
Partner Platform: Launch your storefront using a supported eCommerce partner platform with the TikTok eCommerce Partner Platform Integration. Instantly sync your products from your eCommerce platform to TikTok For Business and TikTok Store Manager.
Manual Setup: Launch directly from your TikTok For Business account. Create product catalogs on TikTok Business Center and set up a storefront on TikTok Store Manager.
API Integration: Utilize the TikTok Marketing API to create an app for setting up and managing your storefront.
With TikTok Shop, you can tap into a range of features and advertising tools to elevate your eCommerce experience and engage with your audience like never before.
>> Read more: The Advantages of Embracing TikTok E-commerce to your Businesses
How to Set Up a TikTok Storefront on a Partner Platform?
The Partner Platform option is user-friendly and suitable for businesses looking for a streamlined process. If you have technical expertise and want a more customized solution, setting up via API is the way to go. Choose the method that matches your technical capabilities and business needs.
Certainly, this is a shortened version while keeping the format. Here's a step-by-step guide to help you get started setting up a TikTok Storefront on a Partner Platform:
Step 1: Choose a Supported Partner Platform
Before you begin, make sure you have selected a supported eCommerce partner platform. TikTok currently offers integration with specific partner platforms to set up your Storefront seamlessly. Supported eCommerce partner platforms are
​BigCommerce
Ecwid
Shopify
Square
Step 2: Set Up Storefront
Follow platform instructions to create your online store with product details. This typically involves creating product catalogs, adding product information, images, and pricing.
Step 3: Connect to TikTok For Business
Connect your store to TikTok For Business. Sign in to your TikTok For Business account and navigate to the TikTok Store Manager.
Step 4: Sync Products
In the TikTok Store Manager, you can sync your products from the partner platform to TikTok. This integration ensures that your products are seamlessly available for purchase on the TikTok app.
Step 5: Customize Storefront
Customize your TikTok Storefront to match your brand's look and feel. Add appealing visuals, engaging descriptions, and catchy product names to attract potential customers.
Step 6: Activate Storefront
Review all the details and ensure everything looks perfect. When you're satisfied, activate your TikTok Storefront, making it live for users to explore and shop.
Step 7: Monitor and Optimize
Once your TikTok Storefront is live, keep a close eye on its performance. Monitor sales, customer interactions, and engagement. Use the insights to optimize your product offerings, marketing strategies, and Storefront layout for better results.
By following these steps, you'll be able to set up your TikTok Storefront on a Partner Platform, providing a seamless shopping experience to TikTok users and expanding your eCommerce reach on this dynamic platform.
How to Set Up TikTok Storefront via API?
TikTok Storefront can be set up using TikTok's Marketing API – a platform interface that automates ad management and data analysis for more efficient advertising on TikTok. After creating an app with the Marketing API, you gain access to specific endpoints that allow you to establish TikTok Shop seamlessly.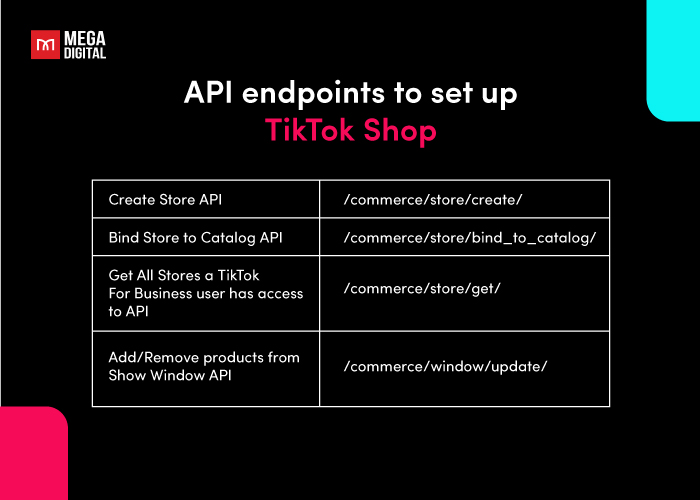 One more, authorize a TikTok For Business user to call the API endpoints listed above and perform the following tasks:
Create a store on TikTok Business Center owned by the TikTok For Business user.
Bind the TikTok For Business user's catalog to the store.
Bind a TikTok account with the TikTok For Business user's account.
Bind the store to the TikTok For Business user's account.
Now you can easily set up your TikTok Storefront, enabling a seamless shopping experience for your customers.
Final words
In the ever-evolving world of e-commerce, TikTok stands out as a dynamic platform for business growth. This guide will help you through the entire process, from crafting and launching your own TikTok Shop. With the combination of our creativity, strategy, and ability to reach a global audience, your TikTok Shop will have the potential for financial success and a fresh path in modern commerce! Sales seasons are coming up, get ready with your TikTok Shop and increase your revenue with our strategic ebook – TikTok Holiday. Get it now!