Instagram Reels vs TikTok is a relatively new battle. Since TikTok's success has extended beyond Gen Z to a wide range of age groups, Instagram has introduced Reels to retain the audience that it has lost to its competitors, which is still growing in popularity.
Reels has been developing recently, and Instagram has had time to build out its interface and features to compete with or outperform TikTok. Is it a more complete version, or merely an exact copy of the concept? Does TikTok has made any modifications to defeat this new competitor? All of this is covered with further details in our guide to the two video platforms.
What are Instagram Reels?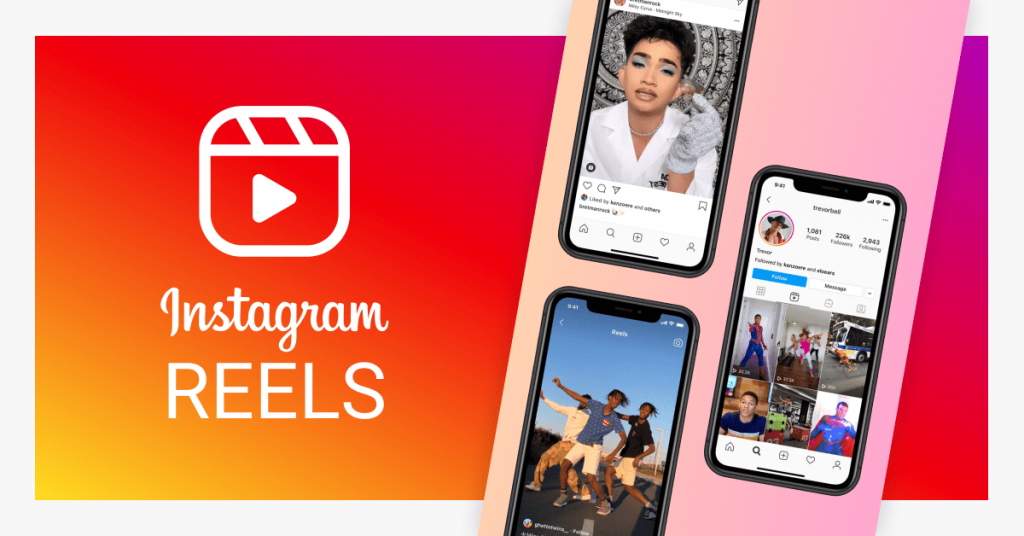 Reels, released in 2020, is Instagram's reaction to TikTok in terms of short-form video. That's where the Reels vs. TikTok story comes from.
Since Reels and TikTok offer many of the same features and functions, video-focused users usually exchange between these two apps when it comes to video content. According to recent Instagram statistics, Reels is one of the platform's most popular features. With the addition of Reels to Stories, carousels, and even longer-form videos, marketers on Instagram can now cover all of their visual content bases.
Reels, which are popular among e-commerce businesses, are often used to:
Highlight collaborators and influencers
Show off products in action
Release more announcements (e.g. product launches and discounts)
Consider Reels to be an extension of your existing Instagram presence, allowing your brand to be discovered outside of your feed via Instagram's organic search or the Reels tab on any profile.
What is TikTok?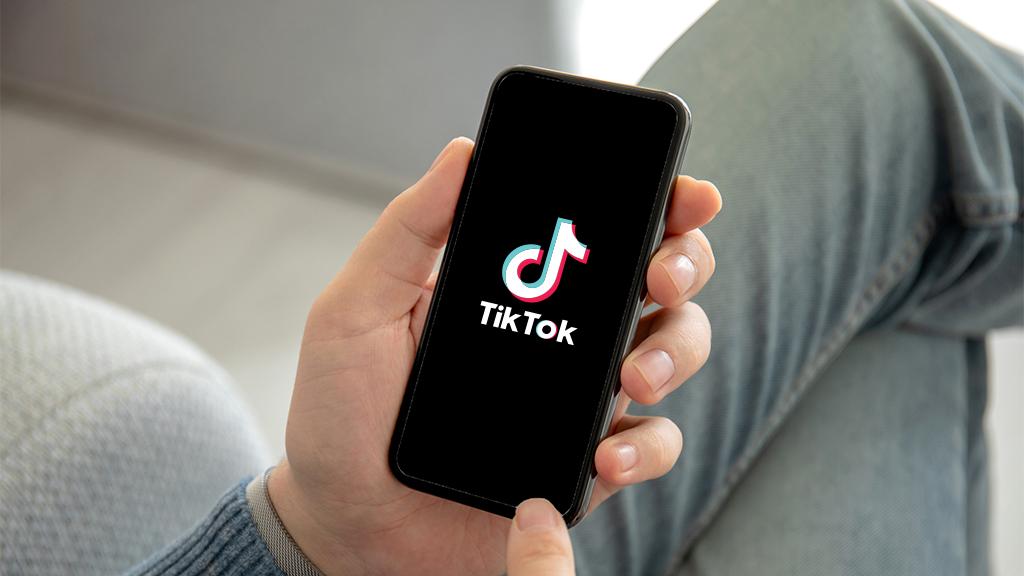 TikTok is the growing social media for short-form video, with over 1 billion monthly active users. This platform is infamous for entertaining video content that is not so serious. Unlike on other social media platforms where videos are precisely and prolonged produced, short and viral content performs better on TikTok.
TikTok's focus on community and sharing enables marketers to engage with customers while showcasing items in action. These videos perfectly integrate entertainment value with education, thanks to quick edits, voice-overs, and in-app music. This not only allows businesses to showcase their products but also allows their brand voice to shine.
Here's a short breakdown of the most popular TikTok video types:
Explaining videos
How-tos and tutorials
Product showcases, reviews, and recommendations
Hashtag challenges
Skits and memes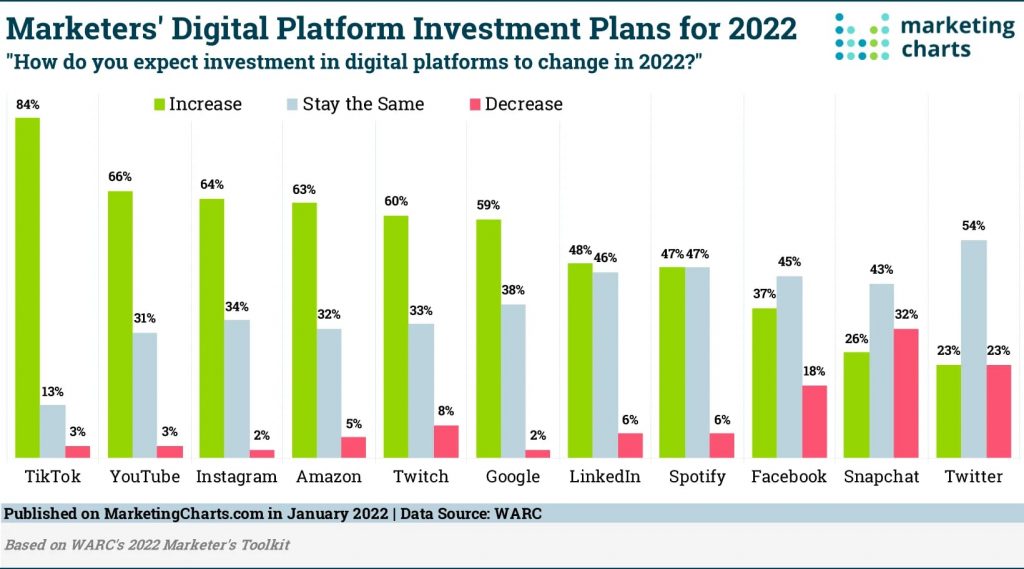 The surging growth of TikTok makes it appear to be one of the worthy channels for business promoting. Now that TikTok is dominated by product-centric articles and recommendations, marketers and advertisers find it very potential to bring products and brands closer to targeted customers. According to the WARC's report, 84% of marketers admitted to include TikTok spending in their digital plan in 2022..
What are the Instagram reels vs TikTok differences?
Video length
Though TikTok and Reels are both built on the same concept, the 30-second limit on Reels gives it a very different foundation. It restricts users to short, straightforward messages and instructions, whereas TikTok's 60-second restriction allows for mini-series that span many sections. This is an important strategy for increasing interaction and profile views. A one-minute video is already a little amount of time to concentrate on a creative concept, but it provides just enough space to adapt and explore.
Audio
TikTok's sound collection is not restricted to chart music. Its users are continuously making new sounds, which occasionally become part of new trends, and it has sometimes given independent music artists early recognition. Gen Z frequently seeks to 'join' these fast-paced trends as soon as possible to expand their views and become one of the success tales rewarded popularity via a viral TikTok song.
Make no mistake, Reels offers a diverse range of audio selections, but it lacks the depth of TikTok's catalog. Much of the audio on Reels is taken from TikTok videos. This technique works well, but it still requires Reels and its viewers to rely on TikTok to create a video that will do well in the algorithm.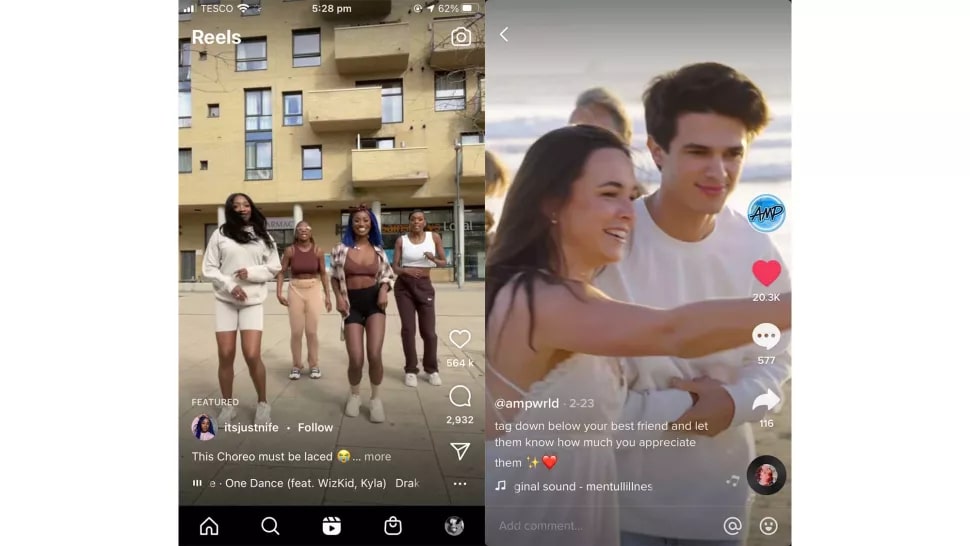 Instagram is not a platform for music. Because it is centered on artists sharing their work, it has tighter copyright limitations by nature, whereas TikTok was founded on the concept of using copyrighted music. Instagram's attempt to merge two very distinct business models results in a collision.
TikTok is more about a generation sharing ideas to generate entertainment and uniting in humor, whereas Reels is simply Instagram's method of competing with TikTok and attempting to reclaim part of their following.
Algorithm
TikTok's algorithm was a mystery for a long period until it was officially revealed to users. When comparing Instagram reels vs the TikTok algorithm, the For You Page of TikTok is more personalized to your specific interests.
If you use TikTok for the first time, the algorithm recommends videos based on several factors, beginning with which content you like as a new user and modifying for content you signal that you're not interested in. For TikTok, some factors impact the algorithm, especially engagement with other users such as liking, commenting, or sharing to the accounts you follow. The metadata of a video contains information including the caption, sound effects, and hashtags. Your device and account settings include your language preference, country setting, and device type.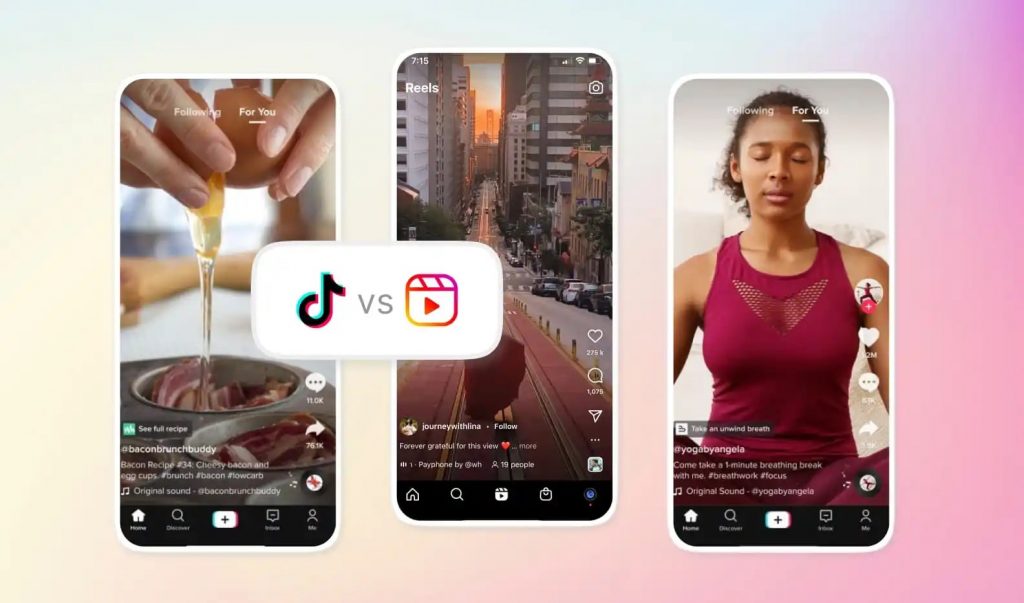 Instagram Reels algorithm is not as well-defined as TikTok's yet. On the Instagram Reels Explore page, it is unclear whether the content is based on where you are or what interests you. You will be notified if your Reel is featured in Explore. Instagram selects several public reels to help you discover new and unique content, which will hopefully entertain and inspire you. There is no further explanation for why or how Instagram selects the featured content. However, it is possible that if your Reel is featured, your video and profile will go viral!
Moreover, whereas TikTok is largely influenced by trends, videos on Reels resemble more "classic" video content that has been styled to match the vertical format.
Video editing
Unique video effects frequently influence TikTok's trends. Reels only includes the Instagram Stories filters and does not have as many effects as TikTok. Specific effects are sometimes required for users who are attempting to stay up with trends. For some, the touch-up button, which softens your face, is one of TikTok's most important features.
The Reels counterpart is not nearly as strong, but it does have filters with improved touch-up tools. The disadvantage is that filters and effects are not separated on Reels; they are combined, which means you can only select one, and thus, have less diversity in the final appearance of the video.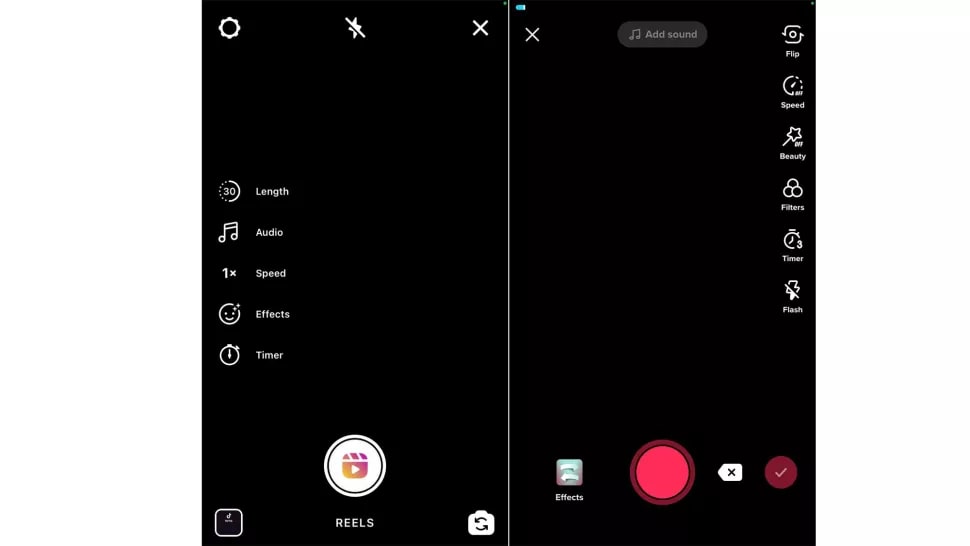 Sometimes, TikTok offers the option to save videos to your camera roll, which may be off-putting to creatives. The videos are saved with a watermark and a credit to the user at the conclusion, which protects the content to some extent. Because you can not save a Reel, no one can copy your video on Instagram, which is consistent with Instagram's original business model. Instagram has always been about pictures and presentations, a benefit of Reels is that a thumbnail for a video may be selected from your camera roll, whereas TikTok requires a frame from the movie itself.
Analytics
Regarding analytics, there are obvious differences between Instagram reels vs TikTok. Instagram has always had a changing and difficult-to-navigate algorithm, and Reels has yet to build one that is as straightforward or useful for this sort of content as TikTok's. The popularity of TikTok among Gen Z and Millenials turned this platform into a monetized channel for influencers. TikTok also provides more in-depth data on your audience, whereas Reels adds nothing to Instagram's standard metrics.
Paid advertising
When it comes to TikTok ads vs Instagram ads, TikTok offers better commercials as well as sponsored content. Sponsored content is typically provided by larger corporations and hence intended to assist influencers to flourish rather than firms. TikTok commercials are tailored to feeds, whereas Reels does not offer advertisements, which is a significant advantage for its viewers.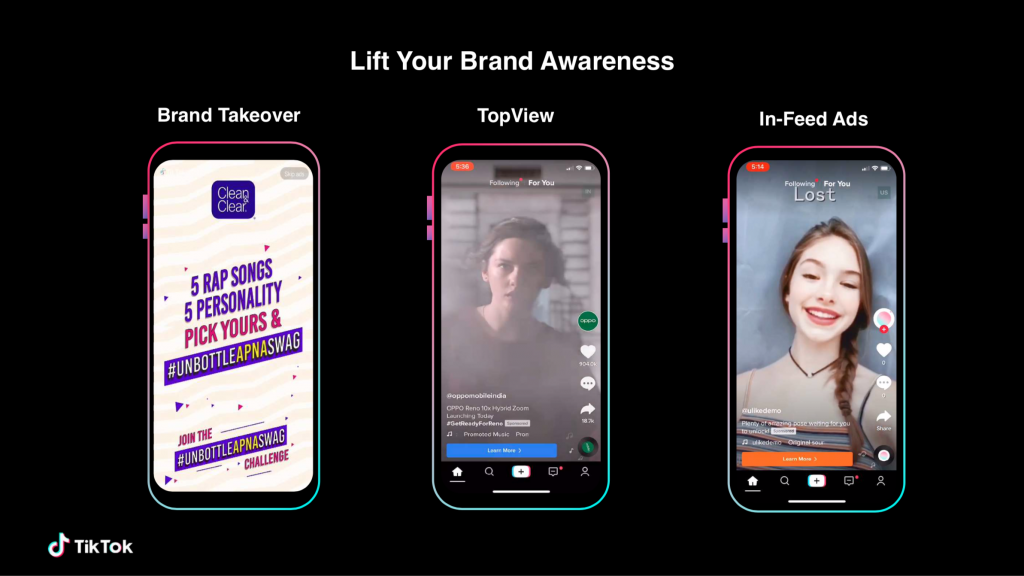 TikTok offers 10 options of ad format: Branded takeover, In-feed, Topview, Branded hashtag challenge, and Branded effect,… Meanwhile, the in-feed format embeds your video as an ad on the FYP, making it appear native. Users can interact with your advertisement the same way they would with any other TikTok content by liking, commenting, sharing, and reusing the sound for their own content.
Ads in Reels will be full screen and vertical, it is the same as ads in Stories and will appear in between individual Reels. These ads, like regular Reels content, will loop and can last up to 30 seconds. Users can easily comment, like, view, save, and share content on Reels. Reels advertisements will appear in the most popular locations for accessing Reels content. This includes the Reels tab, Explore Reels, and your feed Reels. In addition, influencers can still add a tag to a post that informs the audience that the video is sponsored. This is far more user-friendly and was most likely made feasible by Instagram's advertising skills in other places.
Which platform should you use: TikTok or Instagram Reels?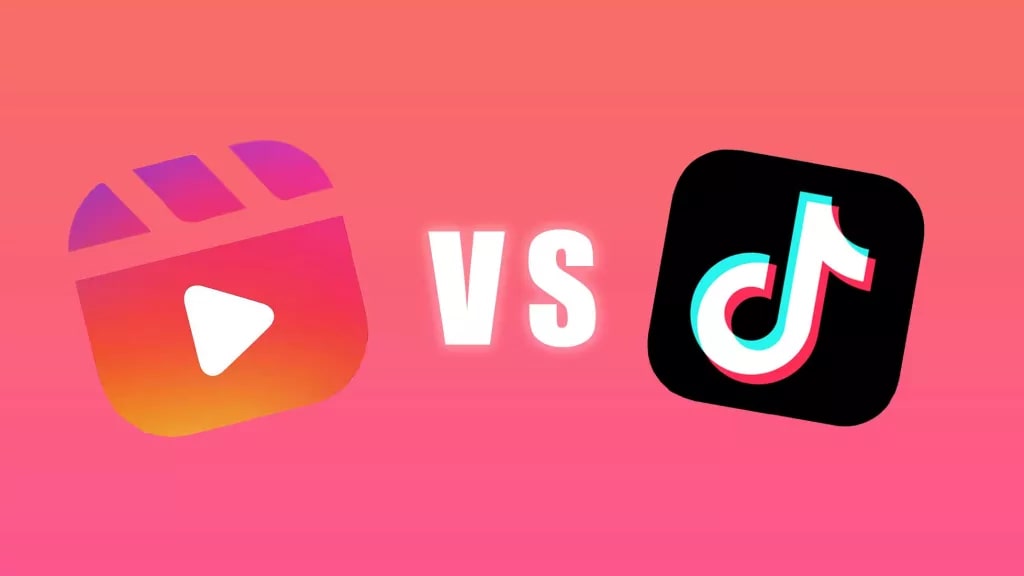 Undoubtedly, TikTok is the best platform for short video content. Reels is an obvious attempt by Instagram to reclaim its following, but it is also a beneficial feature of the site that should be utilized to its full potential.
The short video is the future of entertainment, and TikTok is the place to experience it right now. However, if you're seeking new methods to grow your Instagram account, Reels is a terrific way to add dimension to your brand presentation in short-video form. Remember that if you're new to TikTok, you may direct your existing Instagram following to your account by sharing watermarked versions of your videos on Reels.
Final word
The competition between Instagram Reels vs TikTok is hotter than ever. If you are must choose a channel to access to a broader quantity of customers, TikTok seem to be more attractive and try-worthy. However, don't be scared to branch out and make use of both platforms (known as cross-promotion). They can undoubtedly bounce ideas off one another in ways that benefit your business or personal brand. To learn more about cross-promotion and other marketing tips, let's read the following article of Mega Digital!