With the ever-changing platform as TikTok, it can be challenging to keep up with the latest trends and techniques. But fear not, we've got you covered! In this article, we'll share the best TikTok trends expected to take the platform by storm in 2024. These trends will inspire you to create engaging and exciting content that resonates with your audience. So, read on to discover the hottest trends that will help you stay ahead of the game on this popular video-sharing app!
What are considered as TikTok Trends?
TikTok Trends are ideas and behaviors that acquire a lot of attention on TikTok and, as a result, impact what individuals do on the platform. They often involve the use of specific sounds or music, unique editing styles, and creative approaches to content creation.
3 types of trends can be divided based on their timespan:
Nano trends (Reactive Creative): Short moments that go viral quickly and often end in a short period (from a few days to a few weeks) after mass saturation.
Micro trends (Always-on Creative): Emerging subcultures that are user interests and expectations being expressed on TikTok, often lasting a few months to a few years.
Macro trends (Storytelling Creative/Big Ideas): Enduring cultural shifts (up to 10 years) that reflect people's values, interests, and needs.
Best Trends on TikTok to Make You Stand Out
We've compiled a list of the most unique and attention-grabbing trends that are sure to elevate your content and make you the star of the show. So get ready to dazzle your followers and make a name for yourself on TikTok!
Dance Challenge
Dance Challenge is always on the list of TikTok best trends with its diversity of songs and dance. Creating and participating in these challenges has helped several famous TikTokers shake their way to fame.
Not only that, but many brands have also hopped on the dance floor to showcase their personality and connect with their audience. So, put on your dancing shoes, and let's get jiggy with it!
Pack your order with me
Packing your orders might seem like a mundane task, but did you know it can bring people together? Yes, that's right! Small businesses have found that recording themselves packing orders creates a sense of community among their customers.
For some companies, this has grown so popular that they frequently get comments from clients asking for their orders to be wrapped live. Not only do brands give off those satisfying ASMR vibes (seriously, it's a thing), but they also show consumers that their products are being carefully packaged and handled with love.
Here is an illustration of this kind of trend from a tiny jewelry company:
Satisfying videos
One of the best TikTok trends in 2024 is satisfying videos that make the audience satisfied with not only the visual (oddly satisfying videos) but also the sound (ASMR clips) of the content.  
Oddly satisfying videos are all about creating eye-catching visuals that will leave you mesmerized like this following professional baker delicately decorating cookies:
ASMR concentrates exclusively on sound, like filling jars with the product as in the clip from DTE Beauty:
Skits
If you want to educate your audience in an entertaining way, skits are the way to go. Think of it as a mini-play that will leave your viewers laughing and learning all at once. Skits are perfect for introducing new products or services, sharing client experiences, and more. And if you need to break down a complicated topic, a skit is the perfect solution.
Just take a look at The Washington Post using a skit to explain a news story in a way that everybody could understand easily:
Day in the Life
One of the best TikTok trends right now is "Day in the Life". It's like reality TV, but way better because it's on TikTok! The idea is to give your followers a sneak peek into your routine every day, especially if you're running a business.
Check out this boss baker who's slaying the game by sharing her daily life on TikTok. She's got her followers hooked on her baking adventures:
Niche or subculture content
Subcultures are like little secret clubs where like-minded individuals can gather and bond over their similar interests, aesthetics, and values. They hold beliefs or ideas that differ from those of mainstream culture. 75% of users say subculture is an important aspect of their identity.
And that's where businesses come in. Using subculture content is one of the best TikTok trends to help you connect with your audience in a way that feels authentic and trustworthy. And TikTok has got subcultures for days, from #BookTok to #FoodTok, #CleanTok, and even #MoneyTok.
If you want to win over a subculture community, you've got to speak their language. Take Barnes and Noble, for example. Many B&N stores have their own TikTok accounts where they post videos featuring the bookkeepers' preferred reading material, shop designs, or cleverly applied filters. They can easily integrate with #BookTok like the below video:
TikTok Trends in Nov 2023 (updating)
If you want to stay in the loop with the best TikTok trends right now, look no further! We've got you covered with a weekly updated list of what's going viral on the app.
Get Hype — November 3, 2023
Trend Recap:
Dust off your dancing shoes and grab a friend (or two). Here's how it works: as the music starts, you strike a cool pose or break into dance.
In the next part, the lights go off, your friends illuminate you with their phone lights, and you go all out, showing off your best moves to the beat.
This trend is perfect for family gatherings or prepping for a performance. And if you all decide to wear costumes, it's even better – after all, who needs Halloween as the only reason to dress up?
Sound: JRitt — Benjamins Deli
Current videos: 540K
Ok, Well That's Interesting – Nov 1, 2023
Trend Recap: Post a video with this popular sound to express your desire to avoid certain scenarios. It could be something as simple as your brother catching you wearing his favourite shirt, or as daunting as your boss asking for a progress report on a project.
Sound: original sound – Memes about stuff
Current videos: 89.5K videos
Read More: How To Go Viral on TikTok 2024
How to keep updated on best TikTok trends
If you want to be a trendsetter, you have to stay in the know about the latest and greatest in the world of trends. Below are some useful tips on how to keep yourself informed on the best TikTok trends in various areas such as fashion, beauty, technology, and more.
Watch the "For You Feed" for 10 minutes daily
The For You Feed will rapidly offer you the most recent nano trends for you, with a focus on subjects, music, and dancing. Yes, it is that simple.
Search for #yourbrand and relevant hashtags frequently
You should discover what creators are doing in these spaces and what type of content performs well by visiting hashtags that are relevant to your brand. For example, you can search #foodtok or #cooktok if you work in the Food and Beverage industry.
Search on TikTok Creative Centre
By visiting the TikTok Creative Center, you can explore what is the most popular TikTok trend in various markets and verticals (creators, hashtags, and music). With its breakdowns based on industry, audience demographics, and related videos, this hub offers a valuable resource for users seeking data-driven insights on current trends and inspires your TikTok content.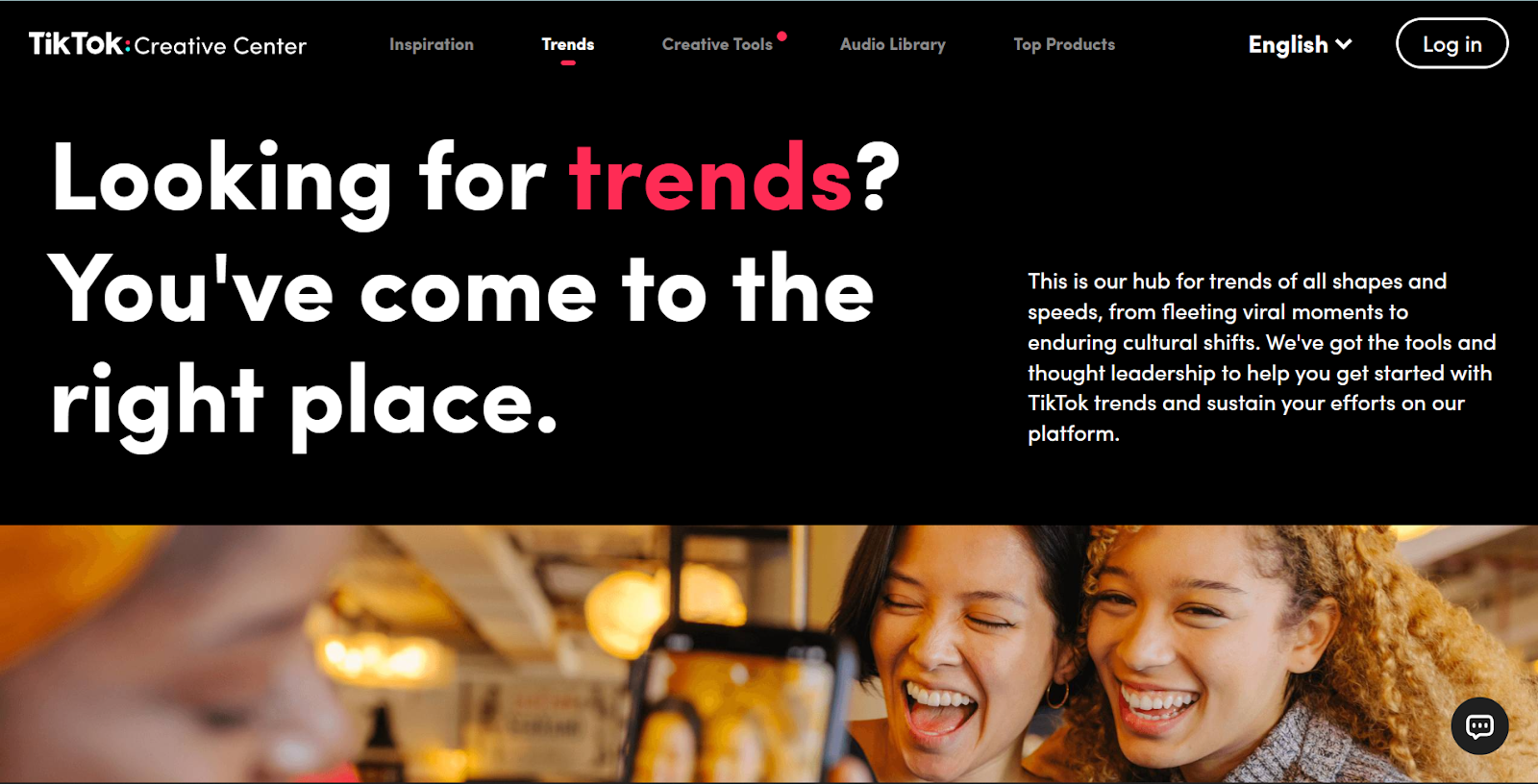 Final word
We hope this blog has inspired you to experiment with the best TikTok trends and create content engaging your audience in 2024. Remember, staying ahead of the curve on social media can be challenging, but by keeping up with the top trends, you can position yourself for success. You can also take advantage of the best TikTok hashtags to level up your brand identity on TikTok by checking the following article.