After a long time of waiting, TikTok Shop has now marked its grand entrance into the United States. This exciting fusion of entertainment and shopping is set to reshape the way we engage with brands and products, as #TikTokmademebuyit successfully reached 70.2 billion views. So, let's dive into the exhilarating world of TikTok Shop and uncover what's in store for American consumers with Mega Digital!
How does TikTok impact US users in the shopping journey?
TikTok has significantly changed the way US users shop online by revolutionizing how they discover, explore, and engage with products. With its engaging short-form videos and a vast community of creators, TikTok has become a powerful platform for brand promotion and product discovery.
Product discovery and awareness: TikTok acts as a virtual mall, where users can stumble upon a wide array of products through engaging videos. 89% of TikTok users in the US confirmed that TikTok is the platform where they first discovered a new product or service.
Trend-driven purchases: TikTok trends can swiftly popularize specific products or brands. Users are inclined to participate in these trends by purchasing the recommended items, creating a sense of belonging within the community. Brands often make use of these trends to boost sales and visibility, while they can directly create the trend themselves. Take #TikTokmademebuyit as an example, it has shown the powerful impact of TikTok on online shopping. A striking 43% of users have made purchases directly inspired by trends they encountered on the platform, showcasing the platform's undeniable impact on consumer purchasing behavior.
Influencer recommendations: Influencers on TikTok hold considerable sway over their audience. Their product reviews, demonstrations, and endorsements can significantly impact a user's decision to make a purchase. Users often trust influencers' opinions and recommendations, making TikTok a potent platform for influencer-driven marketing.
What's new with TikTok Shop in US?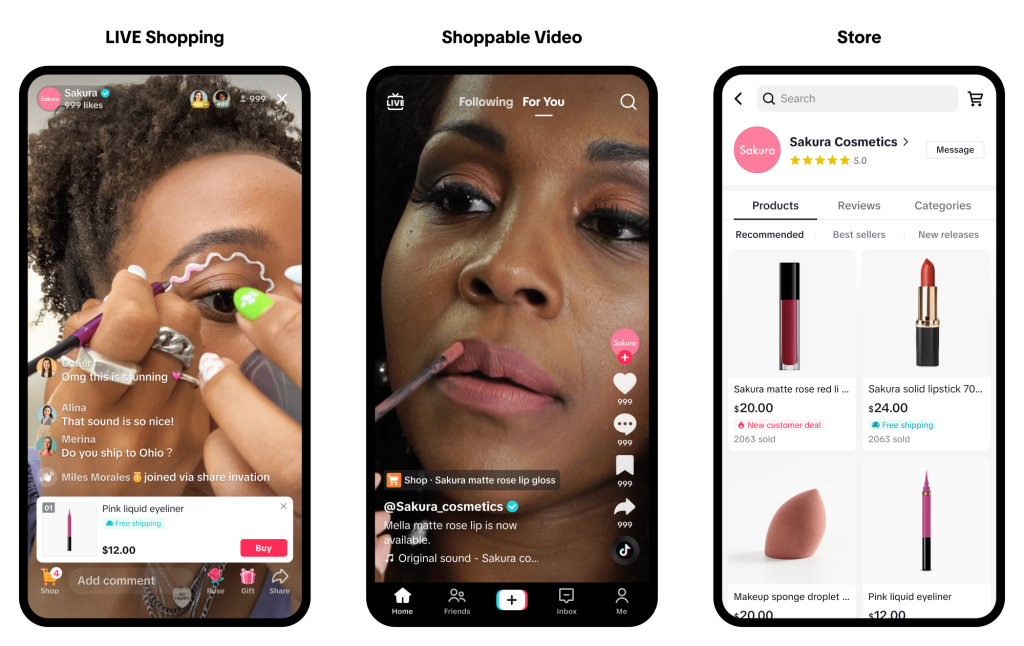 On September 12th, 2023, TikTok introduced TikTok Shop to the US market after successfully branching out in Southeast Asia and the UK. With TikTok Shop, US users can now seamlessly shop within the app, while brands and sellers can directly display their products to a wide range of shoppers.
Increase product awareness and discoverability
Here's a glimpse of what TikTok Shop offers:
TikTok Shopping Ads: Move aside branding ad options! With the introduction of TikTok Shop, advertisers and brands have the chance to display products by tagging and pinning them on their promoting videos. You can now browse the product catalog and add them to your cart while still being inside an advertisement. TikTok Video Shopping Ads, Carousel Ads, Dynamic Showcase Ads, etc. all come along with the TikTok Shopping bundle. So, remember to check it out now!
>>> Read more: TikTok Shopping Ads: All about eCommerce advertising solutions
Product showcase: Explore product tiles, read reviews, and make purchases directly from your favorite brand's profile. Brands can personalize product collections on their profile page.
Shop tab: Discover an array of products in a new marketplace, easily search and find promotions, and manage orders within a dedicated tab. Product recommendations and shoppable content enrich the experience.
Affiliate program: Connect with sellers through commission-based product opportunities. Creators can monetize their creativity by showcasing products in short videos and livestreams.
In addition to enabling brands to showcase their products on the platform, ByteDance offers logistics solutions through "Fulfilled by TikTok" and a secure checkout process.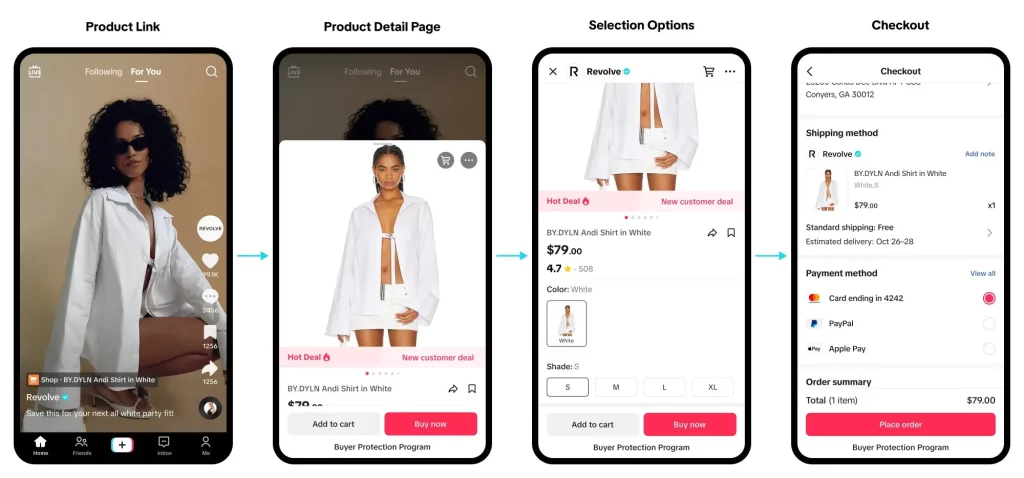 Easily integrate with E-commerce platforms
Partnering with fellow e-commerce platforms: TikTok facilitates direct connections for merchants from their preferred commerce platforms. Shopify merchants, for instance, can seamlessly manage their TikTok Shop directly within Shopify using the TikTok for Shopify App. Additionally, TikTok offers direct integrations and connectors with major commerce platforms like WooCommerce, Salesforce Commerce Cloud, BigCommerce, and Magento, among others.
>>> Read more: The Advantages of Embracing TikTok Ecommerce to your Businesses
Collaborate with multi-channel platforms: TikTok collaborates with top multi-channel platforms including Channel Advisor, Feedonomics, Productsup, Pipe17, GoDataFeed, SellerCloud, Linnworks, ChannelEngine, ShoppingFeed, and Cymbio.
Feature diverse apps: TikTok collaborates with top multi-channel platforms including Channel Advisor, Feedonomics, Productsup, Pipe17, GoDataFeed, SellerCloud, Linnworks, ChannelEngine, ShoppingFeed, and Cymbio.
TikTok places utmost importance on creating a secure and trustworthy shopping experience for the community. From product discovery to purchase, TikTok empowers users with features such as product reviews, reporting tools, and hassle-free returns and refunds. The protection of US user data remains a priority, securely stored and managed in the US by USDS. Likewise, US users' payment information is handled by USDS, and transactions on TikTok Shop are facilitated through trusted third-party payment platforms.
So, don't miss out while the iron is hot! Dive into TikTok Shop now to elevate your brand and boost sales, taking your shopping journey to the next level! Sale seasons are coming up, let's do it now!