Carousel Ads on TikTok are a cutting-edge ad format that enables advertisers and marketers to create an appealing brand visual to attract audiences. They have the visual captivation and persuasive power to turn passive viewers into active participants. So, what are TikTok carousel ads? How to create a carousel on TikTok successfully? Mega Digital will give you detailed answers in this article.
What are TikTok Carousel Ads?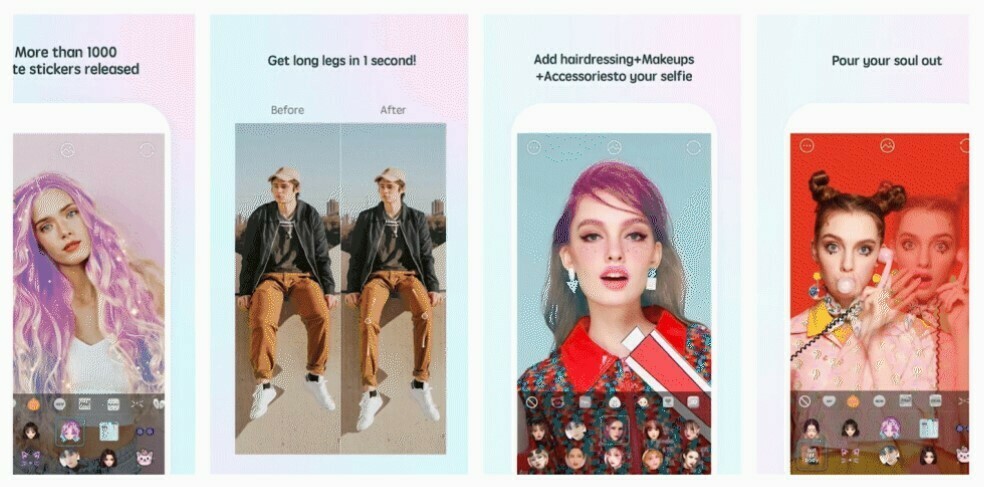 TikTok Carousel ads are multi-image ads that appear on the 'News Feed' of TikTok users. Specifically, this ad format supports advertisers sharing 2 to 10 images and adding a caption for every image in only one ad.
Using Carousel ads on TikTok can be a great opportunity to:
Showcase product releases or hot collections.
Announce a challenge, giveaway, or flash sale.
Moreover, the ability to display various images at one time in carousel ads allows the advertiser save the marketing cost and promote engagement with the audience.
Why should brands choose TikTok Carousel Ads?
Share brand stories
Visual storytelling is crucial for brands to create an effective brand strategy. By thoughtfully selecting and arranging photos and captions, brands can develop a narrative that resonates with their target audience, driving engagement and enhancing brand recognition. Utilizing TikTok Carousel Ads can definitely help brands stand out in a sea of videos while highlighting their campaign's unique features.
Act as an online catalog
TikTok Carousel Ads allow brands to display multiple products in a single ad, providing their audience with a brief glimpse of their product range and encouraging them to explore more products on their website or app. This approach is particularly advantageous for e-commerce brands that want to promote various products and for industries such as fashion and beauty, where visual product displays are essential.
Moreover, incorporating interactive add-ons such as call-to-action buttons, links to product pages, or flash sale banners can simplify the process for consumers to take action and make purchases. This can lead to increased conversions and sales, making it an effective strategy for brands to drive business growth.
Highlight essential product details
The captions going with each image in the carousel ad frame can be utilized to emphasize the distinct component or characteristics of the product, which draws more attention and engagement.
Carousel Advertising Specifications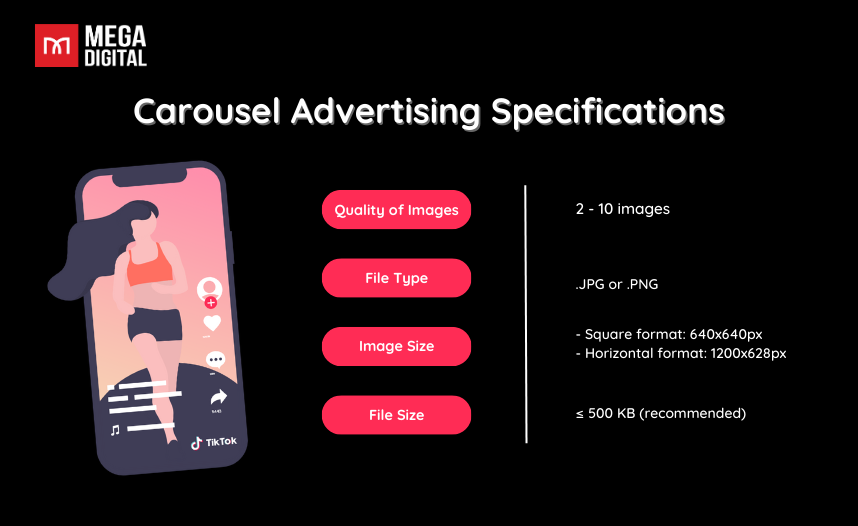 Title's character limitation
• To ensure an adequate content presentation, the text must have 12 to 40 characters (20 Japanese characters).
• There will only be one line of the 20-character limit in the ad captions. (JP or Latin).
• Longer text may not display in varied lengths or incompletely on the screen in part, leaving "…", depending on the phone type and operating system.
• Characters with a half-width will count as 1 character.
• Full-width characters will count as two characters.
• Punctuation will be viewed as occupying characters.
• Space at the start and finish will not be considered a character; nevertheless, other space positions will be counted as characters.
• Emojis are not supported.
Ad Objective
Carousel ads on TikTok are only available for Traffic/Conversion/App Install Objectives.
Note:
• Each image may be configured with a distinct URL page.
• Each image can be set for various ad captions on the platform.
How to create a carousel on TikTok
Here are the steps to create a TikTok carousel ad:
Step 1: Log in to your TikTok Ads account and click on the "Campaigns" tab.
Step 2: Choose one of three video objectives: Traffic, Conversion, or App Install.
Step 3: Select the "Ad groups" tab, then choose the ad group where you want to add the carousel ad or create a new one.
Step 4: Click on the "Ads" tab and select "Create Ad".
Step 5: Choose the ad format as "Carousel", then select the objective of your ad.
Step 6: Add the ad creative, including the images or videos you want to include in your carousel.
You can add up to 10 cards in your carousel ad, with each card containing a different image or video.
Fill in each image's editable fields, such as text, Website URL, and Deeplink.
All the images in the carousel must be in the same aspect ratio (square or horizontal).
Crop your photos using the system's advice or your own.
Step 7: Write your ad copy then choose the call-to-action (CTA) for your ad.
Step 8: Set your ad targeting options, including the audience, placement, and budget.
Step 9: Preview your ad to ensure that it looks good and is functioning correctly.
Step 10: Click on "Submit" to submit your ad for review.
After your ad is approved, it will start running on TikTok, and you can track its performance on the "Campaigns" tab of your TikTok Ads account. Remember to monitor your ad performance regularly and adjust your targeting or creative as needed to optimize your results.
Note:
Ensure that every image or video you include in your advertisement is of high quality and is pleasing to the eye. Additionally, make sure that each image or video has a distinct CTA (call-to-action).
Also, take note that only TikTok whitelisted agency accounts have access to create carousel ads. So don't hesitate to contact Mega Digital to rent one if you want to employ these potential adverts to upgrade your commercials.
Examples of successful brands that use TikTok Carousel Ads
Carousel Ads were highly effective at showing several products or features in a single ad, delivering more information to viewers, and boosting the possibility of purchasing. So, here are a few successful TikTok carousel ad examples:
Chipotle
Objective: To promote a new menu item, the "Guac Mode" burrito.
Solution: The campaign used the carousel format to showcase the burrito's different ingredients. This ad type allows users to swipe through multiple videos, creating an interactive and engaging experience.
Results:
According to TikTok, the campaign received over 1.1 billion impressions, with an average engagement rate of 8.55%.
It also drove a 9.5% increase in Chipotle's digital sales during the promotion period.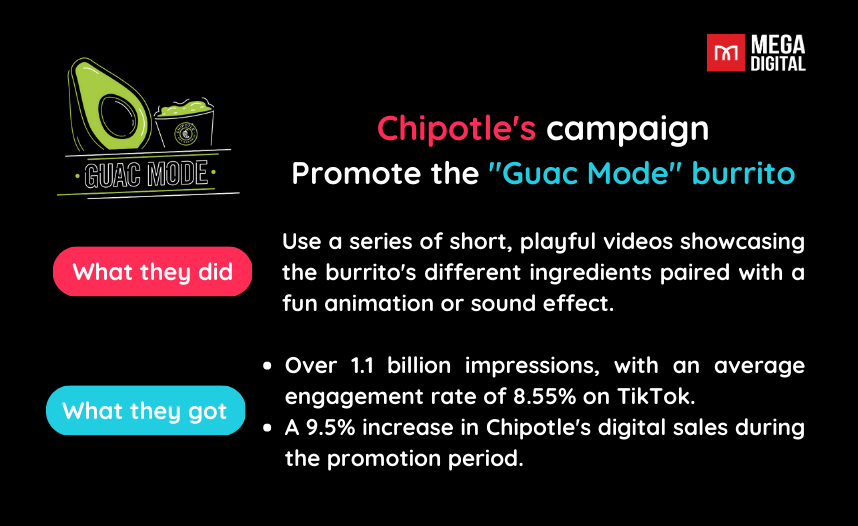 Sephora
Objective: To showcase the range of lipsticks.
Solution: The campaign utilized each slide of the carousel to feature a different lipstick shade, with a model wearing the lipstick and posing against a colorful background. It was designed to be visually stunning, with bold, eye-catching colors that would grab users' attention as they scrolled through their feeds.
Results: The campaign was a huge success, generating over 1.5 billion impressions and a 10% engagement rate.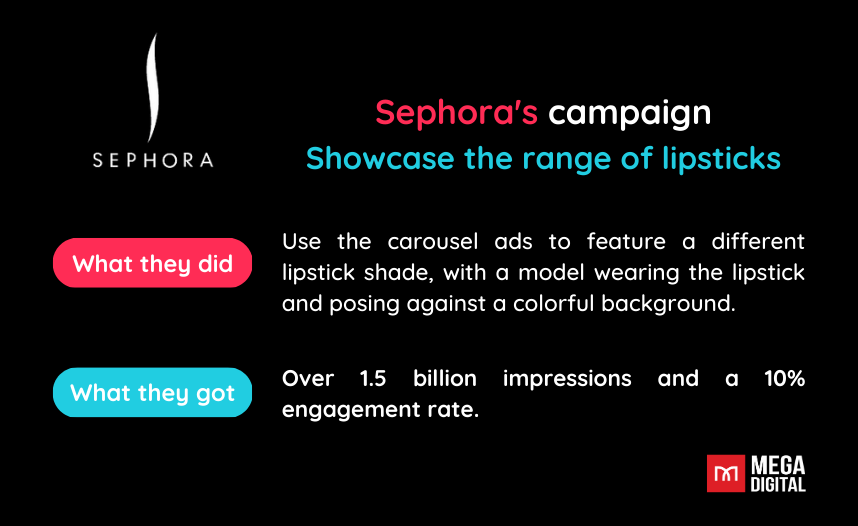 Tips for creators and brands to succeed with carousel ads on TikTok
To make the most of TikTok Carousel Ads, advertisers should keep in mind these essential tips to create and set up a successful campaign.
Keep carousel ads on TikTok visually engaging
Since carousel ads allow up to 10 images, make sure to use visually appealing and high-quality images that tell a story or showcase your products/services in an interesting way.
Use captions effectively
Each image in the carousel can have a unique caption. Take this advantage to provide additional information about your advertising product or service. Or, try to create a storyline that encourages viewers to swipe through the carousel.
Have a clear call-to-action
Include a clear call-to-action (CTA) in your carousel ad, whether it's to visit your website, download your app, or make a purchase. Be sure to make the CTA straightforward and easily visible.
Test for the best results
As with any form of advertising, it's important to test different images, captions, and CTA to see what works best for your brand and audience. Use data and analytics to guide your decisions and make tweaks as needed.
Consider your target audience
When creating your carousel ad, think about your target audience and what would be most relevant and appealing to them. This will help you create an ad that resonates with your audience and drives better results.
By keeping these tips in mind, creators and brands can effectively leverage carousel ads on TikTok to promote their products or services and drive engagement and conversions.
Final word
TikTok Carousel ads are an innovative ad format that provides multiple visually appealing images to capture users' full attention. However, they only allow Reach & Frequency in TikTok Agency Accounts to implement these ads. So, if you want to unlock the complete power of carousel ads on TikTok and revamp your brand, contact us to get access to agency accounts!