TikTok Interactive Add-Ons were unleashed to spice up brand advertisements and increase user engagement. These exciting features enable advertisers to create a more dynamic and immersive experience for their target audience, making TikTok the perfect platform to fuel creativity and stand out. So, don't miss out on this appealing chance. Read our article and unlock the full potential of your TikTok advertising now!
What is TikTok Interactive Add-Ons?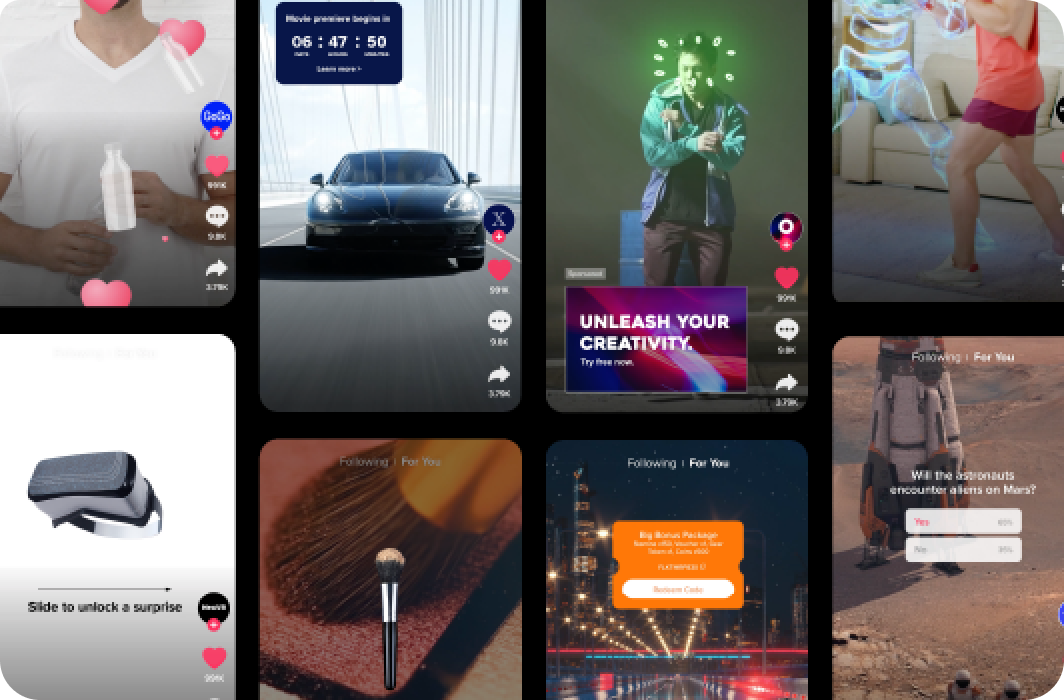 TikTok Interactive Add-Ons are features that allow creators to add interactive elements to their videos, such as polls, quizzes, challenges, and more. These features engage and encourage viewer participation, making them a powerful tool for brands and influencers to increase their reach and promote their products or services.
Interactive Add-Ons capture the undivided attention of your audience in a full-screen, sound-on environment to boost brand engagement and encourage interaction. Depending on your needs, you can enhance your In-Feed Ads with Standard or Premium add-ons.
Why should brands choose to use TikTok Interactive Add-Ons?
TikTok Interactive Add-Ons may be a potent tool for any brand trying to make an impression on the platform with the appropriate strategy and execution.
Increased engagement
Greater brand awareness
Higher conversion rates
Free to use
Increased engagement
TikTok Interactive Add-Ons drive engagement by innovatively catching audiences' attention. With TikTok interactive Add-Ons, advertisers can highlight their promotion or increase brand awareness with mini-games, banners, stickers, etc., that all users can interact with while watching the ads.
Greater brand awareness
TikTok interactive add-ons can create a more engaging and memorable ad experience for viewers, leading to greater brand awareness. By incorporating interactive elements such as countdowns, voting, super likes, and stickers into their ads, brands can increase the time spent engaging with the ad and create a sense of personal connection between the viewer and the brand.
Higher conversion rates
Interactive Add-Ons can also help brands gather valuable insights into their audience's preferences and behavior through data collected from polls and quizzes. With this, ads will be shown to similar behavior customers who are likely to interact with and make purchases. Moreover, add-ons like gift codes, countdown stickers, or display cards create a sense of urgency and excitement, encouraging consumers to take action before the offer expires or the item sells out.
Free to use
Some add-ons are accessible through the TikTok Ads Manager, and brands can easily add them to their in-stream ads to enhance engagement with their target audience. 
The different types of interactive add-ons available on TikTok
Interactive add-ons are a powerful tool for engaging your audience on TikTok. There are several types of add-ons available. Each add-on can help you create more interactive and dynamic content that resonates with your target audience and desired objectives.
Standard
TikTok Display Card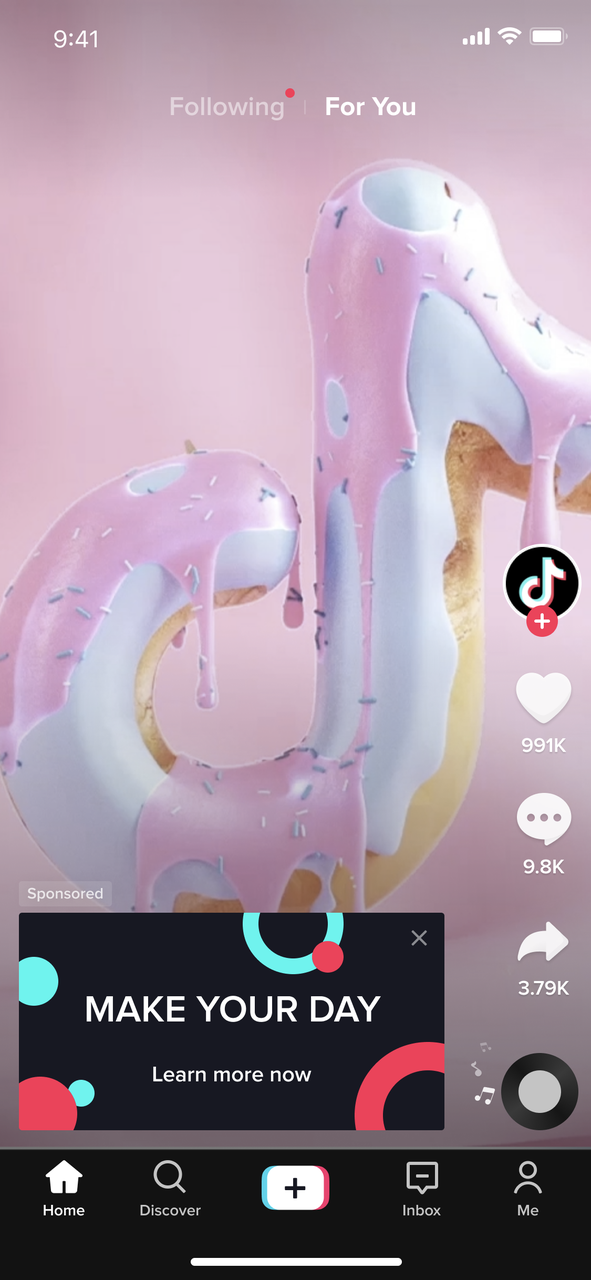 Display Card is an interactive add-on product that lets you include cards within your in-feed video ads. These cards can highlight important messages, share exclusive offers, and drive traffic to your website or app with eye-catching, brand-aligned visuals.
TikTok Display card specs:
Display Cards are available in both landscape and portrait orientations.
The recommended resolution for Display Cards is 720 x 1280 pixels.
The aspect ratio should be 9:16.
Display Cards can include an image or a video up to 15 seconds long.
The maximum file size for Display Cards is 500 MB for videos and 2 MB for images.
Display Cards can include a call-to-action (CTA) button with customizable text.
The CTA button can be linked to an external URL or an in-app destination.
Display Cards can be used in various TikTok ad formats, including TopView, Brand Takeover, and In-Feed Ads.
Gift Code Sticker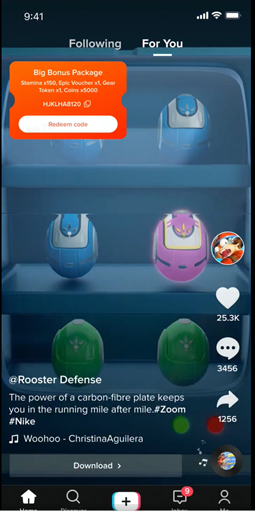 The Gift Code Sticker Interactive Add-on lets you add an exclusive promotional code to your video ad. You can also adjust your sticker size and position on TikTok Ads Manager. This can boost conversion and drive loyalty with special incentives to excite new buyers and re-ignite your existing customer base.
Voting Sticker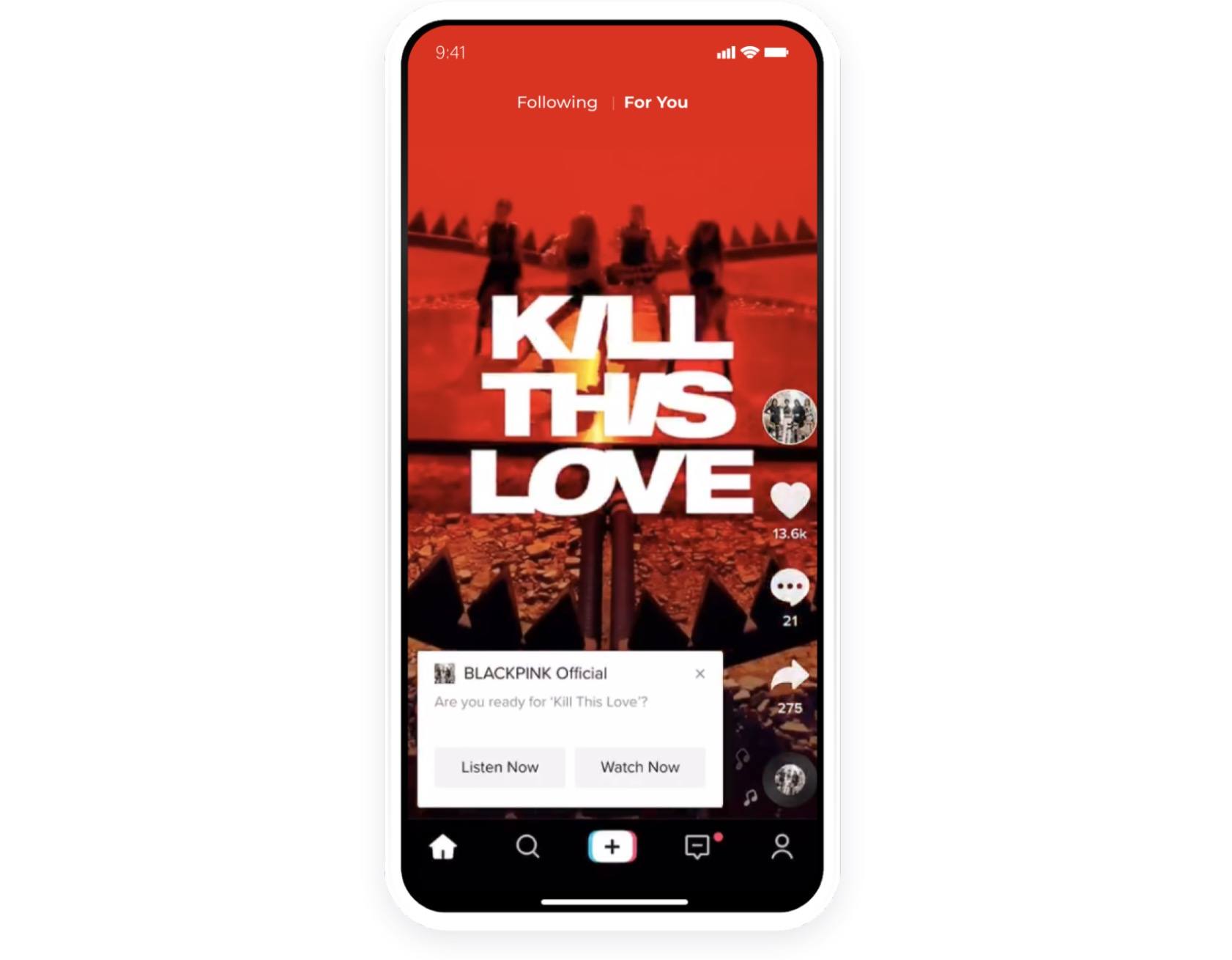 The Voting Sticker Interactive Add-on allows you to add a voting topic to increase user engagement and collect information. This type deepens community connection with audience participation by enabling brands to poll, quiz, or collect feedback from their audiences.
Countdown Sticker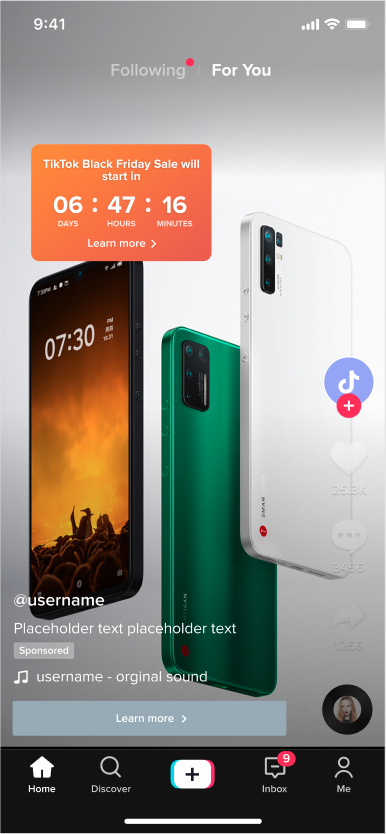 The Countdown Sticker Interactive Add-on allows you to add a timer to your video ad to catch your audience's attention and create a feeling of urgency. It can generate FOMO for upcoming and current events through a visual scrolling timer to help advertisers build buzz around ongoing and upcoming events.
Premium
TikTok Pop-out Showcase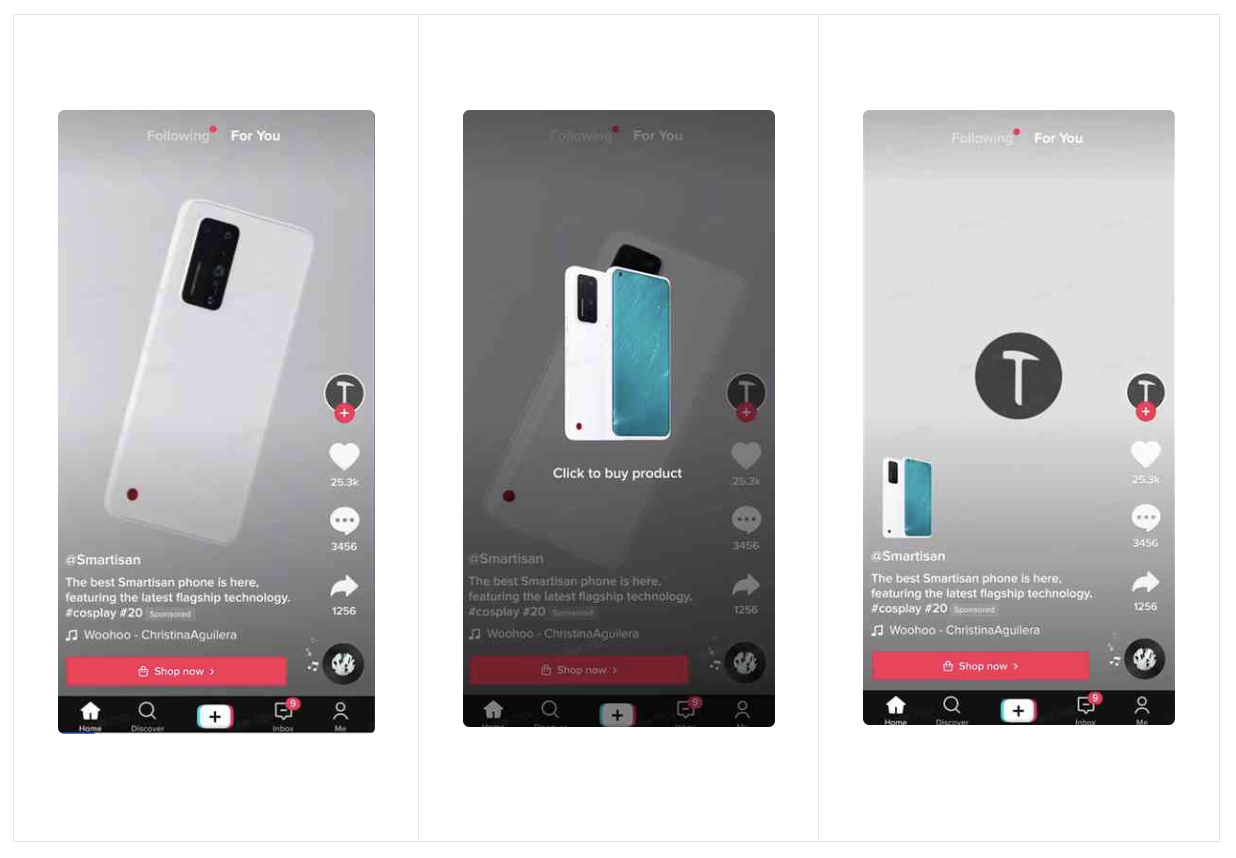 Pop-out Showcase provides a way for brands to spotlight their products in a more visually appealing and interactive way. A pop-out element can illustrate a specific product and highlight it through a pop-out element. This action can drive clicks that lead users to take action with your ad and move further down the funnel. 
TikTok Gesture Ads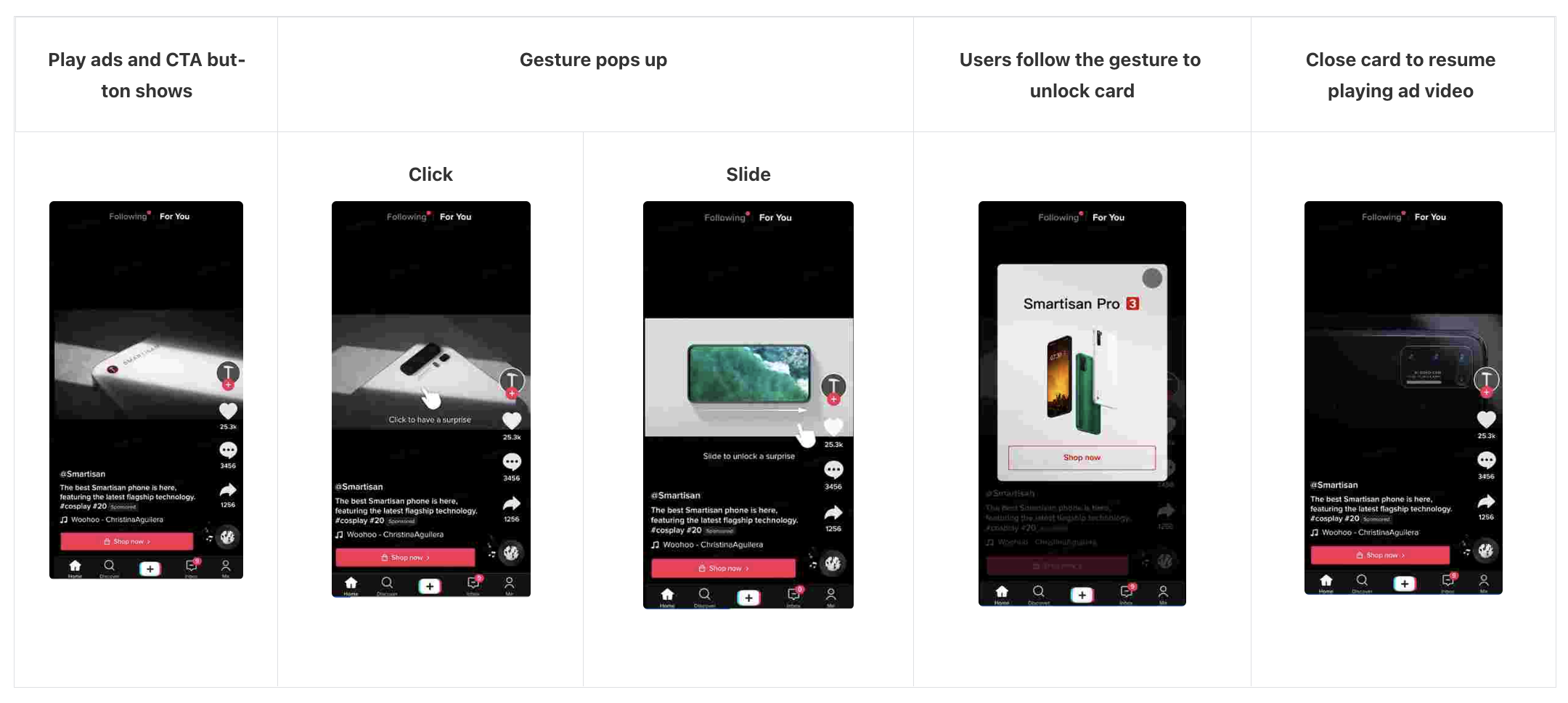 Delight your audience with surprise gestures to increase participation in your ad. Once users take that action, a clickable display card will appear, revealing information or a reward to drive users to your landing page.
Super Like 2.0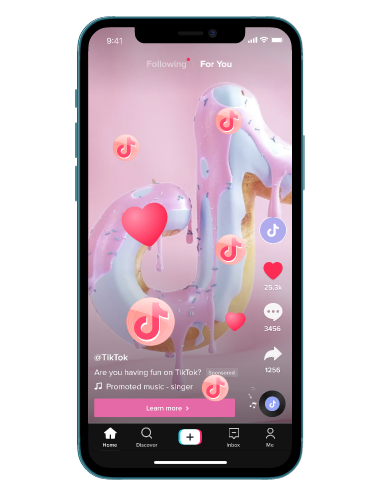 Captivate your audience with eye-catching floating icons that appear when users engage with your ad. This allows you to display a pop-up card after the Super Like effect, inviting users to a landing page to learn more about your product or service.
Standard add-ons offer a way to reach lower-funnel marketing goals, like driving clicks and conversions. However, to accomplish upper-funnel objectives like brand awareness and community building, premium add-ons are a more suitable option.
How to Add Interactive Add-Ons on TikTok
If you are still struggling when using Interactive Add-Ons on TikTok, don't hesitate to follow the step-by-step guide on how to add interactive features to a TikTok ad below: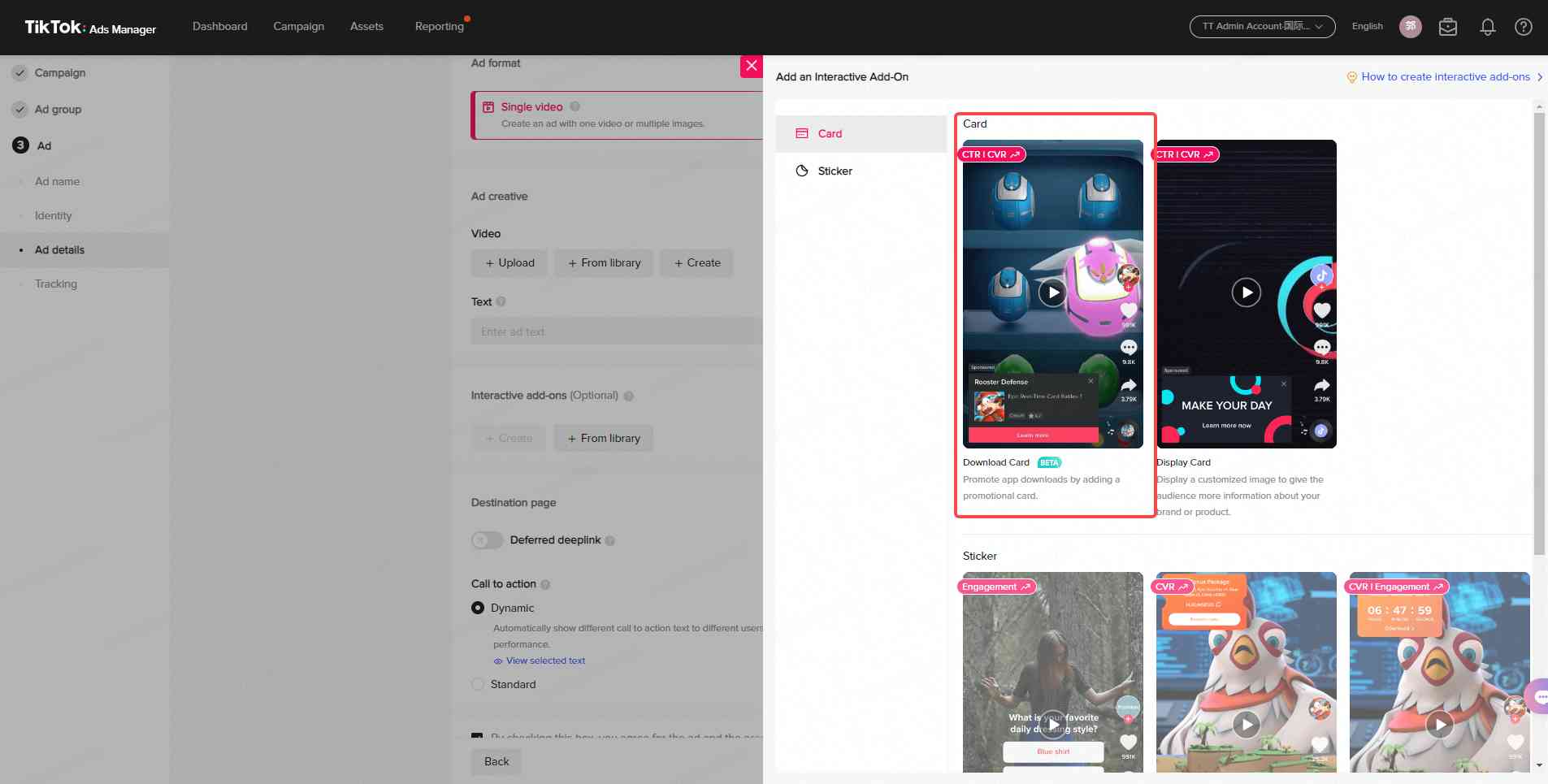 Step 1: Open the TikTok app and click the "Create" button.
Step 2: Select the type of ad you want to create and choose the creative format that suits your campaign goals.
Step 3: Once you've created your ad, click the "Effects" button to access the interactive add-ons.
Step 4: Choose the add-on you want to use, such as a quiz, poll, or countdown timer.
Step 5: Customize the add-on according to your campaign goals.
Step 6: Preview your ad to ensure that the add-on works correctly.
Step 7: Add a call-to-action (CTA) button to your ad, prompting viewers to engage with the add-on.
Step 8: Publish your ad and track the engagement metrics to measure its success.
Typically, add-ons are accessible in all TikTok ads, but certain ones are exclusively available within the Reach & Frequency objectives like Super Like 2.0, Pop-out Showcase, and Gesture Ads. To ensure that you have access to all available add-ons, it's recommended to reach out to TikTok Agency – Mega Digital and obtain an ad agency account that includes access to R&F ads.
Successful Examples of Interactive TikTok Ads
Here are some successful TikTok display card examples that show increased engagement, interest, and sales in brand ad campaigns.
Sephora – Beauty Hacks
Beauty Hacks uses the Stickers feature to create an interactive tutorial on how to create different makeup looks. The brand added stickers with step-by-step instructions, allowing viewers to follow along and create their own looks. This interactive add-on helped Sephora promote its products while providing value to its audience.
With the Gift Code Sticker implemented in advertisements, Sephora's campaign resulted with:
Purchases increased by 75%
Payment value (the total amount spent per transaction) increased by 57%
Purchase rate increased by 6.1x
West Coast Fitness, LLC
West Coast Fitness conducted a Lead Generation campaign using Premium Audiences, targeting fitness enthusiasts for a challenge. They emphasized clear messaging, exclusivity, and urgency with limited spots. They began with broad city targeting across the U.S. and later used Interactive Add-Ons with "2 days left to sign up!" for full-screen, sound-on engagement, enhancing brand interaction.
With Count Down Sticker implemented in advertisements, West Coast Fitness' campaign resulted with:
10M+ impressions
60% decrease in cost per lead
1.6K leads
Mega Digital's tips to use TikTok Interactive add-ons
Interactive add-ons are a powerful tool for advertisers, brands, and sellers to attract, engage more audiences, and increase CTR. So, to effectively implement them in your advertisers, Mega Digital suggests:
Align with Your Content:

Ensure that the Interactive Add-On you choose complements your content and fits naturally into your video. It should enhance the viewer's experience, not feel forced.

Engage Your Audience:

Use Interactive Add-Ons to engage your audience and encourage participation. Ask questions, run polls, or create quizzes that prompt viewers to interact with your video.

Provide Value:

Use Interactive Add-Ons to provide value to your audience. For example, run a quiz related to your industry, offer tips, or ask for input on a relevant topic.

Create a Sense of Urgency:

Use Countdowns to create a sense of urgency and excitement around an upcoming event, product launch, or promotion.

Be Creative and Fun:

TikTok is all about creativity and entertainment. Make your use of Interactive Add-Ons creative and fun to capture your viewers' attention.

Use Music and Sound:

Incorporate music and sound effects to enhance the interactive experience. TikTok is a highly auditory platform, so sound can make your Add-Ons more engaging.

Timing Matters:

Consider when to introduce the Interactive Add-Ons in your video. Placing them strategically can improve their impact.
Final word
TikTok Interactive Add-Ons are essential for engaging users and increasing ad effectiveness beyond traditional ads. These add-ons provide full-screen content with immersive sound, capturing users' complete attention. While Add-Ons are free, they can only be used in Reach & Frequency, which requires a TikTok Agency Account. However, their benefits are well worth the extra effort. If you need help setting up Interactive Add-Ons, please reach out to us for support. Unlock the full potential of your ads and increase their effectiveness today!
And don't forget, sale season is coming! Let's prepare for one of the highest-selling occasion of the year with our ebook TikTok Holiday for 2023!