Owning a Google Ads Manager Account (MCC) helps users deal with the details and manage several accounts. This makes managing your campaigns much more efficient and allows you to maximize the return on your ad spend. This post will discuss the benefits, how it works, and the detailed steps to creating an account.
What is a Google Ads Manager account?
How to manage multiple Google Ads accounts? A Google Ads Manager account (formerly My Client Center or MCC) is a Google Ads account that lets you manage multiple Google Ads accounts in one place. It helps users simultaneously sign in to many accounts with numerous usernames and passwords.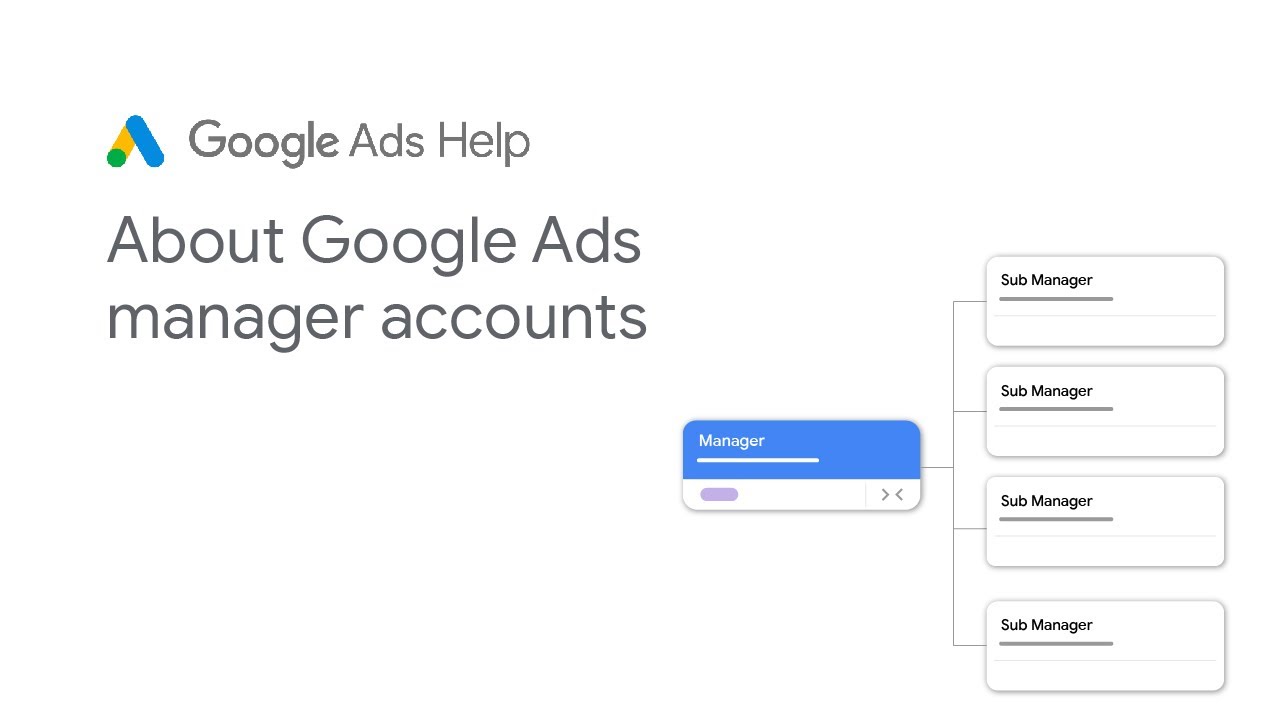 Why should we use a Google Advertising account manager?
Google Ads Manager account benefits
With regular accounts, you can only create 25 more sub-accounts; from there, you can create separate ad accounts. However, this method has a big drawback: Monitoring between accounts causes many difficulties when logging out of the accounts whenever you want to use them. Additionally, saving information and passwords of many individual accounts can overload your devices and confuse you. So, how to manage multiple Google Ads accounts?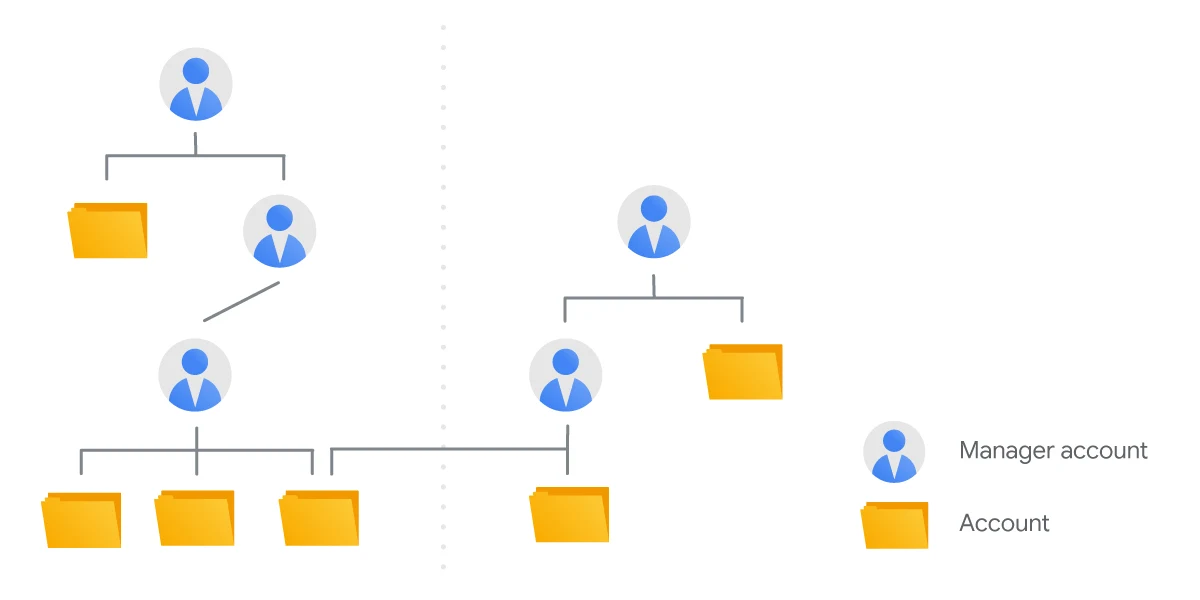 If you need a more comprehensive solution, we strongly advise using the Google Ads Manager account, the perfect manager for businesses with many customers.
With a Google Ads Manager account, you can:
Search, navigate, and manage all your accounts from a single, easy-to-read dashboard.
Create and manage client campaigns from your Google Ads Manager account.
Compare performance across all accounts with ease, and run reports for many accounts at the same time.
Consolidated billing allows you to get a monthly invoice for all your customer accounts.
Use notifications to monitor all of your linked accounts efficiently.
Consolidate your billing so that you can manage payment for all accounts from one place.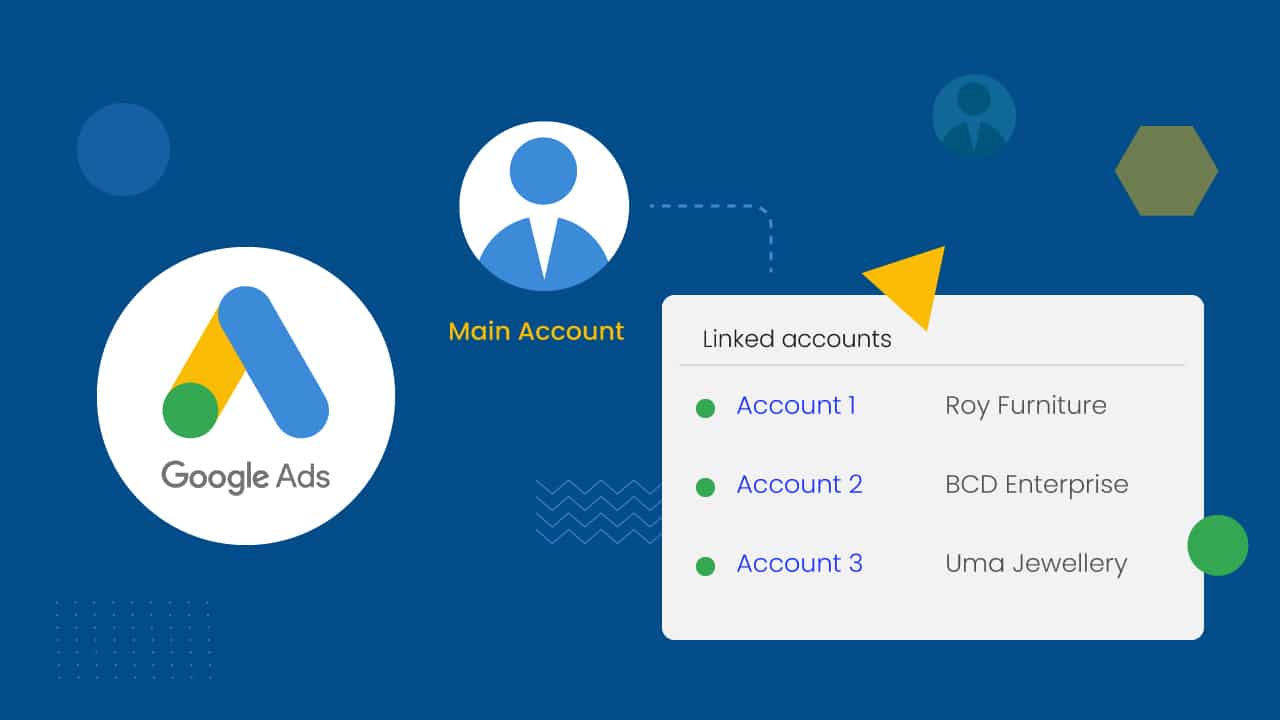 Who should use an MCC account?
While marketing agencies are more likely to run paid advertising on a large enough scale to profit from Google Ads Manager accounts, many other businesses run several ad accounts.
Google Ads Manager may be an effective option for prominent marketers with several Google Ads accounts. It may also be helpful for third-party administrators who manage several customer accounts or campaigns, such as agencies and other online marketing specialists.
Suppose you are in charge of over 20 accounts and want to conveniently analyze conversions or monitor performance across accounts from one location. To avoid trouble, you can also use a Google Ads Manager account rental service from Leading Google Partner in APAC – Mega Digital.
How does a Google Ads Manager account work?
A Google Ads account manager is not simply an "improved" version of your Google Ads account. Let's learn about how it works to drive efficiency to your ads.
Most advertisers manage all of their ads through a single Ad Manager network. You define your ad inventory and the creation, management, and reporting of your marketing campaigns through your Ad Manager network.
Set up your ad inventory, also known as ad units. Here is where you wish to display adverts on your website or mobile application. Ad Manager creates a tag (a short code) for each ad unit.
The tag is added to your website or application. The ad tag requests an ad from Ad Management whenever a person accesses the website or application.
The transactions you make with advertisers or buyers of your ad inventory are represented by the orders and line items you create. Then, campaigns that "target" or refer to the ad unit are acceptable.
Ad Manager provides customizable reports showing you various information, including which ads serve which inventory and your projected revenue.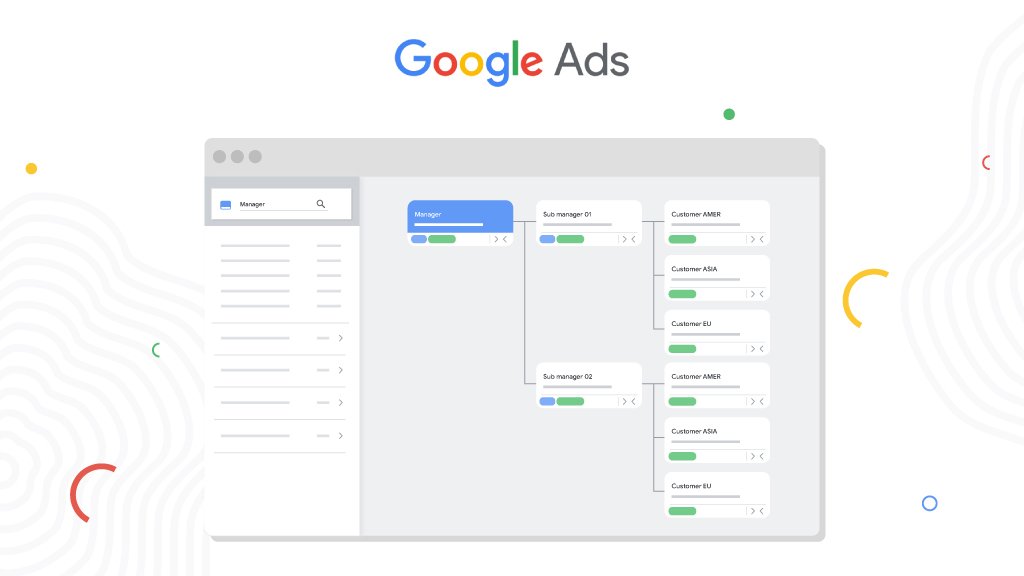 How to create a Google Ads Manager account
It only takes a few minutes to create a Google Ads Manager account. Here is a step-by-step guide to setting up one:
Visit https://ads.google.com/intl/en/home/tools/manager-accounts/
Click on the "Create a manager account" button.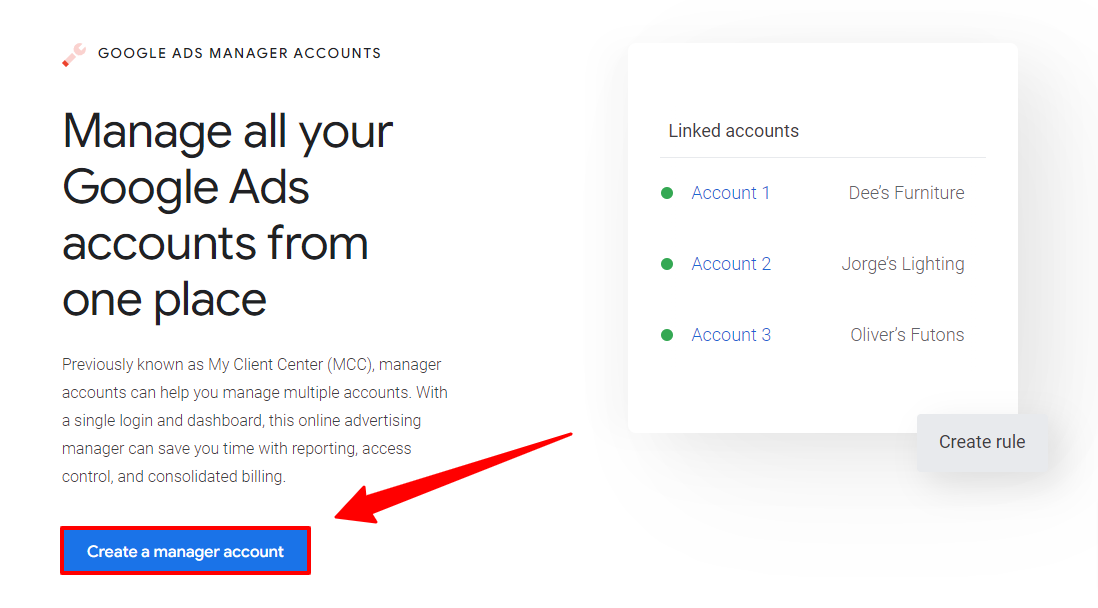 Sign in with the email you'll use to manage your Google Ads account.
It will ask you to sign in to your Google account (if you're not signed in).
Assign a name to your manager account.
Choose how you're going to use the manager account. Either manage your own accounts or manage third-party accounts.
Specify your country and time zone.
The time zone you select is used for reporting and billing, and you can't change it later. We recommend that you choose the time zone your business is based in.
Select a billing currency. Please note that each linked account will be billed in its currency.
We recommend that you choose the currency you use for business. Sub-accounts are billed in their currencies.
Click the "Submit" button to get started with your new account.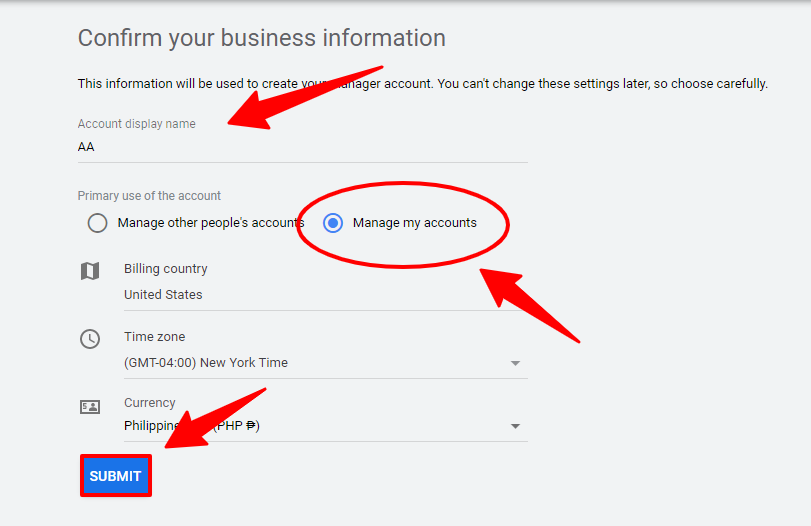 How to link multiple Google Ads accounts
Once your Google Ads Manager account is ready, you can start to link your ad accounts or those of your clients:
Click on Settings > Sub-account settings.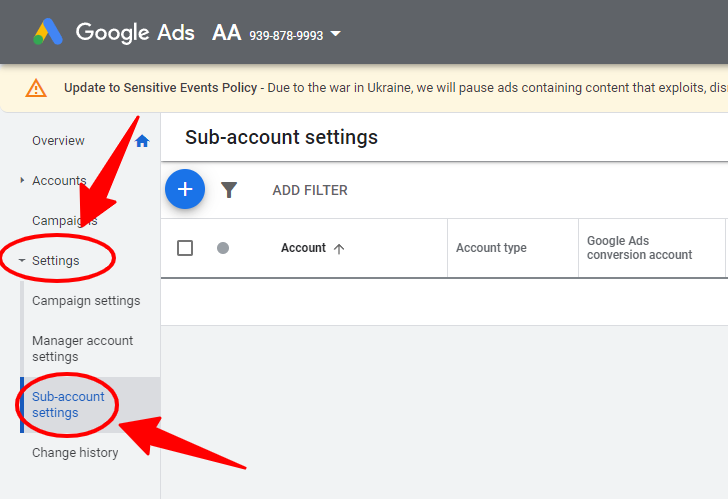 Then, click the blue "+" button, and select "Link existing account."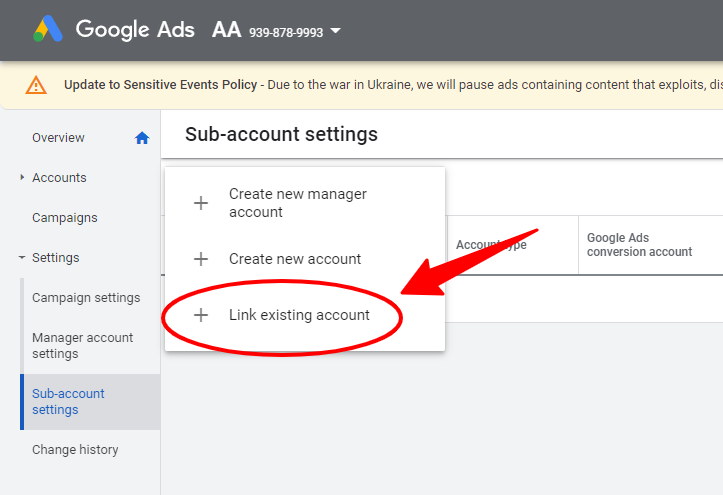 Enter the client account's Google Ads ID (this is the ten-digit number in the top-right corner).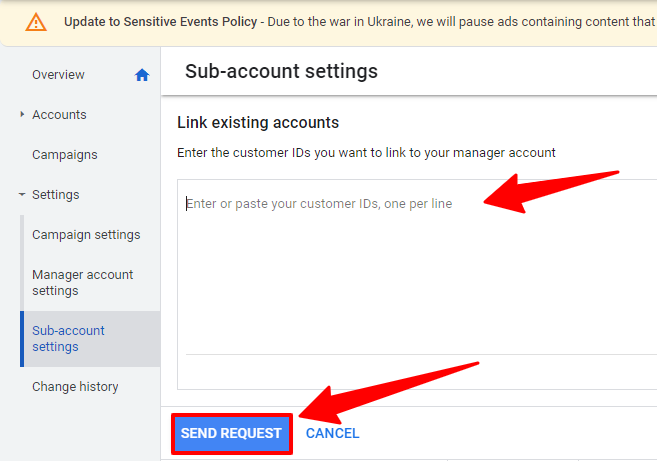 The client account will receive a request to link to the Ads Manager in its account. They will go to the sidebar menu and select "Account Access".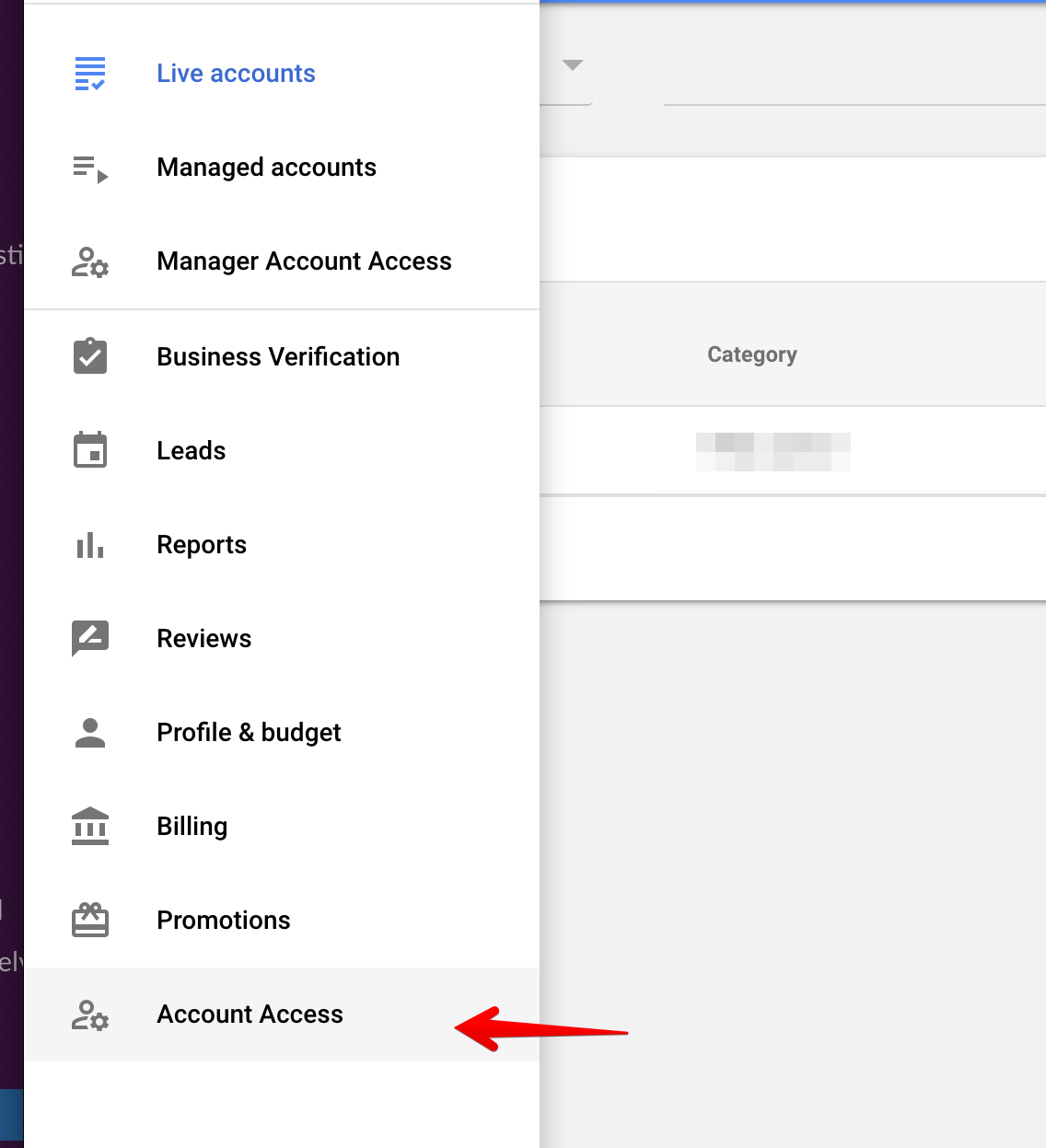 The client account needs to accept the request.
They click the "Managers" tab, look under the "Link request" section to find the request, and click "Accept". The client account also chooses the level of access: Administrative, edit, or view.

You can manage that Google Ads account once the client accepts the request and grants administrative access.
Setting Budgets and Bidding Strategies for Google Ads MCC
When setting up an MCC ads account, it's essential to establish budgets and bidding strategies for each linked ad account. Here's how to do it:
Set budgets for each ad account: Establishing budgets for your linked ad accounts is essential. This will help ensure you stay within budget and allocate resources effectively. To set budgets, go to the "Settings" section of each ad account, select "Budgets", and set a budget for each account.
Choose bidding strategies: Bidding strategies determine how much you bid for specific keywords and determine how often your ads appear. The following bidding strategies are available in Google Ads:

Automatic bidding: Google will automatically adjust your bids to reach the target cost per action (CPA) or return on ad spend (ROAS).
Manual bidding: You can set a specific bid amount for each keyword or placement.
Enhanced cost per click (CPC): Google Ads will automatically adjust your bids to reach the target cost per click.
Verifying and Claiming Website
To get started, you must ensure you have administrative access to the website you want to verify and claim. Here are the steps:
Go to the "Tools & Settings" section in your Google MCC account and select the "Business Information" option.
Enter the website URL you want to verify and claim.
Choose the preferred verification method by adding an HTML file to your website or a meta tag to your website's HTML code.
Once you have completed the verification process, your website will be officially claimed in your Google Ads MCC.
It's essential to verify and claim your website with a Google Manager account to ensure that you can track conversions and accurately measure the performance of your campaigns with a verified and claimed website so that you'll have access to more data and insights.
Setting up Conversion Tracking
Conversion tracking is an essential aspect of your Google Ads Manager account setup. It allows you to track the performance of your campaigns and make data-driven decisions to optimize your campaigns. Here's how to set it up:
Create conversion actions in your manager account by going to Tools > Conversion.
Identify the conversions you want to track, such as leads, sales, or sign-ups.
Add the conversion tracking code to your website or use a Google Tag Manager.
Verify that the tracking is working properly by checking the conversion reports in your manager account.
Optimizing Google Ads Manager account Tips
The purpose of optimization is to improve the performance of your campaigns and drive better results. This section will cover the key steps to optimize your Google Ads Manager account:
Setting the right structure
Optimizing campaign settings
Improving ad quality
Testing and iteration
Setting the right structure
Your account's structure is essential to the optimization procedure. To help you spot problems easier, ensure your campaigns, ad groups, keywords, and ads are arranged logically.
Optimizing campaign settings
When maximizing your Google Ads Manager account, you should focus on the following settings: budget, bid, ad delivery, ad scheduling, and targeting.
Begin by assessing the effectiveness of your campaigns, and then make the necessary adjustments to your budget and bids. Make sure to base your decisions on data-driven insights, and don't be afraid to try out various bid and budget tactics.
Improving ad quality
Always try to improve the relevancy and quality of your advertisements.
This could be accomplished by running frequent ad audits, trying multiple ad layouts, and evaluating the effectiveness of your advertising to identify which are functioning well and which need improvement.
Testing and iteration
Keep trying new methods, and don't be scared to shift if something doesn't work. The purpose is to enhance your performance and outcomes consistently. You can track your progress and make data-driven decisions using tools like Google Analytics and Google Ads. Optimization is a continuous process; the key is being flexible and responding to market change.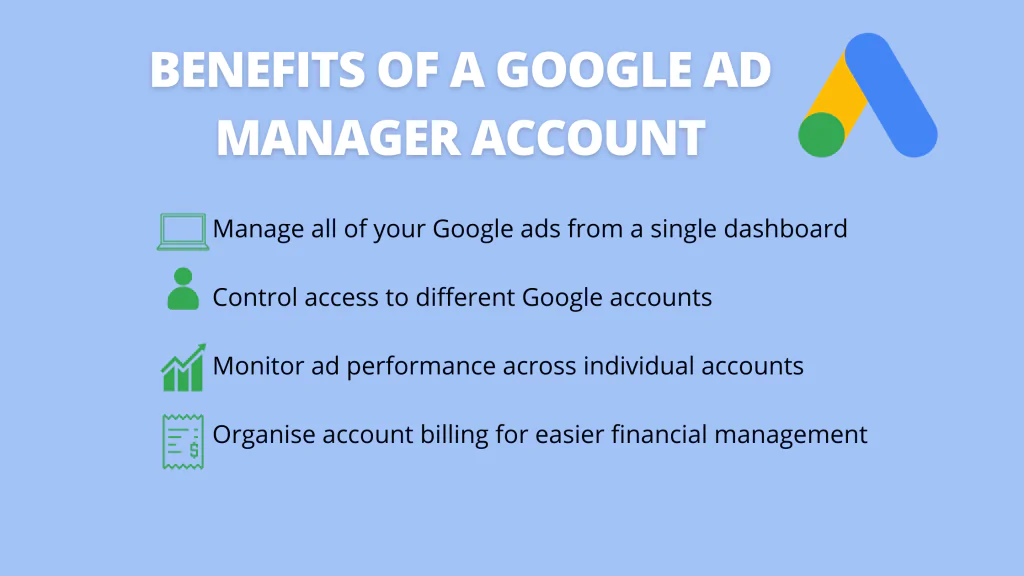 Final word
As mentioned, Google Ads Manager account helps marketers or business owners to maximize performance and improve their advertising results. We hope this tutorial has provided you with a complete knowledge of the system and how it helps you manage your Google Ads account, maintain your business more efficiently, and boost your productivity.
At Mega Digital, we understand the value of a strong and effectively optimized Google Ads Manager account. Therefore, we always recommend our customers use an agency account. Contact Mega Digital to learn more about our account rental service and get immediate help from our experts.