Halloween is a golden opportunity for sellers and dropshippers to amplify their sales and maximize profits. In this article, we've suggested a list of Halloween dropshipping products to boost your sales, from spooky costumes to enchanting decorations. So, grab your pumpkin spice latte and get ready to uncover the finest Halloween products destined to your sales in 2023!
Should you dropship Halloween products in 2023?
Every year, during the final quarter, numerous holidays bring significant opportunities for drop shippers. Among these, Halloween stands out as an exceptional occasion to capitalize on. Compared to Thanksgiving and Christmas, Halloween is a much more affordable holiday. So, Halloween offers an ideal occasion for drop shippers to boost sales.
"Halloween is an exciting time for many families, and that enthusiasm is reflected in the number of Americans who plan to celebrate the holiday this year," NRF President and CEO Matthew Shay said.
According to the results of the latest National Retail Federation's annual survey, total Halloween spending is expected to reach a record $12.2 billion, exceeding last year's record of $10.6 billion. A record number of people (73%) will participate in Halloween-related activities this year, up from 69% in 2022.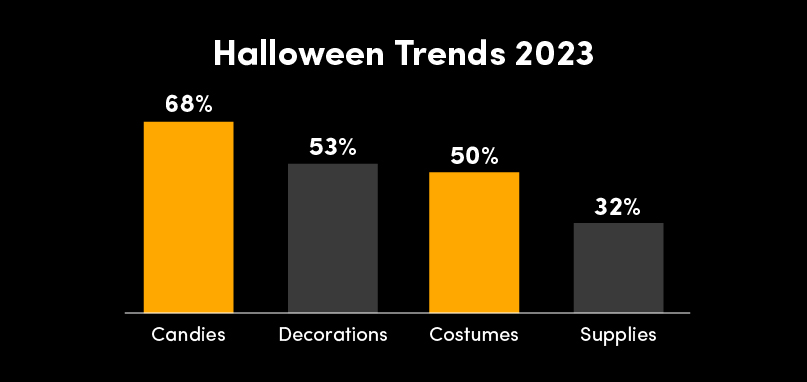 Clearly, dropshipping Halloween products gives you a promising opportunity to amplify your sales revenue. Nevertheless, it is important to choose and sell high-demand and potential Halloween products.
Learn more: Q4 Dropshipping: What to Sell and How to Supercharge Your Sales
Top 27 Best-Selling Halloween Products For Dropshipping
Similar to previous years, the primary methods that individuals intend to commemorate this occasion include giving candies to trick-or-treaters, which stands at 68%. Additionally, a significant proportion, about 53%, plan to decorate their house and outdoor spaces, while 50% look forward to the excitement of dressing in various costumes. A growing number of people, approximately 32%, are considering hosting or participating in Halloween parties, adding to the vibrant celebratory atmosphere. Furthermore, as a testament to the revival of traditional festivities, 28% of the populace is enthusiastic about accompanying their children for the beloved Halloween tradition of trick-or-treating.
So, we can divide Halloween dropshipping products into 4 main categories:
Costumes & Accessories
Candies packaging
Decorations
Supplies.
By selling a Halloween product collection comprising these successful items, you can effectively meet the market's demand and significantly enhance our sales during this spooky season.
Costumes & Accessories
There are some statistics about Costumes and Accessories: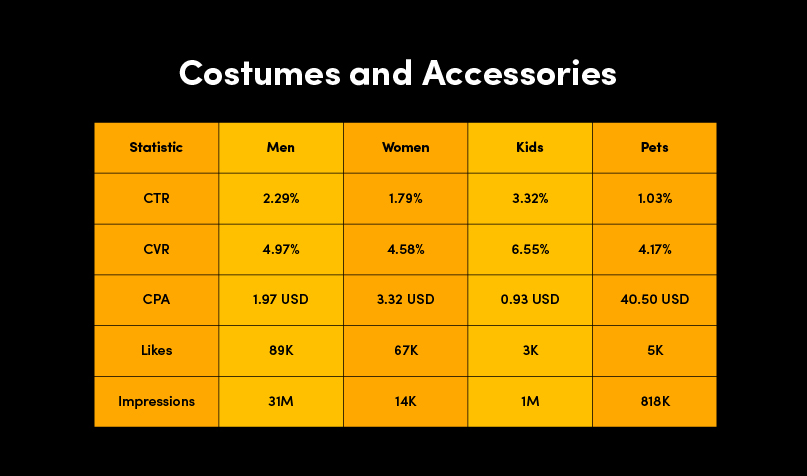 Halloween costumes are an exciting tradition during the spooky season. People always find costumes that are funny, spooky, and creative to stand out from the crowd.
47% of all people participating in Halloween festivities dress up in various costumes. In fact, the expenditure on Halloween costumes surged to an impressive sum of more than $3.6 billion in the year 2022. Therefore, the dropshipping of Halloween costumes in 2023, certainly presents a lucrative and promising business opportunity.
#1. Halloween costumes for women
2023 is marked by a lineup of thrilling blockbuster movies. Consequently, this Halloween promises an overflow of special costume concepts. Let's explore some of the top-notch costume ideas set to dazzle women this season:
Barbie
Wednesday Addam
Ariel
Megan
Cruella
Little Mermaid
Ballerina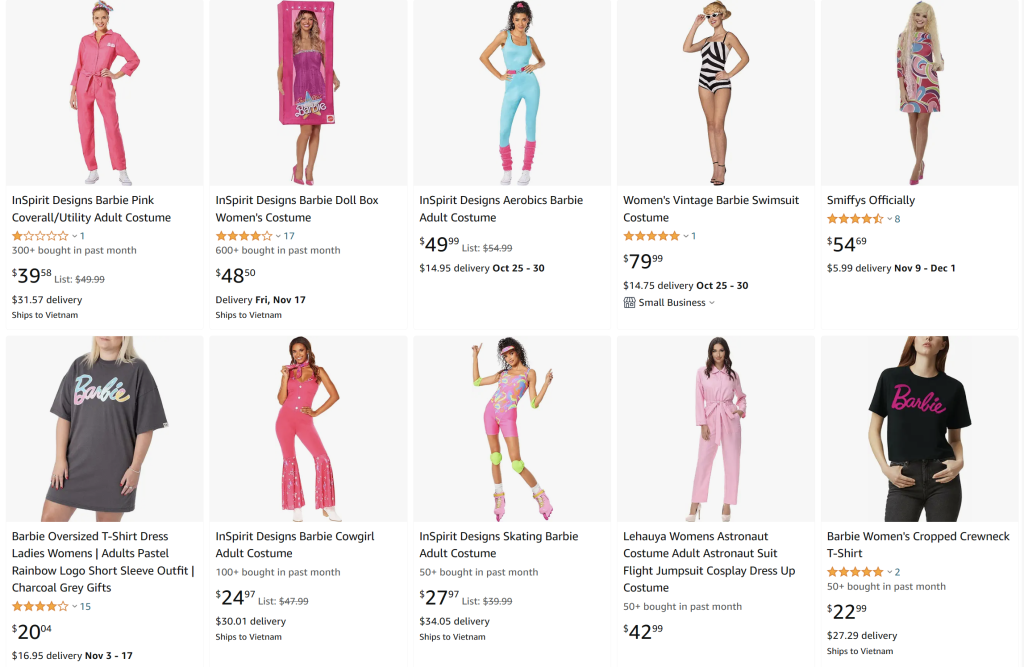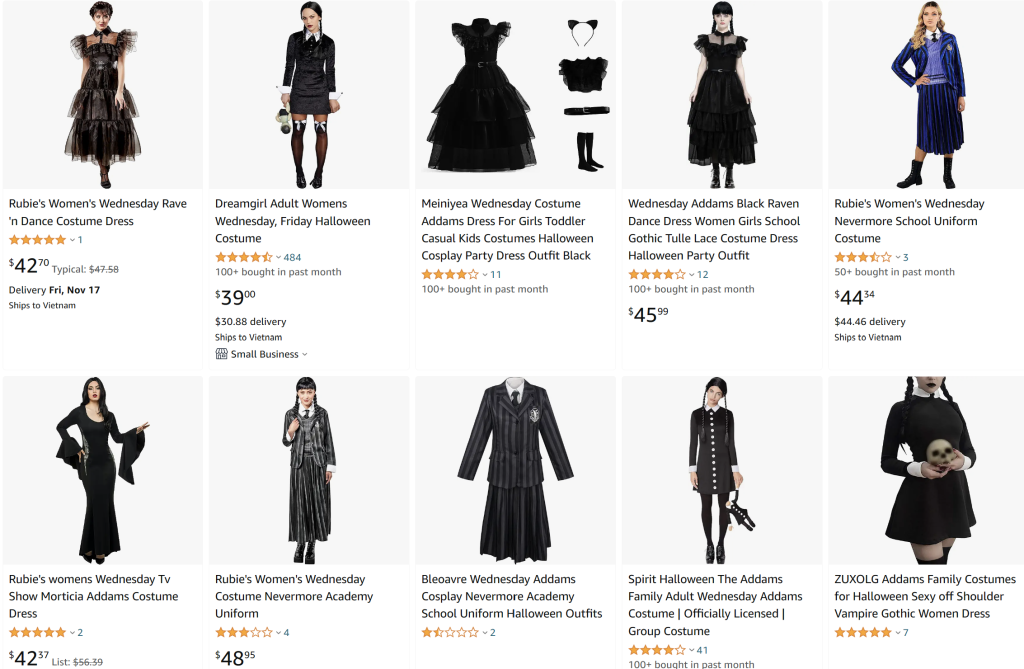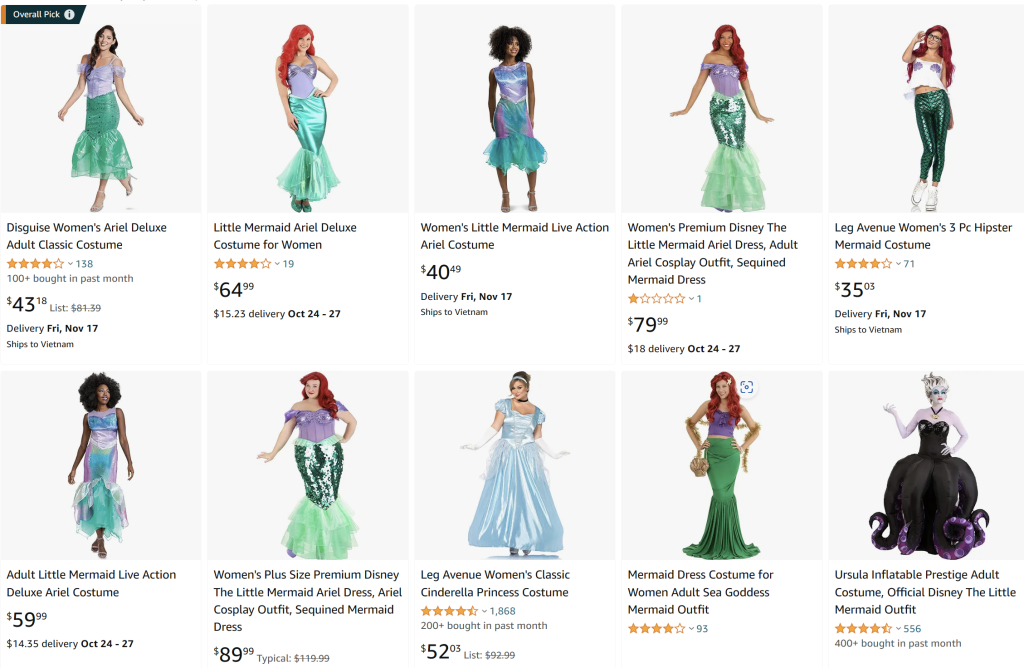 Using these related hashtags to make your products viral: #halloweencostumeideas #halloweencostume #halloween #costumeideas #hotgirlcostume #halloweencostume #hotcostumes
#2. Halloween costumes for men
For men, the key is to choose cool Halloween costumes that reflect your taste.
For decades, conventional symbols and characters have consistently reigned as the most favored Halloween motifs. So you can refer to classic characters, such as:
Dashing pirate
Fearsome werewolf
Mysterious vampire
Cowboy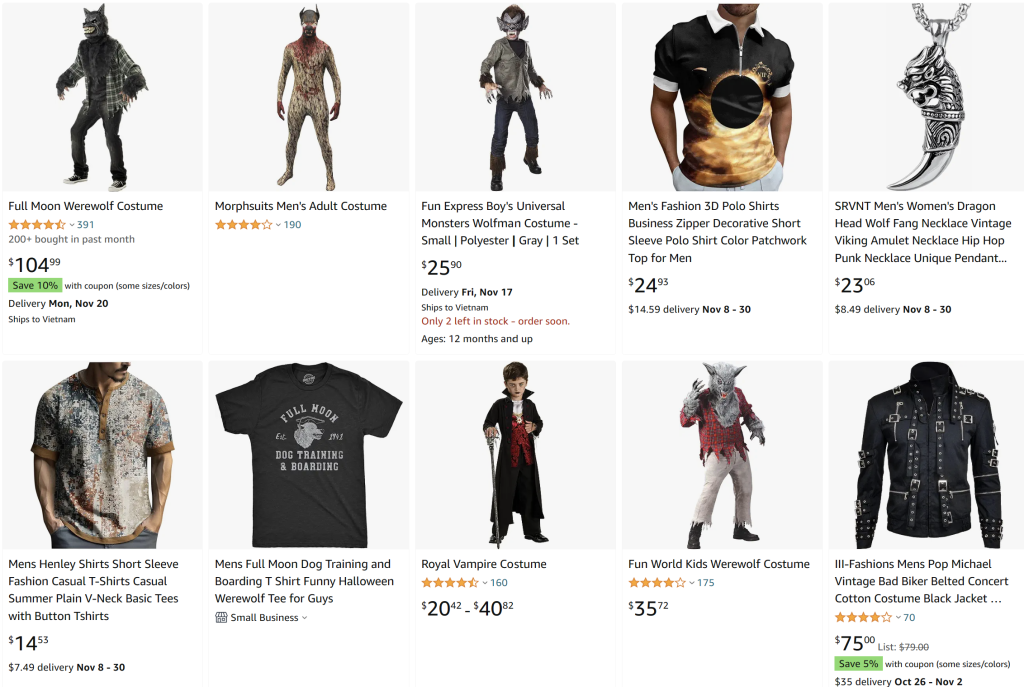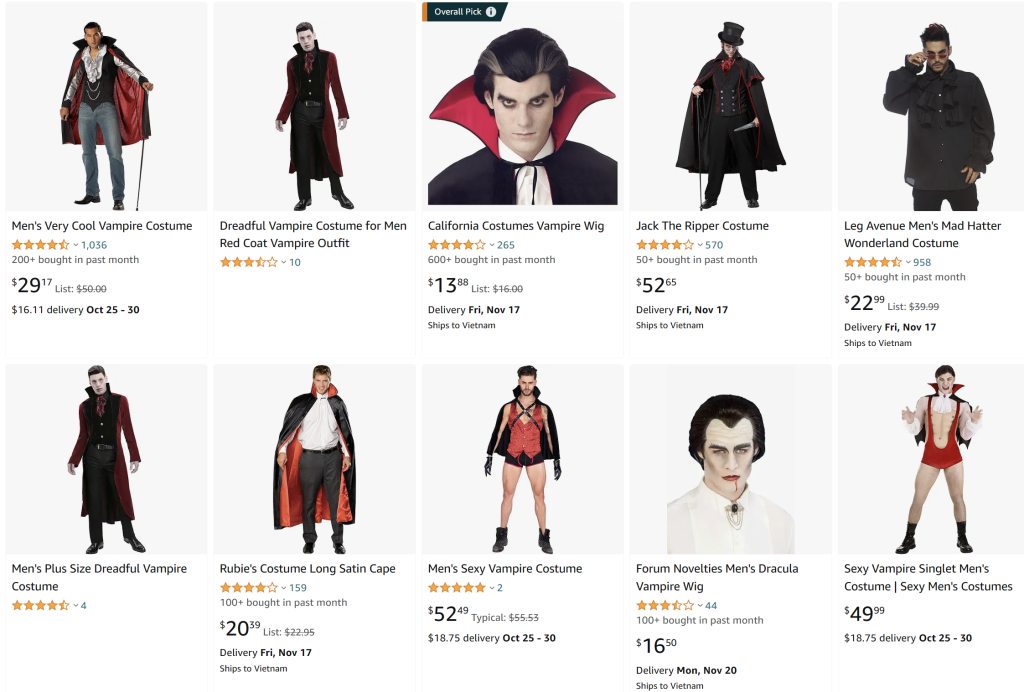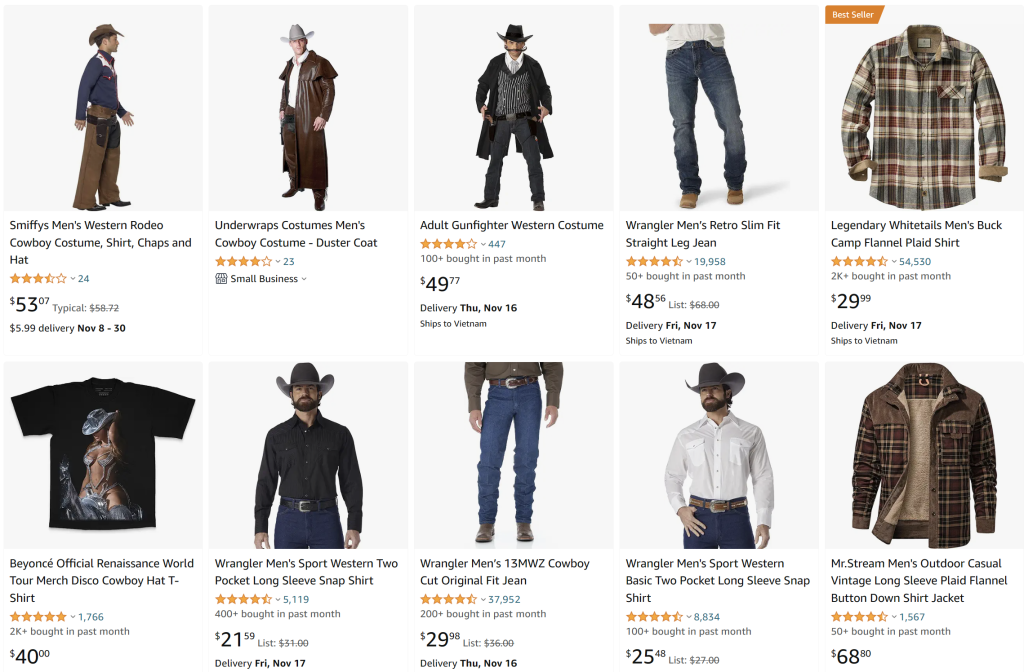 However, you want to step into the world of trendy costumes, you can try some ideas:
Star-Lord
Spiderman
Ken
Batman
Oppenheimer
Thor
Jedi
Joker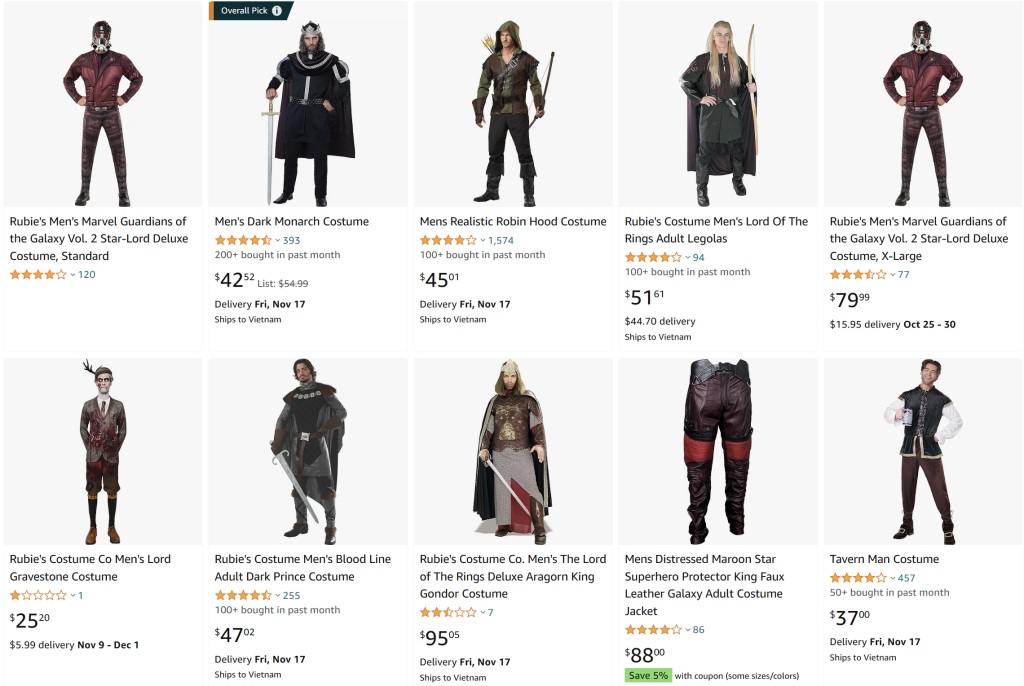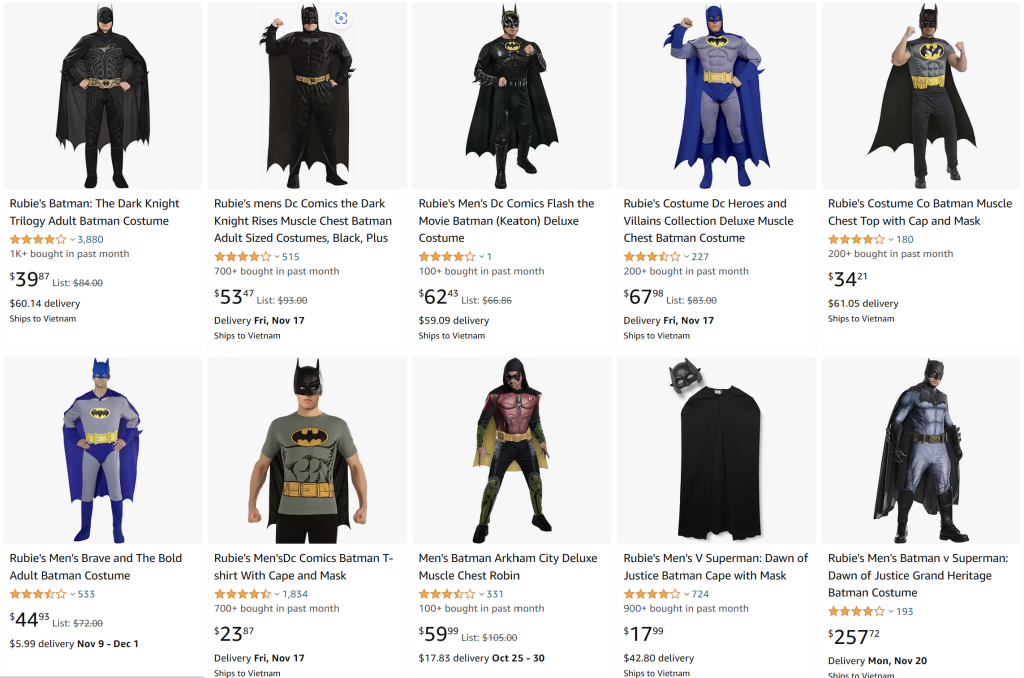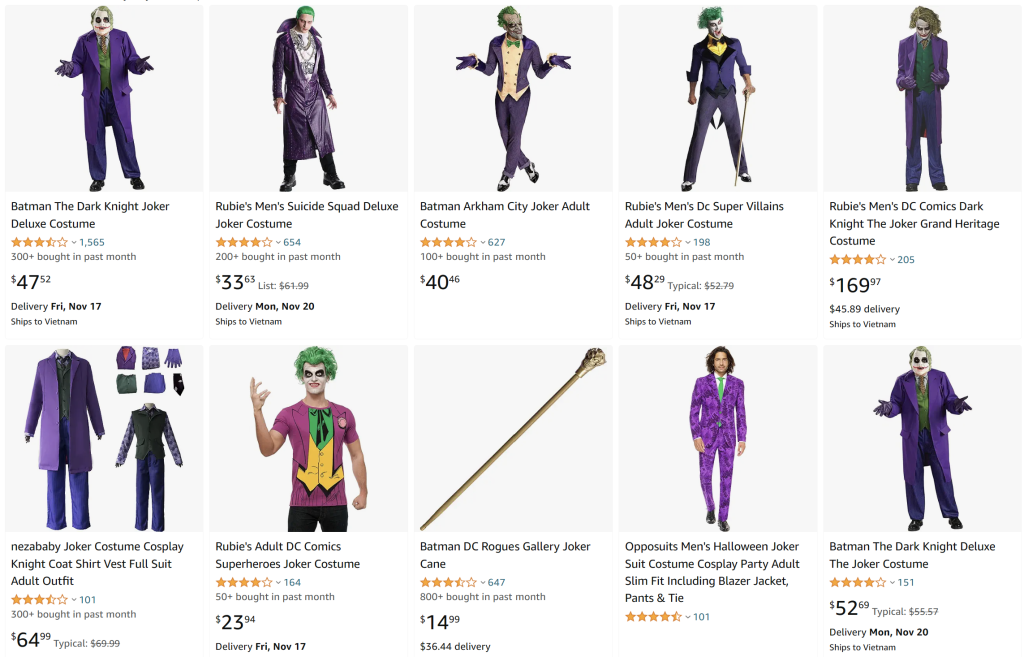 Using these related hashtags to make your products viral: #halloween #halloweekend #costumeideas #halloweencostume #menhalloween #halloweenmen #malecostume
#3. Halloween costumes for babies
When choosing costumes for babies, parents always prioritize outfits that make their son and daughter feel comfortable, safe and ensure the chosen costumes are suitable for the weather. So when you sell costumes for babies, you should consider these requirements.
Regarding Halloween costumes for baby boys, you can dropship options like:
Tiny pumpkin
Playful animal costumes, such as cuddly bear, cheeky monkey,
Classic characters, such as superhero, adorable dinosaur, clown, ghost.
Squid game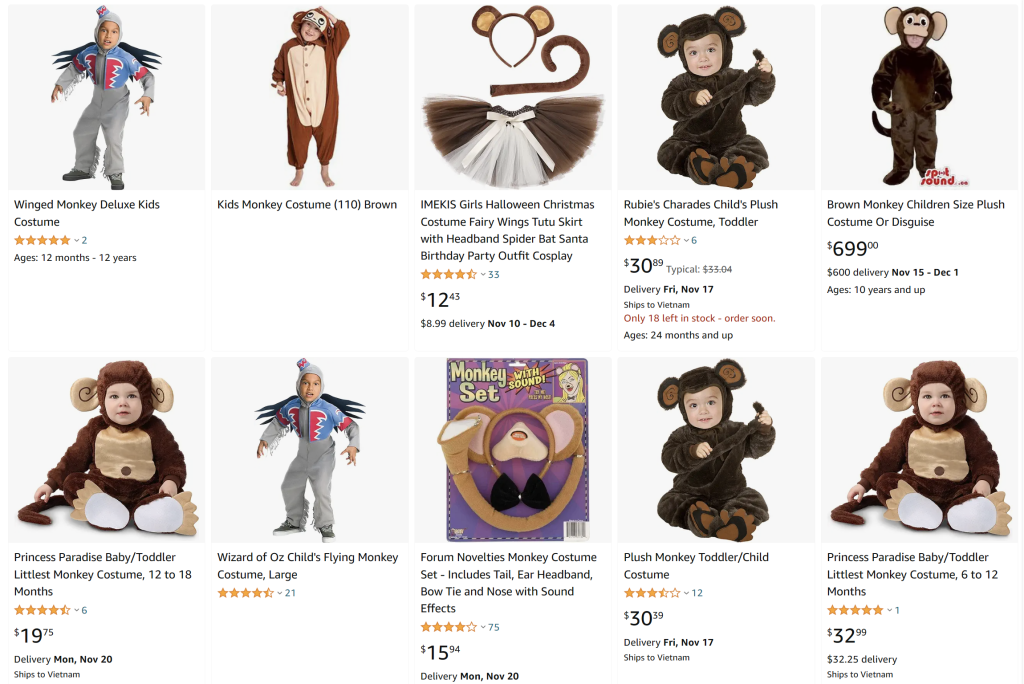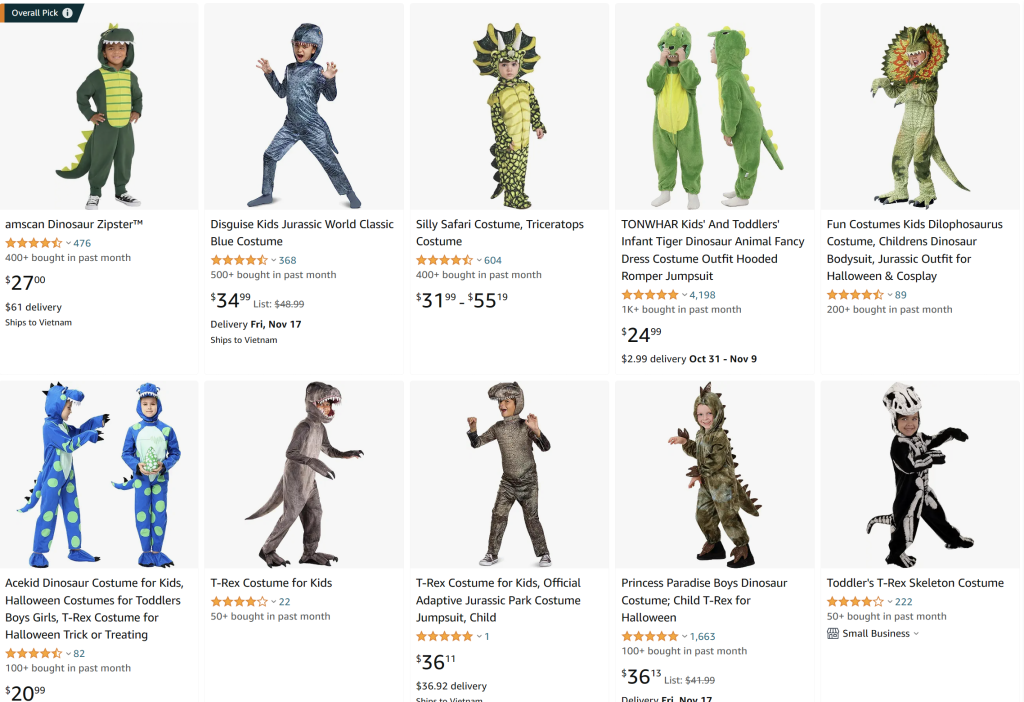 For making baby girls shine, you can refer to some costumes like:
Little pumpkin
Fairy characters: Cinderella, Little Red Riding Hood,…
Princess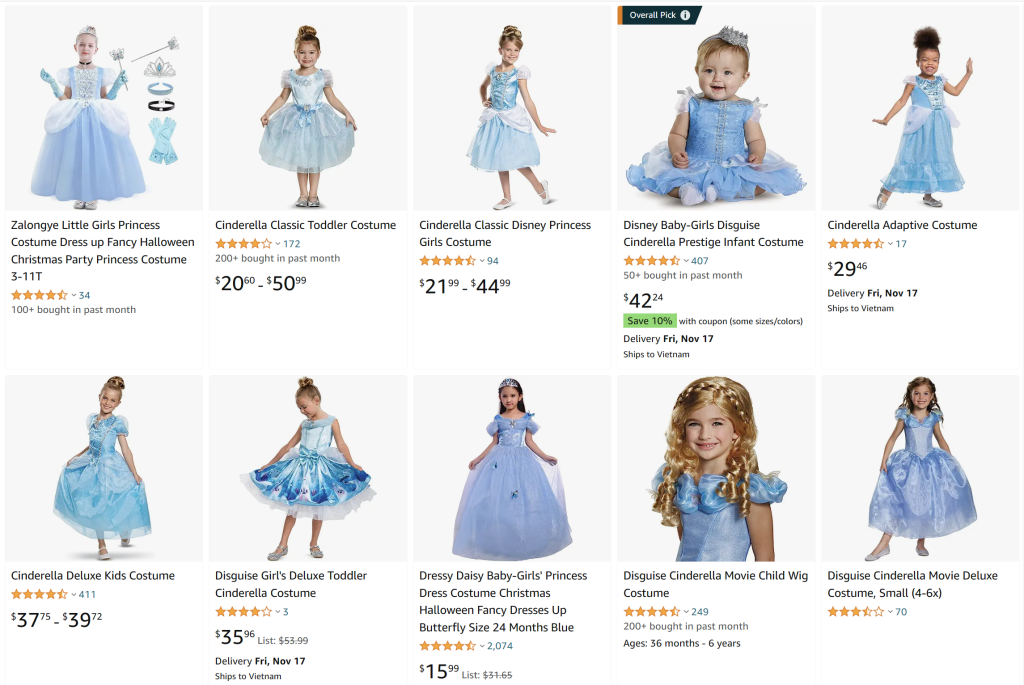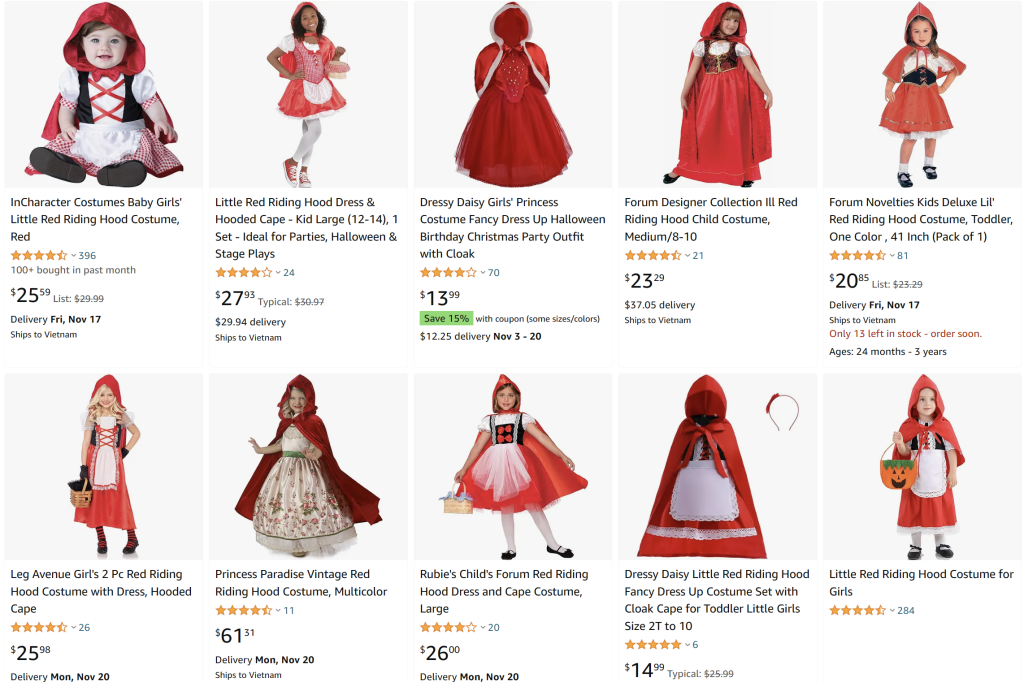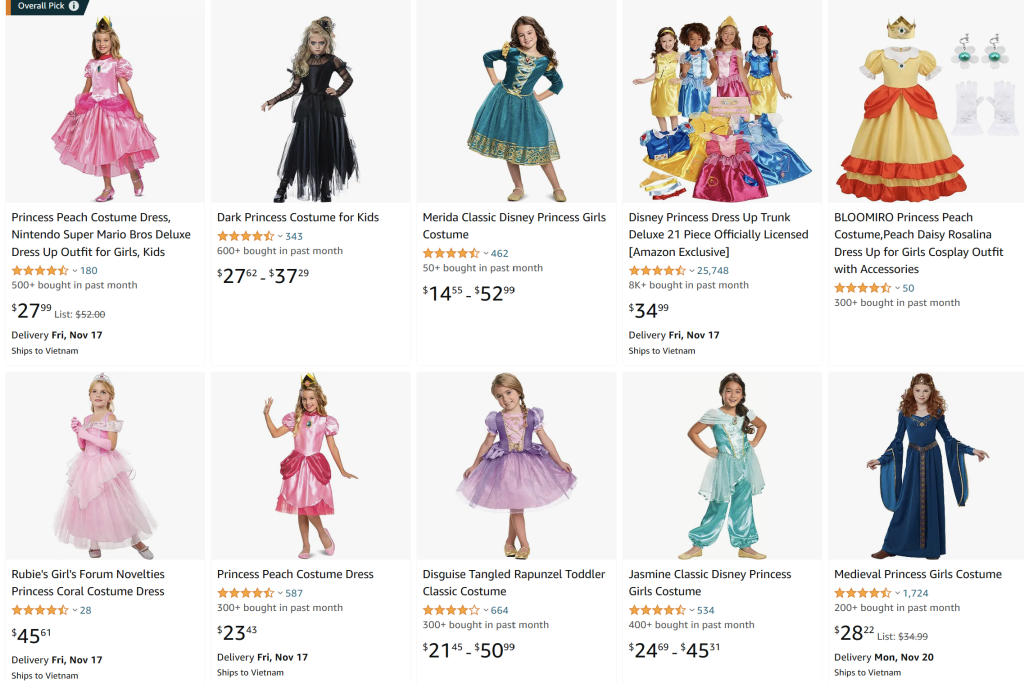 Besides, some unisex, unique outfits for both of baby girls and boys are winning Halloween costumes:
Food and beverage costumes: Spaghetti, Pizza slices, Tacos, Soda cans,…
Historical figures: Cleopatra, Albert Einstein, Amelia Earhart,
Puns and wordplay costumes: Smarty Pants, Cereal Killer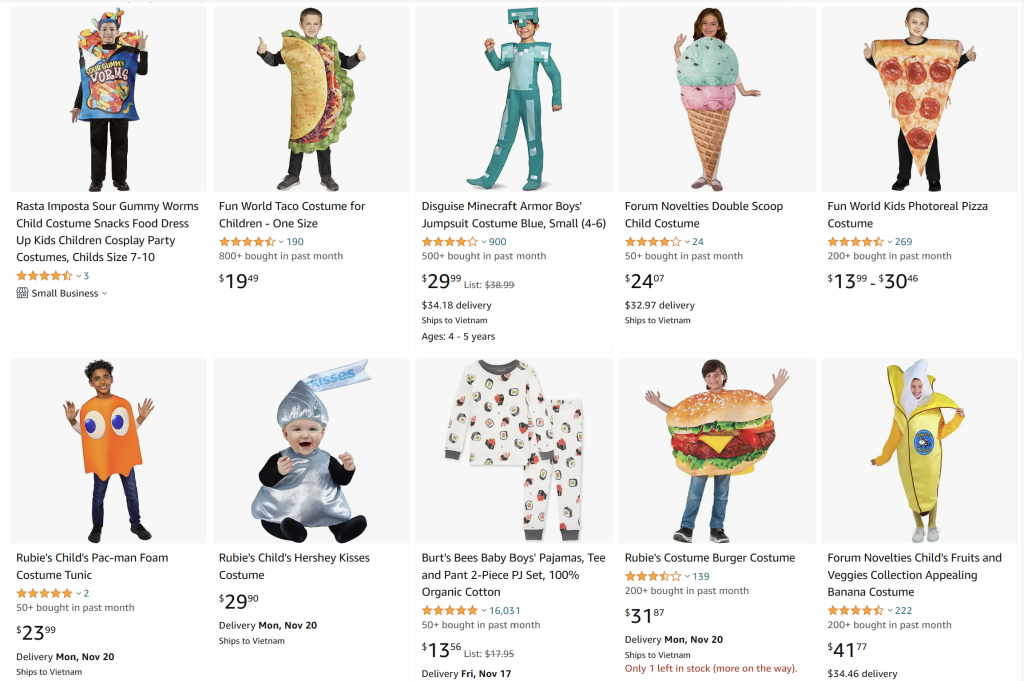 Using these related hashtags to make your products viral: #halloweencostume #babyhalloween #babycostume #firsthalloweencostume #baby #adorable
#4. Halloween costumes for family
Undoubtedly, assembling a large group costume, complete with distinctive ensembles for little one, and even the family pet, will attract plenty of positive attention at local Halloween fest, the neighborhood theme party, or trick-or-treating adventures.
You can offer few variations based on movie or TV show characters, such as:
Addams Family: This family is a little darker, but not too scary for the kids
Peanuts Costume
Winnie the Pooh: This costume is very suitable for pregnant mom
Astronauts
Pokemon
Beauty and the Beast
Wizard of Oz
Men in Black
Hungry Hungry Hippos
The Incredibles
Star Wars
Toy Story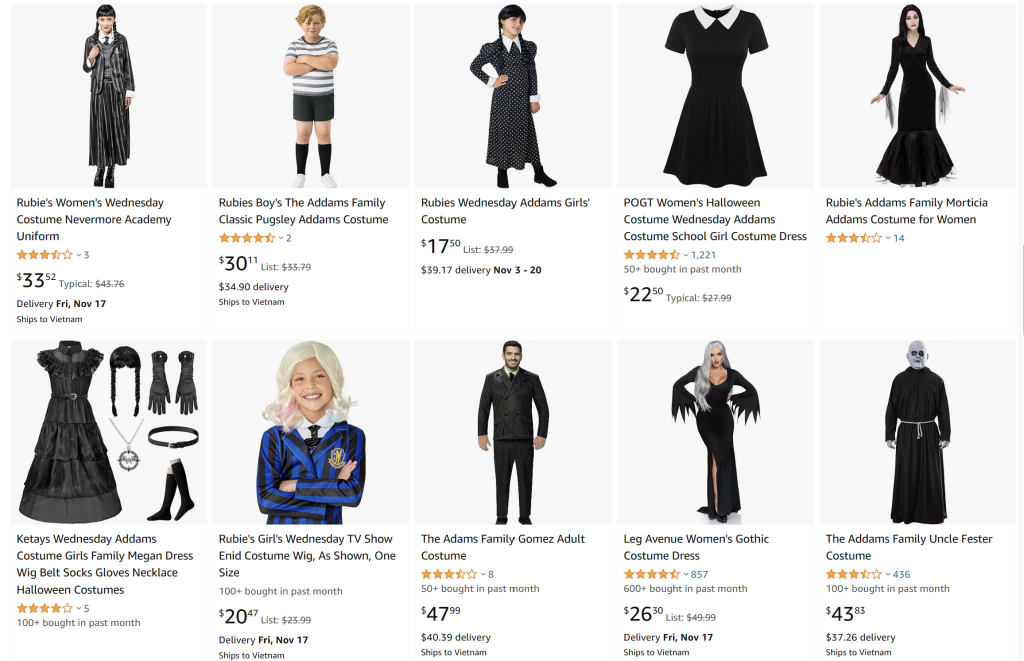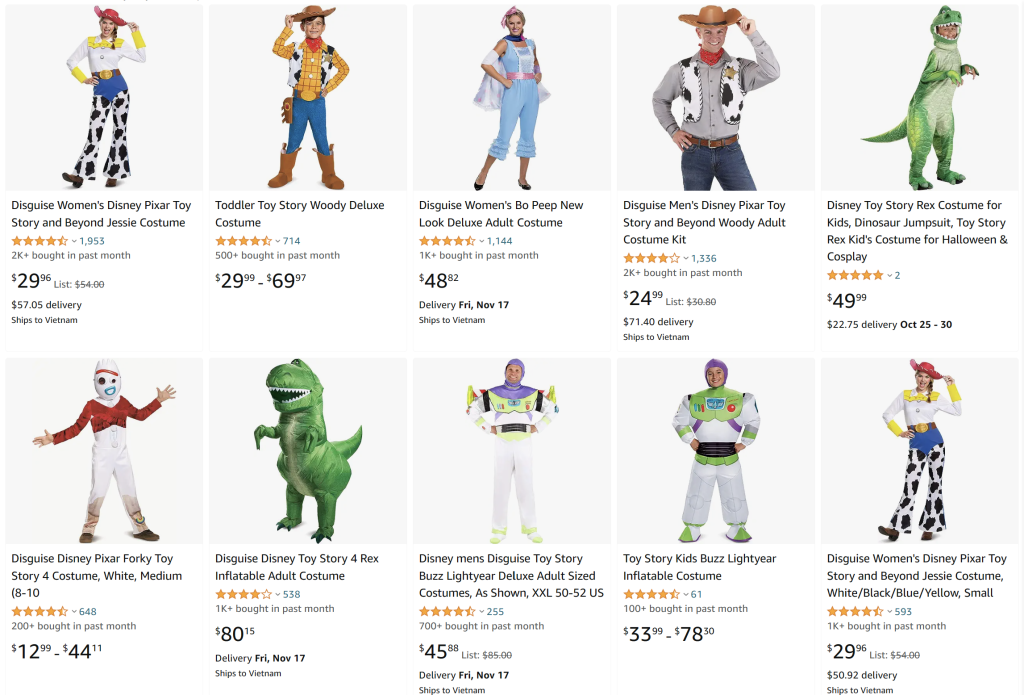 Using these related hashtags to make your products viral: #halloweencostume2023 #halloweencostumeideas #family #costume #outfitideas #halloween #theaddamsfamily #costumedesign #costumeideas #addamsfamily #dressup #cosplay
#5. Halloween costumes for couples
Wearing a couple of Halloween costumes is an ideal opportunity to show off your relationship and enjoy the spooky season together. So people will want some outfits such as:
Captain and Siren
Wolf and Little Red Riding Hood
Barbie and Ken
Georgie and Pennywise
Edward and Bella
Harley Quinn and Joker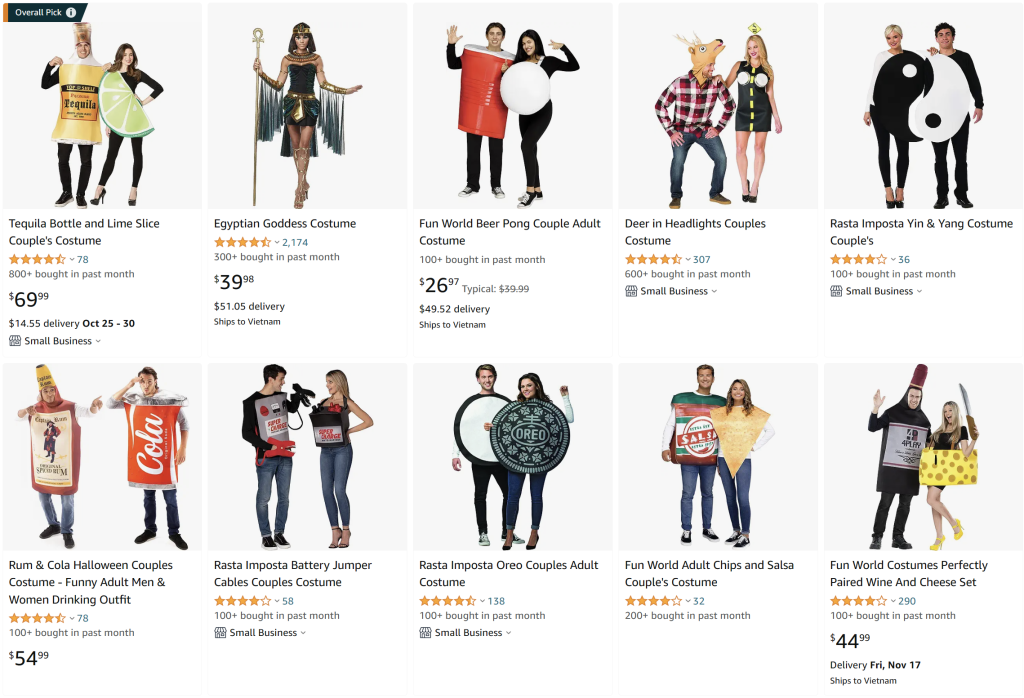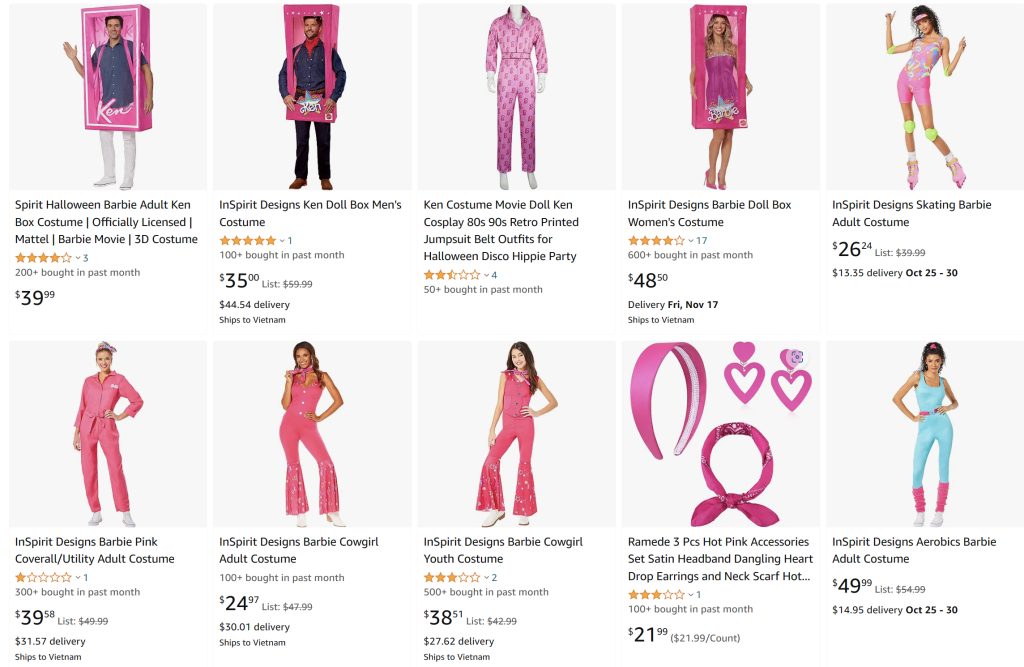 Using these related hashtags to make your products viral: #halloween #costumeideas #couplecostumes #costumeinspo #halloweeninspo2023 #halloweencostume #2023halloween
#6. Halloween costumes for pets
Everyone who runs a dropshipping store should add Halloween costumes for pets in your shop. Every day is obviously a good day to love dogs and cats, but Halloween gives your customers an official reason to focus on giving extra attention to their pets.
Some cute and simple costumes for cats:
Pumpkin collar
Dapper bowtie
Witch hat
Lion mane
Majestic cape
Animal outfit
Some stylish and cool costumes for dogs:
Sweet bumblebee
Cuddly teddy bear,
Cheerful sunflower
Animal outfit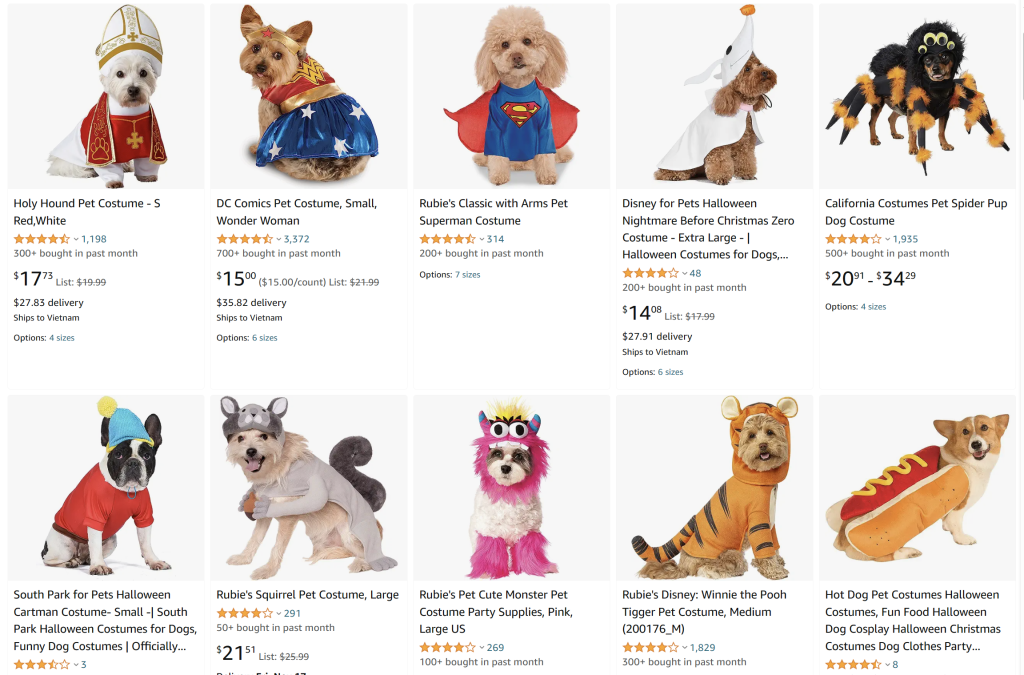 Using these related hashtags to make your products viral: #doghalloween #doghalloweencostume #halloweendog #halloween2023 #halloween2024 #dogcostume #dogcostumeideas #petshalloween #petshalloweencostume #halloweencat #catcostume #dogcostumeideas
#7. Halloween earrings
Halloween-themed earrings make ideal accessories for dropshipping, especially considering the recent trend in their popularity. Some earrings for dropshipping like:
Skeleton-shaped
Pumpkins
Skulls
Cigarettes
Bloody scream masks
Scream knife
Bloody knife
Black cats
Poison apples
Candies
Ghosts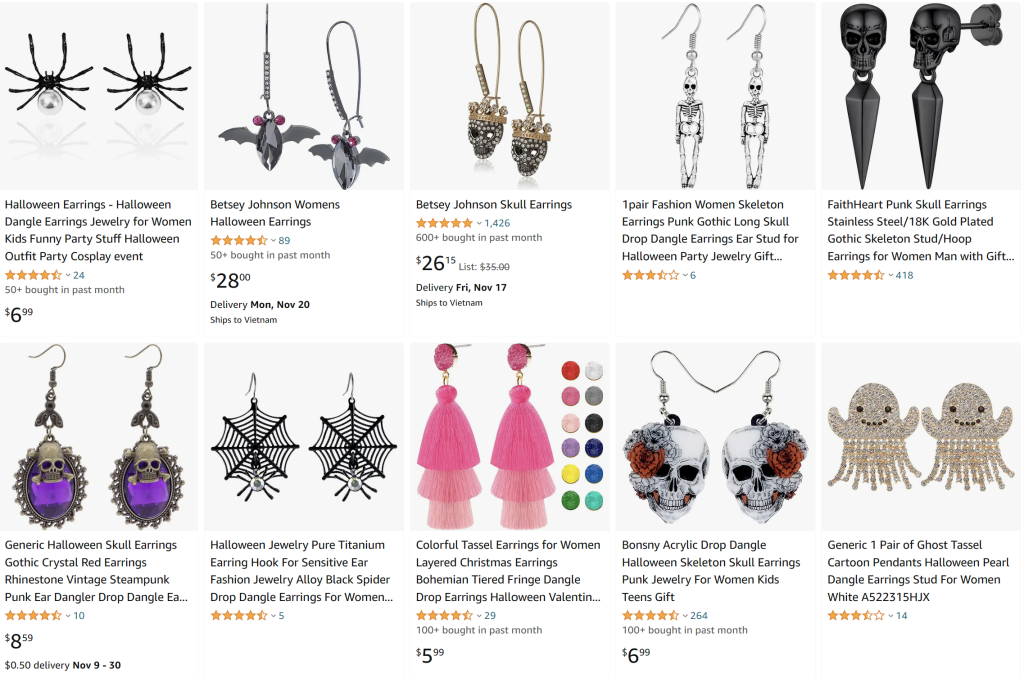 Using these related hashtags to make your products viral: #earrings #spooky #halloweenfinds #spookycute #spookyaesthetic #halloweenfashion #spookyszn #halloweenearrings #spookyjewelry #halloween2023
#8. Halloween headbands and wigs
These products are ideal for dropshipping and truly stand out during the Halloween festivities. They serve as an easy gateway for individuals to embrace the Halloween vibe. Headbands designed with thematic elements such as:
Devil horns
Cat ears
Witches' hats
Crown
Knife
Bloody hammer
Led headbands
These items can seamlessly transform an outfit into a complete Halloween costume. With options catering to both children and adults, they present versatile choices that appeal to a broad customer demographic.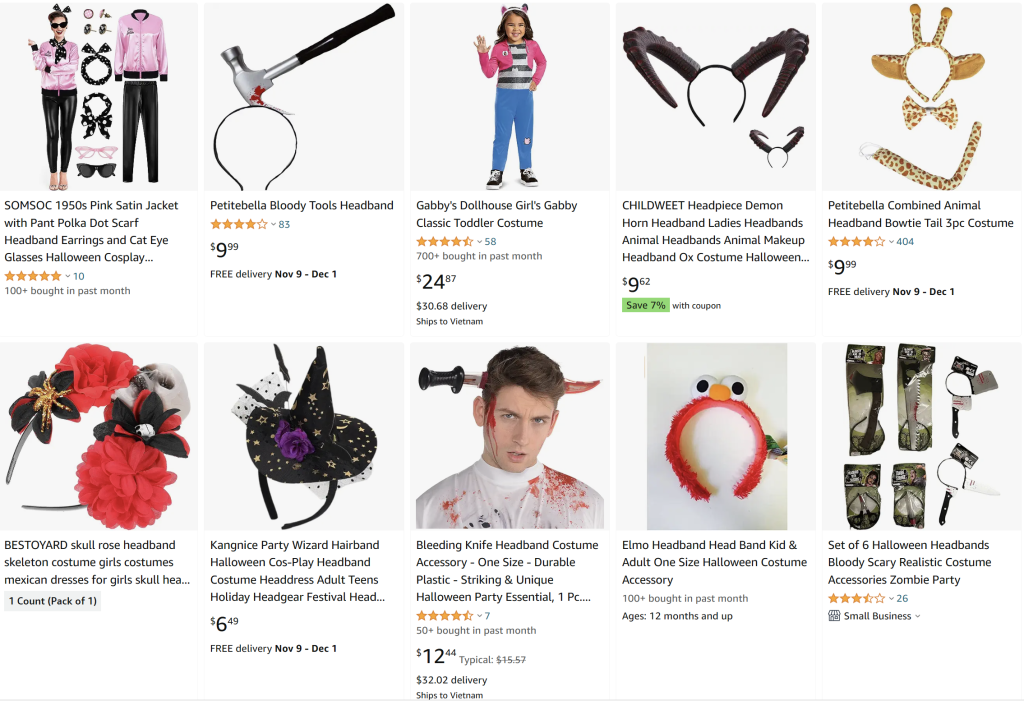 Using these related hashtags to make your products viral: #halloween #halloweenhairstyle #halloweenheadband #HalloweenCostumes #hairtips
#9. Halloween Witch Hat & Broom
Over 5.3 million adults plan to dress like a witch, with the classic witch's hat and broom leading the pack as the iconic accessories.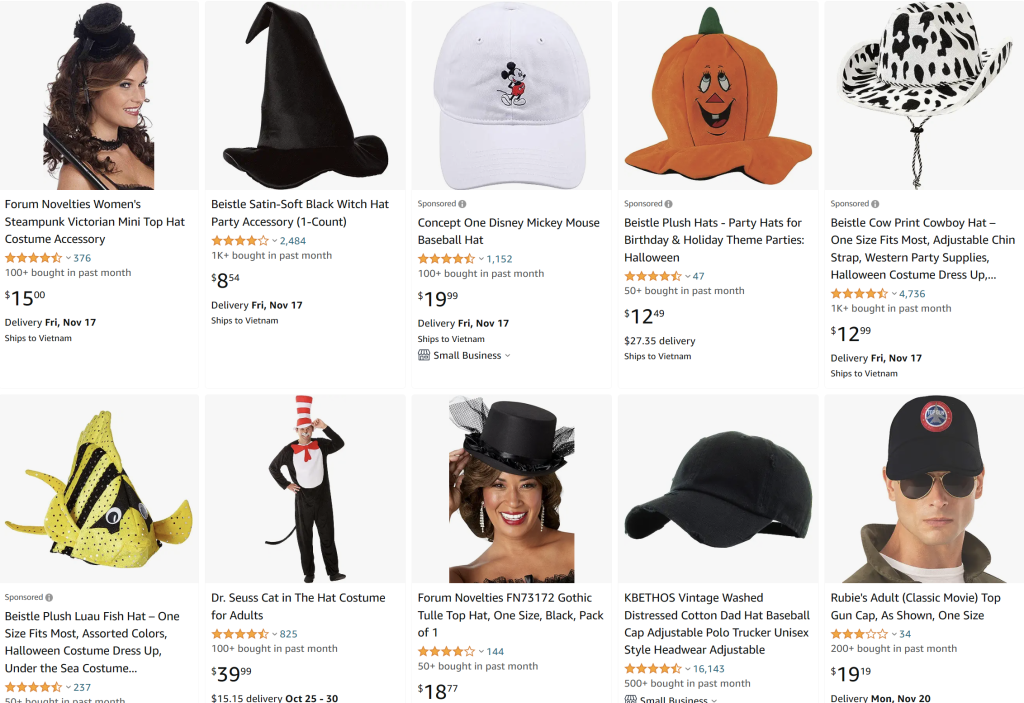 Using these related hashtags to make your products viral: #witch #wickedwitch #growl #evillaugh #witchlaugh #cutewitch #wig #broom #witchhat #witchbroom #halloween #dressup
Candies Packaging
There are some statistics about Candies Packaging: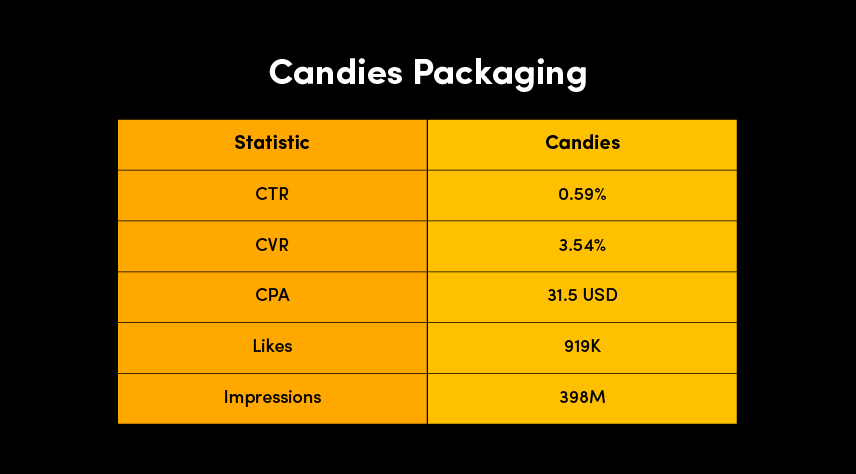 Halloween is a major holiday in many countries, and people love to celebrate by giving and receiving candies. This means that there is a high demand for Halloween candy packaging, especially during the weeks leading up to the holiday. There is a wide range of Halloween candy packaging available and can be a relatively profitable product for dropshippers. Because the cost of the packaging is typically low, and the markup can be high.
#10. Halloween Basket and Candy Bowl
Participating in the age-old tradition of 'Trick or Treat' during Halloween often involves distributing sweets or monetary treats. This is why the distribution of candy takes precedence as the quintessential Halloween festivity. Consequently, Halloween baskets and candy bowls are indispensable items for anyone partaking in Trick or Treat activities. Families with children are particularly inclined to procure Halloween baskets.
Some hot Basket and Candy bowls 2023 that you can dropship:
Skeleton candy bowl
Pumpkin candy bowl
Spider candy bowl
Ghost candy bowl
Skull candy bowl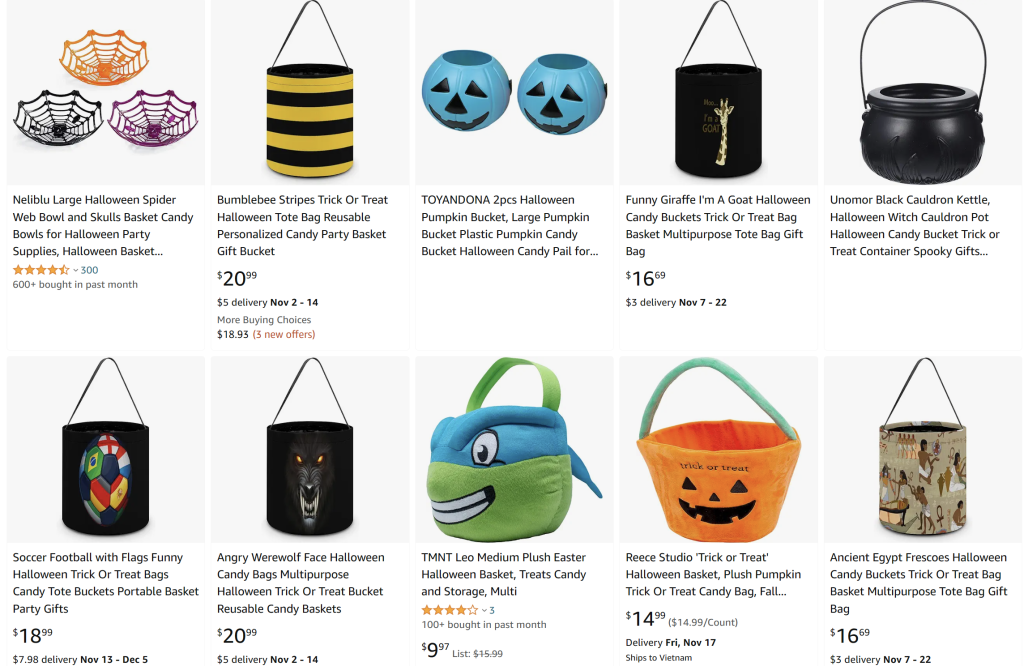 Using these related hashtags to make your products viral: #halloween #candybowl #candydish #boobasket
#11. Halloween Candy Bag and Box
Halloween candy bags and boxes also serve as an excellent method for dispensing treats. The market offers a plethora of Halloween-themed candy bags and boxes, which can double as captivating Halloween adornments. Including both Halloween baskets and candy bags in your inventory is a prudent choice.
Some trendy candy Bag and Box in 2023 that you can dropship:
Skeleton bag
Pumpkin bag
Scream face bag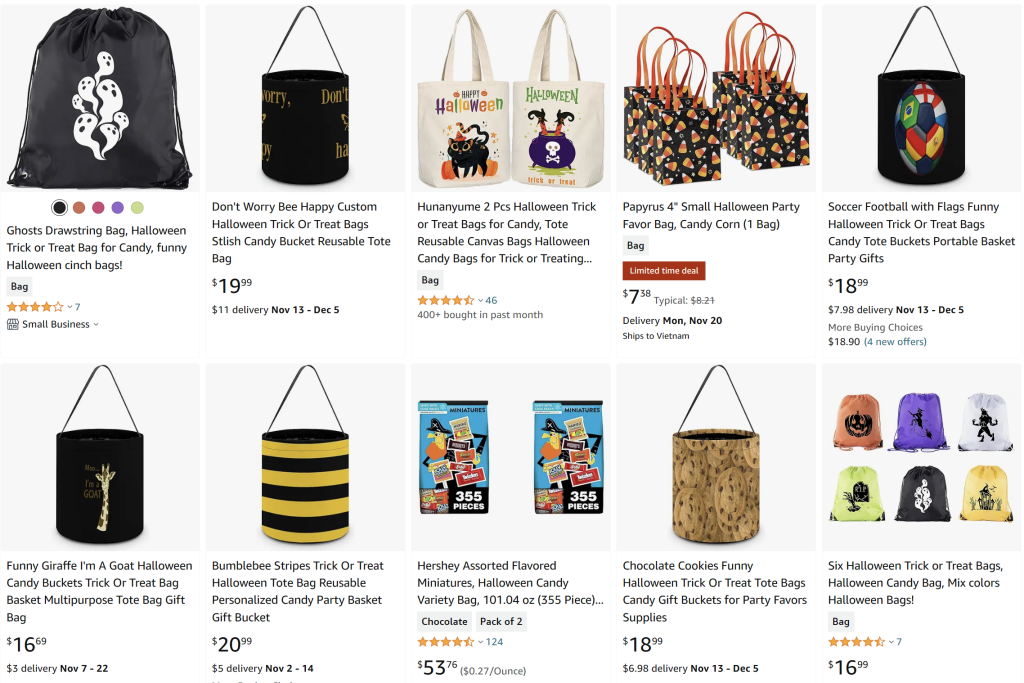 Using these related hashtags to make your products viral: #candyboxes #halloweenparty #halloweenseason #spookytreats #halloweentreats #halloweenpartyideas
Decorations
There are some statistics about Decorations: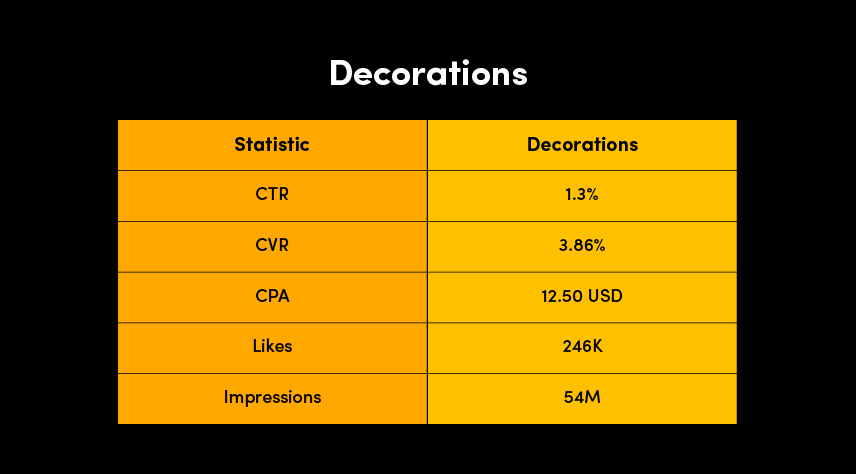 In 2022, Americans spent over $10.6 billion, the United States spent 3.2 billion on Halloween decorations, and this number is expected to continue to grow in 2023. When Halloween is mentioned, we immediately imagine haunting ghosts, scary spiders or some spooky decorations. It's nearly impossible to envision a horror Halloween setting without the appropriate adornments. Many families want to decorate indoors and outdoors with ominous inflatables, skeletal figures, zombies,…to impress their neighbors. These reasons make Halloween decorations become best-selling products to boost sales during the Halloween season.
#12. Decorative Halloween Spiders
Spiders, known for their eerie nature, often take center stage during Halloween due to their association with witches. Large simulated spiders serve as ideal outdoor adornments, effectively cultivating a haunting ambiance for your home.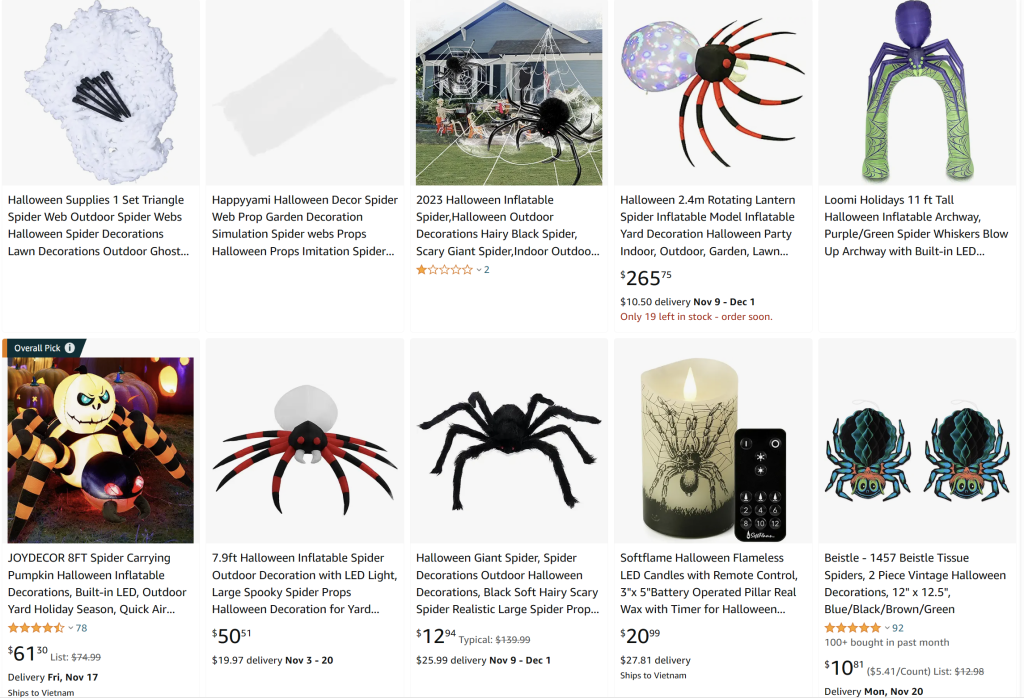 Using these related hashtags to make your products viral: #Halloween2023 #SpiderHouse #HalloweenDecorations #GiantSpider #halloweenspider #spider #spookydecor #partydecor
#13. Halloween Spider Web Adornments
Spider webs are indispensable decorations for Halloween that can be offered alongside giant spiders. Opt for realistic spider webs, spider web tablecloths, or Halloween black gauze to cater to diverse preferences. Moreover, you can sell it in combo with decorative spiders for special deals!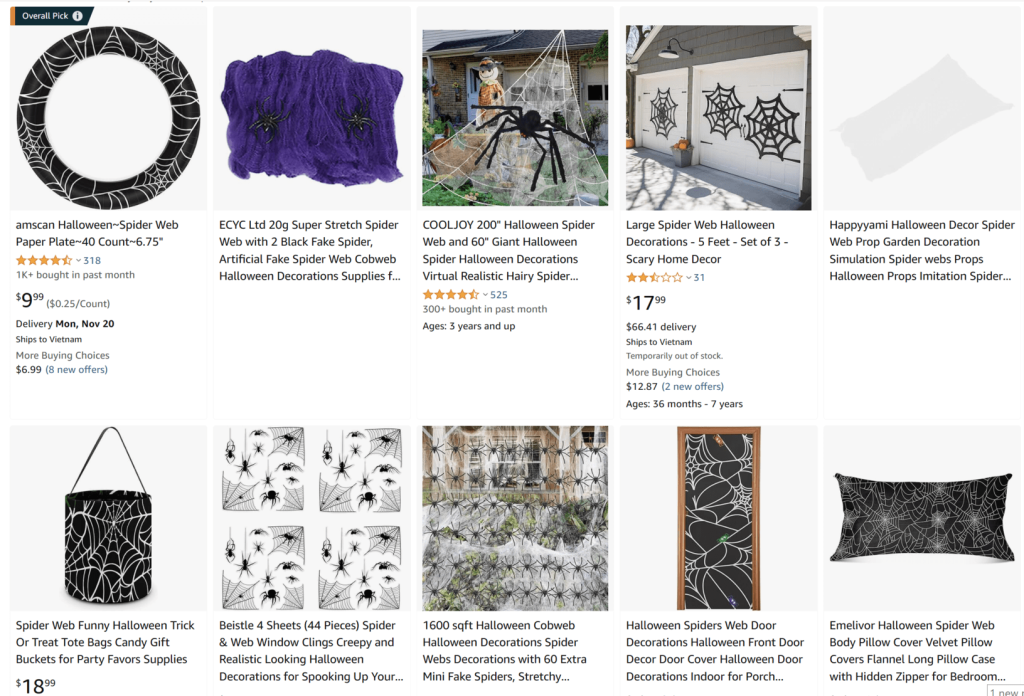 Using these related hashtags to make your products viral: #halloween #halloweenparty #halloweendecor #halloween2023 #halloweenpartyideas #spookydecor #partydecor #halloweendecorating #spiderweb #creepydecor
#14. Bat Accents for Halloween
In addition to spiders, bats hold significant symbolism during Halloween, particularly appealing to enthusiasts of vampire themes. Consider offering bat-wing backpacks and bat stickers, which make excellent choices for dropshipping products.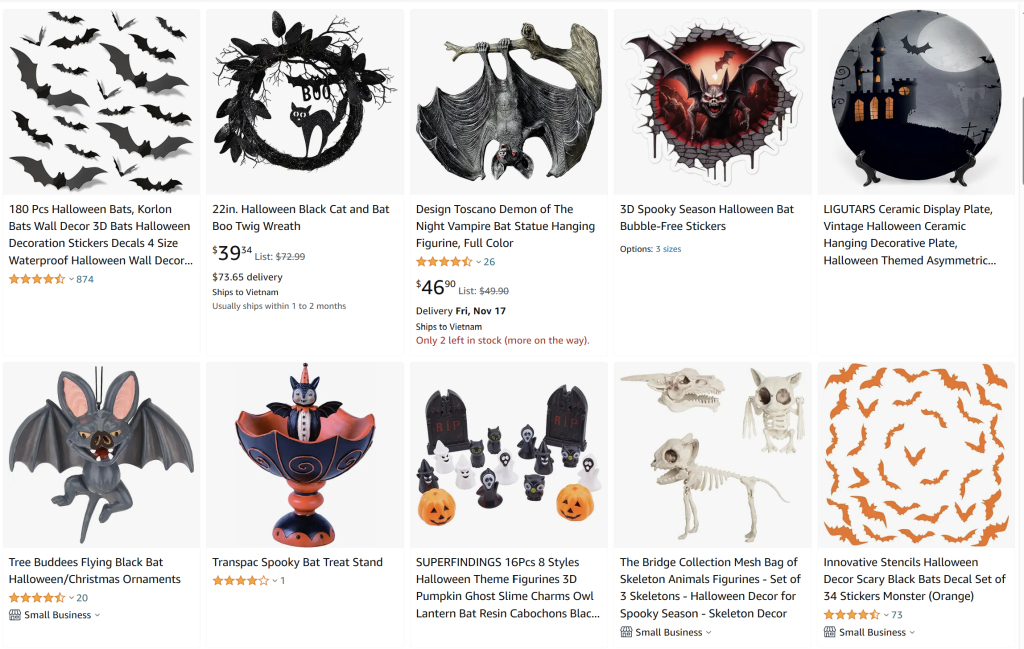 Using these related hashtags to make your products viral: #batcrafts #bats #halloweencrafts #halloweendecor #halloweeneveryday #halloweendecorations #halloweenhouse
#15. Skeletons & Skull Ornaments for Halloween
Skeletons stand out as prominent Halloween symbols, underscoring the holiday's association with the departed. While life-sized skeletons might be impractical for dropshipping, miniature hanging Halloween skeleton ghosts remain popular choices for decorations.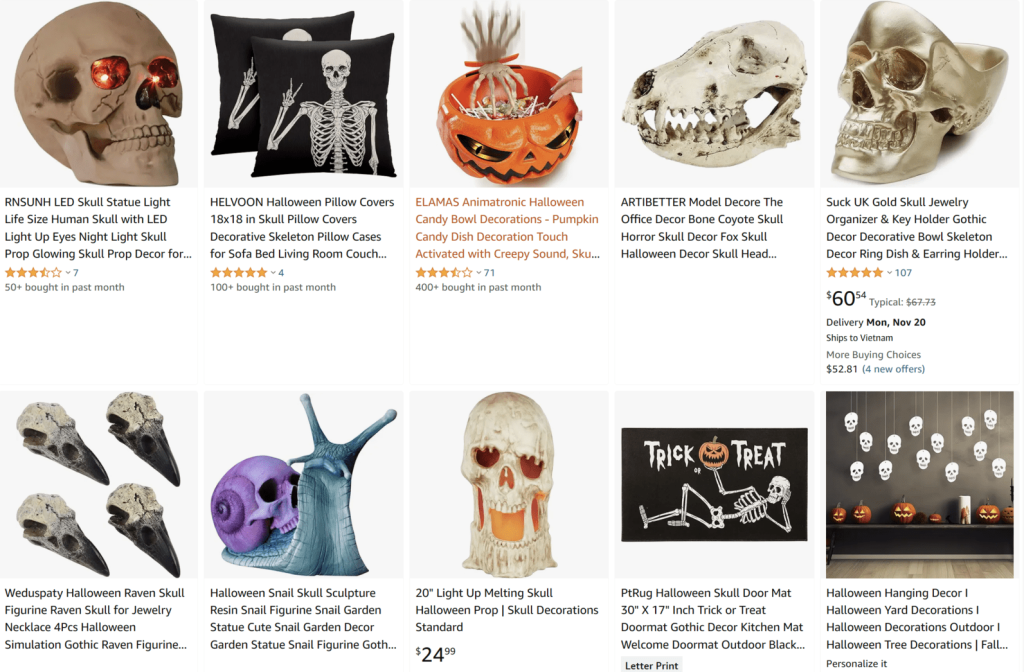 Using these related hashtags to make your products viral: #skull #skulls #halloweenornament #homedepotskeleton #halloweendecor #giantskeleton #halloween
#16. Pumpkin Ornaments for Halloween
During the fall, pumpkins assume a significant role in Halloween festivities, making them an essential seasonal decoration and a symbol of the harvest season.
Apart from the traditional practices of carving and painting, synthetic pumpkins and decorations with pumpkin motifs are also sought after. You can consider marketing pumpkin-themed ornaments and wooden decorations for the Halloween season.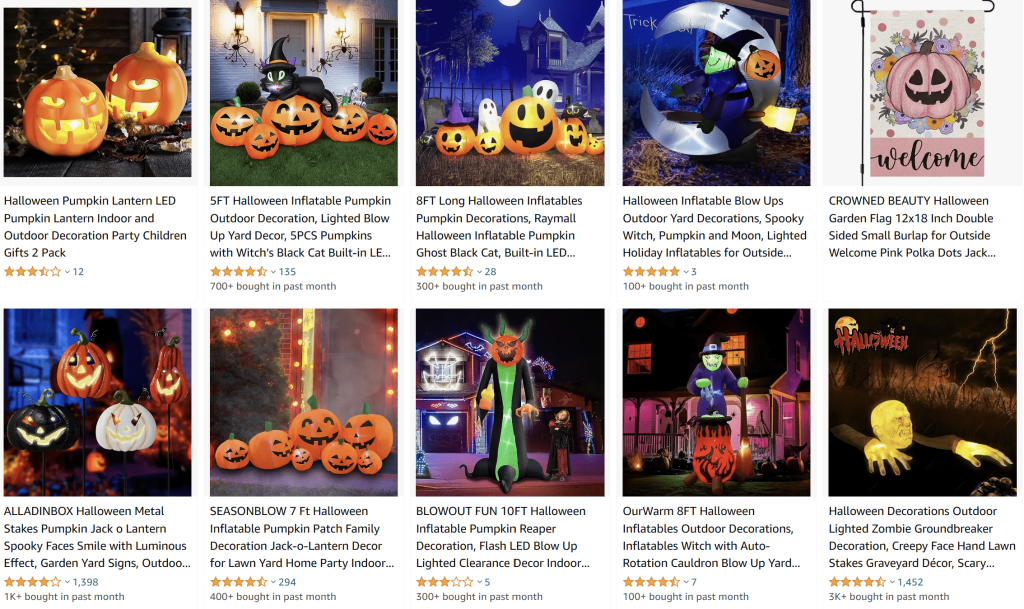 Using these related hashtags to make your products viral: #halloween #pumpkin #halloweendiy #halloweenornament #pumpkin
#17. Halloween Banners
Enhance the spooky factor of any haunted house with Halloween banners, including:
Bloody knives
Pumkin
Spider
Spider web
Crafted from paper, these banners exude a frightening aura, yet are perfect for supplementing your range of Halloween decorations.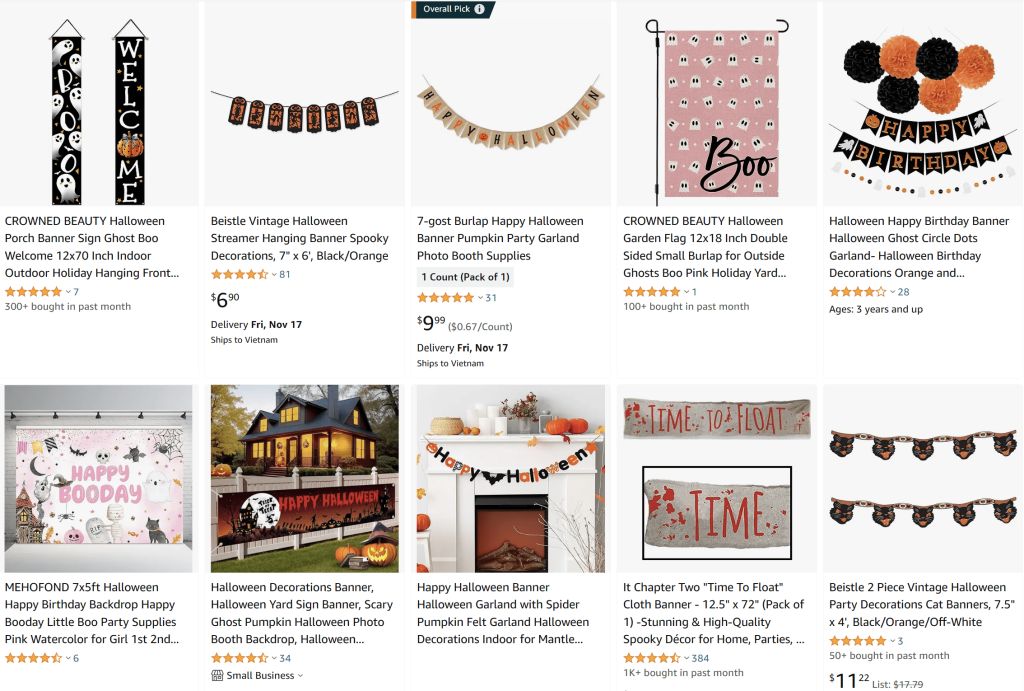 Using these related hashtags to make your products viral: #halloweendiy #diyhalloween #halloweendecor #halloweendecorideas #halloweenideas
#18. Creepy Halloween Balloons
As hosting or attending Halloween parties remains a popular way to celebrate, using balloons as decorations and props is a timeless choice.
Elevate your Halloween decor by incorporating balloons shaped like:
Skulls
Pumpkins
Spiders
Bats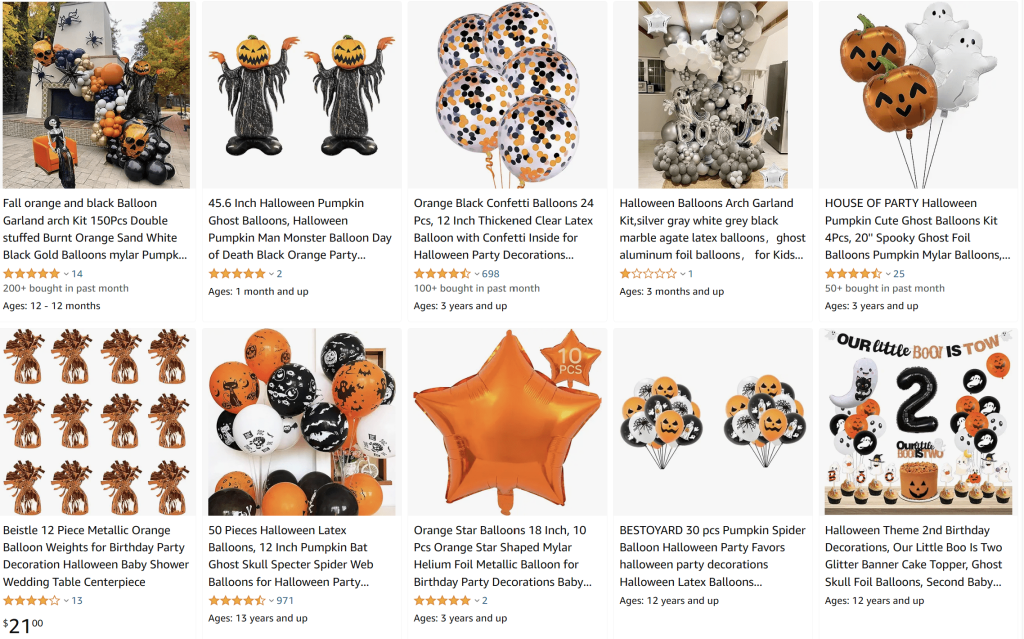 Using these related hashtags to make your products viral: #balloons #halloween #spooky #creepy #scary #eerie
#19. Halloween Pillows
Halloween-themed pillows are ideal home decor items. The most sought-after options that can be dropshipped. including:
Pumpkin pillows
Ghost-shaped
If your product line includes home goods, consider enriching it with a selection of Halloween pillows. Our services can aid in sourcing cost-effective, high-quality Halloween pillows from China, thereby reducing your dropshipping expenses.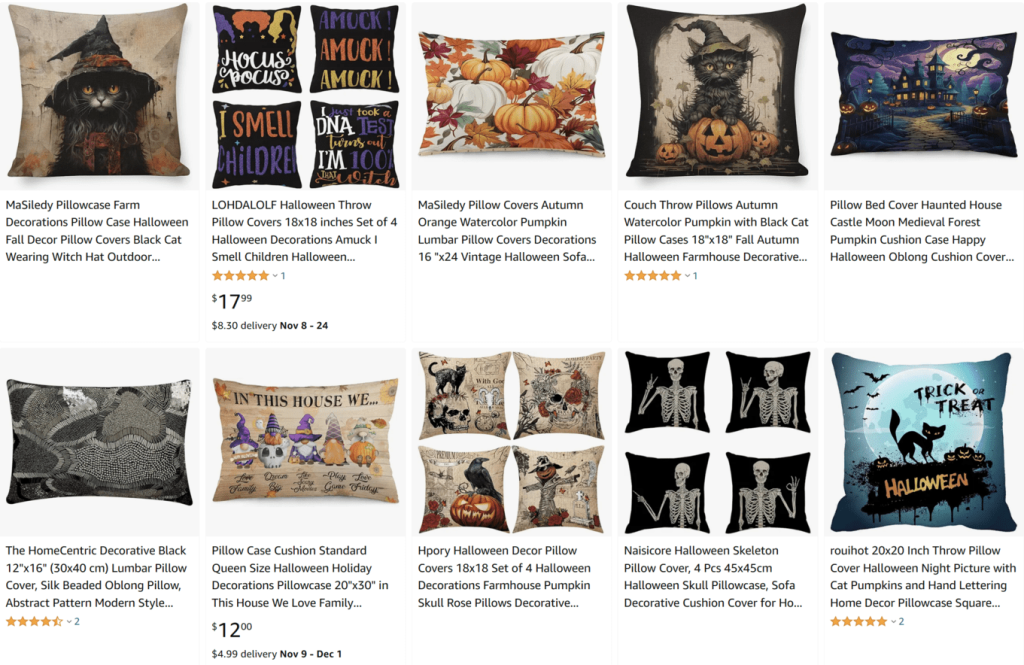 Using these related hashtag to make your products viral: #ghostpillow #ghostpillowtutorial #halloweendecor #halloweendiy #halloweendiydecor #halloweenpillow #easyhalloweendecor
#20. Candle lights for Halloween
Illuminate your Halloween dropshipping collection with the candle lights. These candles not only light up a space but also provide an eerie yet captivating ambiance. As the demand for distinctive and atmospheric products surges during this spooky season, these candles are an opportunity for your business to boost profit.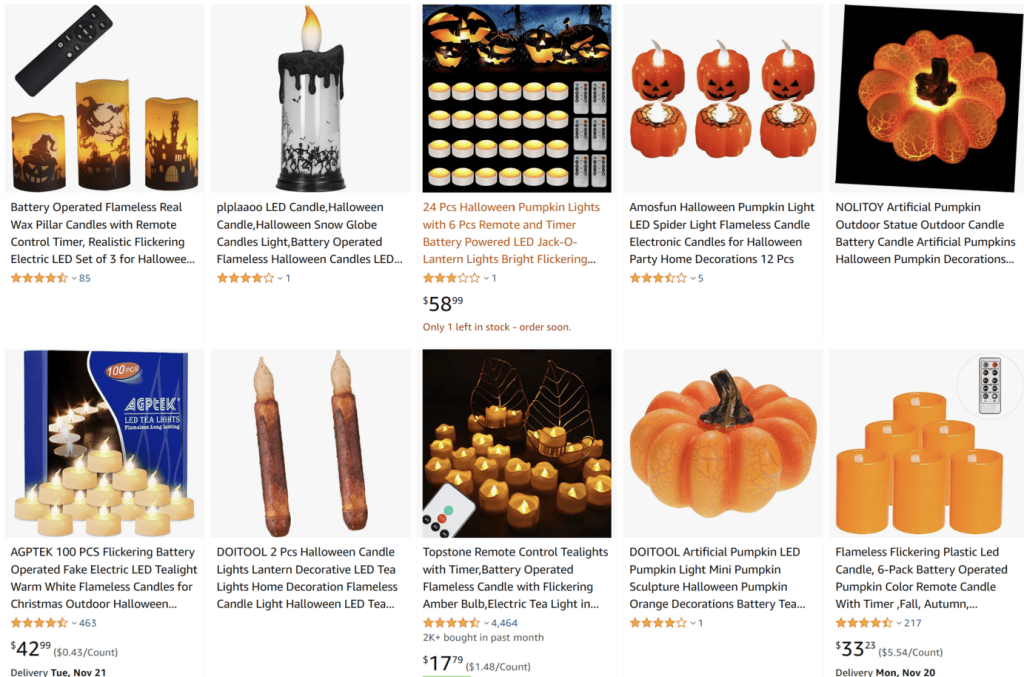 Using these related hashtags to make your products viral: #halloween #halloween2023 #hallowweencandles #halloweendiy #halloweendecor #dollartreehalloweendiy #halloweendecordiy #halloweenpartyideas
Supplies
There are some statistics about Supplies: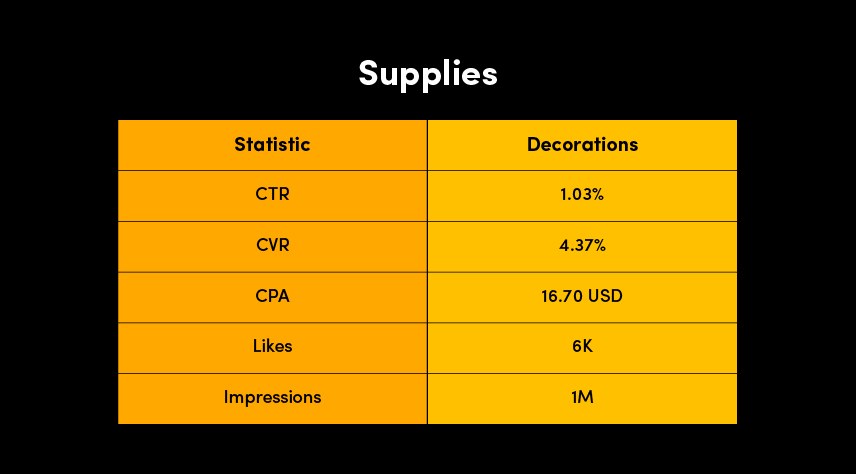 People of all ages love to celebrate Halloween, and many people host or attend Halloween parties. This means that there is a high demand for Halloween party and baking supplies, such as decorations, greeting cards, cups… This gives you the opportunity to target a variety of different customer groups. Halloween supplies are typically lightweight and easy to ship, which makes them ideal for dropshipping.
#21. Halloween Greeting Cards
Drenched in lively hues, Halloween greeting cards encapsulate the essence of the Halloween season. Greeting cards extend warm wishes and remain a cherished choice for expressing sentiments to loved ones. Moreover, it can be a great idea to customize your personalized Halloween greeting cards and send them with the packages for your customers.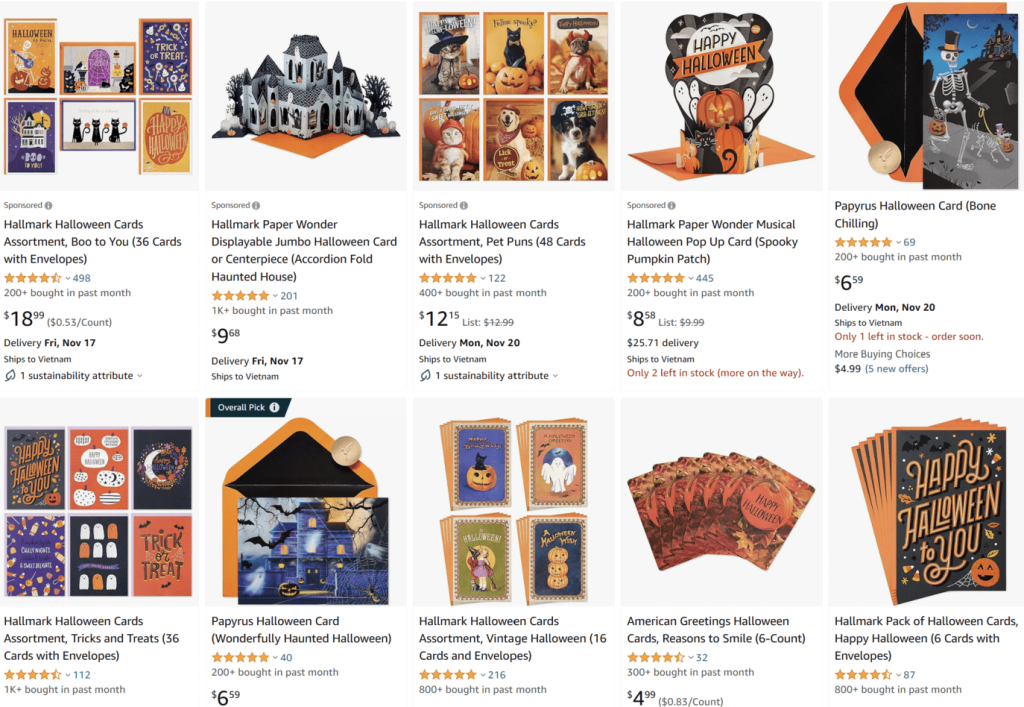 Using these related hashtags to make your products viral: #halloweencard #halloween #handmadecraft #handmadecard #spookyseason #witchtok #greetingcards
#22. Halloween Cups and Straw
Must-have items for a Halloween party, these straws and cups promise both fun and functionality. There are some other creative items you can sell for Halloween, such as:
Skull-printed straw, cups
Color changing cups
Pumpkin cups
Led straws, cups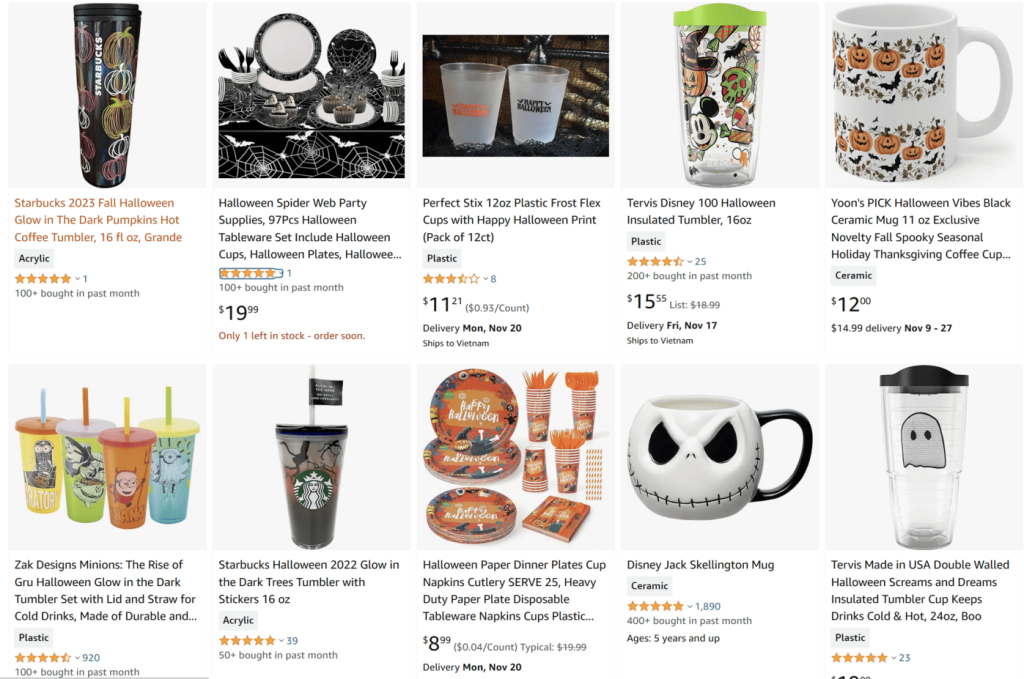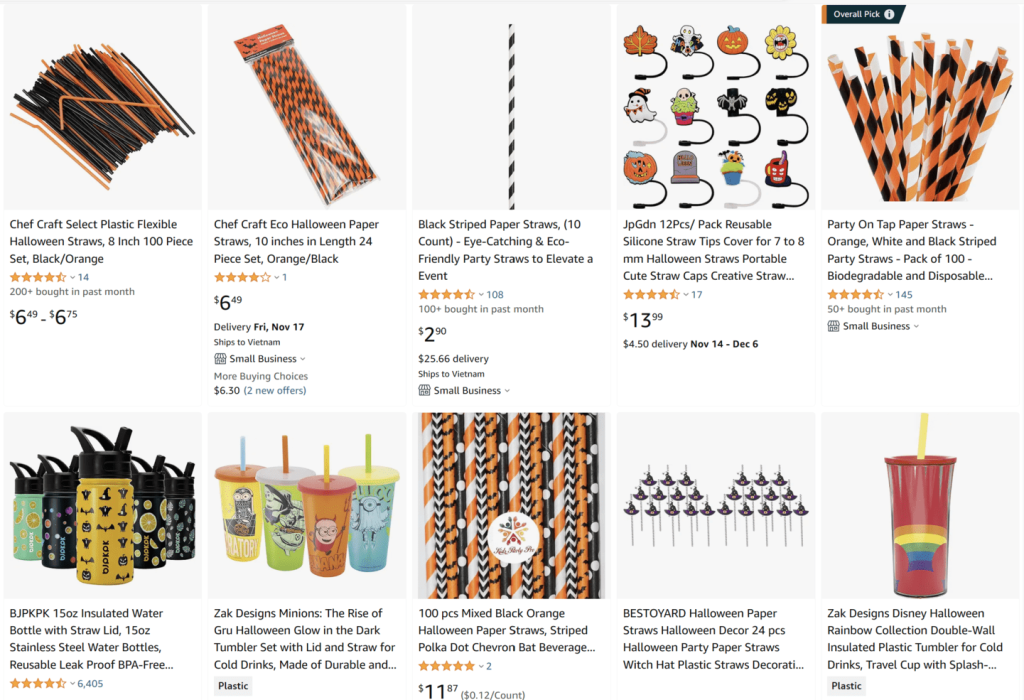 Using these related hashtags to make your products viral: #halloweendecor #halloweenshopping #halloweenvibes #halloweencup #sipsiphooray #cup #glasscupswithstraw
#23. Halloween Photo Booth
Photo booth sets bring an extra dose of amusement to every party. The inclusion of photo booth props ensures that every moment becomes a cherished memory, filled with laughter and joy. With the ability to capture humorous and happy moments of family, these pictures are timeless souvenirs that can be treasured for many years. Without a doubt, adding these products to your store will enhance the Halloween experience for your customers.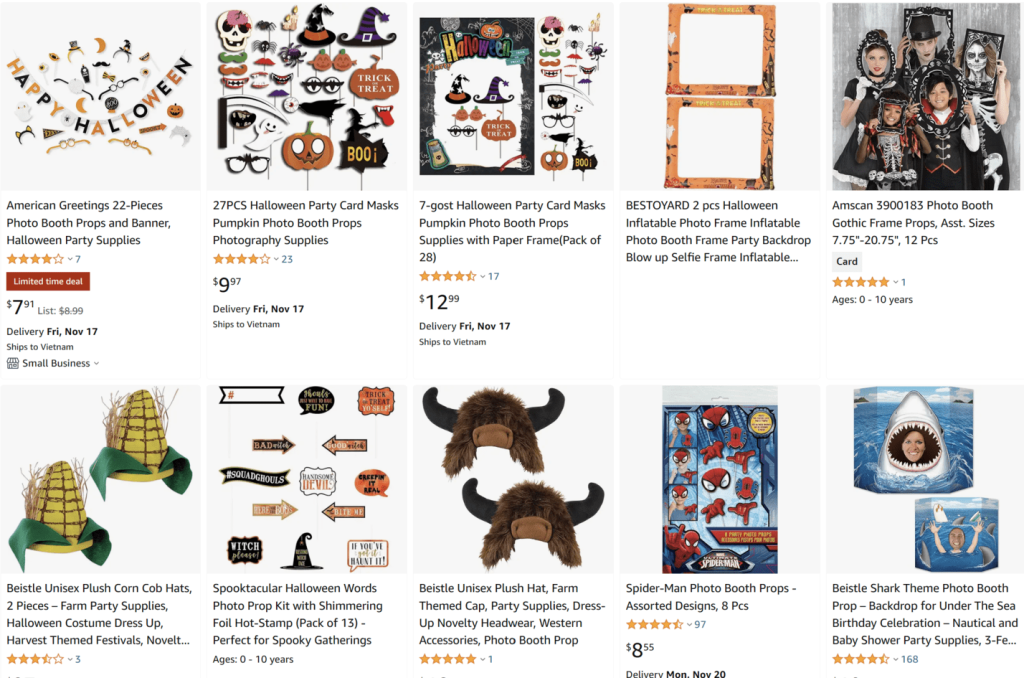 Using these related hashtags to make your products viral: #diyhalloween #halloween #photobooth #seamlesspaper #shootwithsavage #halloweencraft
#24. Enchanting Halloween Confetti
Halloween confetti breathes spirit into any party. Adorned with spooky shapes such as bats, pumpkins, and ghosts. Let's enjoy these playful concepts, and witness a surge in orders as your store becomes a supplier for every Halloween party.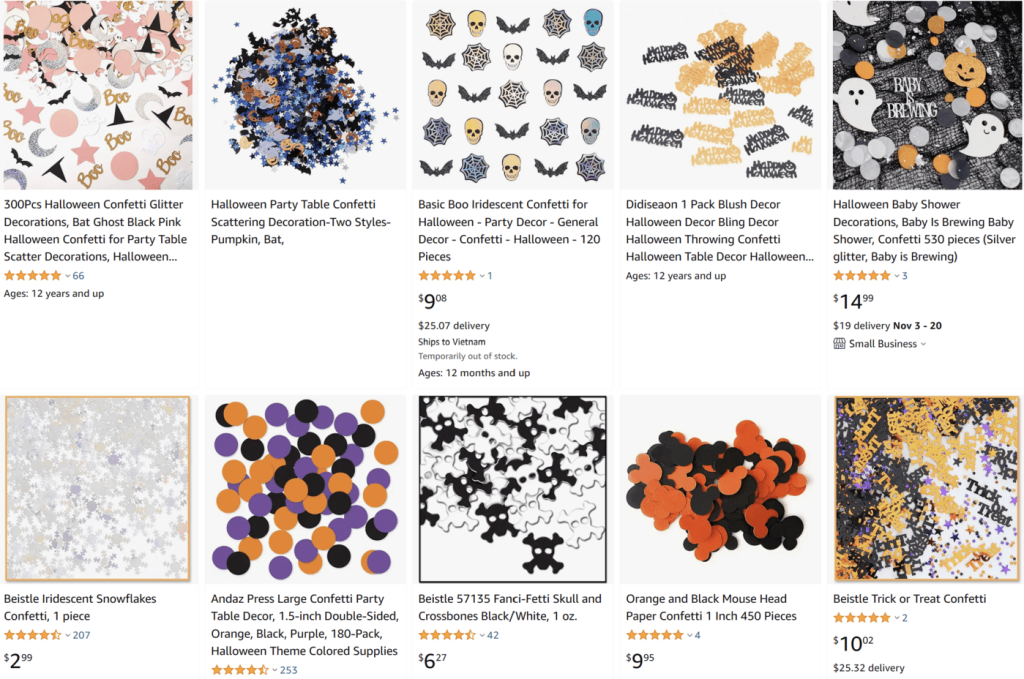 Using these related hashtags to make your products viral: #halloweenconfetti #halloween #witchy #scoops #smallbusiness #apothecary
#25. Silicone Molds
These spooky-themed silicone molds are ideal for making scary chocolates, ice cubes, or creepy cakes. People's demand for imaginative Halloween food is so high. Featuring intricate designs, customers can unleash their creativity into their delicacies. Moreover, these molds serve as excellent tools for simple Halloween crafts, shaping pumpkins, bats, and skeletons – the quintessential symbols of the season.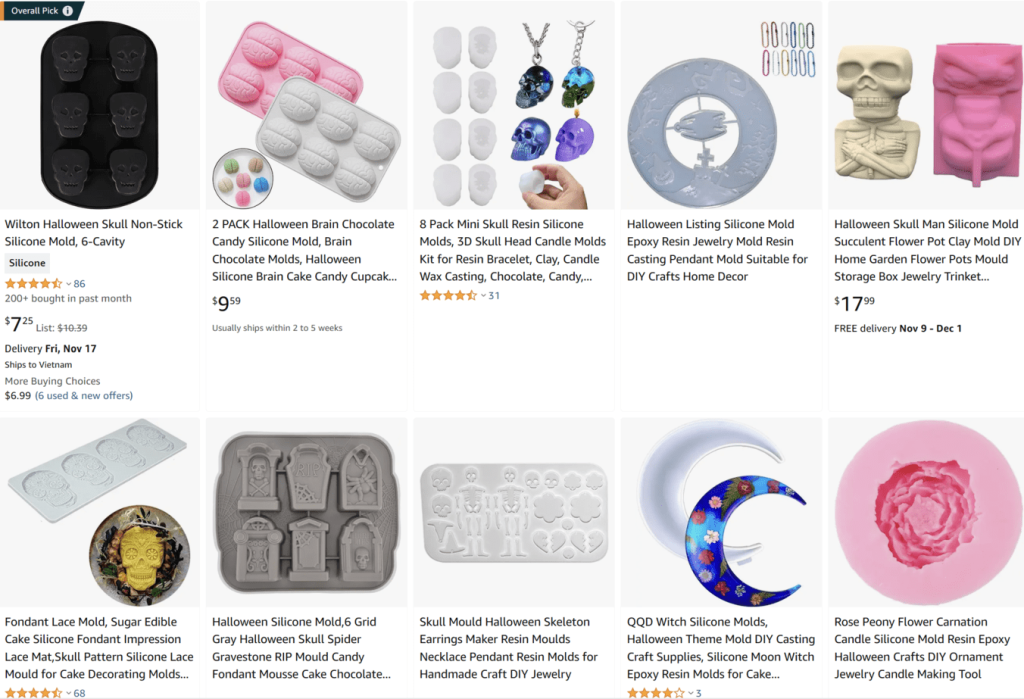 Using these related hashtags to make your products viral: #fall #halloweentreats #halloween #daiso #daisousa #discoverdaiso #baking #autumn #pumpkin
#26. Cookie cutters
Cookie cutters are an excellent option to elevate your spooky season experience. Picture providing a range of shapes, such as ghosts, bats, pumpkins, and witches hats, perfect for crafting show-stopping themed treats.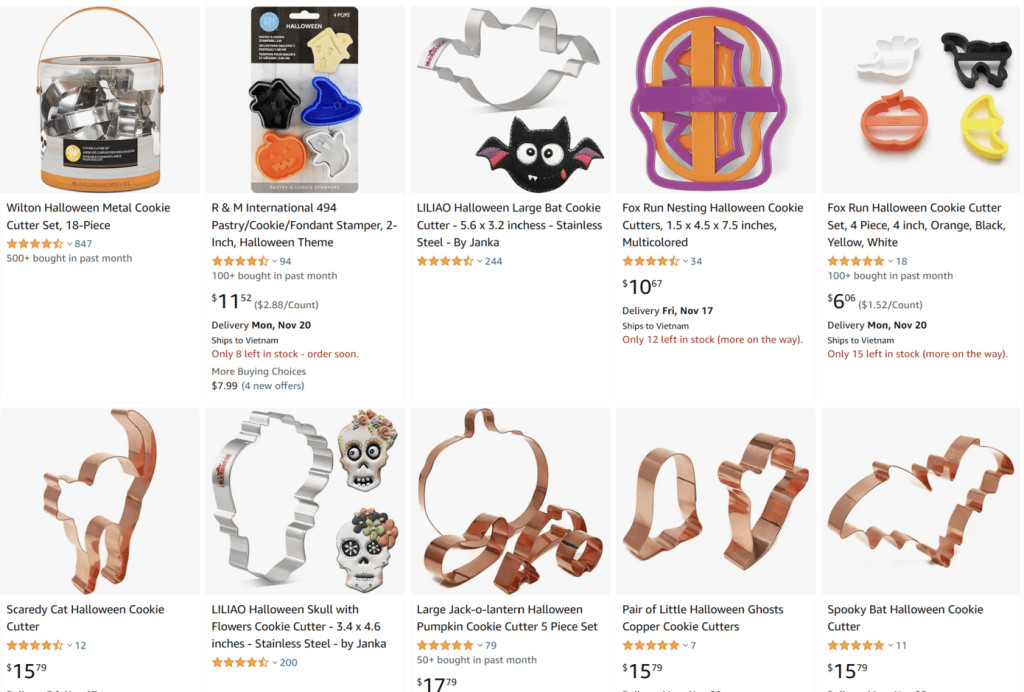 Using these related hashtags to make your products viral: #sugarcookies #sugarcookiesoftiktok #cookietutorial #cookiecutters #cookievideo
#27. Wrapping present paper
Wrapping paper is also a great Halloween dropshipping product that you can provide your customers. You can go with spooky prints like ghosts, pumpkins, and bats. And it's not just about gifts; this paper sets the perfect atmosphere for Halloween parties, making favors and gifts extra memorable. Whether it's treats or tricks, using themed wrapping paper spreads the excitement.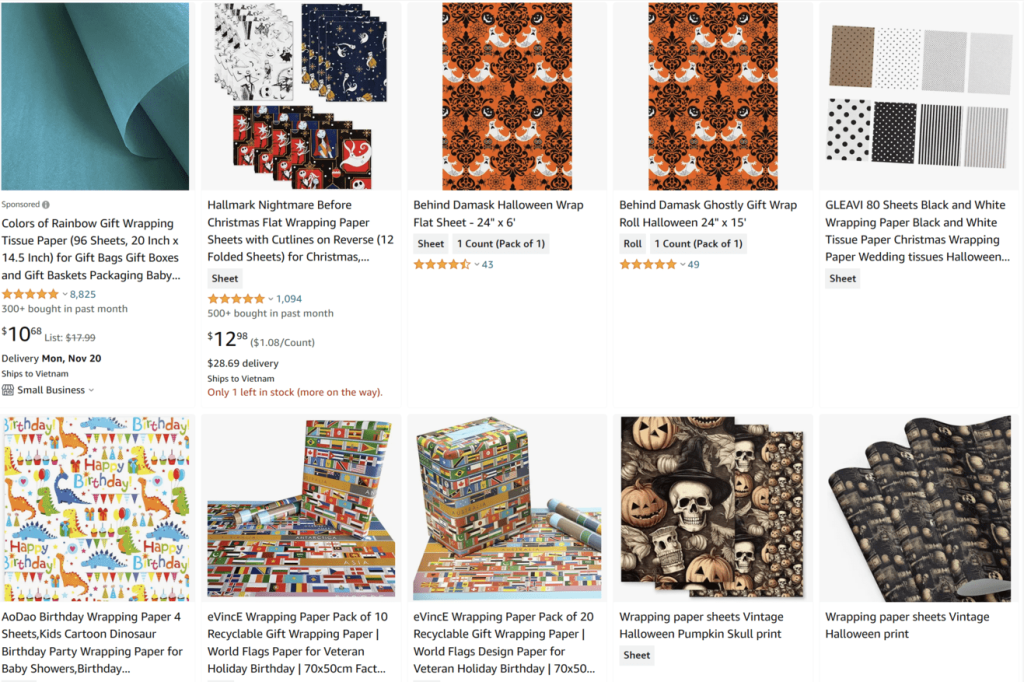 Using these related hashtags to make your products viral: #wrappinggifts #wrappingtutorial #wrappinghacks #wrappingpresents #halloweenwrapping
>>> Read more: Top 30+ winning TikTok dropshipping products in 2023
Mega Digital Tips and Tricks when selling Halloween Dropshipping Products
#1: How to choose Halloween Dropshipping Products
By following 5 tips, you can choose the best Halloween dropshipping products that are suitable for your niche to sell in your store.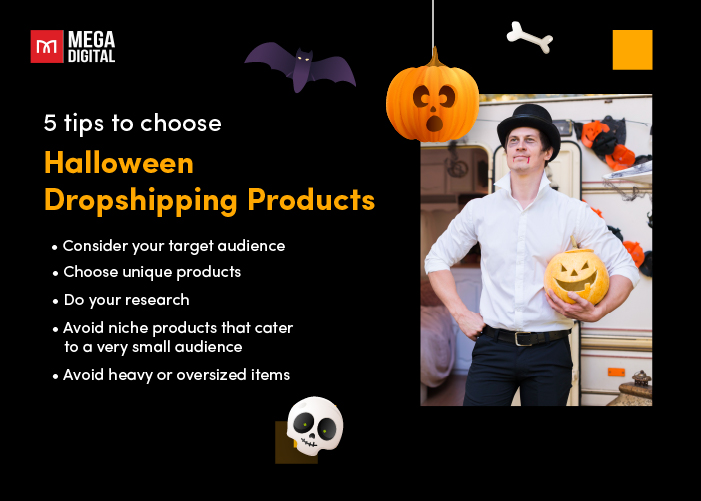 Consider your target audience: What kind of Halloween products are they most likely to be interested in? For example, if you're targeting families with young children, you might want to focus on costumes and decorations that are kid-friendly. If you're targeting adults, you might want to consider selling more spooky or gory items.
Choose unique products: This will help you stand out from the competition and attract more customers. You can find dropshipping products by looking at online marketplaces like:

AliExpress
Etsy
Amazon
Shopify

Do your research: Before you start selling a particular product, make sure to read reviews and compare prices from different suppliers. This will help you ensure that you're offering your customers the best possible products and prices.
Avoid niche products that cater to a very small audience: Niche items might not have widespread appeal, which limits your potential customer base. Instead, focus on products that have a broader appeal, such as classic costumes like witches, ghosts, and vampires.
Avoid heavy or oversized items: These items can be expensive to ship, and they may also be difficult for customers to pack and store. Instead, focus on products that are lightweight and compact, such as masks, makeup, and decorations.
#2: How to promote your Halloween Dropshipping Products on TikTok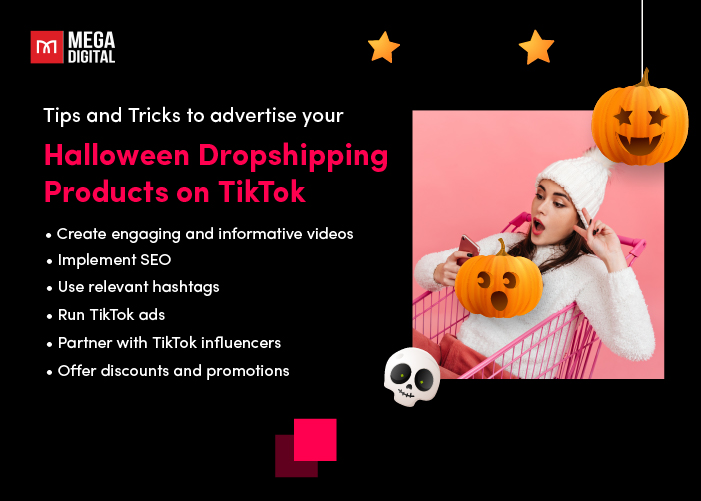 Create engaging and informative videos: Your TikTok videos should be well-produced and interesting to watch. They should also provide potential customers with all the information they need about your products, such as features, benefits, and pricing.
Implement SEO: To use SEO effectively on TikTok for your dropshipping products, you need to optimize your content for TikTok algorithm by following 5 steps in the article "TikTok SEO Techniques". It takes several weeks for SEO to work. By starting your SEO efforts at least 1 month before, you can give your videos enough time to rank before Halloween arrives.  
Use relevant hashtags: When you post your videos, be sure to use relevant hashtags so that people who are interested in Halloween products can find them. Some popular Halloween hashtags include #halloween, #halloweendecor, #halloweencostume, and #trickortreat.
Partner with TikTok influencers: Partnering with TikTok influencers can be a great way to get your products in front of a large audience. When choosing influencers to partner with, be sure to select ones who have followers in clothing or lifestyle, because these followers are interested in Halloween products. Besides, you can partner with affiliate TikTok programs to promote your products and services. 
Offer discounts and promotions: Everyone loves a good deal, so offering discounts and promotions is a great way to attract customers and boost sales. You can offer discounts to new customers, customers who follow you on TikTok, or customers who purchase multiple items.
Turn customers into your brand ambassadors: Get them excited to co-create alongside your content and extend the conversation further by utilizing organic content strategies focused on the Halloween topics they're interested in. For example, that could mean content around costume inspo, DIY and decoration tips tied to your brand values and message. Build your audience even further by utilizing Interest and Behavior audience targeting, or engage similar audiences already interested in your brand by creating custom lookalike audiences.
#3: Make use of TikTok paid-advertising
TikTok Dropshipping ads can be a great way to reach a wider audience and promote your products. Though navigating TikTok advertising may seem complex, it shares similarities with Facebook Ads, making the process more approachable. Our e-book provides expert insights and a simplified approach to guide you through setting up and managing successful TikTok ad campaigns for your dropshipping business. TikTok is a competitive platform, so it's important to optimize your ads in order to stay ahead of your competitors. Optimization can help you to improve your click-through rate (CTR), conversion rate (CVR), and other TikTok key metrics. This can lead to more sales and leads for your business.
Spark Ads
Spark Ads enables brands to amplify existing organic videos on TikTok to fit campaign objectives with great flexibility and efficiency.
Display Cards
It can drive clicks with eye-catching, brand-aligned visuals. Brands can use Display Cards to visually highlight important messages, share offers, or drive traffic to their website or app. 
Starter Package The TikTok Creative Exchange (TTCX)
The Starter Package allows you to work with creative agency partners to source creators. Receive 2 unique TikTok videos with 1 creator, when you spend at least $2k/ month in media within 30 days of asset delivery.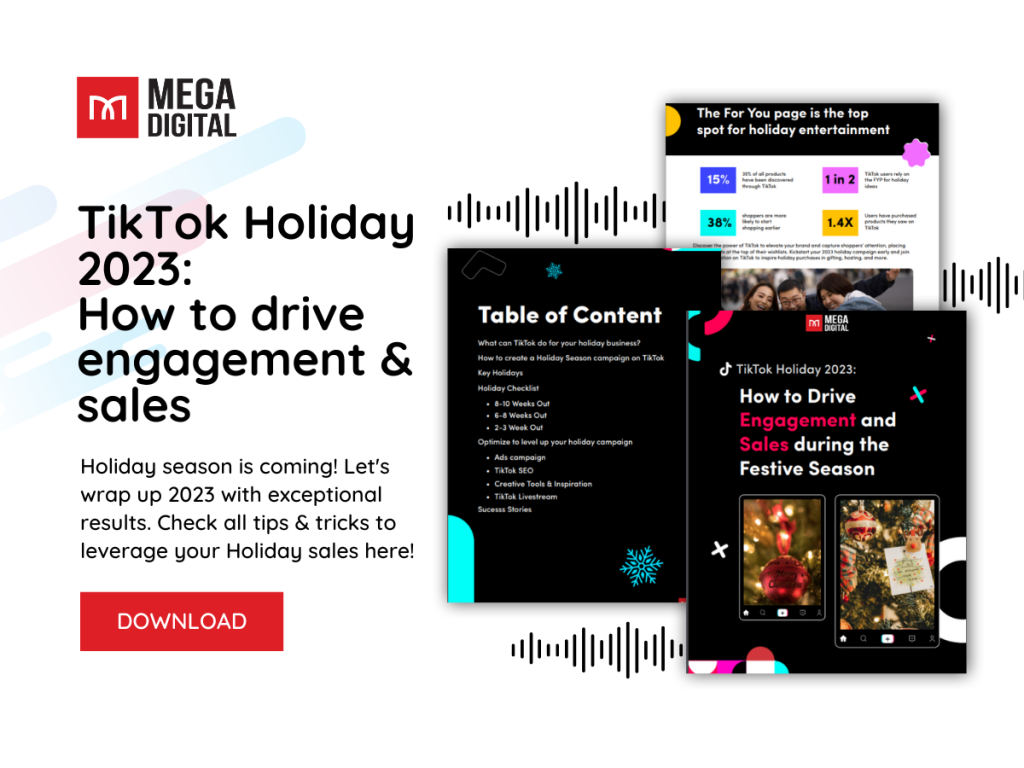 Final word
Overall, Halloween is a much-awaited holiday, driving significant demand for Halloween dropshipping products as customers eagerly anticipate celebrating the event with full fervor. Taking this opportunity, Halloween dropshipping serves as an excellent avenue to enhance profitability by offering a range of the spookiest products. To fully leverage your dropshipping business and amplify your sales, you should consider utilizing our TikTok Advertising Services. In this way, you can effectively promote your business and tap into broader markets, unlocking new avenues for growth and success.