Knowing how to make a TikTok video is essential if you are new to the TikTok platform. Many creators have become famous and gained money just by uploading their videos. Therefore, high-quality videos will reduce the chances of your videos not being approved, limiting your videos to being cut out of text which make your videos more appealing.
Now, let's start with the simple things! Learn how to make TikTok videos!
3 levels to make a TikTok video for beginners
There are 3 levels that TikTok newcomers should know when making videos on this platform, which are:
Level 1: Simply record your video, add some effect, and upload it
Level 2: Combine with your photos
Level 3: Add some music to your TikTok video
It sounds complicated but it is not hard as you think. Let's dig into the detail
How to make a simple video on TikTok
Here are the 9 steps to start making a basic video on TikTok:
Step 1: Access to TikTok making video feature
Open the TikTok application on your smartphone, tap on the icon plus (+) in the bottom middle of your screen. The app will ask your permission to access the camera and micro of your phone. Just accept its requirement so you can start shooting your first video.
Step 2: Choose your video duration
After you have accepted all the requirements, your camera will be active and you can record your first simple video via TikTok. In this step, TikTok allows you to make videos from one to 15 seconds and up to three minutes in length. Depending on the maximum length of video you want, tap 15s, 60s, or 3m.
Choose your video duration and start recording!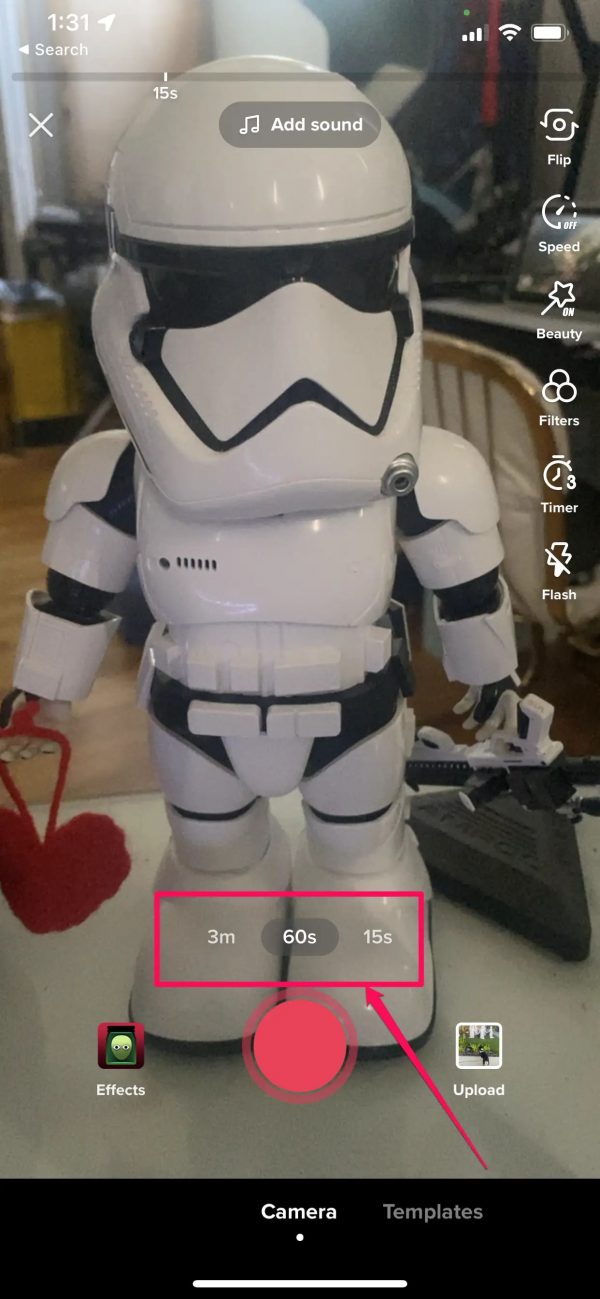 Step 3: Record video
To record, you just need to press the red button. After that, you can stop the video recording by tapping the red button and pressing the red button again if you want to record more short clips.
Step 4: Manage video length
You can stitch together many clips up to the video's maximum length. Every time you hit the red button, an additional video is recorded, and you can see the entire length of the film in the gauge at the top of the screen.
Tap the Backspace icon to the right of the red button to delete the most recent clip you recorded.
Step 5: Edit your video
TikTok provides effects tools and video controls will be found on the right side of the screen. You can use the on-screen buttons and add effects to your video.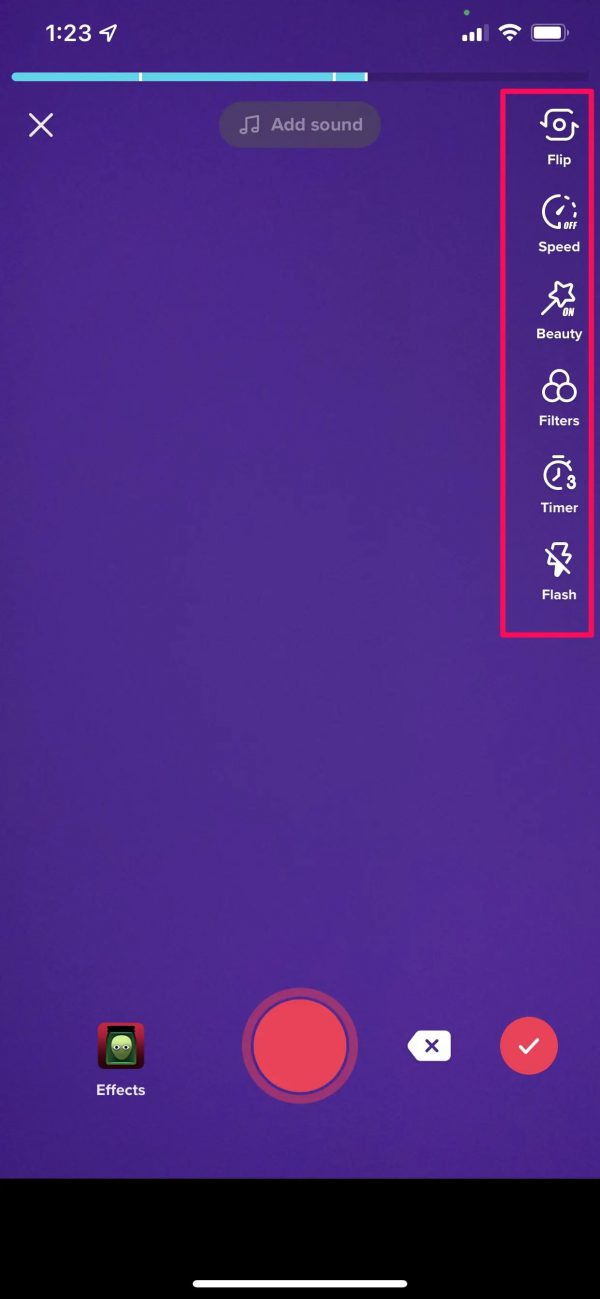 Flip: This toggles the front and back cameras
Speed: You can use this to record in slow motion or at a higher speed than usual.
Beauty: A soft focus filter is added to soften your features.
Filters: Select from a massive collection of filters to change the color and saturation.
Timer: Start a 3- or 10-second countdown with the self-timer and set the length of time you want to record. You can now record totally hands-free.
Effects: This button in the lower left contains a library of numerous common effects, such as green screen backgrounds and appearance changes.
Step 6: Finish editing
When you're ready for the next step, hit the Check button in the bottom right corner.
Step 7: Review the whole video
You can watch the video you recorded on this preview page. Use the back arrow at the top left to return to recording, for example, to remove and re-record a clip.
Step 8: Add sound, music, and other effects
You can also add further effects and customize other aspects of your video using the controls on the Preview page. Here are a few of the most important alternatives:
Sounds: The Sounds button at the bottom left allows you to add music and sound effects to the background of your video.
Effects: You can add a variety of special effects to the video, such as smoke, powder, and camera wobble. To do so, tap and drag the desired effect into the video and hold it there for the duration of the effect.
Text: You can enter the text that will be displayed as an overlay throughout the video.
Stickers: Tap a sticker to add it to the video. If you need to add text to it, do it now. After you've inserted the text, you may move the sticker around and place it wherever you want on the screen.
Adjust clips: This function is similar to a standard video editor. You can drag to rearrange the segments and trim the beginning and end of the video.
Voiceover: Tap and hold the Record button to add new audio. You can keep or delete any audio from the original recording.
Caption: TikTok can analyze your recorded audio and add captions to the video.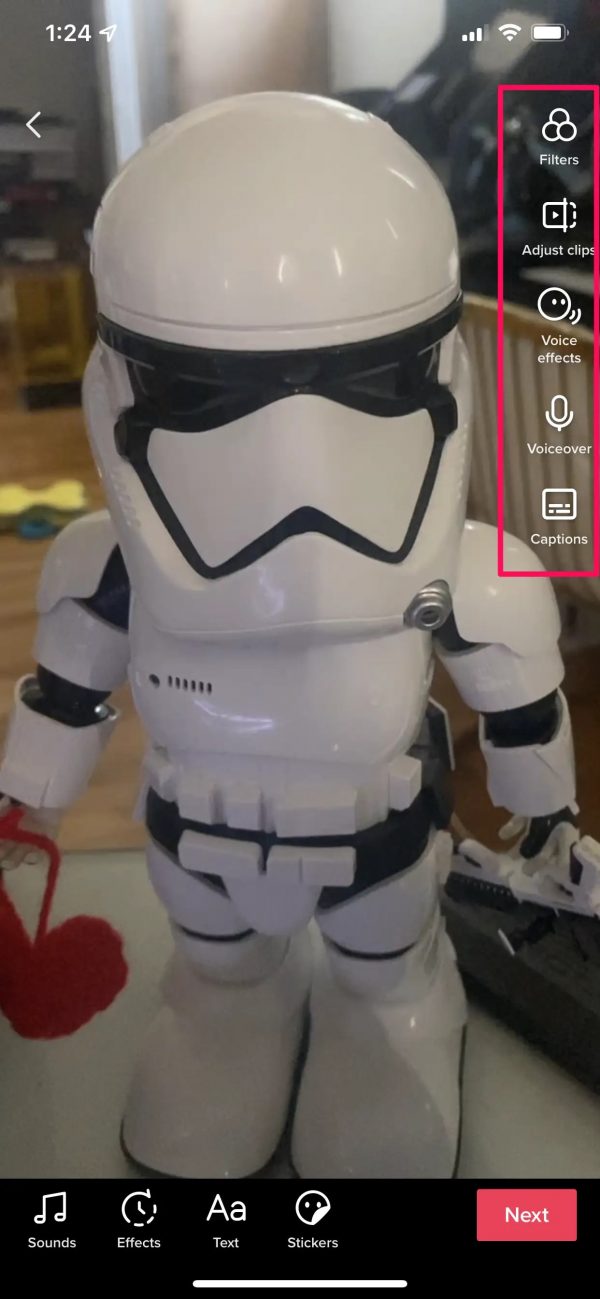 Step 9: Add details and setting
When your video is finished, tap Next. Finish the posting process by adding a short description of the video, deciding who can watch it, and if comments and duets are permitted. After finish, press the Post button.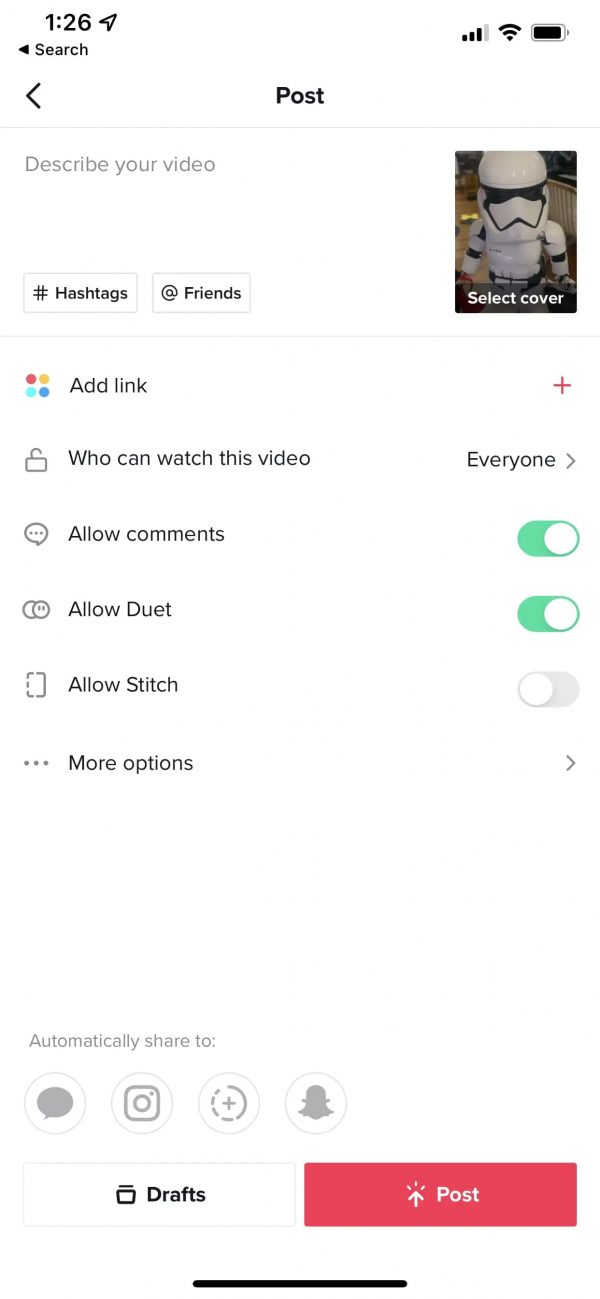 How to make a TikTok video with photos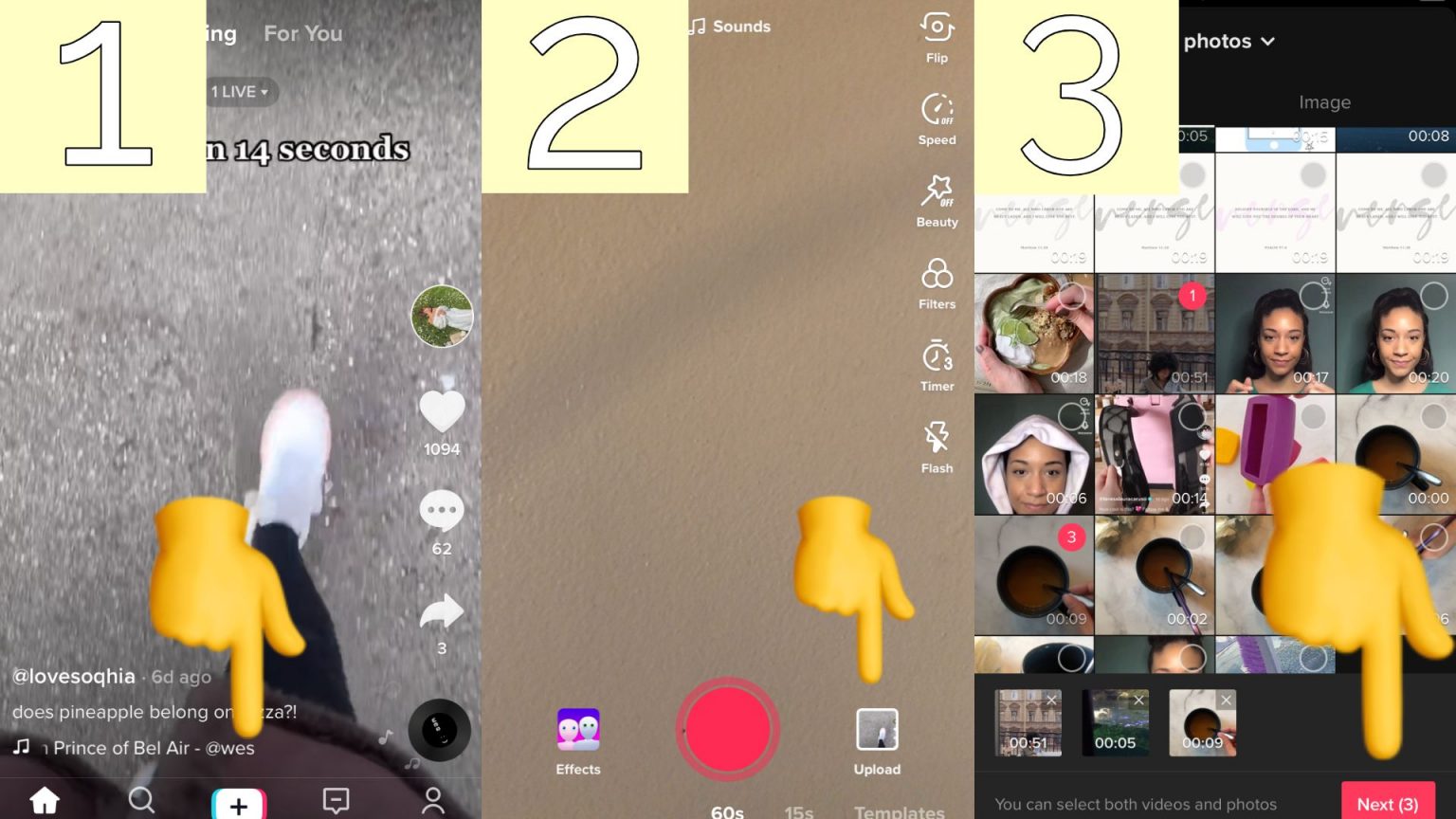 Follow 8 below steps to create TikTok videos with photos:
Step 1: At the bottom of your screen, tap the + (plus button).
Step 2: On the lower right, tap Upload. Then, at the top of the screen, pick Photos to filter for photos in your Camera Roll.
Step 3: Tap Select Multiple to choose up to 35 photos for inclusion. Select them in the order you want them to appear – you can't rearrange them in editing (unlike video clips).
Step 4: Once you've finished adding photos, click Next to add music, effects, stickers, and more. (You can add videos, too)
Step 5: Your photos will be displayed in Video Mode, which means they will play sequentially. You can change to Photo Mode, which allows people to navigate through images like a slideshow.
Step 6: Tap the music button at the top to select a song, or sound effect, or press Voiceover to record an audio track to include in your videos.
Step 7: Add a caption and hashtags, tag other people, and change your video settings.
Step 8: Press the Post button to begin sharing!
How to make a TikTok video with music
Adding music to the videos will help you increase your chances of reaching more audiences. The following steps will help you record a TikTok video with music quickly and easily: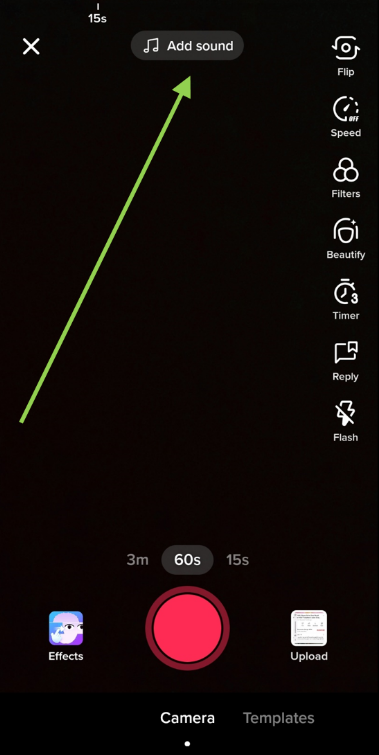 Step 1: Access the TikTok app.
Step 2: In the bottom center of the screen, press the Plus (+) button.
Step 3: At the top-center of the screen, select Add sound.
Step 4: Look it up in the search bar to find the sound you want to utilize.
Step 5: To add a sound to your video, tap it and then click the red checkmark.
Step 6: Set up your phone for recording.
Step 7: On the right side of the screen, press the timer button.
Step 8: Select a 3- or 10-second countdown.
Step 9: To begin the countdown, use the Start countdown button.
Step 10: Take a video with music!
Step 11: Filters, effects, stickers, and text can all be added.
Step 12: Next, press checkmark the button.
Step 13: Write descriptions and hashtags, tag other people, and change your video settings.
Step 14: Press Post to start uploading the video.
6 tips to make your video viral
#1: Use trending audio clips or music. TikTok is heavily reliant on music, and many users browse the platform and discover videos through audio. Similarly, the original audio is frequently the foundation of a TikTok trend (such as this "cha-ching" effect). It can help you reach a larger audience if you adapt it to your own content.
#2: Include hashtags. Hashtags play a significant role in how TikTok content is structured and discovered. TikTok's Discover tab has been replaced with a Friends tab, making it more difficult to identify trending hashtags. However, you can find some on TikTok Creative Center or by actively exploring the platform.
#3: Don't limit yourself to just one video! Regular posting is the key to success on TikTok, so don't just drop one video and expect the Gen Z-er to find you. TikTok suggests uploading 1–4 times each day to determine what material resonates with your audience. Check out the optimal time to publish on TikTok if you truly want to make your daily updates count.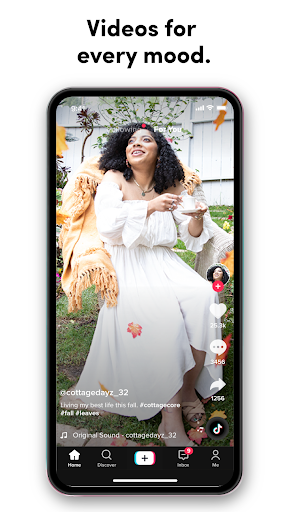 #4: Do not strive for perfection. TikTok is all about authenticity and relevancy in the present. Users like their material to be a little rawer – in fact, 65% of users believe professional-looking movies from brands are inappropriate.
#5: Make it catchy. While TikTok videos can now be up to 10 minutes long, keep it short. Earlier in 2023, there was a trending hashtag #clothingbrands demonstrating that short videos with transformation scenes, changing costumes, style and makeup look, making the video more attractive, were receiving a lot of attention. We attempted the TikTok seven-second challenge ourselves, and it worked! While you don't have to go that short, 7-15 seconds is the ideal duration for a TikTok video.
#6: Learn the language. What exactly is "cheugy?" Why are thereIf you are new to the TikTok platform, knowing how to make a TikTok video is essential. You can change your life overnight if you know how to make videos on this platform. Many TikTok Creators have become famous and made a lot of money just by uploading their videos. so many skull emojis in the comments on that humorous video? Learning how to speak like a TikToker is essential for fitting in.
Final word
We hope that all the tutorials on how to make a TikTok video above that help you learn all the basics when joining this platform. Furthermore. to be successful on this platform will definitely need some TikTok Marketing Tips that we have shared in the last blogs. Don't forget to follow us on social media to learn more about TikTok!