All over the world, there are 6000+ YouTube Ads agencies. Most of these agencies aren't well-known, but a few big ones are famous, like household names. Check out the top 20 agencies, all making over $100 million in revenue, according to Clutch's 2024 reviews.
Top 20 YouTube Ads Agencies in 2024 [Updated]
Here you'll find 20 YouTube Ads agencies that pull in $5 billion or more annually. A lot of these belong to companies like Mega Digital, Roasbeast, and Tuffgrowth. These agencies operate worldwide, having offices in various countries, and their teams vary from 10 to 10000 employees.
1. Mega Digital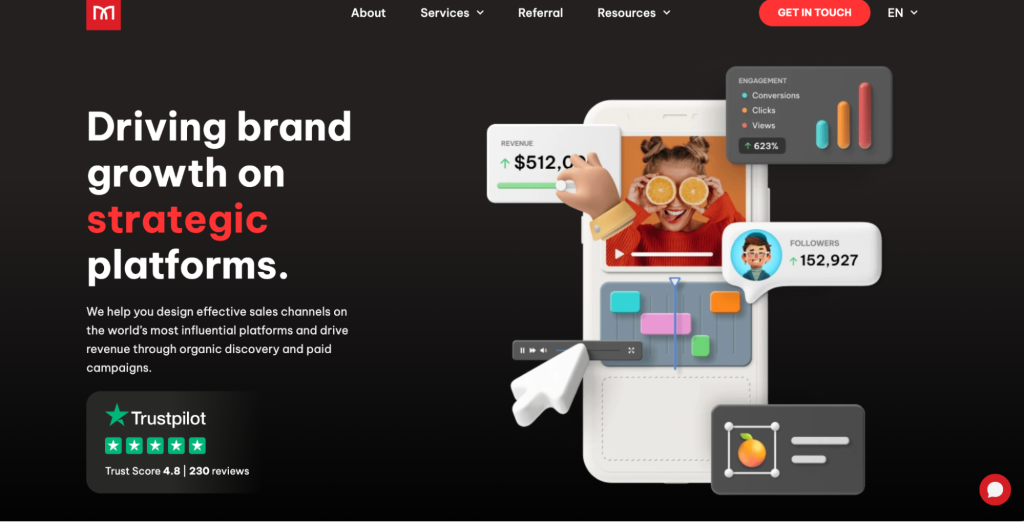 Mega Digital is one of the top Google Ads agencies in APAC. Being a Google Partner guarantees that they have expertise in the platform and its target audience. Therefore, Mega Digital can bring the most effective YouTube Ads solution for their 1000+ customers. With its foundation as a tech company, Mega Digital can employ AI in YouTube ad campaigns, leading to outstanding results.
In conclusion, their work was excellent as they applied technology to the advertising process. Moreover, their 5-star rating on Trustpilot shows their trustworthy level, that comes from client satisfaction.
Pros: lowest tax fee on the market; exclusive data from Google; proactive and experienced creative team that focuses on delivering measurable results and optimizing strategies to achieve client goals
Cons: No case studies were published.
Services: Google Advertising (including YouTube Ads), Google Ads Agency Account, Google Shopping Ads
Budget: From $50
Team Size: 100+ employees
2. Roasbeast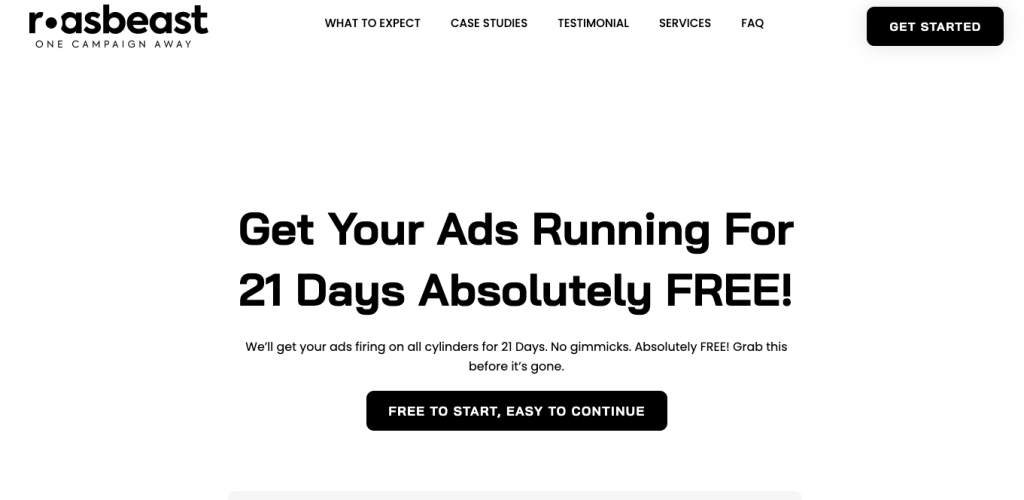 Roasbeast is a US-based digital marketing agency. They have provided a wide range of services to clients of all industries since 2017. Their digital marketing services include YouTube ads, Facebook Ads Buys, strategies for acquiring customers, and TikTok. Roasbeast's distinguishing factor is that their ads run for a 21-day free trial.
One of the most outstanding cases of Roasbeast is that A media company has hired ROASBEAST to help them scale ad spend profitability and get new end customers. The team is tasked with media buying efforts on Google, Facebook, and Instagram. Quinten Curtis – Director of Marketing, Media Company complimented: "ROASBEAST's work has met or exceeded ROAS goals throughout the project, and the client has seen a rise in new end customers. The team leads organized project management, responds to the client quickly, and communicates through virtual meetings. Their efficiency and expertise also stand out."
Pros: Reliable reviews from clients, providing practical strategies
Cons: Price might be too high for startups
Services: YouTube Ads
Budget: Over $1,000
Team size: 10–50 employees
3. Tuffgrowth
Tuffgrowth is an in-step team that drives end-to-end growth. Because the company has full-stack skills and technical expertise, they can provide your business with suitable strategy and execution. Besides, Tuff is known as a social media marketing firm with a wealth of knowledge about providing social media services. Their experts are skilled in developing and executing social media marketing strategies that work for companies in an original way. Their SEO and CRO teams join hands to analyze behavior metrics against conversions to find friction points and opportunities for A/B testing. Or, in case you want to boost creativity for your media products and marketing campaign to engage customers and drive real revenue and conversions, Tuff's Social Ads teams and Ad Creative will collaborate to find the best solution for your desires.
Pros: Proactive and have rich insights into start-up companies
Cons: Might not match big-scale company
Services: Google Ads
Budget: N/A
Team size: 10–50 employees
4. LYFE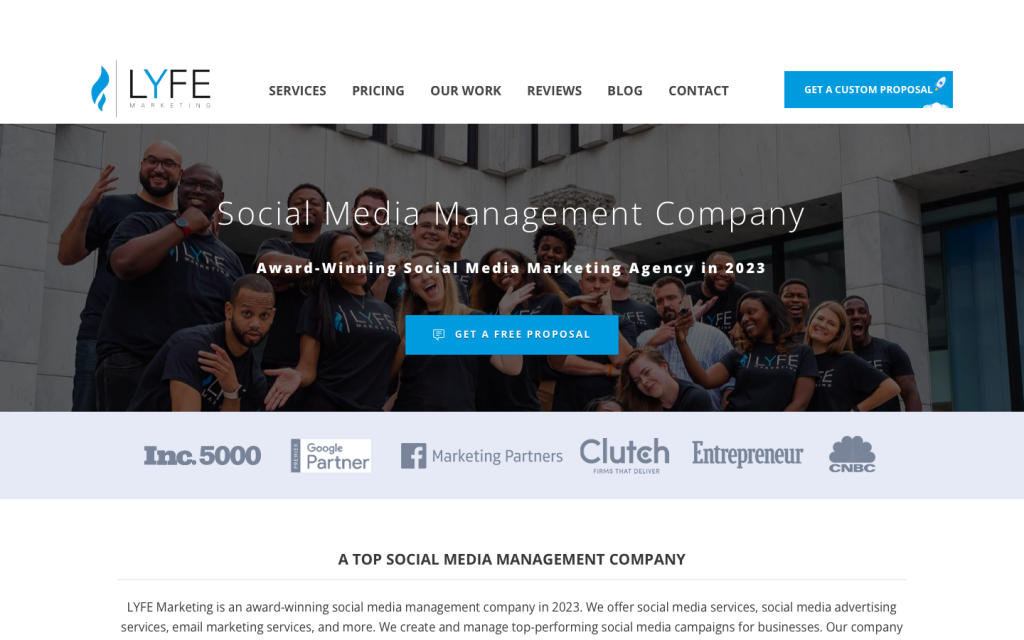 LYFE Marketing focuses on social media advertising. They specialize in assisting local Atlanta businesses to prosper online and are masters at creating and executing powerful social media campaigns. For them, social media is not only an aspect of their company but also their area of expertise and passion. Their dedication to elevating the art of content creation is what makes them unique. Your marketing on YouTube and all the other major social networks can be enhanced with the aid of Lyfe Marketing. The average monthly cost of social media management ranges from $750–$7000. The amount that they manage for you depends on the number of channels and posts.
Pros: Successful cases, customs strategies for each client
Cons: Probably unsuitable for bigger companies that have specific marketing requirements
Services: Google Ads
Budget: From $1,000
Team size: 10-50 employees
5. Clearwater Agency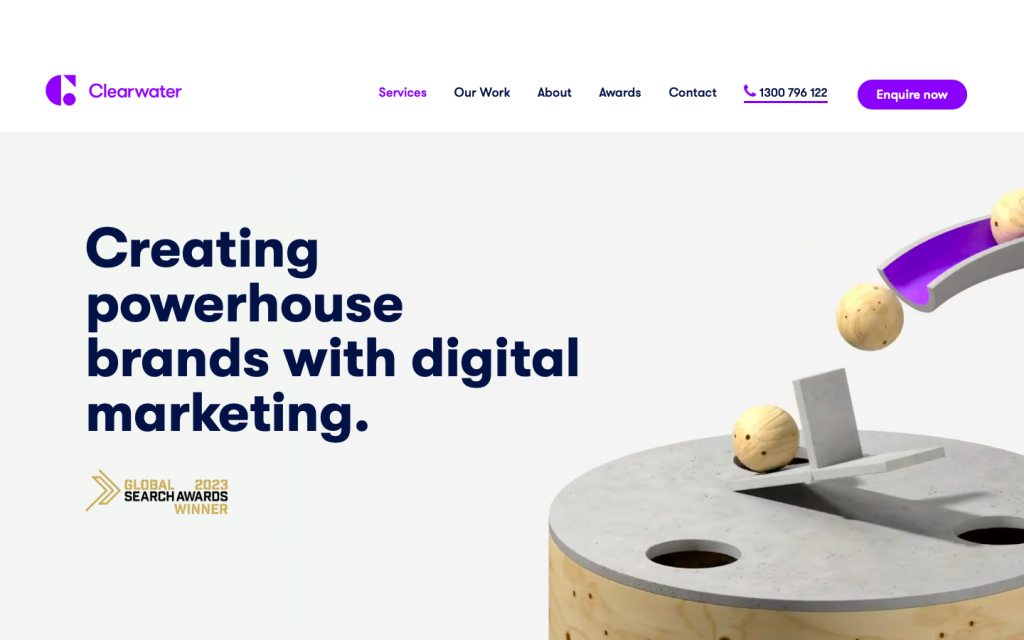 As a digital marketing and transformation agency, Clearwater is proud to be seen as having a love of art and tech culture. The company has received many prestigious awards in the industry, for instance, "Best Local SEO Campaign" at the 2023 Global Search Awards and "Best Use of Search—B2B" at the 2023 APAC Search Awards. When it comes to actual cases, Clearwater supported FightMND, which is a charity project for motor neuron disease (MND), to exceed the total donation target with a record-breaking $14.6 million. The agency is suited to these types of businesses: E-commerce businesses, service-based businesses, B2B organizations, and non-profit organizations According to Chris Parkes, Director of Marketing and Communications at the University of Melbourne, "Clearwater has been a trusted partner of the University of Melbourne for over three years now. Not only has their expertise delivered strong, measurable business outcomes for the organization – the relationship formed through their personalized approach to partnerships & account management has made a considerable impact in an industry scarce of value-based operators."
Pros: Expertise in technology and art industry, measurable business outcomes for the organization
Cons: Price might be high
Services: SEM, SEO
Budget: From $5000
Team size: 10-49 employees
6. ADA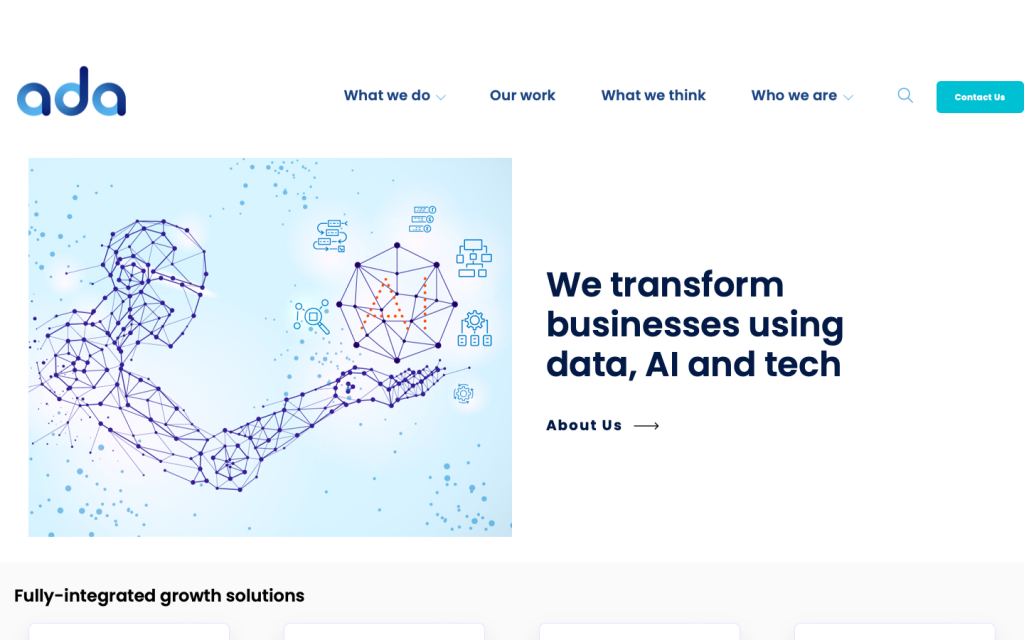 ADA is known as the largest digital and tech services provider across the APAC region. Thanks to the innovation of creatives, data, media, and technologies, the company has successfully teamed with thousands of brands across 10 markets all over the Asian Pacific region.
As for ADA's case studies, Toyota Lofi Drive Beats is considered one of the most outstanding work achievements of ADA with clients. In Indonesia, Toyota cars dominate the roads (accounting for 31.6% of the market share, Statista 2022) demonstrating their unquestionable appeal. However, the problems appear when Toyota is doing business in the second-biggest ASEAN nation and experiencing a significant sales drop during the epidemic. Toyota Indonesia hired ADA with the goal of reaching a new customer sector and expanding its brand image in order to engage the younger generation. With the strategy and execution that ADA tailored for Toyota, the results are remarkably successful. Eventually, the project broke records with a retention rate that was 609% greater than previous content on Toyota Indonesia's YouTube channel.
Founded: 2020
Pros: Offering insightful analysis and practical solutions to help clients achieve a holistic digital transformation
Cons: Perhaps unsuitable for large-scale businesses
Services: YouTube Advertising
Budget: N/A
Team size: +100 employees
7. Techmagnate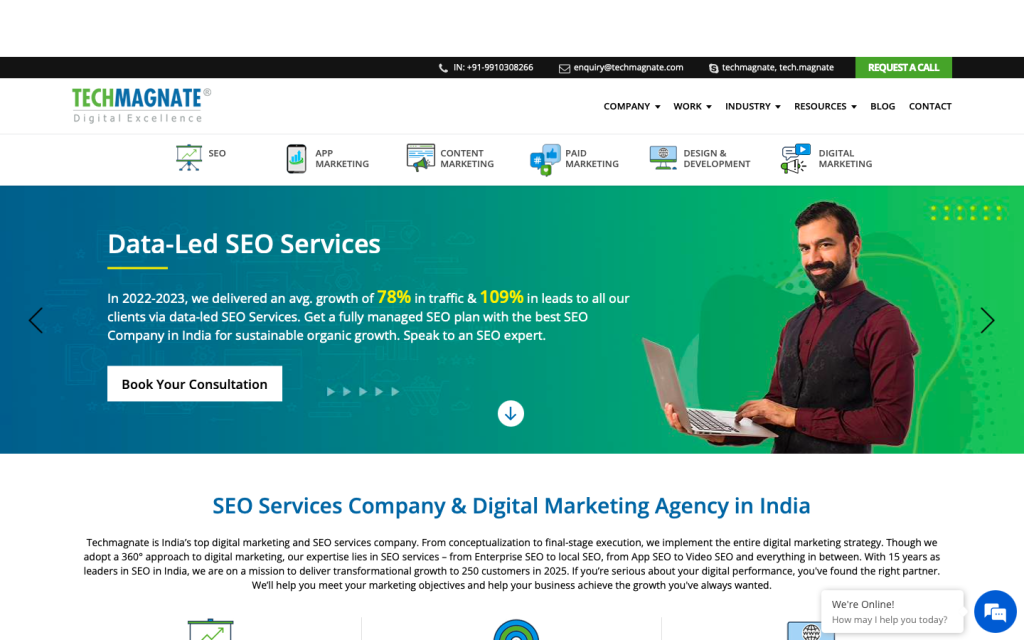 Techmagnate takes pride in serving as a trusted partner and mentor for prospective clients as they pursue their business goals. The company makes an effort to offer insightful advice and assistance to help their clients reach advertising objectives. At Techmagnate, assistance and teamwork are essential. The company offers pay-per-click advertising, application development, social media marketing, SEO, and web design. A wide range of YouTube video marketing services are among them. The company considers video SEO a kind of content optimization that boosts organic search results, rather than just a trendy term. Techmagnate provides YouTube optimization and organic SEO video marketing services that generate the organic results a company needs to expand a channel.
Founded: 2006
Pros: Experience in various industries
Cons: The cost of hiring might be unaffordable for startup companies
Service: SEO, video marketing
Budget: From 3,000
Team size: +100 employees
8. Simply Ads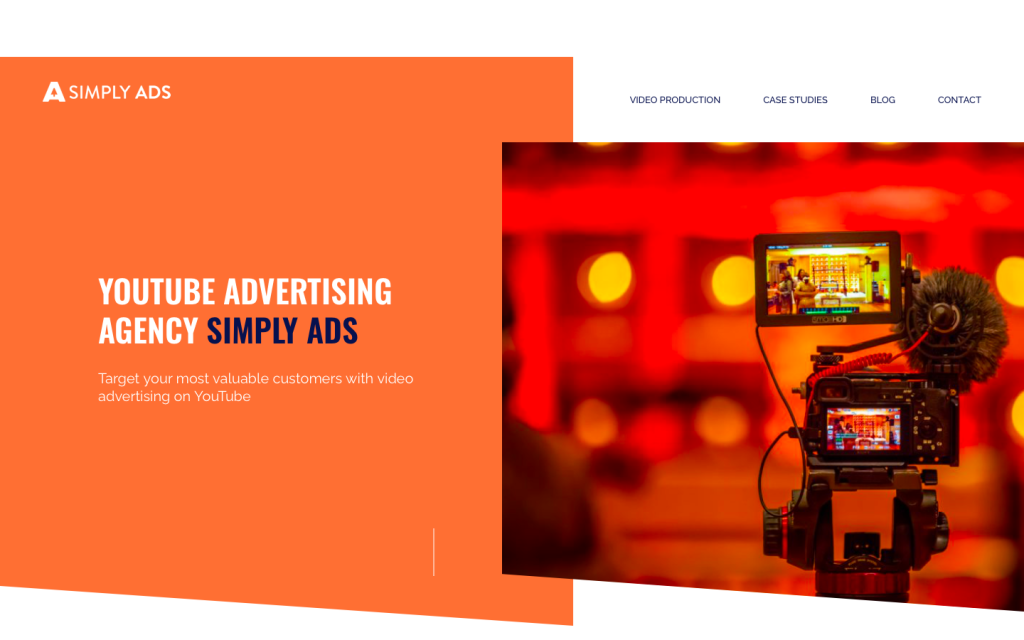 As a specialist YouTube ads agency, Simply Ads offers advertising management, video production, and market research. The two primary business segments of Simply Ads are the digital marketing division and the video production division. They use their expertise in digital marketing and video production to produce and distribute videos that are tailored to your company's objectives. The goals of the company will always guide the creative direction and method of video creation that is used. To be more specific, Simply Ads improved the YouTube advertising and organic channel performance for the world's largest food aid charity and delivered 150% positive returns on investment.
Founded: 2016
Pros: Specialized in YouTube digital marketing
Cons: Might not be suitable for large-scale enterprises
Services: YouTube advertising, digital marketing
Budget: From $1,000
Team size: +50 employees
9. Red Marketing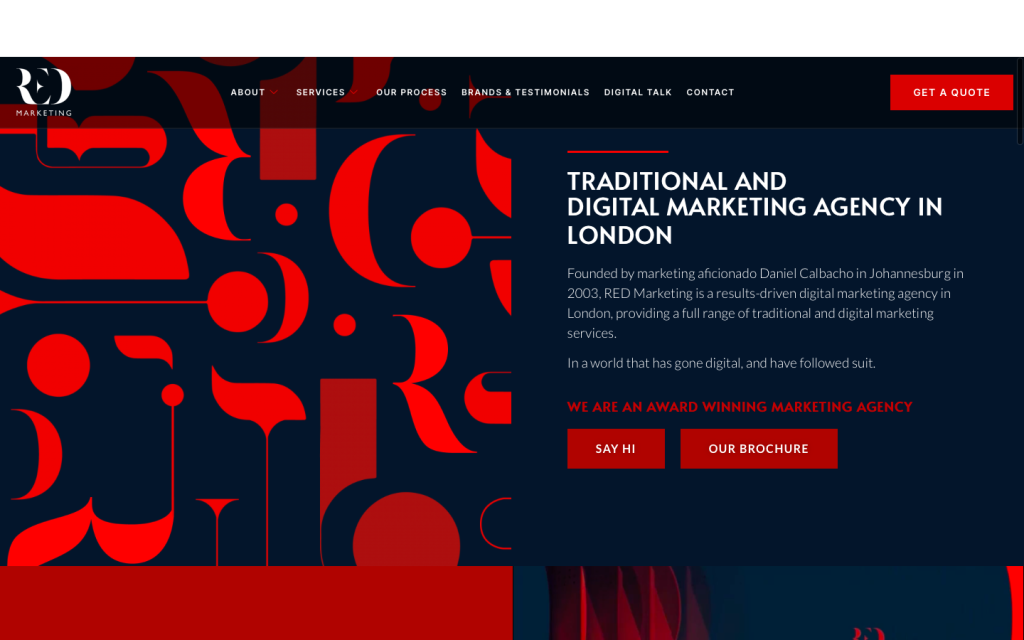 Red is a London-based digital marketing agency. The company provides a full range of traditional and digital marketing services. With more than 20 years of experience in digital marketing, Red Marketing follows a six-step process from brand analysis to implementation. The company's motto is that they eat, sleep, and breathe the brands they work with. In other words, brands are the core of everything agencies do. Ajinder Kaur, owner of Ghazal, once said: "The RED Marketing team has always been reliable with responding on our social media pages (even after hours and during the holidays), in tune with the latest trends in photography and graphic design, and has given our brand a fresh new look."
Founded: 2012
Pros: Customized advertising strategy for each client
Cons: Limited in specific specialized markets
Services: YouTube Ads, Video Production
Budget: N/A
Team size: N/A
10. EssenceMediaCom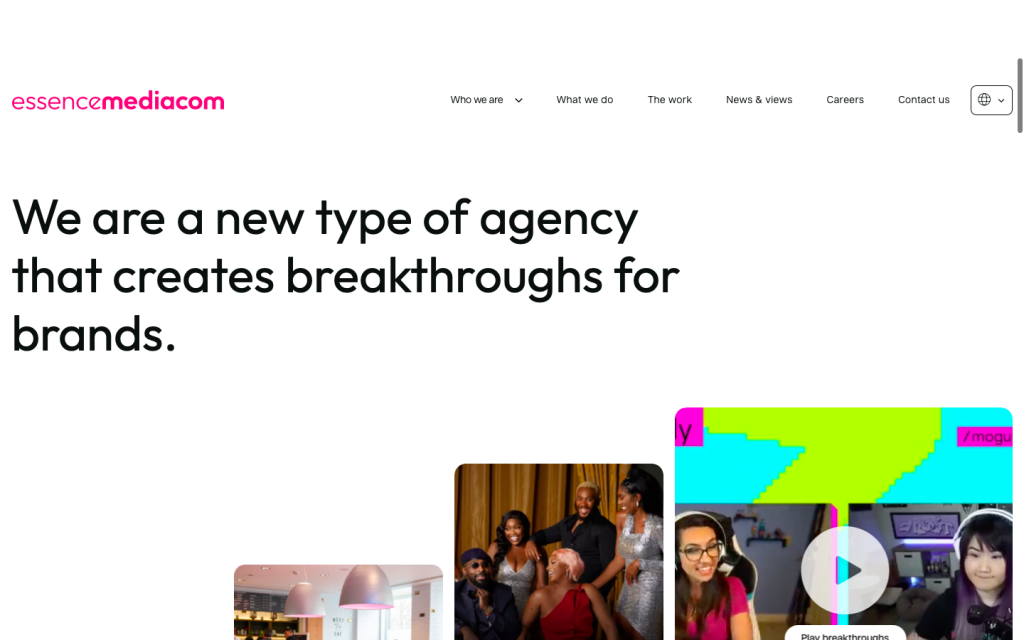 EssenceMediaCom is known as an advertising agency. The company applies state-of-the-art technology and unmatched data to automate the processes. Moreover, they are associated with GroupM and WPP and are among the top three global media networks in the world. They now have access to the industry's richest data sets and most reliable benchmarks, thanks to this. The company has 120 offices in 96 nations, from Auckland to San Francisco, from Cape Town to Reykjavik In addition, they are responsible for delivering campaigns across every media channel and reaching more than $ 22.7 billion dollars (source: COMvergence 2022).
Pros: Impressive YouTube visibility and expertise in social media promotion
Cons: The cost of hiring might be too high for startup companies
Services: SEO, social media, and creative
Budget: From $10,000
Team size: +9,000 employees
11. JEMSU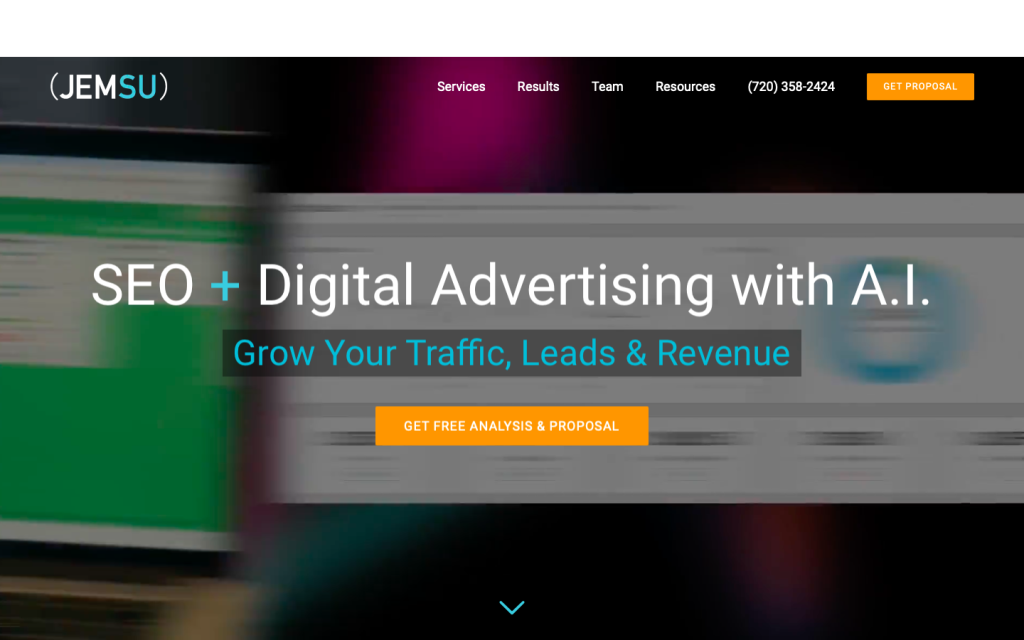 JEMSU is an organization of enthusiastic specialists in digital marketing. The agency works with its clients to implement the best SEO techniques and digital marketing strategies to produce outstanding results. They are knowledgeable about the various digital platforms and know how to best utilize the potential of each one to meet the marketing objectives of individual clients.
Pros: Highly skilled in social media marketing and brand development
Cons: Moderate level of experience in niche markets
Services: SEO, CRO
Budget: From 1,000
Team size: 50 employees
12. Disruptive Advertising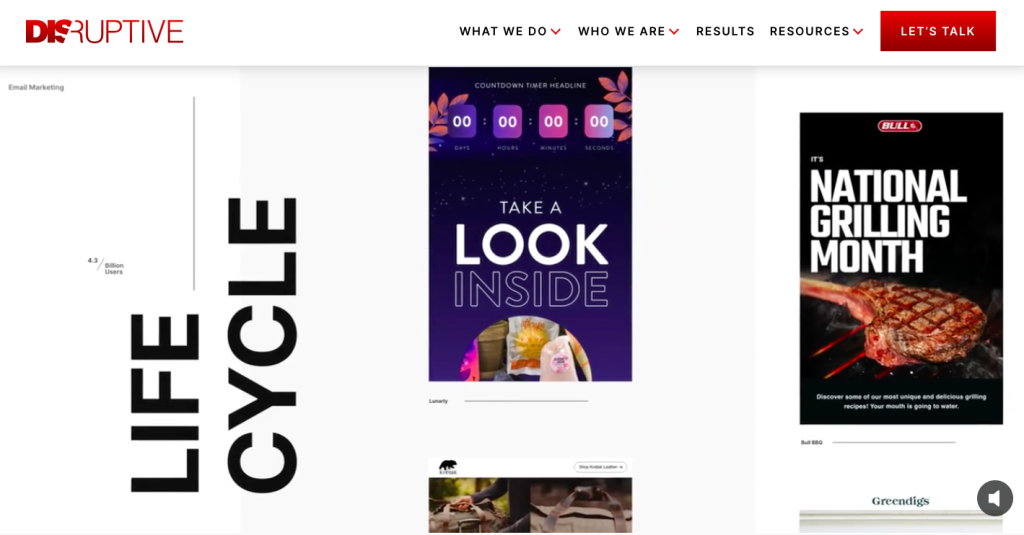 Disruptive Advertising is a US-based leading digital marketing agency that provides full services: PPC management, site testing, web analytics consulting, and lifecycle marketing. They've dedicated themselves to learning what their clients really desire and how they can support them in achieving it. Despite not being a primary market for YouTube, the company provides display advertising services for YouTube channel display ads. Display advertising, aimed at proactively engaging potential customers, strategically places relevant and intriguing ads when the likelihood of conversion is highest. It is particularly effective for raising awareness and ensuring continual brand presence.
Pros: Highly skilled in social media marketing and brand development
Cons: Moderate level of experience in niche markets
Services: SEO, CRO
Budget: From $1,000
Team size: 50 employees
13. Vireo Video

Vireo Video, a YouTube advertising agency, is dedicated to crafting and executing comprehensive video campaigns, guiding clients from the initial stages to achieving success. With a strong conviction in the effectiveness of YouTube marketing, they collaborate with clients to enhance their channel's viewership and subscriber base.
Their expertise spans the entire spectrum of YouTube marketing, encompassing strategy development, optimization, and SEO. Vireo Video assists clients in harnessing the potential of video content to generate revenue, enhance brand growth, and surpass their return on investment objectives. A team of YouTube Certified Experts is entrusted with managing and optimizing clients' videos and channels, ensuring effective video SEO through the creation of compelling titles, thumbnails, metadata optimization, and playlist curation.
Pros: Expert in YouTube marketing and skilled in executing impactful video campaigns
Cons: Limited in specific specialized markets
Services: YouTube Growth Marketing, YouTube Advertising
Budget: From $1,000
Team size: 50 employees
14. The Outloud Group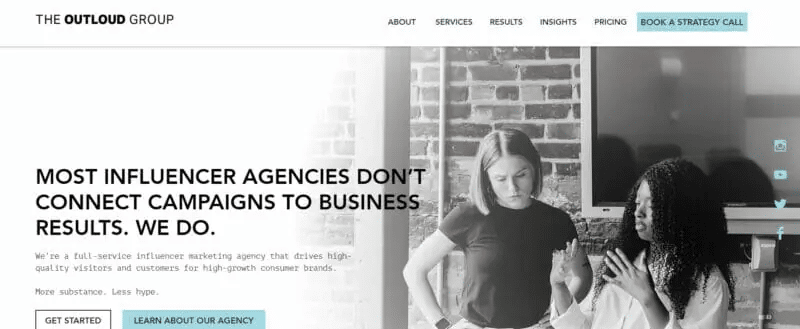 The Outloud Group, a long-standing player in influencer marketing since 2008, has spearheaded brand campaigns on major platforms like Instagram, YouTube, TikTok, and Twitch. Renowned for their full-service approach, the agency excels in crafting authentic storytelling that seamlessly blends art and science. What distinguishes them is their direct and uncomplicated approach to influencer marketing, standing out in an industry often characterized by glamour and extravagance. If you are a KOC or influencer and have the desire to enhance your productivity proficiency and profession, the out loud group would be the ideal agency that meets your demands.
Pros: Specialize in providing marketing strategy for brands and creators by particular platforms
Cons: Price would be unaffordable for small-scale company
Services: YouTube Advertising, Influencer Marketing
Budget: From $10,000
Team size: 50 – 200 employees
15. PPC Geeks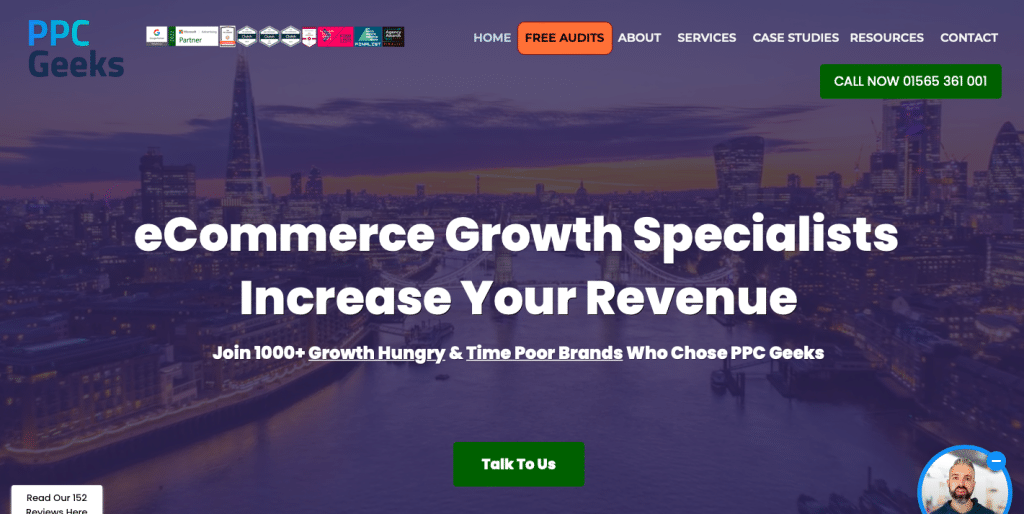 PPC Geeks is a prominent name in the realm of pay-per-click (PPC) advertising, particularly excelling in YouTube ads. They specialize in designing and managing YouTube ad campaigns that effectively target audiences, enhance visibility, and drive meaningful engagement. Their expertise spans crafting compelling ad content, optimizing strategies, and leveraging the unique features of YouTube's advertising platform to ensure maximum impact and returns for their clients. With a track record of success in YouTube advertising, PPC Geeks stands out as a go-to resource for businesses seeking to leverage the power of video ads on this platform.
Pros: Expertized knowledge and experience in PPC advertising, including platforms like Google Ads, Bing Ads, and social media ad platforms
Cons: results in PPC campaigns can vary due to various factors, including market changes and competition
Services: YouTube Advertising, TikTok Ads, Google Ads
Budget: From $10,000
Team size: 11-50 employees
16. JumpFly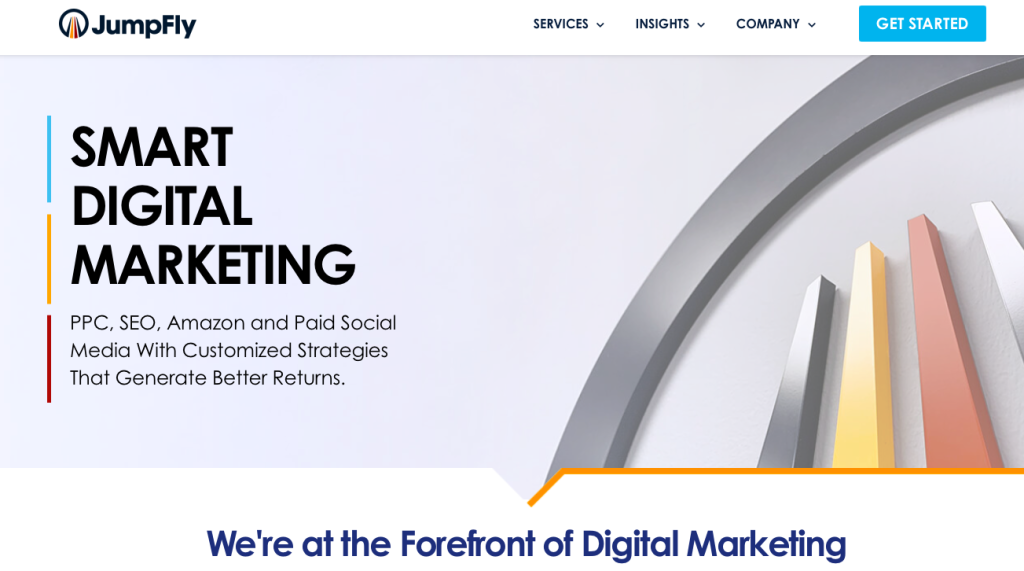 JumpFly is a renowned digital marketing agency specializing in pay-per-click (PPC) advertising. With a robust focus on delivering top-tier PPC management services, JumpFly has established itself as a trusted partner for businesses seeking to maximize their online advertising efforts.
Known for its expertise in platforms like Google Ads, Microsoft Advertising, Facebook Ads, Amazon Advertising, and more, JumpFly offers comprehensive solutions tailored to meet specific client objectives. The agency's strength lies in its ability to craft and execute customized PPC strategies that drive traffic, boost conversions, and optimize return on investment (ROI).
Pros: Offer tailored PPC strategies based on specific business needs, ensuring a personalized approach to advertising
Cons: Services at JumpFLy might come at a significant cost, which might not fit into smaller budgets.
Services: Digital Marketing Services, SEO
Budget: From $5,000
Team size: 50 – 250 employees
17. MOMENTiQ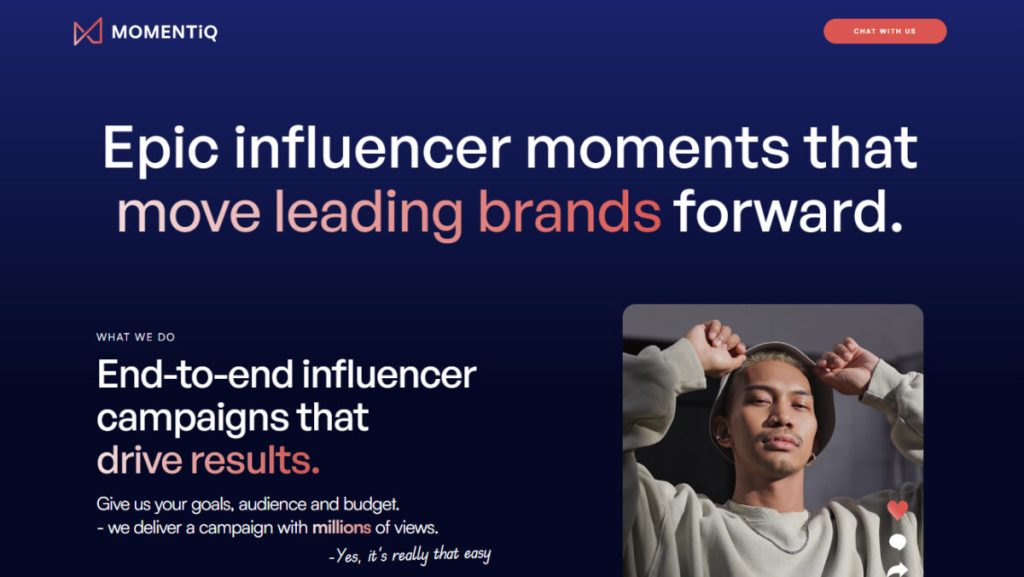 MOMENTiQ, a prominent YouTube marketing agency, was established by seasoned experts and has earned the trust of global brands by crafting remarkable YouTube marketing campaigns that garnered billions of impressions. Their primary focus involves maximizing brand messages on YouTube and employing specialized strategies for boosting brand engagement through User-Generated Content (UGC).
Based in Los Angeles, MOMENTiQ's team comprises industry veterans highly familiar with YouTube's nuances. What sets them apart is their personalized approach, tailoring campaigns meticulously to meet specific Key Performance Indicators (KPIs). Among their clients are major industry players such as American Eagle, Fashion Nova, Ulta Beauty, and AI, entrusting MOMENTiQ with budgets exceeding $30,000—an indication of the agency's esteemed reputation and expertise in the realm of YouTube marketing.
Pros: Have a strong reputation in YouTube and TikTok Advertising
Cons: A significant price tag, potentially making it less accessible for smaller businesses with limited budgets
Services: YouTube Advertising, TikTok Advertising
Budget: From $50,000
Team size: 10 – 50 employees
18. AJ Marketing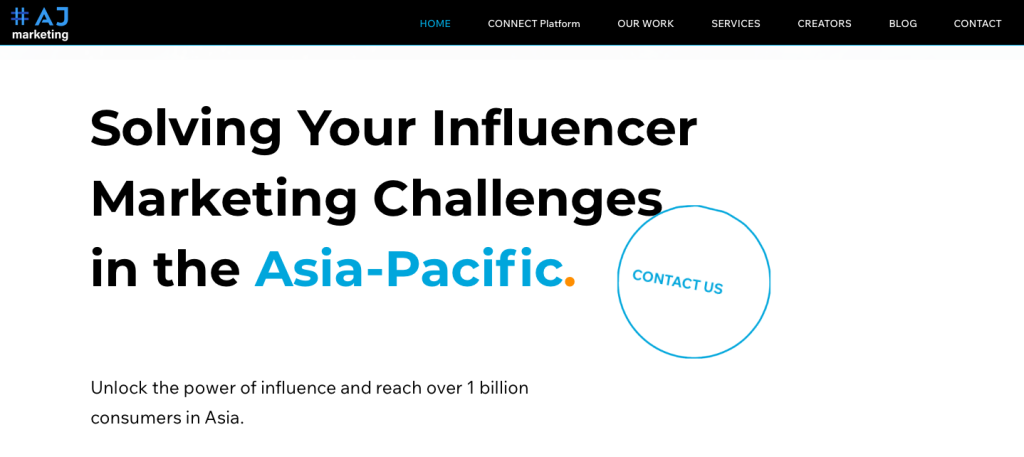 AJ Marketing is a dynamic marketing agency known for its innovative strategies and comprehensive approach to bolstering brands and businesses. The company delivers authentic stories in Singapore, Japan, Korea, India, Indonesia, Malaysia, Vietnam, Philippines, Thailand and Taiwan. In other words, the team is spread out in 10 countries, speaking 15 languages, enabling you to deliver your campaigns across Asia.
Pros: Amplify your brand with authentic influencer collaborations
Cons: Relying solely on an external agency for crucial marketing efforts might raise concerns about control and dependency
Services: SEO, Performance Advertising
Budget: From $5,000
Team size: 10 – 50 employees
19. Passion Digital

Passion Digital is a transparent and results-oriented digital marketing agency operating from Clapham, London, and Spain. Their commitment lies in providing individualized and effective services to each client. Rejecting the notion of a universal solution, they specialize in tailoring strategies for SEO, Content Marketing, Social Media, and PPC, understanding that each client's needs are unique.
Acknowledging YouTube's significance as the world's second-largest social media platform and search engine, Passion Digital recognizes its potential to rival traditional TV. They advocate for businesses and individuals to leverage YouTube's expansive reach to showcase their offerings to a wide audience. Passion Digital stands ready to assist in crafting innovative ideas and strategies aimed at creating authentic and compelling consumer-centric content on this platform.
Pros: Providing personalized and tailored services can ensure strategies align closely with a business's specific goals and needs
Cons: Moderate level of experience in niche markets
Services: SEO, Content Marketing
Budget: From $5,000
Team size: 10 – 50 employees
20. Utubeo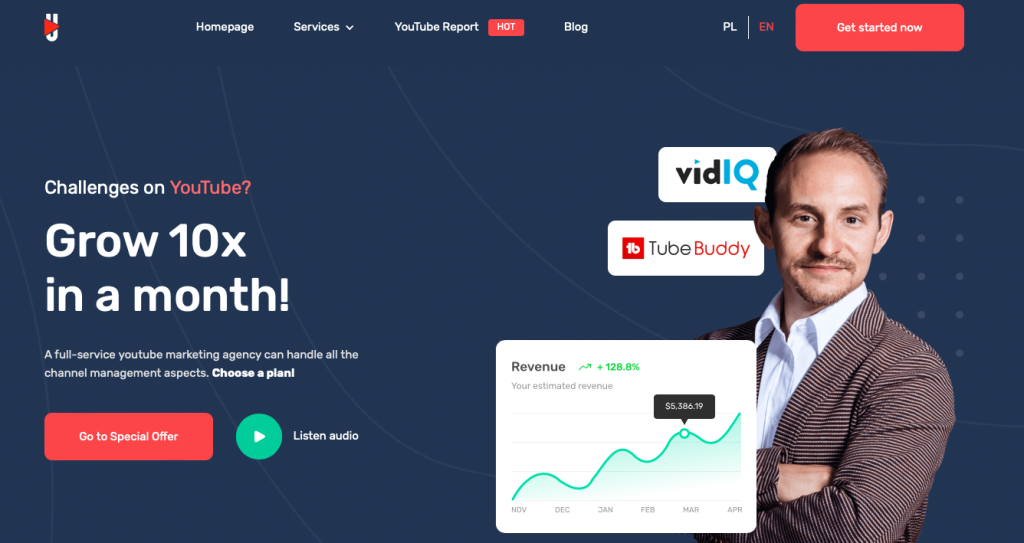 Utubeo is a video marketing agency based in Warsaw, Poland, and Sarasota, United States. While their name implies a YouTube focus, they also excel in video marketing on Facebook and Instagram.
They specialize in video marketing strategies, YouTube channel management, promotions (both free and paid), SEO, and social media marketing for YouTube. Utubeo's unique offering includes free consultancy services for their clients, aiming to guide them towards successful video marketing campaigns.
Pros: Utubeo excels in YouTube marketing and crafting powerful video campaigns
Cons: Limited in specialized market
Services: YouTube SEO, YouTube Advertising
Budget: From 1,000
Team size: 2 – 10 employees
Ready to make your brand the star of the digital stage? Let's kick it up a notch with one of the top 20 YouTube ad agencies. Whether you're after mind-blowing creativity, data-driven precision, or storytelling magic, these agencies have a secret strategy
Effective tips for deciding the right YouTube Ads agencies
The more suitable the YouTube digital marketing agency is, the more successful your business and advertising campaign are. So here are some tips that you should keep in mind whenever you want to find a YouTube management agency to grow your business.
Costs
First and foremost, you should identify how much money you have for your company. Thus, you can come up with a plan that focuses on the main objectives to utilize the budget. After that, you can list agencies that not only match your finances but also your objectives.
Trustworthiness
Before teaming up with a YouTube ad agency, scanning and understanding their company portfolio is significantly crucial. You may see company reviews on Clutch so as to find out if there are any bad or good reputations about that agency. Besides, comparing their website and other social media platforms, whether the content is comprehensive or not, and evaluating their professionalism.
Experience and Cases
The final tip is to look at their company portfolio to see what their strengths are, what their partners are, and what achievements and awards they have.
Achievements: A digital marketing agency that has achieved prestigious awards in the related industry can directly prove its strength and skill to its clients. In addition, it would be a plus if the company clearly shows its vision, goal, and mission.
Cases: The most practical way to evaluate whether the YouTube marketing agency is right for your business is to analyze their cases with other companies. The more detailed and related the cases are, the more experienced and professional the company is.
FAQs
What is YouTube advertising?
A YouTube ads agency specializes in creating, managing, and optimizing advertising campaigns specifically for the YouTube platform. These agencies typically have expertise in leveraging YouTube's advertising options, including TrueView ads, display ads, bumper ads, and more, to help businesses reach their target audience effectively.
How can YouTube advertising benefit my business?
YouTube advertising can benefit your business by increasing brand visibility, reaching a global audience, driving website traffic, and engaging with potential customers through visually appealing video content.
What is the cost of YouTube advertising, and how is it determined?
The cost of YouTube advertising varies based on factors such as ad format, targeting options, and bidding strategy. The YouTube ads agency will work closely with you to establish a budget that aligns with your goals and ensures optimal results. For reference, the average cost per view or action is around $0.10–$0.30, and the average cost of reaching 100,000 viewers is around $2,000. Keep in mind that when you spend advertising dollars on YouTube, you approach this with the goal of generating a positive ROI so that for every $1 you spend, you're receiving more in return through conversions for your business.
Final words
All in all, all YouTube Ads agencies have their own strengths in particular categories. Additionally, they will offer your business unique services, such as ensuring that you can appear in local searches. Deciding on the best YouTube management agency for your business can bring countless benefits that support you in using YouTube ads and increasing your revenue.