Are you looking for the top Google Ads agencies to achieve brilliant success in 2023? Look no further! Our list showcases the top 19 agencies that excel in delivering outstanding results. From advertising campaigns to budget optimization, these agencies have the skills and experience to take your business to new heights. Let's discover now!
Top 19 best Google Ads agencies
Google Ads is one of the most effective online marketing channels and the cost for it is not low. So make sure that you don't waste money on inefficient Google Ads campaigns. But how could you utilize your budget? Check out the list of the 19 best Google Ads marketing companies that will help boost your advertising campaigns.
1. Mega Digital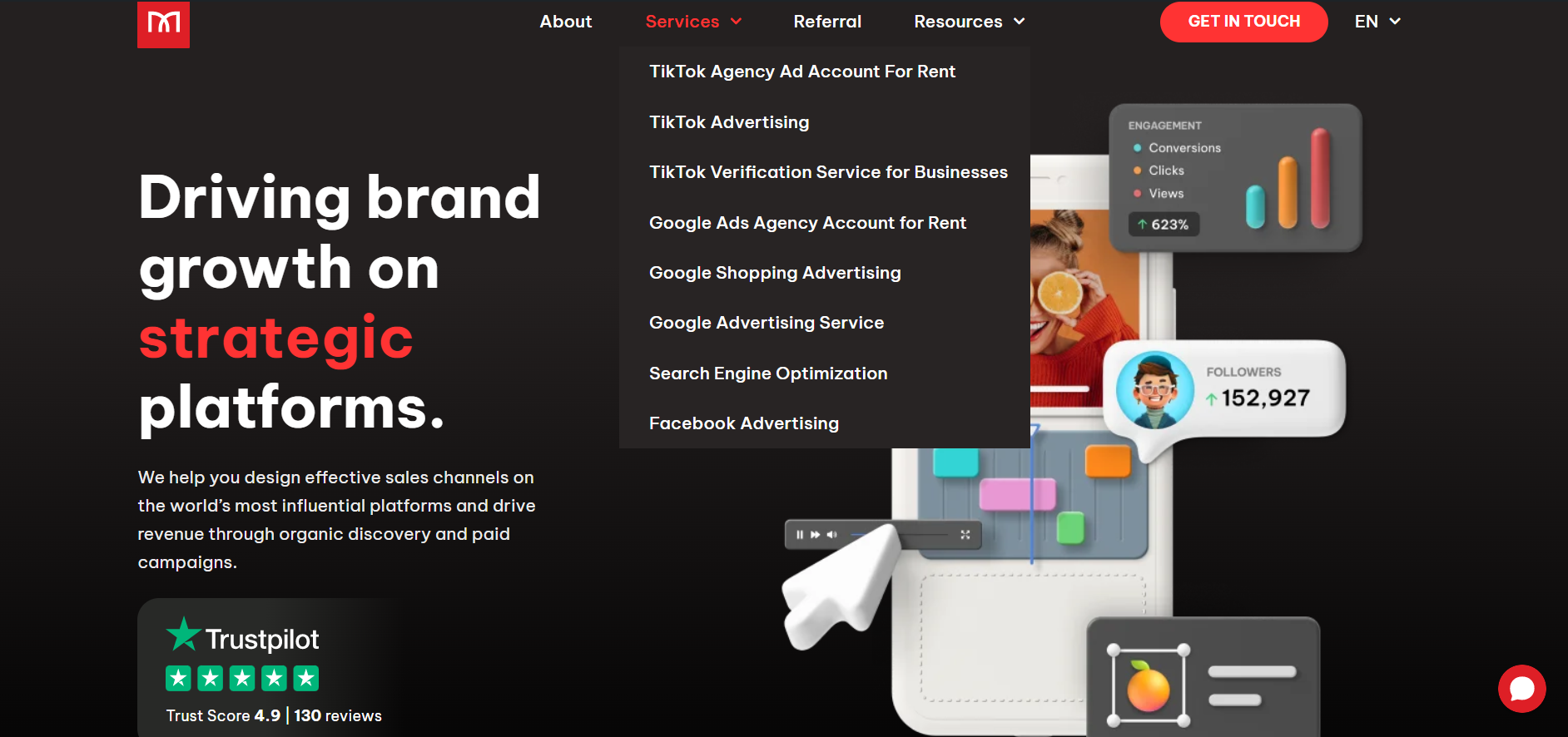 Mega Digital is the leading Google Partner and TikTok agency in the APAC region. They provide digital marketing solutions and advertising on Google, TikTok, and Facebook platforms.
So what benefits can a leading Google Partner offer? Firstly, you do not need to worry about setting up campaigns on Google Ads. With Mega Digital's services, you are offered tailored advertising solutions to specific needs. I.e. their services are customized to align with clients' goals.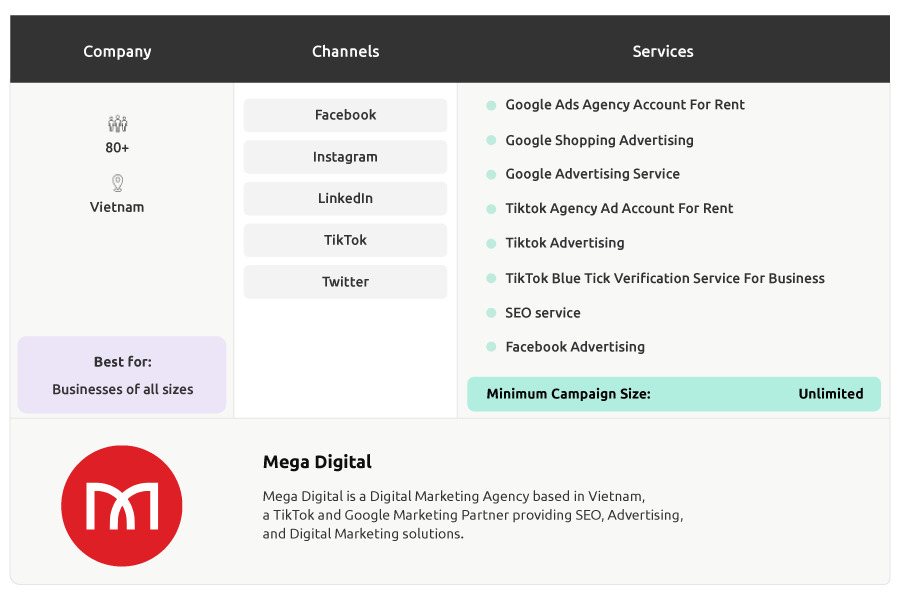 Google Ads services at Mega Digital offer multiple benefits as follows:
Unlimited campaign sizes: If you plan to execute on different domains using multiple Ads Accounts, then Mega can provide an MCC Google Ads Account with unlimited spending.
Competitive and cost-effective pricing structures: Clients get exclusive access to Google insights to keep track of Google advertising metrics. Moreover, advertising campaigns are efficiently executed within their budgets and drive higher conversions.
Flexible payment and quick refund methods: Clients can select different payment methods and will be provided with easy refund options if necessary.
Avoid account suspension: Your advertising campaign will be more stable. What's more tempting? Mega optimally prevents suspension, including advertising in restricted industries.
Allocate your budget: In case your account is suspended for some rare reason, what will happen to the unspent money? Instead of waiting 20-40 days for a refund, your remaining budget will be allocated to a new account straight away.
Minimum cost: starts from 5% of the total ad budget. The Google ads agency account cost is calculated based on tax and service fees. The more you spend on advertising, the lower the cost you'll pay.
Mega Digital also offers valuable resources like E-books and daily blogs. These insights provide information about Google Ads to help you stay informed and make the most of your campaigns.
2. Disruptive Advertising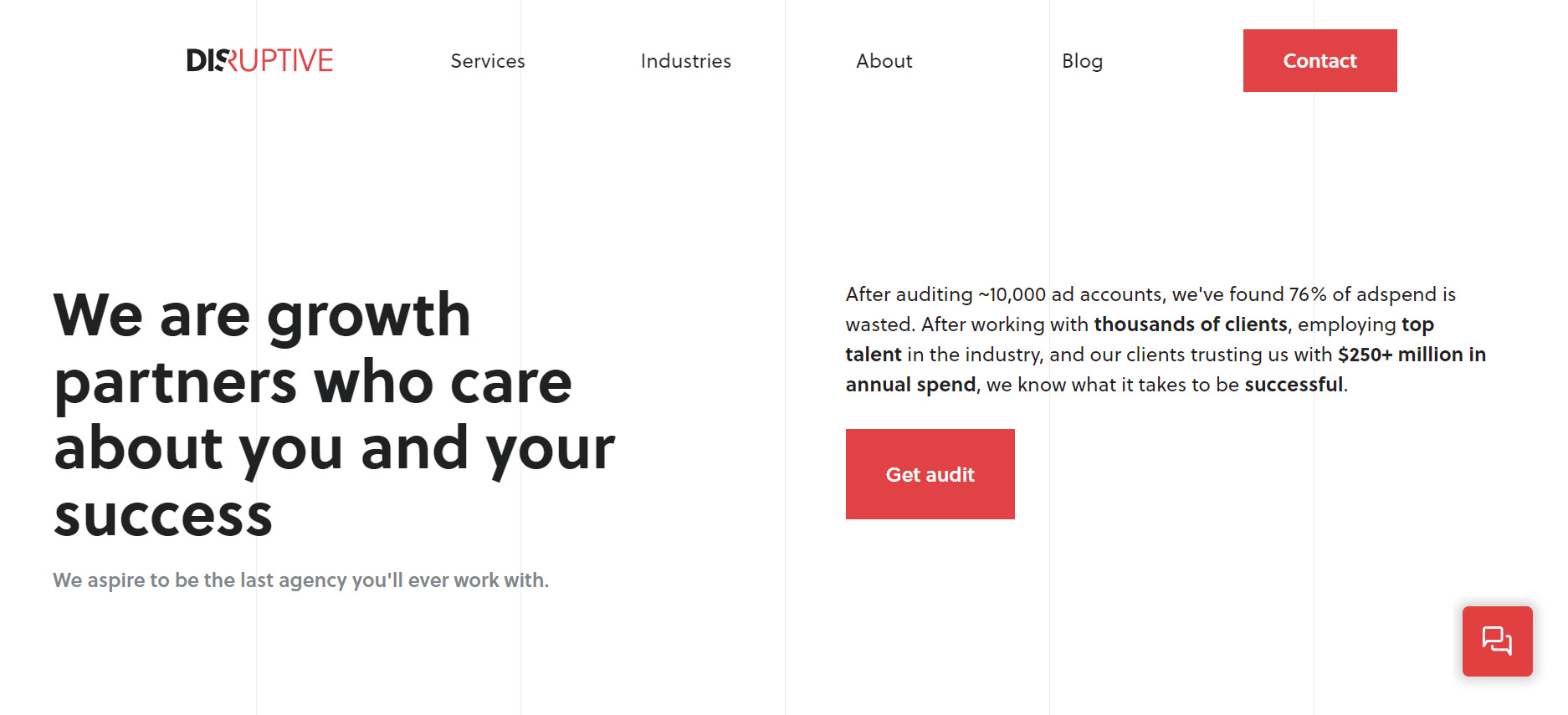 Disruptive Advertising is also proficient in assisting with Google Ads. As a Google Partner, they work closely to execute your advertising plans and make an impact on your customers.
With their expertise, Disruptive Advertising has helped numerous companies optimize their ads. By utilizing your target audience, limited budget, and machine learning, they boost the efficiency and growth of your Google Ads campaigns.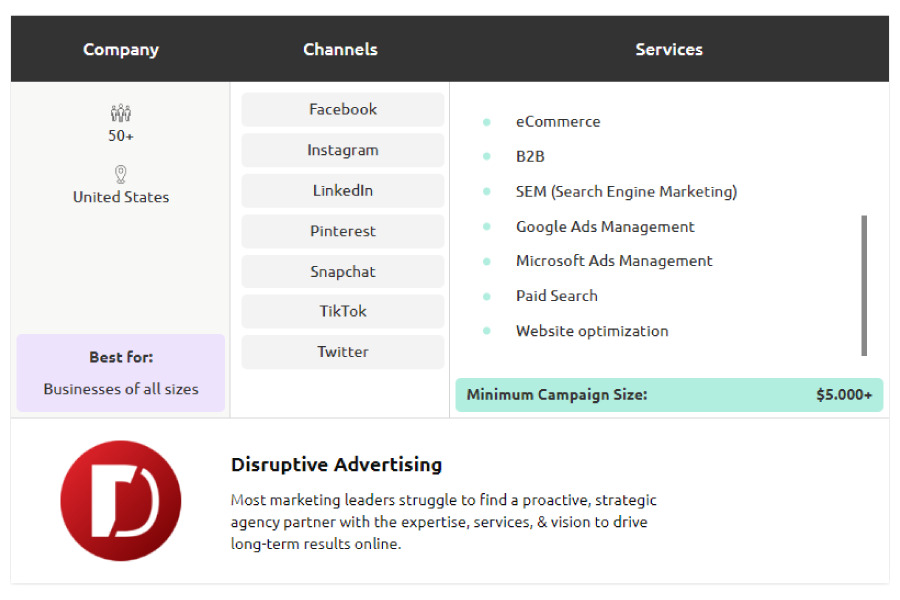 3. NinjaPromo

NinjaPromo offers extensive expertise in fintech, blockchain, and software industries. They apply their experience to successful Google Ads strategies development for brand promotion. This marketing agency provides a range of PPC services so as to attract loyal customers.
Ninja Promo's services:
Account setup and management
Strategy development, monitoring, and execution
Audience spotting and optimization
Keyword research and selection
Ad copies optimization and improvement
Reporting and data analysis
NinjaPromo's ad specialists utilize advanced targeting and bidding options to reach potential customers. Furthermore, they use tools such as Google Ads Editor and Google's Reach Planner to track ad performance and forecast the traffic generated from Google Partner websites.
4. Thrive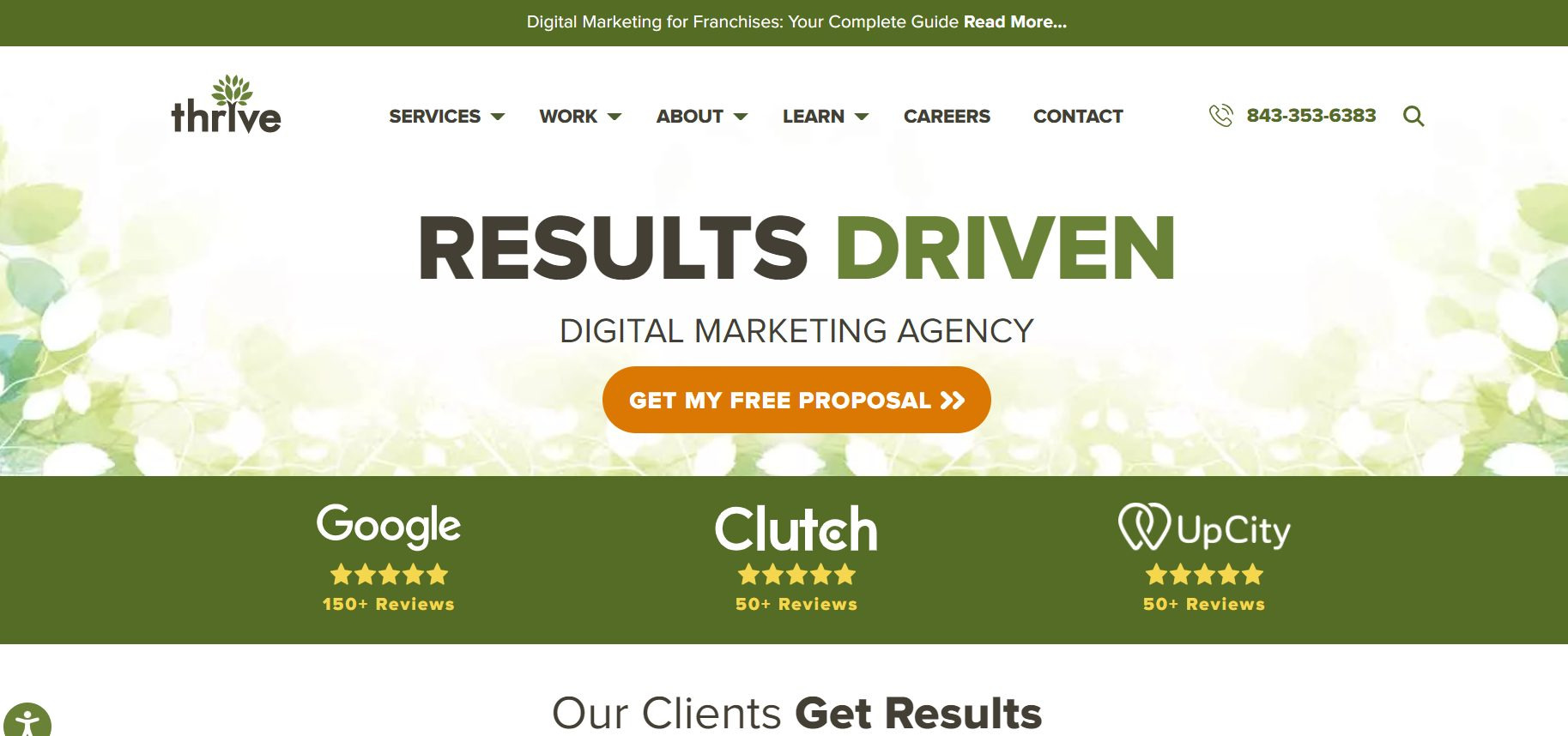 Thrive Internet Marketing is an online marketing agency. They provide a diverse range of services, including PPC campaigns. As a Google Partner, Thrive Internet Marketing Agency stands as a trusted company in PPC campaigns.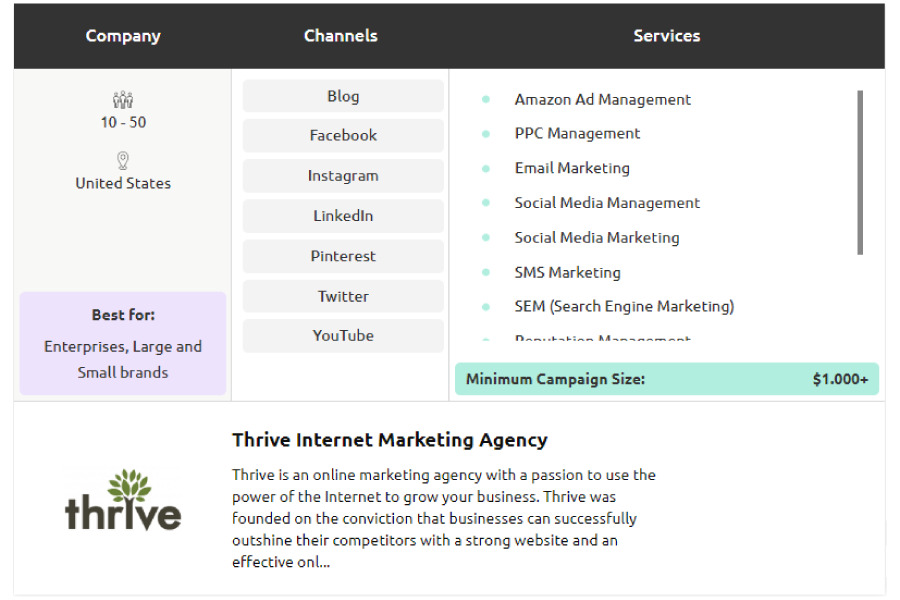 They are well-known to E-Commerce businesses with a team of PPC experts excelling in setting up Google Shopping ads. Additionally, their certified Google Ads specialists conduct thorough PPC audits to drive traffic to your landing page.
5. Moburst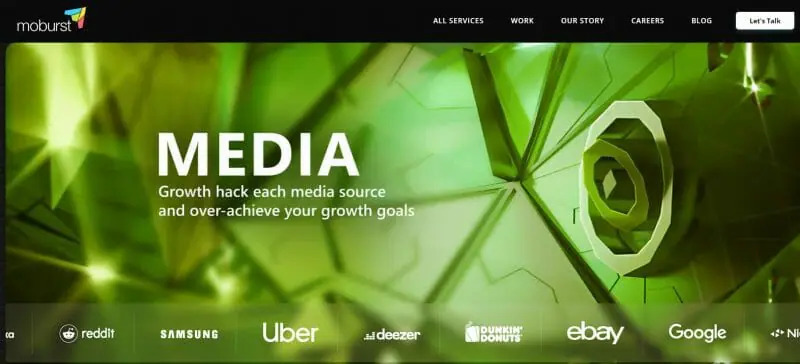 In 2013, two marketing experts established Moburst. Back then, mobile marketing services were not commonly executed by agencies. However, their exceptional results in Israel caught the attention their clients, leading to their expansion into the United States within a year.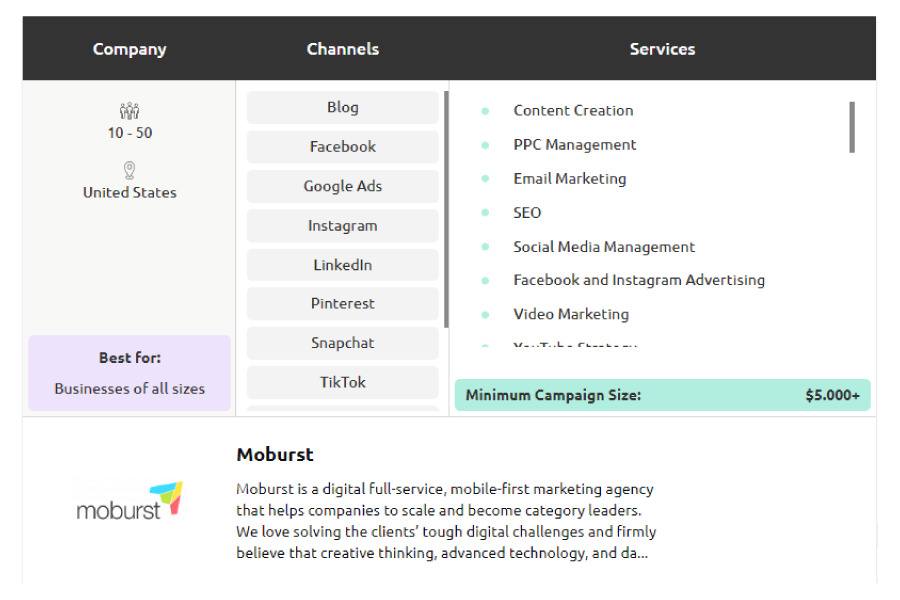 With their extensive knowledge of Google algorithms, Moburst helps you find the right users in the most cost-effective way, ensuring a high return on investment (ROI). Notably, they also have experience in app store optimization and leveraging various mobile ad networks, including Google.
>>> Read more: What is Google Ads ROI: Ways To Calculate and Improve Your ROI
6. Lyfe Marketing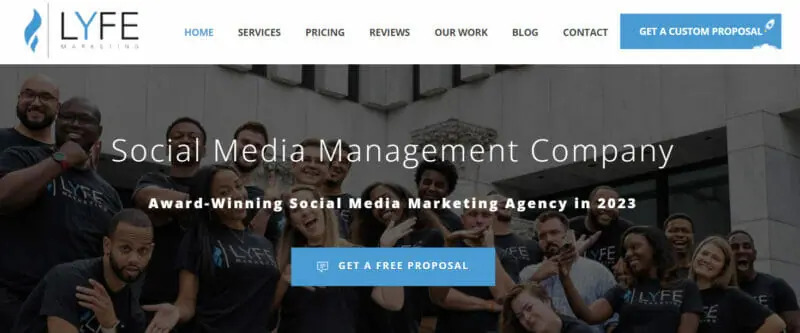 LYFE Marketing is a social media management company based in Atlanta. They specialize in creating advertising campaigns to increase leads and sales for their clients.
As a Certified Google Partner, LYFE Marketing offers services to generate traffic and conversions using Google Search Ads, Google Remarketing Ads, and Google Shopping Services. Their comprehensive services include campaign strategy, ad creation, and reporting.
>>> Read more: Google Ads Remarketing: Best Practices and How Does It Work?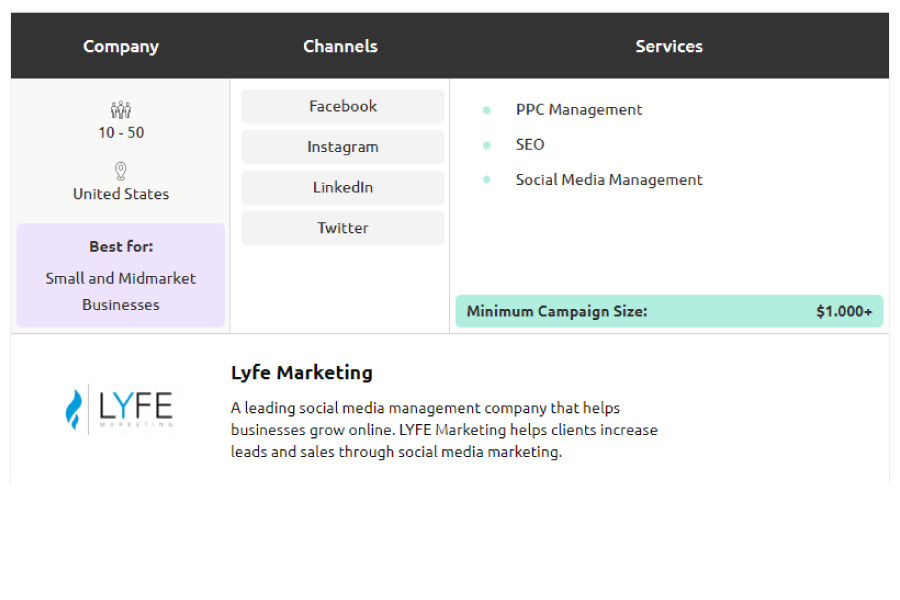 In terms of pricing, LYFE Marketing charges a $500 per account set-up, while their monthly PPC ad starts at $650. Considering their services, they are particularly well-suited for small businesses seeking Google advertising solutions.
7. JumpFly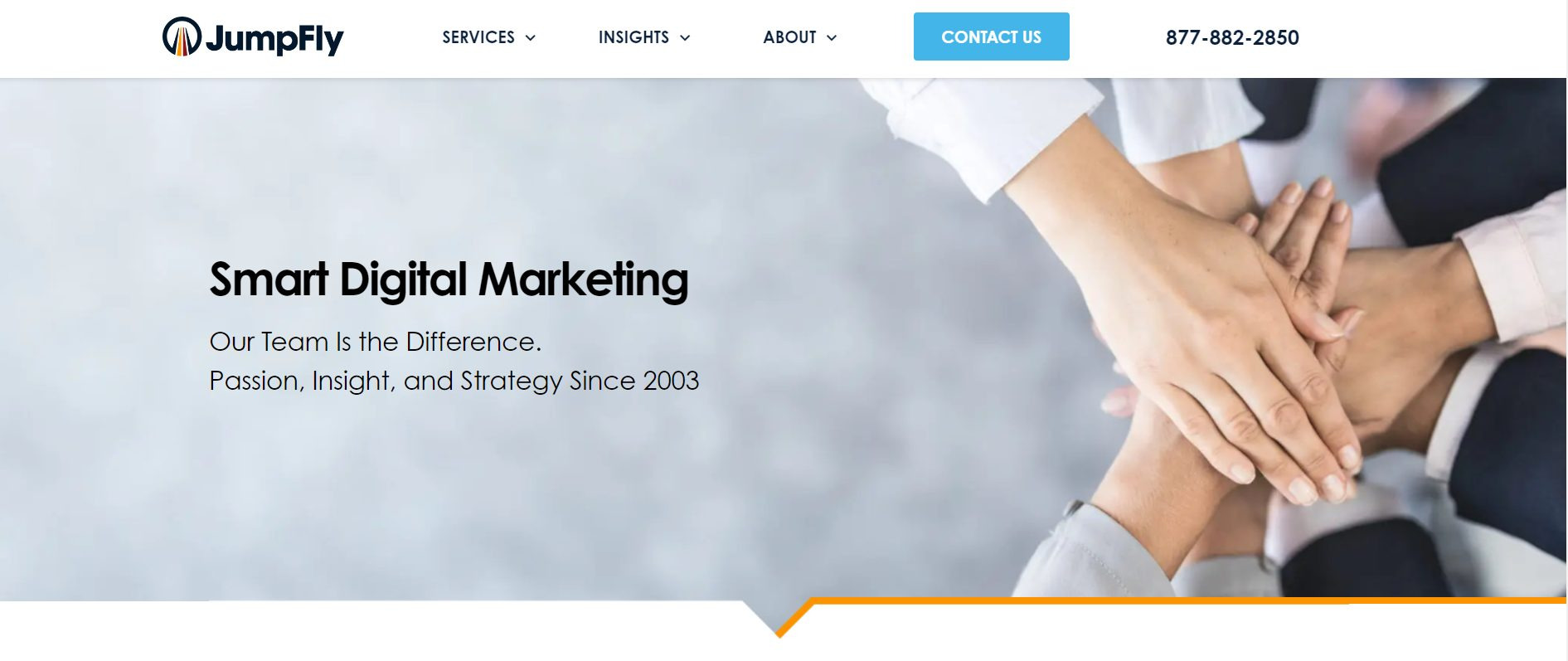 JumpFly has a team of 40 employees (34 of whom are Google certified specialists). They are one of the leading digital advertising agencies that specialize in PPC account setup and management for Google Ads.
One of the benefits of working with JumpFly is that they are flexible with contracts. Instead, they're happy to offer month-to-month contracts.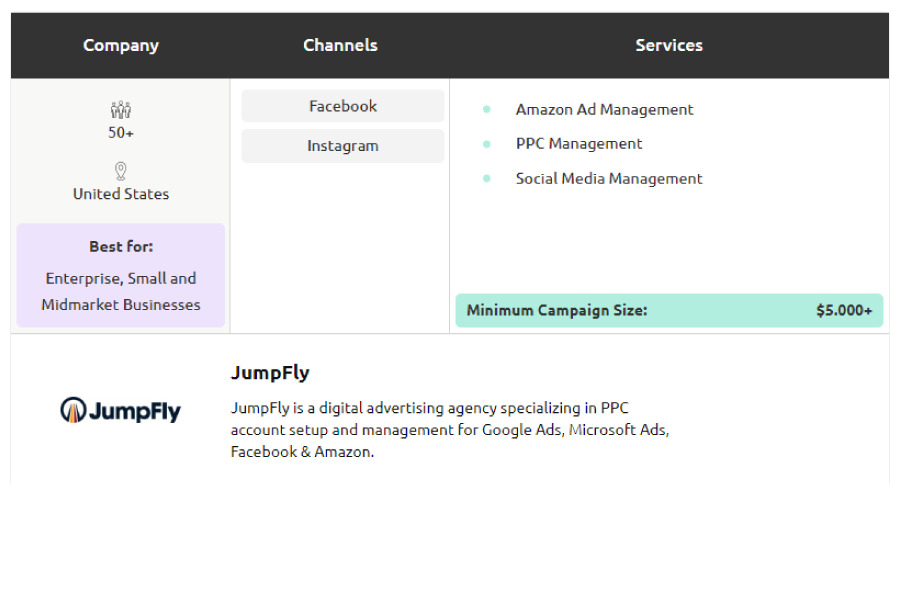 8. Ernst Media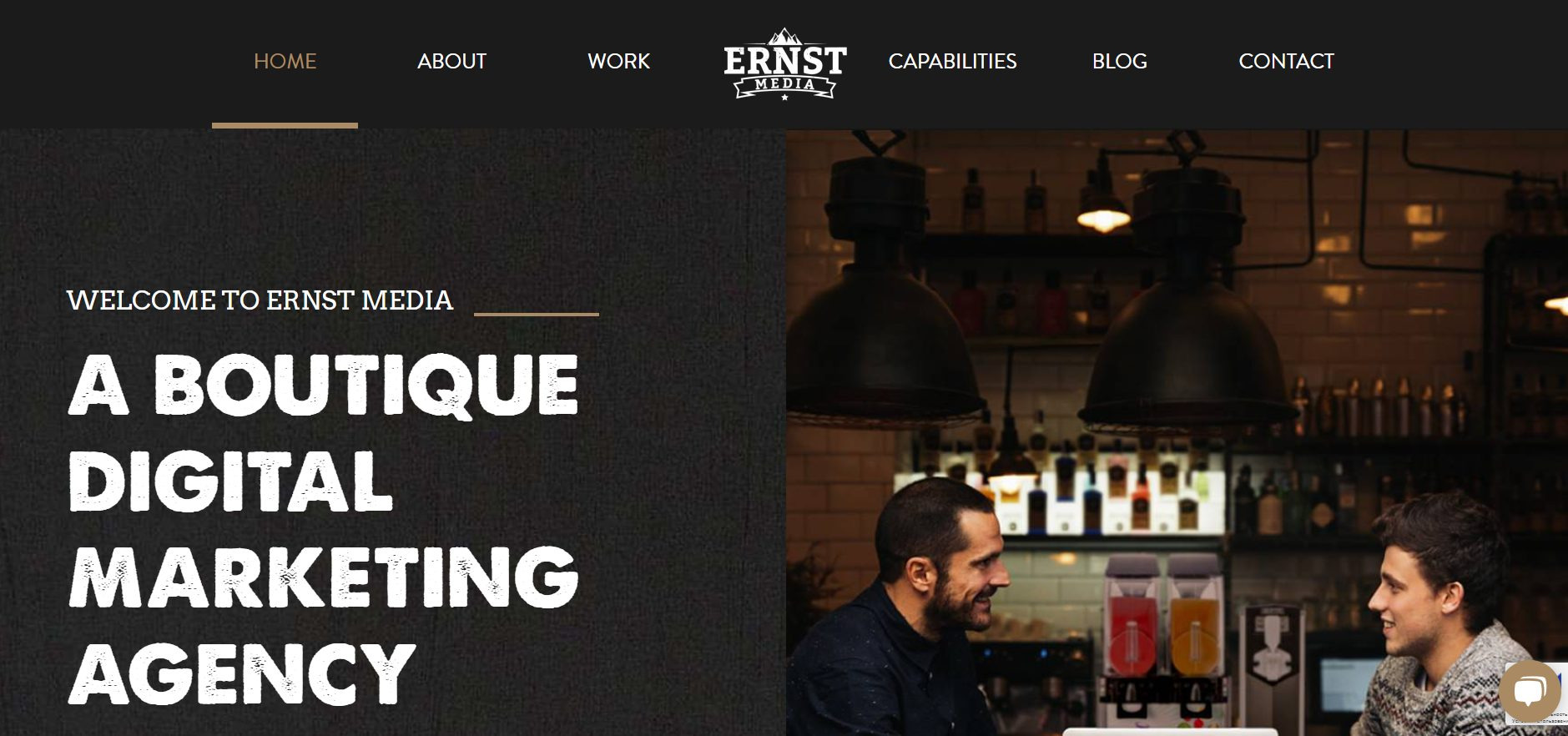 Ernst Media is a one-stop digital marketing agency that has 15+ years of experience. They can help you gain results across every PPC channel. Besides, they offer you free setups with flexible price structures.
As a Certified Google Partner, they offer services as search ads, display ads, and shopping ads. They invest in optimization and focus on continual testing. This means that each week your ad performance is better than the week before.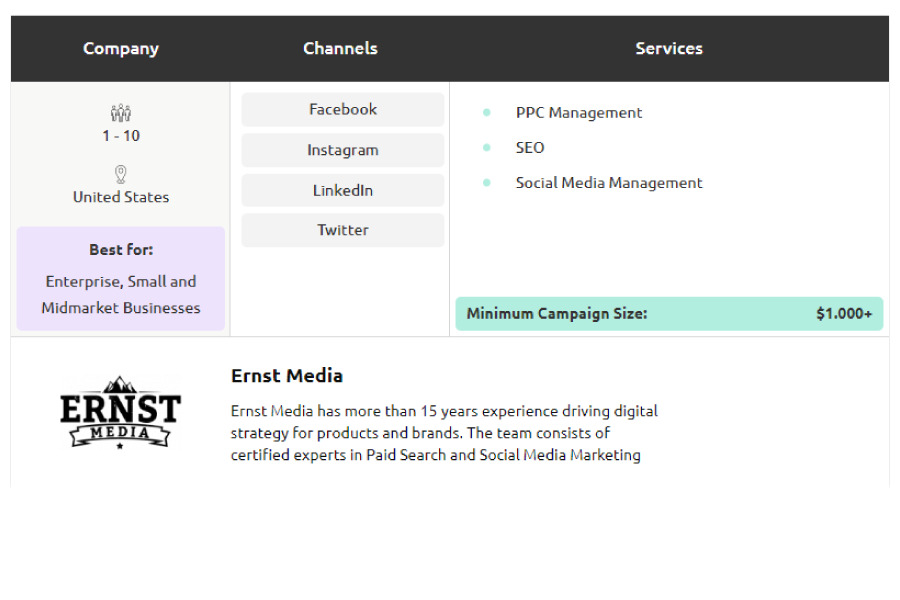 9. Volume Nine

Volume Nine is a Google PPC agency that specializes in social media and SEO. They help you create and manage Google Ads campaigns. From ad copies to calls to action, they'll ensure that you get more traffic and conversions as well.
Their first goal is to understand your expectations towards your Google Ads campaign. In other words, they're ready to identify keywords that buyers will use when searching on Google. They can also help you set up Google Analytics so that you can track the performance of your campaign.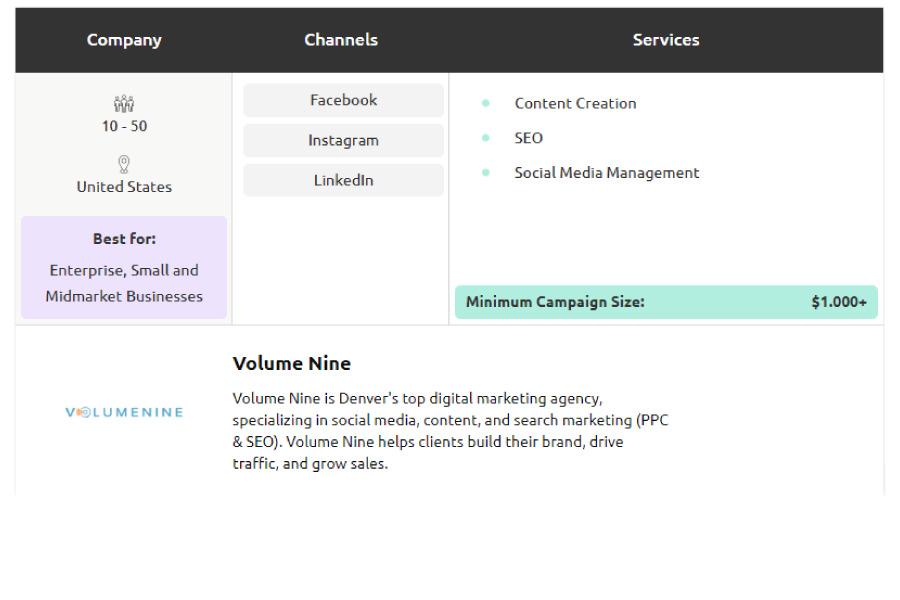 10. Evestar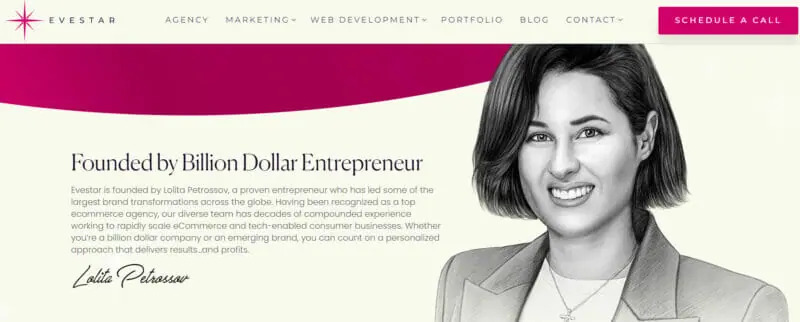 Evestar is an E-Commerce marketing agency famous for its diverse marketing services. They offer email marketing, SEO, branding, ad creative, influencer marketing, and Google Ads. The agency was founded by Lolita Petrossov, a professional in growth digital marketing and E-Commerce.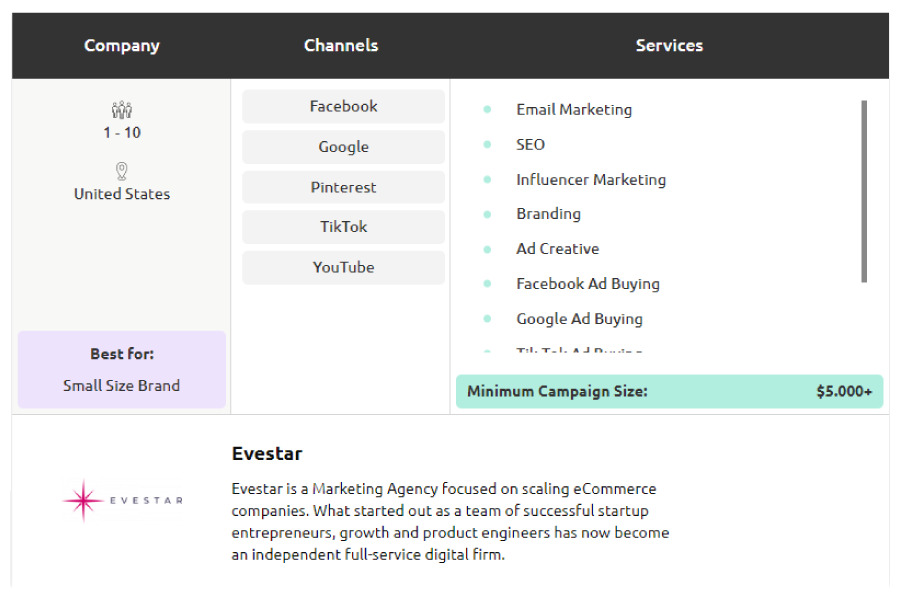 Evestar collaborated with Noli, a prominent activewear company in order to establish a strong presence on Google through smart shopping campaigns. As a result, this strategic approach reached a remarkable sales increase of nearly 300%.
11. Cleverly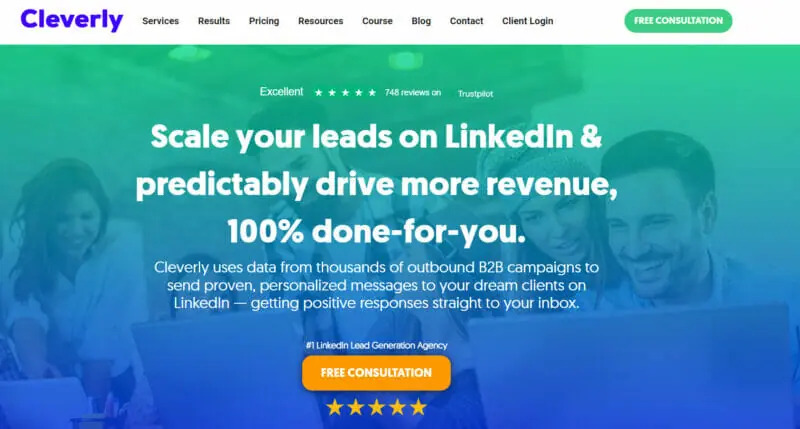 Cleverly basically specializes in running Google Ad campaigns that successfully convert website visitors into paying customers. The agency constantly stays ahead of the competition while implementing techniques to save money. Besides, they create attractive ad copies to maximize click-through rates. They also assist in developing high-performing landing pages.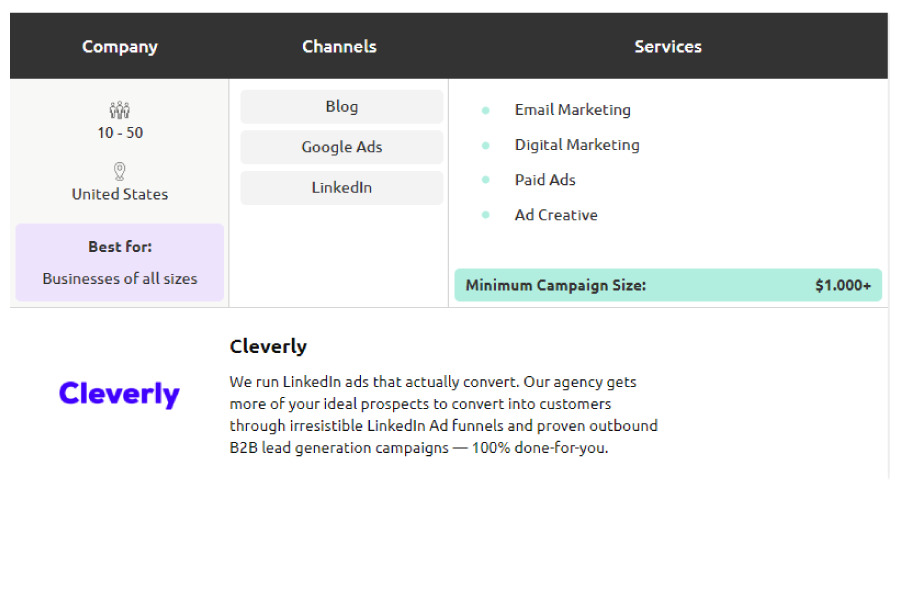 Cleverly offers a dashboard to monitor key metrics such as overall spending, cost per click, and number of conversions. Additionally, their experienced members work to cover various aspects, including keyword research, competitor analysis, and retargeting ads.
12. Kompetent Digital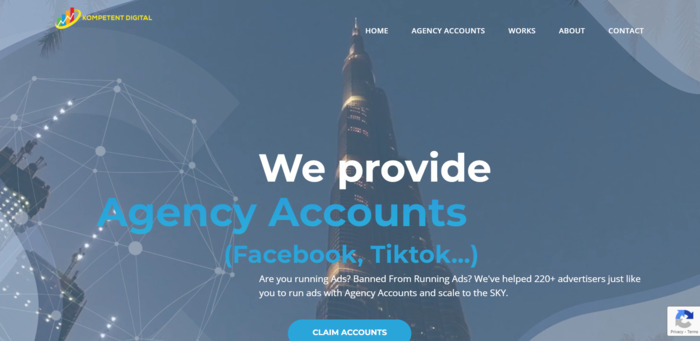 Kompetent Digital is a digital media company that helps businesses build a strong online presence and increase their target audience. They also specialize in creating engaging content and implementing effective marketing strategies. Moreover, they make decisions based on data from their technology partners.
Services
Google Ads agency account for rent
TikTok Ads agency account for rent
Twitter Ads agency account for rent
Digital marketing consultant
With many years of experience in the industry and a team of creative experts, Kompetent Digital promises to boost your advertising campaigns.
13. SmartSites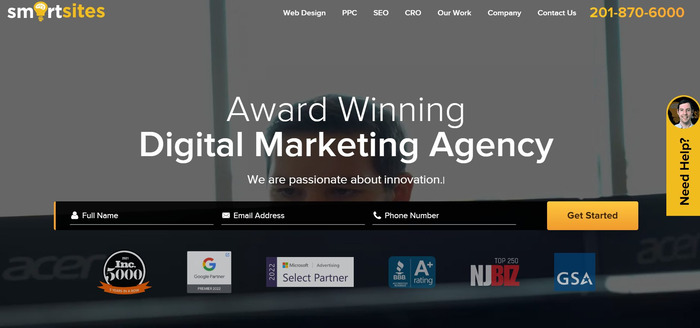 SmartSites was established by two brothers more than 10 years ago. During their 10+ years in business, they've helped clients around the world drive more traffic to their websites.
Apart from their expertise in SEO and web design, they excel in managing PPC campaigns for businesses. E.g. they achieved a remarkable 543% increase in total traffic and a significant growth of over 60% in conversions when working with NJ Lux Real Estate.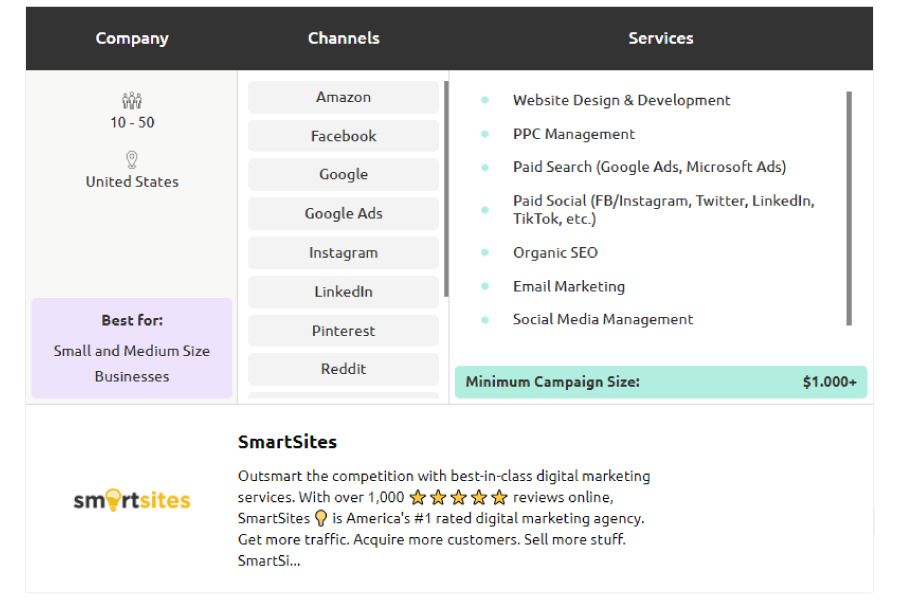 As a Google Partner, their team of PPC experts can help you to build a data-driven strategy. They also offer other services including advanced bidding, market segmentation, remarketing, and real-time reporting.
14. ON DIGITALS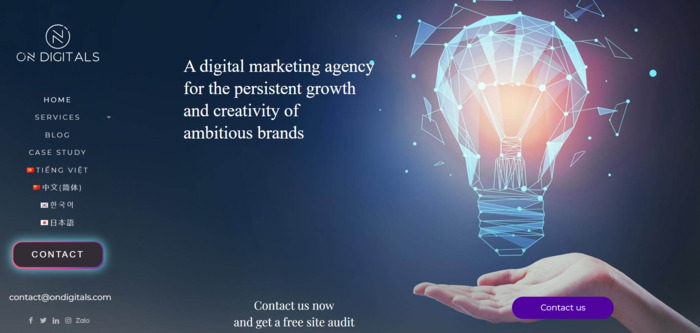 ON DIGITALS is a marketing agency located in Vietnam. Their goal is to offer a variety of digital marketing services so as to boost clients' online presence. They also use the latest industry trends to ensure that your brand stands out in the market and reaches the potential audience.
When you choose ON DIGITALS as your Google PPC agency partner, you gain access to clear communication, regular reporting, and measurable growth throughout the entire process.
Services
Google Advertising service
Website design
Facebook Advertising
PPC marketing
Social media marketing
E-Commerce design
This Google advertising company also brings a new perspective in how to implement Google Ads for businesses. Therefore, this new approach will save you time, money and effort. In addition, you can also opt for other services such as website design or SEO.
15. Spinx Digital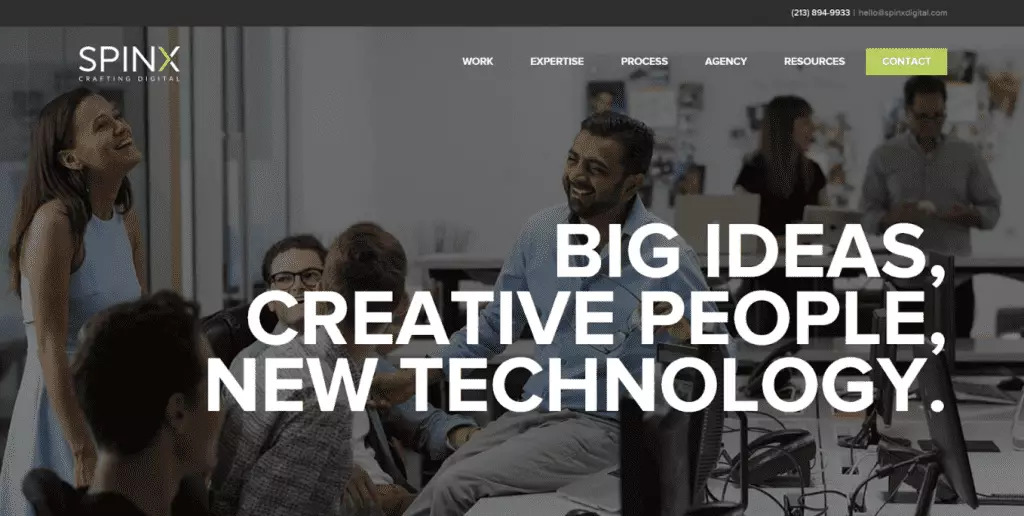 Spinx Digital is a marketing agency focusing on web design and advertising. They follow the "connect, create, and evolve" process with every client, aiming to achieve the following objectives:
Form a long-term connection between the brand and its target audience.
Develop creative solutions with a technical approach.
Apply frequent changes in strategies.
Spinx frequently works to set itself apart through its expert offerings which include:
Enterprise CMS solutions
Strategy and planning
Website solutions
Digital marketing
16. Tinuiti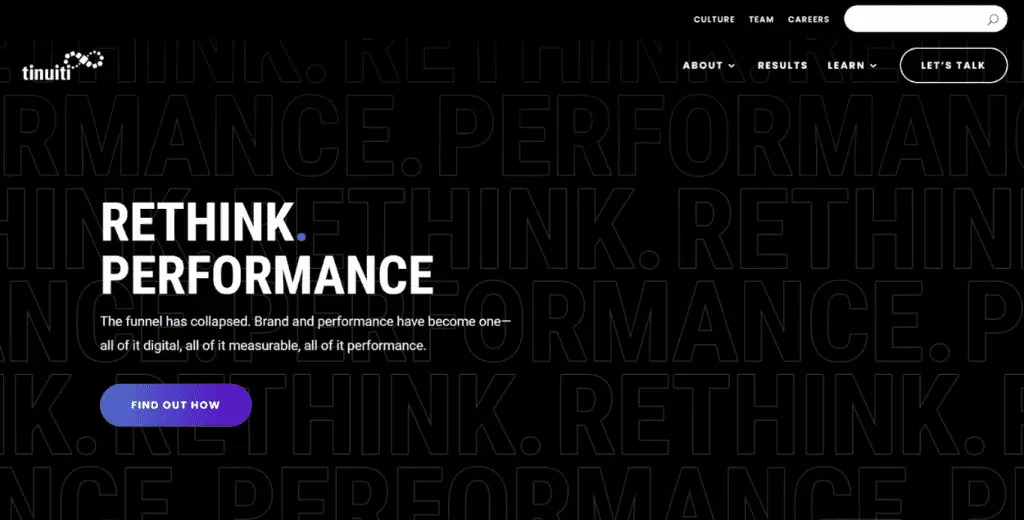 Tinuiti is a marketing agency with a strong partner network, managing media funds totaling $3 billion for their clients. In fact, Tinuiti's success can be partly attributed to their program called Mobius. It provides intelligent insights and optimized marketing strategies.
In addition to their core digital marketing services, Tinuiti offers advertising management, mobile app marketing, and streaming.
17. SocialBee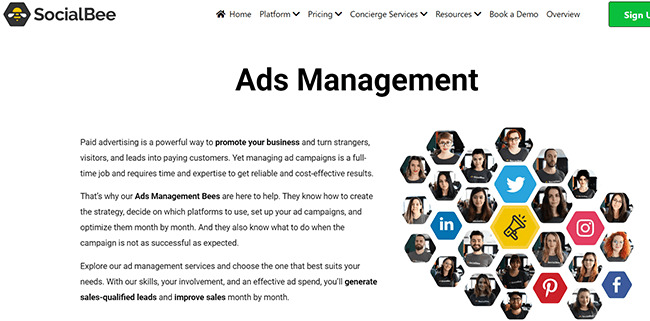 SocialBee is a social media management agency that also offers Google Ads services. By using an ad package, an account manager will prepare a tailored digital marketing strategy for your business. Then, you have full control over ad creatives to maintain your brand identity.
In addition to ad copies, they provide monthly ad reports to track growth metrics. With experts in various digital marketing areas, they also offer SEO, social media marketing and more. The ads management service starts at $299 per month and includes a 30-day refund guarantee.
18. Hello Seed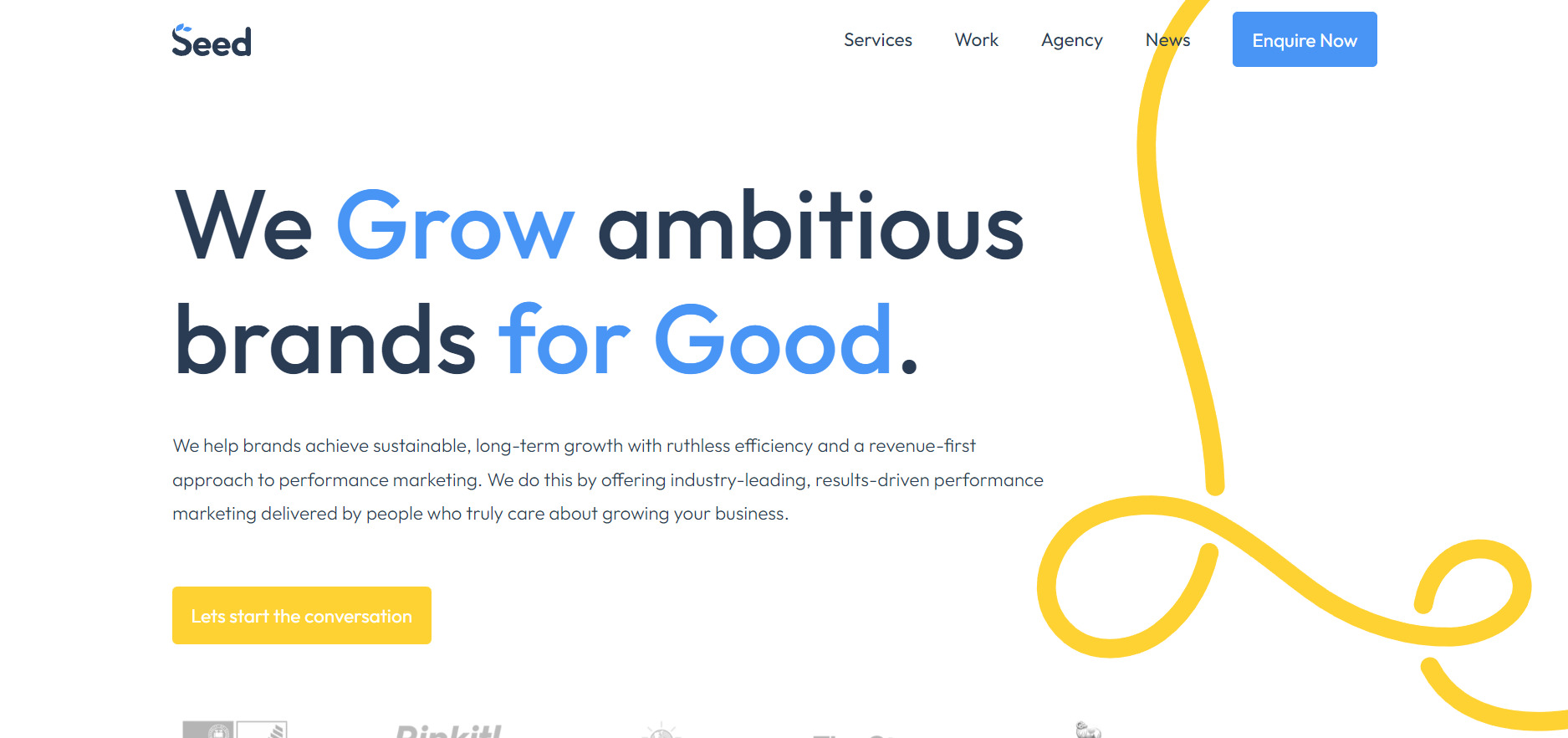 Hello Seed is a Google Ads agency for smaller businesses. They specifically offer data analysis and algorithmic automation to create unique Google Ads campaigns for their clients.
As a Google Partner, they can also help businesses develop Google Shopping, Google Search Ads, and Remarketing Ads.
19. Push Group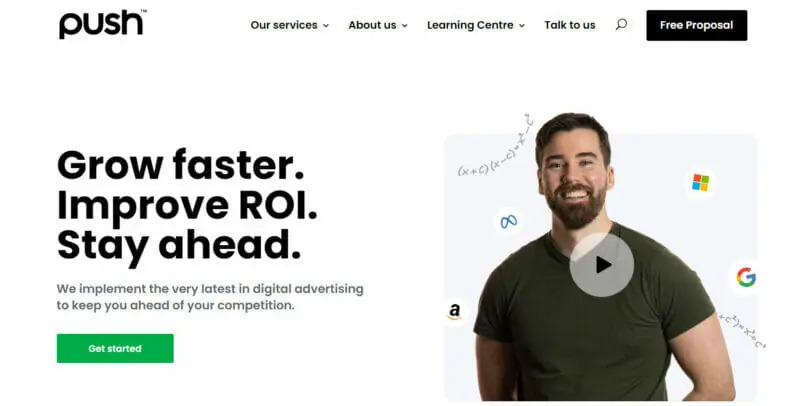 If you're a start-up or small business hoping to scale quickly, you can also check out Push Group. They have been Google's recognized Partner over the past 12 years. They have won the award for Google's Highest Customer Satisfaction in EMEA. What's more, they have access to the latest resources and work directly with the search engine. Therefore, you'll also get access to the latest features and tools.
Frequently Asked Questions
Mega Digital is renowned as one of the top Google Ads agencies, delivering exceptional advertising outcomes to clients. Based on Mega Digital's expertise, we have summarized the most frequently asked questions regarding criteria when it comes to selecting Google Ads agencies.
How to choose the most effective Google Ads agency?
When selecting the most suitable Google Ads agency, remember to consider key characteristics that define a reputable agency for Google Ads:
Brand culture and achievements
Intensive expertise knowledge and profound industry experience
Analytical tracking reports
Effective communication practices and channels
Pricing
Transparency in operations
Strategy in campaign setup
How much do Google Ads agencies typically charge?
Google Ads agencies charge a range of fees for Google Ads, varying from $250 to $5,000 per month or even higher. However, partnering with a professional PPC agency ensures that your ad budget aligns closely with the management fees.
How to set up a Google ads agency account?
So what are the basic steps to set up a Google advertising agency account? Follow the followings tips:
Check out the Google Partners website.
Select the "Join" button, then log in to your Google Ads account.
Read and review the disclaimer and Terms of Service, then select "Accept and continue".
Select the Google Ads Manager account that matches your company's goals.
>>> Read more: What Is a Google Ads Agency Account? Why Should You Use It?
How much should I pay for Google ads monthly?
Here is a reference for Google Ads pricing:
CPC (Cost Per Click) on the Google Search Network ranges from $1 to $2 per click.
CPC on the Google Display Network usually costs <$1 per click.
Professional Google Ads agency services, can range from $350 to $5000 per month or 12-30% of the ad spend.
PPC management tools can range from $15 to $800 (monthly cost).
Final words
We have highlighted the top 19 Google Ads agencies that consistently demonstrate exceptional performance and client satisfaction. By partnering with them, businesses can increase their ad performance and drive potential traffic. Ultimately, when selecting a Google Ads agency, you will achieve your advertising goals within your budget.
Read More: Top 11 Google Ads Agencies in India (2023 Updated List)