Financial services' content on Google Ads is subject to several regulations and restrictions imposed by Google. Advertisers therefore are required to get verification in order to promote their ads. In this blog, we will explain in-depth about Google Ads' financial services verification and show you how to apply for one.
What is Google Ads financial services verification?
Google Ads financial services verification is a must for advertisers who intend to advertise ads related to all types of financial services that are subject to its policy. However, before taking this verification, advertisers also have to pass the "advertiser verification program", which means that they will need 2 types of verification in order to promote their ads.

Advertiser verification
Google requires advertisers to pass the "advertiser verification" to run certain types of Google ads, especially those related to sensitive topics like financial services, health, and games. This step aims at verifying the business, services and products, making sure that they don't show any signs of ad fraud or scams.
In order to obtain this certification, advertisers will need to provide specific information about the type of financial services they are offering. Google then checks if advertisers hold the necessary and relevant licenses to provide these services or not
You can read more about this verification here.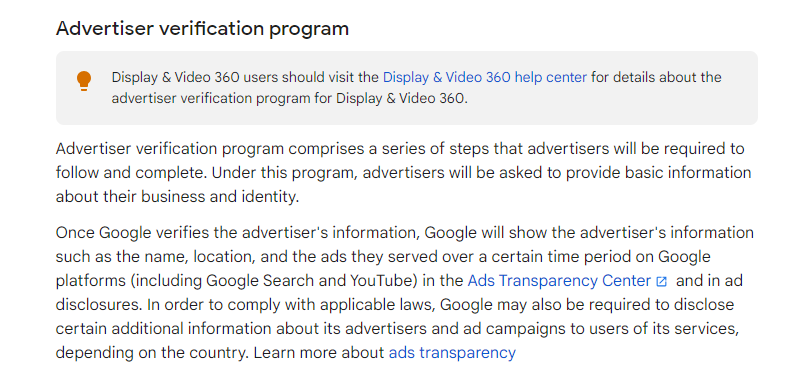 Google Ads financial services verification
Just like LegitScript certification for medical content, Google Ads financial services verification is a necessary process for advertisers seeking to promote financial services in specific countries. First required in the UK in 2021, it has now become a prerequisite for all advertisers running campaigns including keywords related to mortgages, pensions, investments, and so on.
To get this verification, you either have to prove to Google that you are an authorized company or you need to successfully apply for an exemption from the verification. However, the first option is easier and more common to take. This certification involves supplying details about the nature of the financial services they offer, their licensing status, and registration numbers, among other particulars.
What are Google Ads' policies for financial services?
According to Google, when you advertise financial products and services, you have to comply with the rules in the places where your ads appear. In other words, your ads are subject to local law imposed by the state and local countries or countries where the ad targets. Here is the overview of Google Ads' policies for financial services that advertisers are subject to.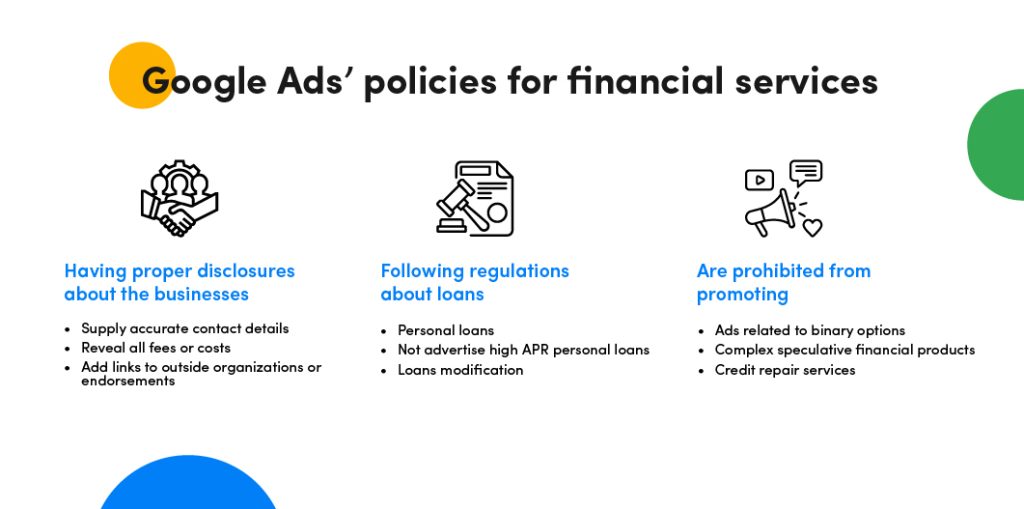 #1. Having proper disclosures about your businesses
Google requires all financial services advertisers to be transparent about their business's physical location, costs and fees,… To be specific, they have to:
Supply accurate contact details for a physical business address associated with the advertised business.
Reveal all fees or costs connected to the promoted product or service. Advertisers are not allowed to hide important information behind links or tabs that only show up when clicking or hovering. This information needs to be clearly visible right away
Add links to outside organizations or endorsements when claiming or suggesting an affiliation, especially if it helps enhance your website's reputation.
#2. Following regulations about loans
If you are going to promote an advert related to loans on Google, here are some rules you need to keep in mind.
Personal loans
Personal loans, in the context of Google, involve lending money from one party, such as an individual, organization, or entity, to another individual. This lending has to occur on a one-time basis and isn't intended for funding the acquisition of assets or educational expenses. Advertisers have to:
Specify the shortest and longest repayment periods.
Disclose the highest Annual Percentage Rate (APR).
Show an example of the complete loan cost, including all fees.
Advertise personal loans that are paid no less than 60 days from when they are issued. (Applied to direct loan providers, lead generators, and intermediaries connecting consumers with third-party lenders).
Not advertise high APR personal loans
According to Google, a high-interest loan is one with an annual percentage rate (APR) exceeding 36%, which is typically the highest rate seen as reasonable by consumer advocates. These loans are provided by online and physical lenders, often guaranteeing quick approval and simple applications, sometimes without credit checks. These ads are banned from advertising on Google.
Loans adjustment
Advertisements on mortgage or foreclosure-related websites and apps must not:
Assuring loan modification or prevention of foreclosure.
Charge upfront fees, unless the service is provided by a law firm.
Request users to transfer property titles or buy a house below market value.
Instruct users to bypass their lender and make direct payments to a company or third party.
Discourage users from contacting their lender, attorney, credit counselor, or housing counselor.
#3. Prohibited from advertising
Ads related to binary options or similar financial products, such as digital options, fixed return options, or all-or-nothing options. This includes sites that exclusively offer binary options or provide information and education on binary options and related products.
Ad destinations that offer trading signals, tips, or speculative trading information for complex speculative financial products are not allowed. This includes affiliate sites with related content or broker reviews.
Ads related to credit repair services.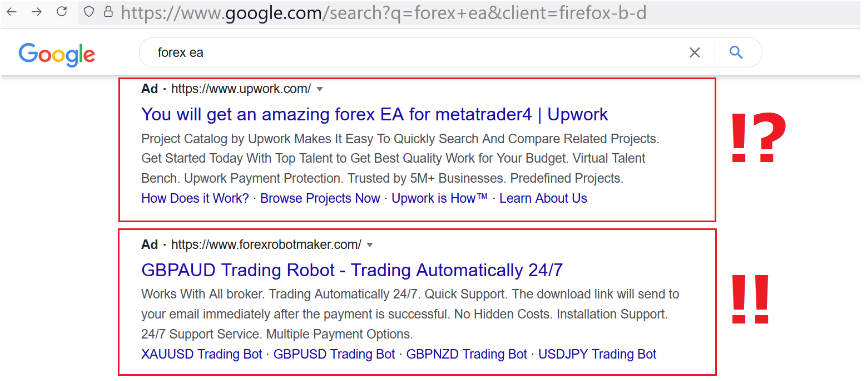 This is an example of a restricted ad due to falling under the category "Complex speculative financial products".
Why do advertisers have to apply for Google Ads' financial services verification?
Google requires all advertisers to apply for Google Ads' financial services verification to ensure transparency, trustworthiness, and compliance with Google's policy. This helps Google wants to protect its users from deceptive or harmful financial promotions. Failure to get verification may make Google pause your ad campaign or worse, suspend your Google ad accounts.
However, before taking these actions, Google will send you a notification announcing that you have violated its terms. They then request you to verify your business and products. Yet the verification may be very time-consuming so Mega Digital suggests you get Google Ads' financial services verification beforehand.
How to apply for the Google Ads Financial Services Verification?
Here are the 3 steps to apply for the Google Ads' financial services verification:
Step 1: Access to your Google Ads account
The first thing you need to do is create a Google Ads account (if you haven't got one).
If you already have one, access to your Google Ads account.
Step 2: Decide who applies
If you are working for a network (corporation, business,…) and they are applying for verification on your behalf, then your network has to be verified first before they get you verified.
Step 3: Apply for Google Ads financial services verification
Different countries will have different requirements for this verification process.
For example, in the UK, financial services advertisers have to be approved by the UK Financial Conduct Authority. In other words, they have to be FCA-authorized advertisers in order to advertise financial services' content.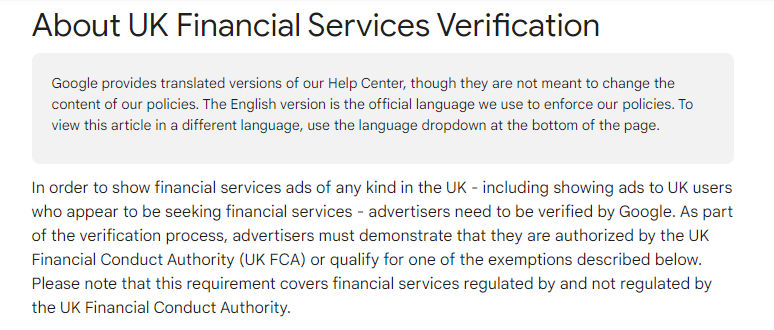 However, in other countries like India, Singapore, Indonesia,… advertisers need to be verified by a third-party called G2 – a company providing financial services verification. Here is the detailed process:
First, Access G2's third-party verification process through this form. Make sure the business information matches financial service registries.
Second, after applying for G2's verification, you'll get an email update on Google's advertiser verification program. Follow the instructions in the email. If you've already completed Google's verification, you don't need to do it again.
Finally, provide the unique G2 code to Google using this form. Once successfully verified, your Google Ads account will receive a certificate. You'll be notified by email, and you can display financial services ads in India, Singapore, Indonesia,…
How to know if you are verified or not?
If you are not sure whether you are already verified by Google, there are certain ways to know by looking through your Google Account.
Check keywords status related to financial services
The first thing you can check is your Ad Group where there are some keywords related to mortgages or other financial services. On the column "Status", hover over one of your keywords and you might see a message that says like this. If it says "your ads aren't eligible to show for keywords that relate to restricted products or services" like this, this means that you haven't done the Google Ads' financial services verification.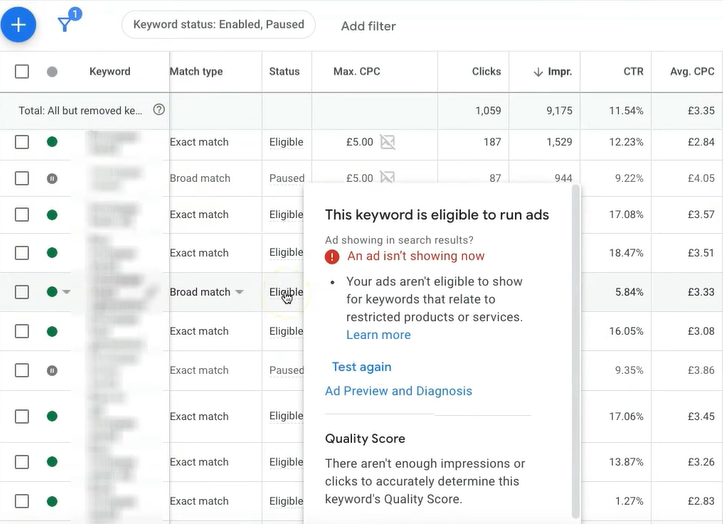 Check for warning messages
If you get this yellow warning bar at the top of your Google Ads screen like this, it means that you haven't completed the financial services verification. Another way you can do it is to check your ad. Log into your account and see if your ads are restricted because of not having done a financial services verification.

Frequently Asked Questions
What documents to prepare for Google Ads verification?
For advertiser verification, organizations might need to supply two types of documents:
Records of their organization's registration.
Government-issued photo ID from an authorized representative.
Is Google Ads verification mandatory?
Yes, it is. Failing to complete this process can lead to restrictions on your ad display and access to specific features and tools. For advertisers promoting restricted content on Google Ads, they have to do other verifications as well. For example, Google Ads' financial services verifications.
How long does Google Ads financial services verification take?
Advertisers have a maximum of 30 days to complete the verification form. Typically, the verification process takes three to five days after you provide the requested documents to Google. However, you should expect to wait longer until Google accepts your verification, for some cases, it may take a month.
Final words
Mega Digital hopes that this blog is helpful for advertisers, especially those who are intending to apply for Google Ads financial services verification. If you are having trouble in the process of applying for certification, you can contact Mega Digital for advice and support from experts.