Performance Max assets are key to driving effective advertising campaigns. They include text, image, and video elements that engage audiences across channels. By grouping assets and linking them to product categories, you can target specific themes or target groups. With Performance Max, reach a wider audience, and achieve better results.
What is a Performance Max asset?
Performance Max assets are creative elements like text, images, or videos used in your campaign. Combined into asset groups linked to product groups based on themes (brand, category, audience), Google Ads effectively displays and matches these creatives across diverse channels.
Google Performance Max campaign assets can be divided into 4 types:
Texts
Images
Videos
Extensions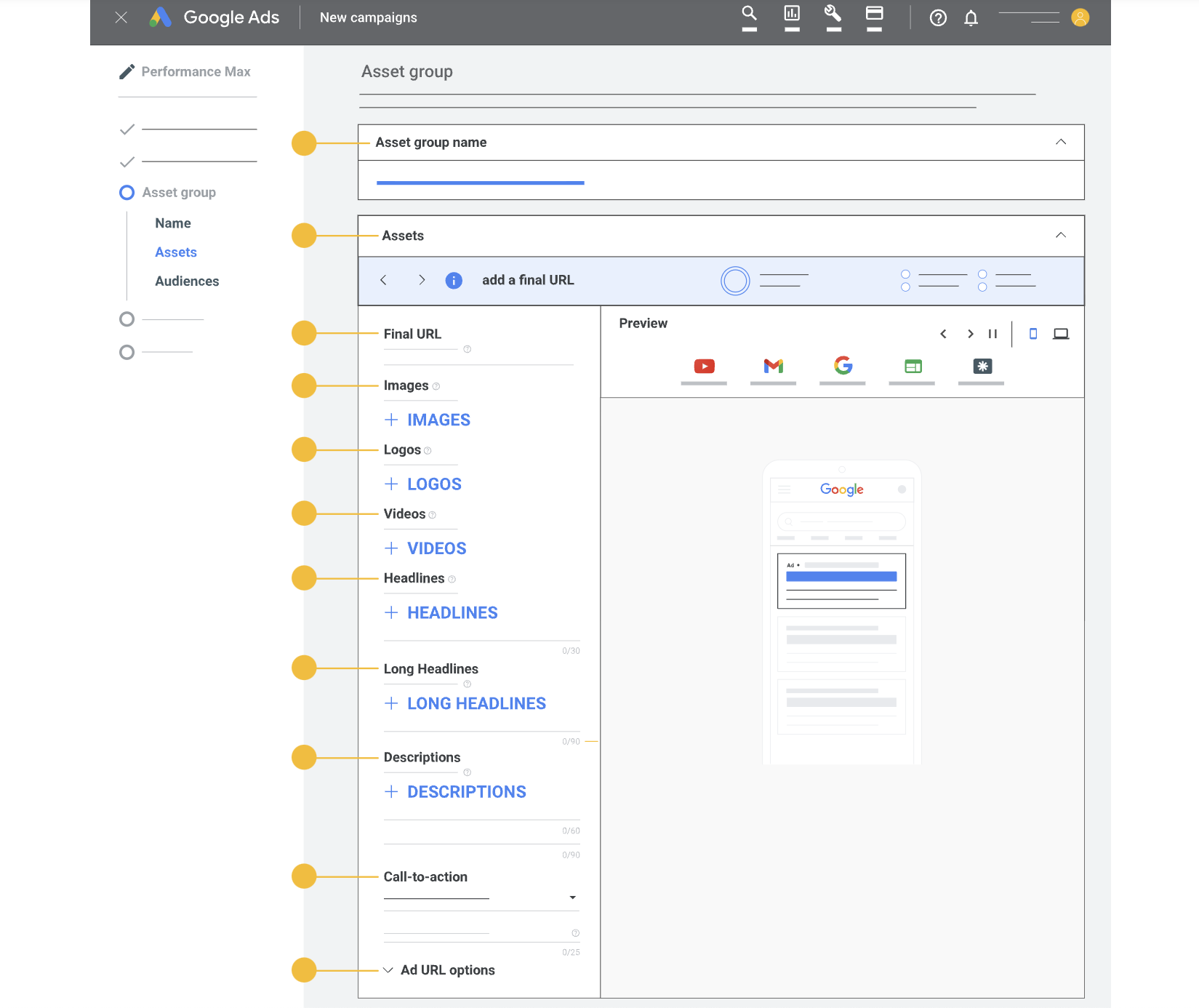 You can also create a Performance Max campaign without assets. In such cases, the ads will only be displayed on Google Shopping, Google Search, and the Google Display Network.
However, when you add assets to your campaign, your ads will have the opportunity to appear on Google Maps, YouTube, Gmail, Discover, and Google partner websites. This expands the number of placements where your ads can be shown.
Requirements and specs of Performance Max asset
Below, you will find guidance on how to make the most effective use of these assets.
These are Performance Max asset requirements:
Text assets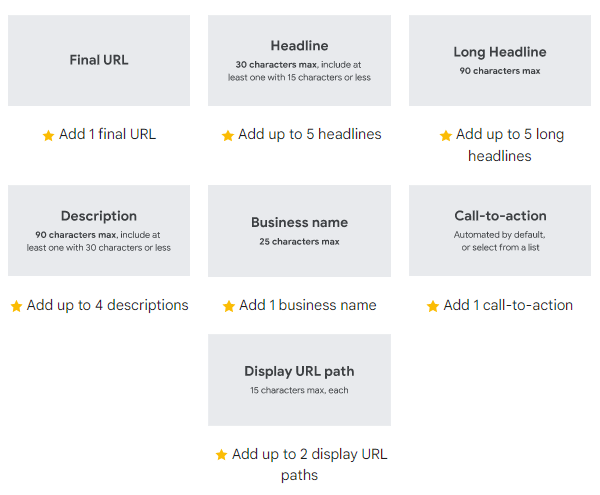 Text asset consists of 6 components that create a complete asset group, they are:
Headline
Long headline
Description
Business name
Display URL path (after the slash)
CTA (call-to-action)
Here is an overview of specifications and requirements for the six text assets used in Performance Max:
Text asset type
Requirements
Headline
Length: 30 characters.
Additional requirement: At least one headline that is 15 characters or shorter in length.
Suggested quantity of assets: 5 (min: 3, max: 5)
Long headline
Length: 90 characters.
Suggested quantity of assets: 5 (min: 1, max: 5).
Description
Length: 90 characters.
Additional requirement: At least one description that is shorter than 60 characters in length.
Suggested quantity of assets: 4 (min: 2, max: 5).
Business name
Length: 25 characters.
Suggested quantity of assets: 1 (min 1, max: 1).
Call-to-action:
Default: Automated.
Optional: Select from a list.
Suggested quantity of assets: 1 (min 1, max: 1).
Display URL path
Length: 15 characters.
Suggested quantity of assets: 2 (min: 1, max: 2).
Image assets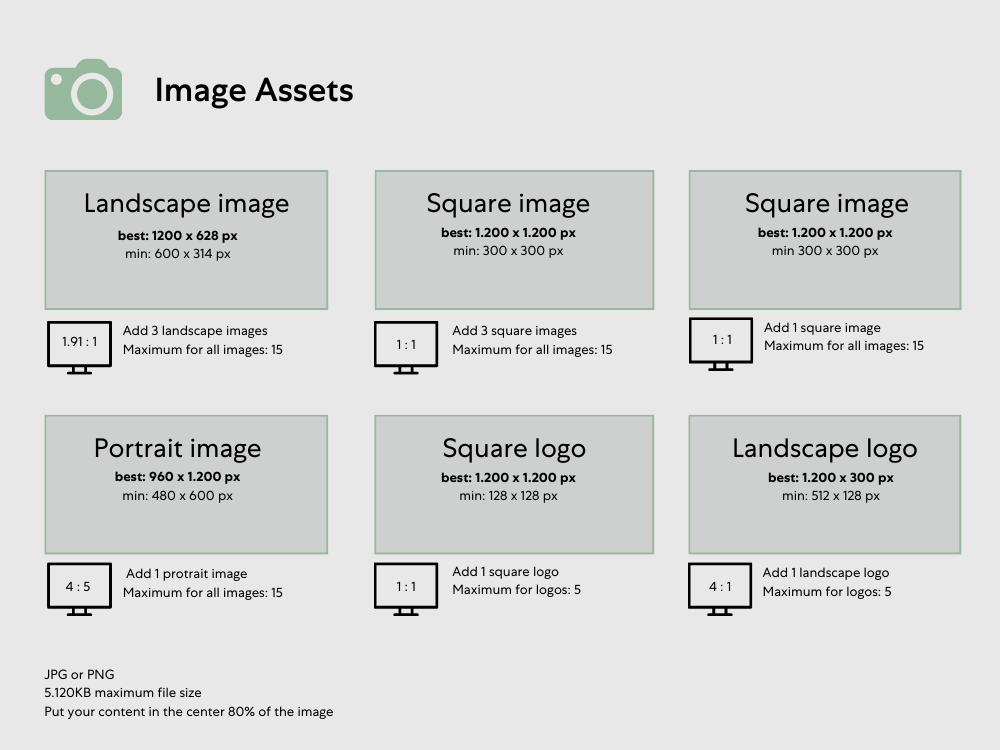 In Performance Max campaigns, there are a total of six image assets available:
Landscape image
Square image
Portrait image
Square logo
Landscape logo
Each of these has specific specifications and requirements. Please find the details below:
Image asset type
Requirements
Landscape image
Ratio: 1.91:1.
Suggested size: 1200 x 628px, (min: 600 x 314px).
Max file size: 5120KB.
Suggested quantity of assets: 3 (min: 1, max: 20).
Square image
Ratio: 1:1.
Suggested size: 1200 x 1200px (min: 300 x 300px).
Max file size: 5120KB.
Suggested quantity of assets : 3 (min: 1, max: 20).
Portrait image
Aspect ratio: 4:5.
Suggested size: 960 x 1200px (min: 480 x 600px).
Max file size: None.
Suggested quantity of assets: 1 (min: 0, max: 20).
Square logo
Ratio: 1:1.
Suggested size: 1200 x 1200px (min: 128 x 128px).
Max file size: 5120KB.
Suggested quantity of assets: 1 (min: 1, max: 5).
Landscape logo
Ratio: 4:1.
Suggested size: 1200 x 300px (min: 512 x 128px).
Max file size: 5120KB.
Suggested quantity of assets: 1 (min: 0, max: 5).
Video assets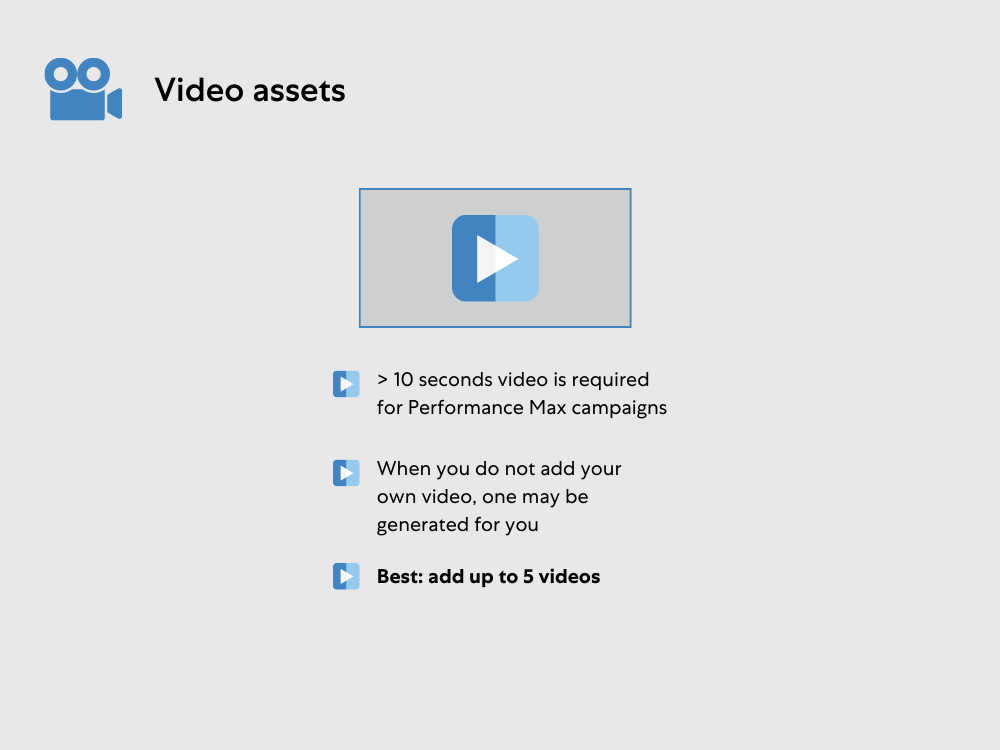 In Performance Max campaigns, there is a single type of video asset. This asset is designed specifically for YouTube but can also be shown in the Display Network. Here are the specifications and requirements for video assets:
Suggested quantity: 5 (min: 0, max: 5).
Length: 10 seconds.
Ratio: Horizontal, vertical, or square
Note: Google can automatically resize landscape format videos to square or portrait format (1:1 or 9:16) within Performance Max campaigns. They review videos for suitability, but you can contact Google support if you encounter any problems or wish to opt out of this resizing functionality.
Mega Digital has shown you all of the Performance Max assets specs you should know about. The main points are in the table below.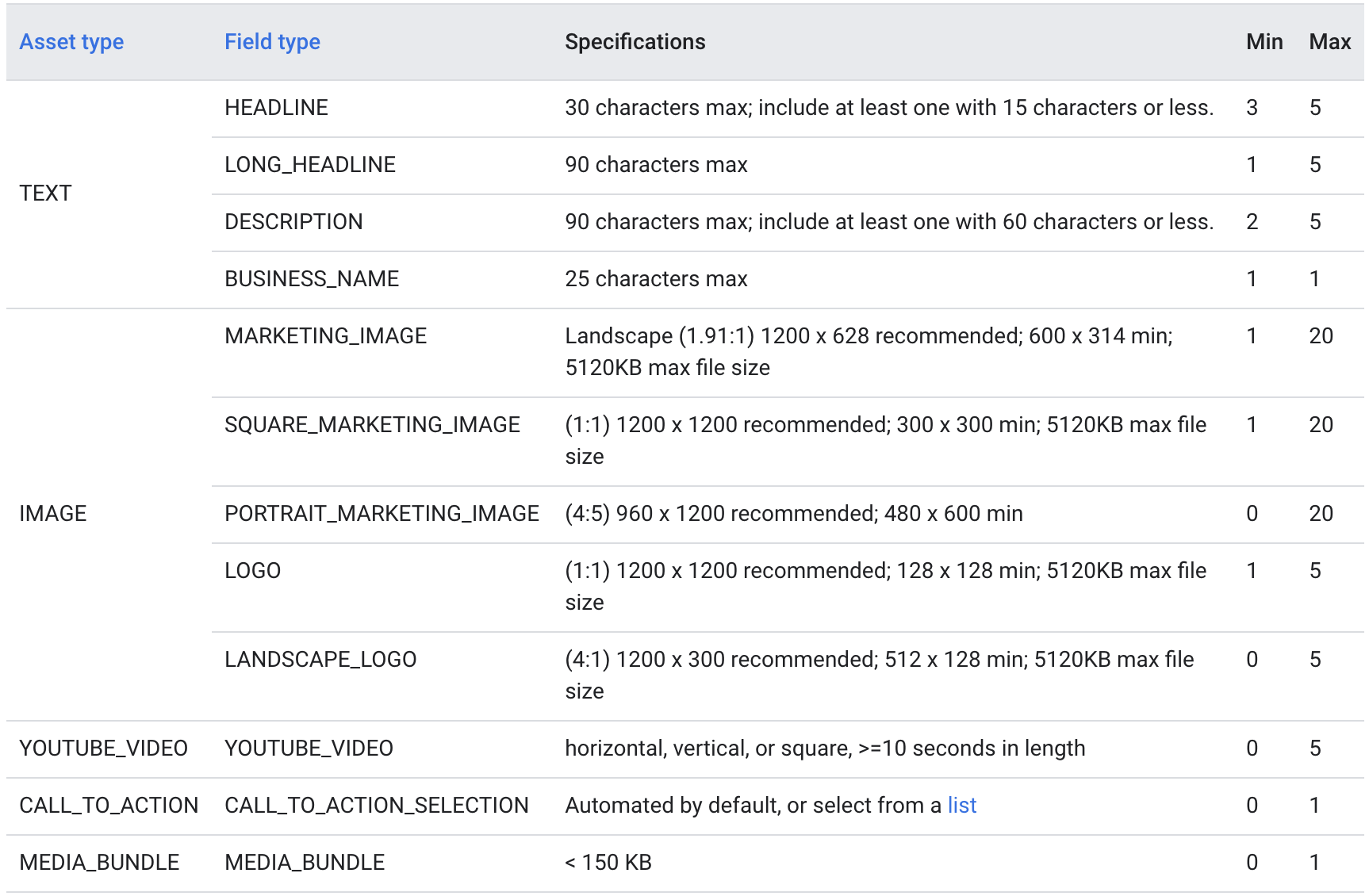 You can check out the list of call-to-action (and in other languages) here.
To make the most of these assets and achieve exceptional results, consider partnering with Mega Digital's Google Advertising service. Our expert team will help you strategically manage and leverage Performance Max campaigns to drive meaningful engagement and maximize your advertising efforts. Contact us today for elevated Google advertising solutions.
9 Best practices for Performance Max assets
While it is possible to create effective campaigns using standard assets, going the extra mile can help your campaign truly stand out. Here are our top 9 best practices for successful Performance Max assets that we collected while running advertising for our valued customers:
1. Use as many assets as possible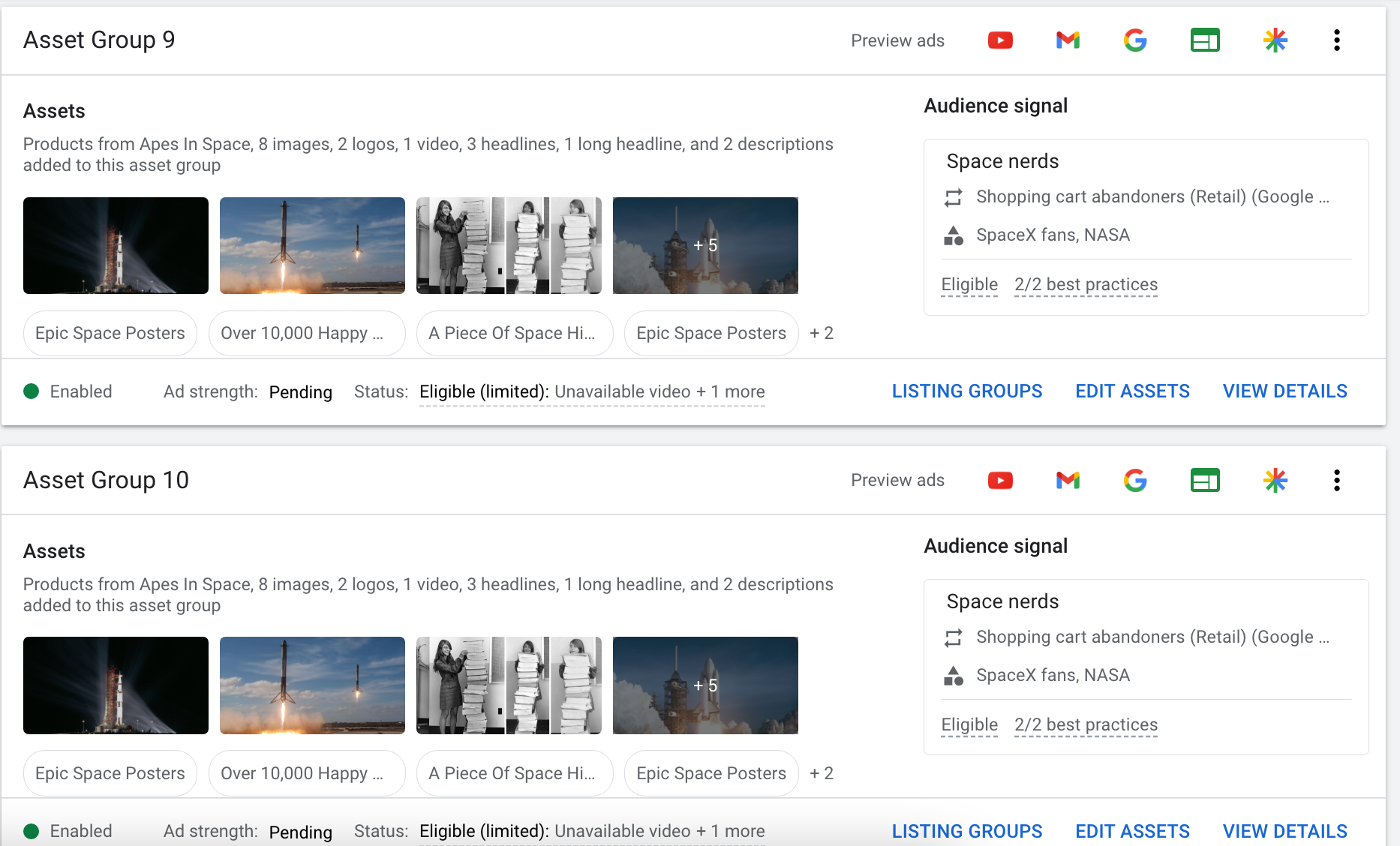 While it is possible to run a Performance Max campaign without assets, it is highly recommended to include as many assets as possible when utilizing them. Having a larger pool of creatives allows the algorithm to have more options for placements and enables Google to effectively test for effectiveness. It is important to ensure that the assets you add are relevant to your campaign.
In essence, aim for more than just the minimum number of assets within your asset group. Select a variety of assets with a consistent theme to better align with the desires and objectives of your target audience. By following this approach, you will likely see positive outcomes and better campaign performance.
2. Add your own videos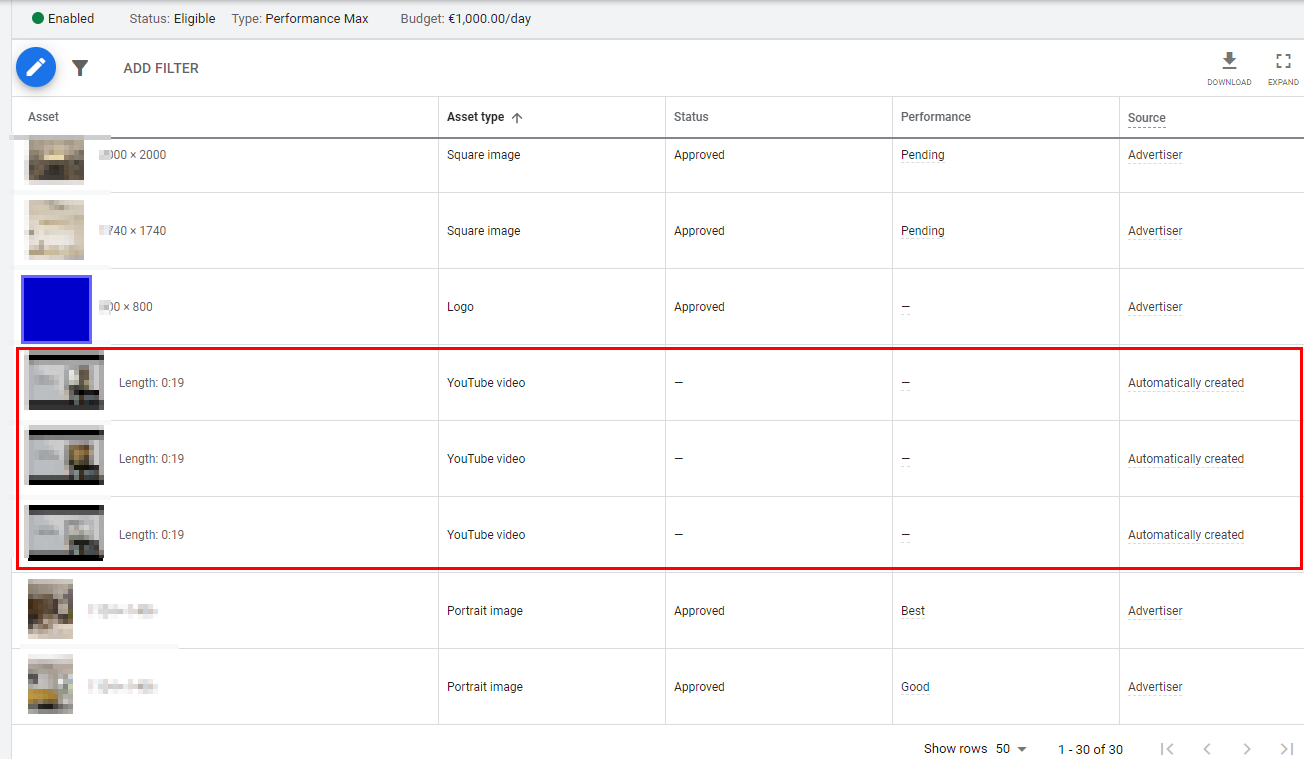 When creating your own video asset for a Performance Max campaign, you have more control over branding, structure, and appearance. If you don't provide a video, Google will generate one using your information as a slideshow with system-selected music. Follow these principles for an effective video:
Grab attention in the first 3-5 seconds: Use this opportunity to introduce your brand and engage viewers before the 'Skip ad' button appears.
Appeal to your target audience: Include information that resonates with your intended audience, keeping them engaged while filtering out less interested viewers.
Showcase your product or service: Clearly demonstrate key features and benefits to show how your offering meets their needs or solves their problems.
End with a clear call-to-action: Conclude your video with a strong and concise call-to-action, guiding viewers to take the desired next steps.
3. Enhance text assets with dynamic values
Adding dynamic values to your text ads is a recommended practice. It allows you to anticipate your target audience's search queries and provide specific information, increasing relevance. The benefits of using dynamic values in ads include:
Time savings: Instead of creating separate headlines for each group, you can fill in a template once and let the dynamic values automatically match with the relevant asset group, saving time.
Relevance: Displaying specific information in your ads makes them more relevant, setting you apart from competitors.
Improved results: By incorporating dynamic values, customers immediately grasp the context of your ad, leading to higher-quality clicks and increased conversion probability.
Try these tips to improve the quality of your Performance Max assets.
4. Add audio to your videos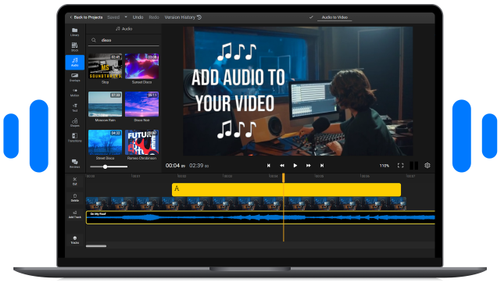 In YouTube, it is common for users to play videos as background sound while focusing on other activities. Therefore, if your video only contains background music, you miss the opportunity to capture the attention of the viewer/listener.
To make the most of this situation, consider incorporating a compelling voiceover in your video. By doing so, you engage both the active and passive viewers. This approach increases the likelihood of viewers taking action based on your video, rather than just providing a pleasant musical interlude.
By including a clear voiceover alongside the visuals, you effectively grab the attention of viewers and enhance the effectiveness of your video in driving desired outcomes.
5. Anticipate trends, developments, and promotions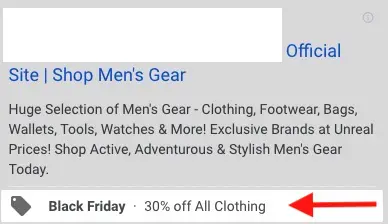 Stay relevant to your target audience by anticipating trends and promotions. Create smart asset groups that align with popular products, after-season sales, or special holiday discounts. By advertising the right products at the right time, you increase the likelihood of purchases. Design asset groups for specific events like Black Friday or Christmas, ensuring ongoing relevance for potential buyers. Stay up-to-date and maximize your chances of attracting and converting your target audience.
6. Constantly keep testing
What may be effective today doesn't guarantee the same results tomorrow. That's why ongoing testing of your assets is crucial.
For instance, try adding different call-to-action to your assets and run them simultaneously to identify the most effective approach. Instead of testing everything at once, focus on A/B testing to compare specific variations. Once you determine a winner, move on to the next test to refine your design or asset further. Follow this recommended timeframe for conducting tests:

7. Let the branding surface everywhere
The higher the recognition, the greater the chance of making a purchase.
Ensure your logo, colors, and typography are recognizable across texts, banners, and videos. Maintain a cohesive brand identity for optimal results.
8. Give careful thought to asset group structure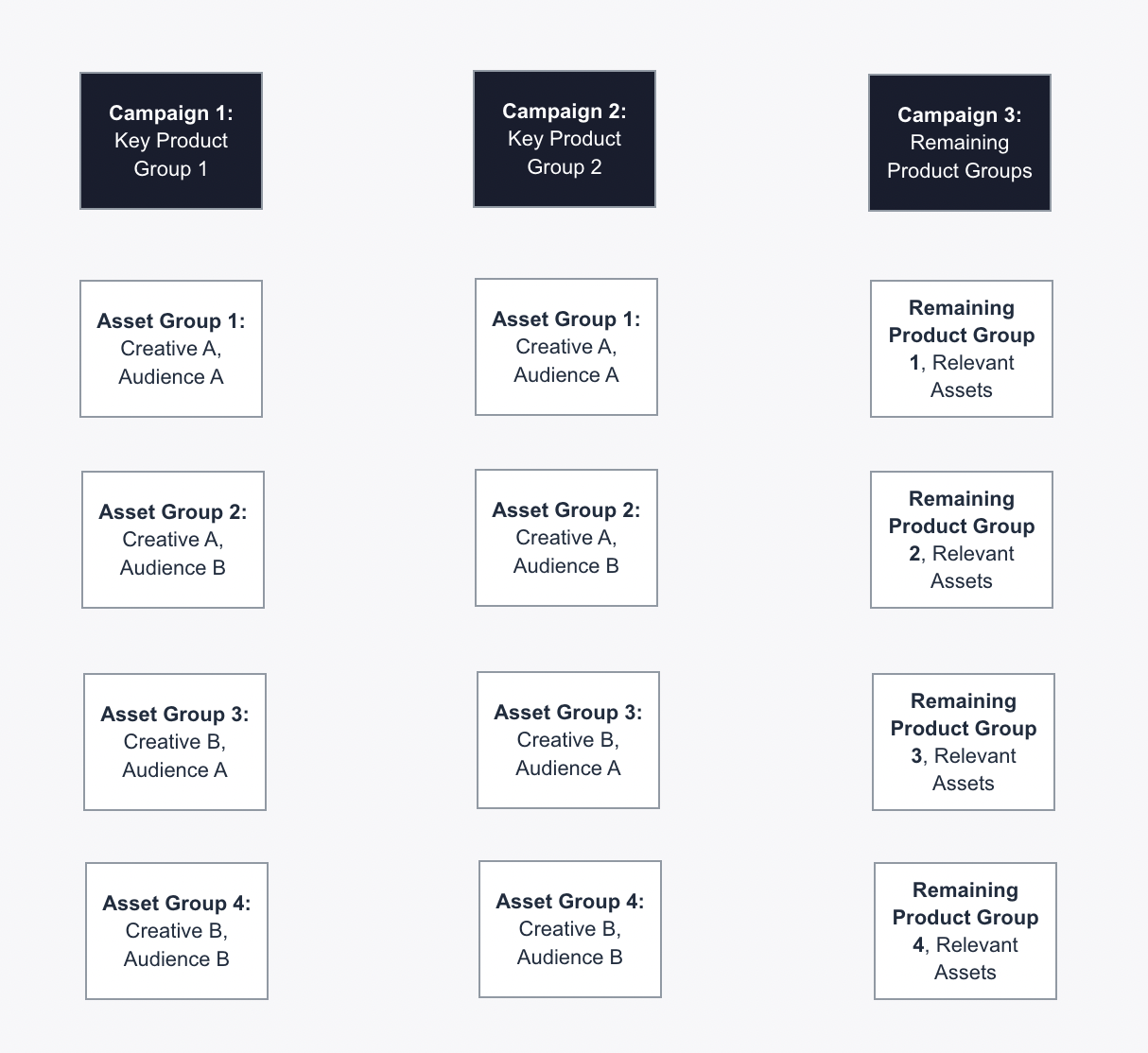 The structure of your Performance Max assets determines their type and effectiveness. You can base it on the target audience, performance, categories, or brands. A deeper structure aligns better with search queries and customer preferences, reaching customers at different stages of the sales funnel. However, it requires time and effort. Learn how to set up the best PMax campaign structure for your organization in our article.
9. Select the right call-to-action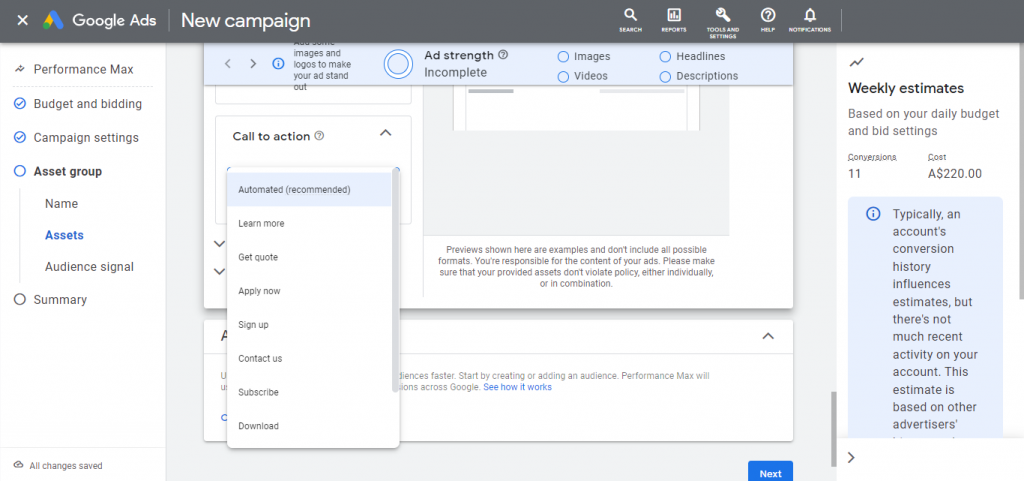 The primary goal of ads is to prompt action. To effectively guide your audience, carefully consider your call-to-action. Clearly identify whether you want them to make a purchase, read more, or get inspired. This prevents leading them astray and ensures a focused and desired response.
Final words
In conclusion, Google Performance Max assets are a powerful tool for optimizing your advertising campaigns.