How does TikTok make money? With 656 million downloads in 2021, TikTok had surpassed Facebook and Instagram to become the most downloaded app. In the same year, TikTok exceeded the estimated revenue by $4.6 billion. However, many people are unsure how the company earns money.
In this article, Mega Digital will give you a closer look into TikTok's revenue stream to understand its strategy better.
What is TikTok Business Model?
The TikTok business model was based on quick content. With short-form videos featuring dancing, lip-syncing, and make-up challenges, TikTok became a popular social platform. In a few years, it was valued at $50 billion.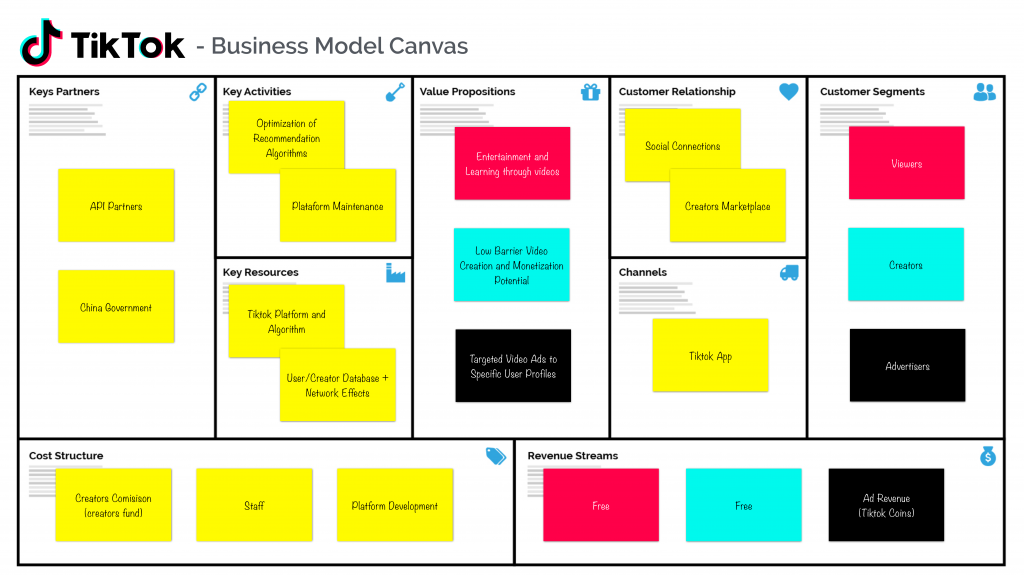 TikTok makes money by combining several revenue models within their company, which are:
Advertising-based business model
Digital goods business model
Commission-based business model
All the detailed explanations will be discussed below.
Advertising-based business model
Like other social media sites, advertisers pick their target demographic, and TikTok presents this messaging to the advertiser's chosen audience.
Digital goods business model
TikTok has TikTok Coins. When consumers exchange their real money for TikTok Coins, they can make gift purchases for content creators. For 99 cents, a person can acquire 100 TikTok Coins.
Advertising-based business model
When a user buys coins and virtually donates them to a content creator via the app, the content creator has the option to withdraw all tips handed to them in return for real money. And TikTok takes a 50% share of every dollar withdrawn from the app when users withdraw payments.
How TikTok makes money

Since TikTok is still in its early stage, it hasn't disclosed much information about its monetization system. However, TikTok has two main sources of revenue: advertising and in-app purchases.
TikTok Ads
TikTok Ads account for the majority of TikTok's revenue over the year. Therefore, in June 2020, TikTok announced TikTok for Business, a new advertising management platform that allowed brands to market their products on this platform through a variety of ads divided into 2 types: Standard Ads (In-feed Video Ads, Brand Takeover Ads, and Top View Ads) and Content Ads (Branded Hashtag Challenge, and Branded Effects)
TikTok In-App Purchase

Before the introduction of TikTok for Business, in-app purchases (TikTok Coins) were the primary source of revenue. Creators with at least 1,000 followers can earn virtual presents from their fans by broadcasting a live video under this scheme.
If fans enjoy their content, they can tip them with virtual gifts. However, each gift is worth a certain number of virtual coins, which must be purchased with real money via the app. They can use these coins to send presents to their favorite content providers. This will assist TikTok as well as the TikTokers who receive TikTok Coins.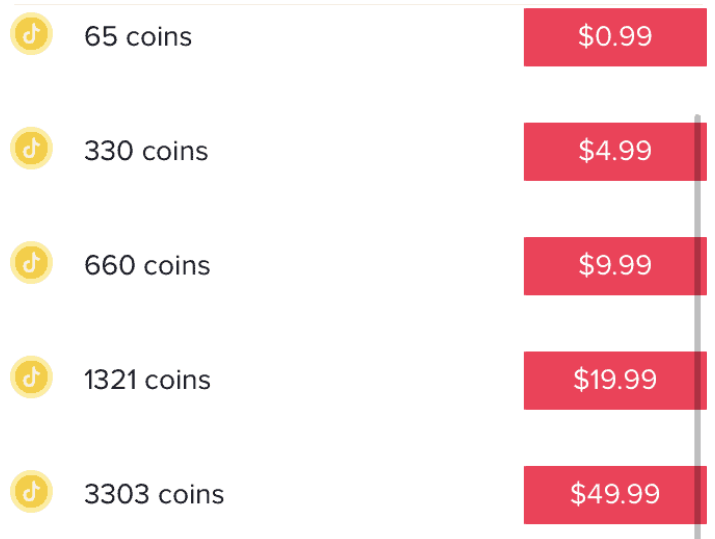 Commissions

Commission from E-commerce
TikTok just released the TikTok Shop, which allows merchants and brands to exhibit and sell things through in-feed videos, and live streams. Businesses can create their own stores, collect payments, and interact with customers all within the app. In 2021, TikTok tested its eCommerce capabilities with Shopify and Walmart with a 2% commission rate and has partnered with them till now.
According to TikTok, this feature only intends to assist small enterprises that have not yet established brick-and-mortar stores due to hefty investment expenses. However, the increasing popularity of TikTok and TikTok Shop excites small businesses and big brands to join the game.
TikTok Shop allows brands to sell in two ways:
Directly promote and sell their products: through live streaming or short videos with product links integrated within the posts. When a customer clicks on the product, they are directed to the product detail page. Brands will be responsible for generating and publishing their own content under this option.
Through the TikTok Affiliate program: If a brand decides to engage in the affiliate program, they can build promotion programs and encourage TikTok content creators to promote their products for a fee. The service would make it easier for influencers to earn commission on sales that they enable.
This is exciting news for e-commerce businesses because TikTok users are 1.7 times more likely to purchase things identified through the app than users of competing platforms. With this feature, TikTok charges merchants a 1% payment service fee.
Commissions from Content Creators
This only accounts for a small portion of TikTok's revenue. However, it is still included in the strategy of TikTok, when users give TikTok coins to Content Creators.
After that, the creator has the option of withdrawing all tips in exchange for real money. For every dollar withdrawn from the app, TikTok levies a 50% commission and then restores the remainder to the TikToker's account.
What cut into TikTok's revenue?
With the TikTok Business model and its cooperation with many big-brand companies, TikTok still has to cut some of its revenue into partnerships, licensing deals, and royalties payouts.
TikTok signed a licensing agreement with Sony Music on November 2, 2020. In recent months, they have also signed short-term deals with Universal Music Group and Warner Music Group.
According to Rolling Stone magazine, TikTok is in part licensing agreements that allow them and its creators to use tunes owned by artists and labels in the videos, with a royalty payout of $0.03 per watch (as of June 2019).
TikTok's profit and revenue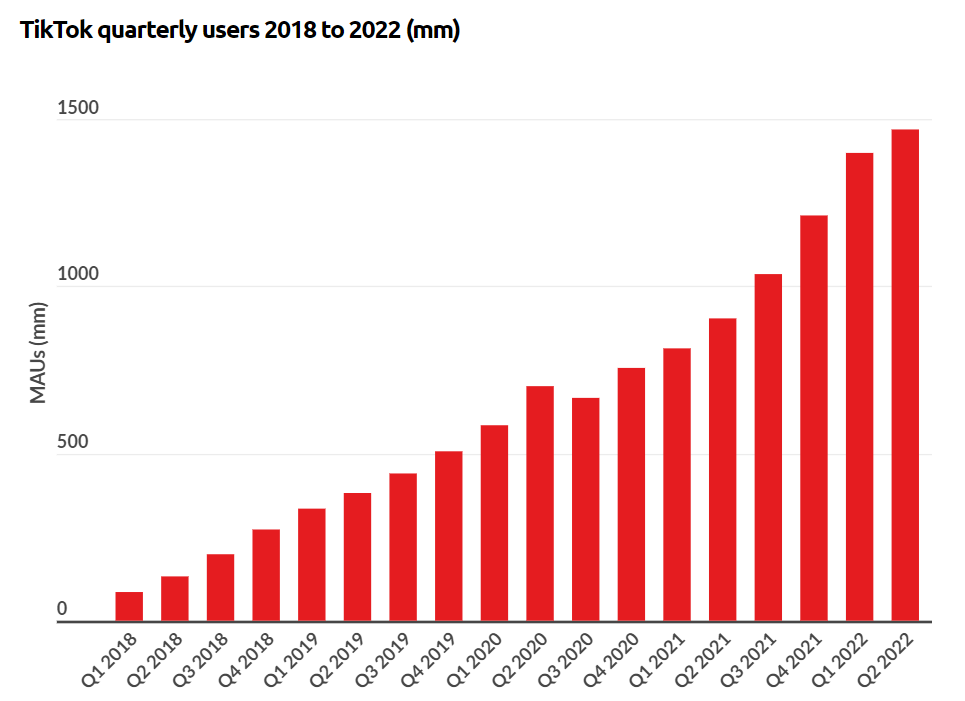 With those three revenue sources, in-app purchases, 50% commission, and TikTok Ads, How much does TikTok earn in a fiscal year?
Even before the introduction of adverts in early 2019, TikTok generated money through in-app purchases. Sensor Tower reported that it received $3.5 million from TikTok users worldwide in October 2018, a 275 percent increase over October 2017.
In 2020, TikTok made approximately $965 million by December 2020, while earning $176.9 million in 2019. According to the research firm eMarketer, TikTok made about $4 billion in revenue in 2021, primarily from advertising, and is expected to make $12 billion this year.
Future of TikTok
TikTok has expanded rapidly since its introduction which has made Facebook and Instagram introduce its own short-video service. In 2022, TikTok ads revenue is expected to surpass both Snapchat and Twitter revenue combined. While TikTok's e-commerce gross merchandise volume is expected to reach $2 billion this year and $23 billion by 2023.
TikTok has launched TikTok For Business and TikTok Shop to help brands directly display and sell their products without having to change sites. This is the absolute point break for any business if they know how to use TikTok effectively. TikTok's strong "magic" for all users, of all ages, will open up even more opportunities for brands to interact with customers. So if you are still reluctant to join TikTok, this is the sight for you to jump onto this trend, now or never!
Final Word
The uniqueness of the TikTok Business Model gives TikTok the edge to come out on top of social media platforms in recent years and even in the future.
Brands can now access clients through a new level of interactive engagement with TikTok For Business, which will undoubtedly increase your business if you know how. As a TikTok agency, Mega Digital knows how to help you stay in the game and stand out from the pack with our TikTok Business Account Renting, TikTok Ads Services, and more. We are proud to say we can provide clients with the greatest insights to help them enhance their campaigns.