The advertising giant, Google, has recently allowed back the promotion of Google Ads' Crypto content. This is such big and good news for any crypto and blockchain-based businesses. However, these Google ads on crypto content are still subject to certain restrictions and rules. In this blog, we will quickly clarify those restrictions and show you how to run your ad smoothly.
Why Google banned Crypto ads before?
In 2018, Google, YouTube and Facebook announced to ban all cryptocurrency ads to prevent deceptive promotions. At the time, the increase in cryptocurrency prices led to a rise in online ads promoting new virtual currencies, which drew regulatory scrutiny due to concerns about potential scams in initial coin offerings (ICOs).
Banning cryptocurrency ads on big platforms was a good move to protect consumers from the amount of fraud and scams in the crypto industry. In fact, in just the first two months of 2018, people lost $532 million to cryptocurrency scams. A government agency even said that if this continued, consumers might lose over $3 billion by the end of that year.
After this event, Google announced that it had revised its Financial Services policy and finally decided to prohibit ads promoting cryptocurrencies, including initial coin offerings, crypto exchanges, cryptocurrency wallets, and trading advice.
What's the latest news on the Google Ads' Crypto policies?
Recently, Google has gradually lifted the ban on Crypto Ads. The first move in 2023 was made in June 2023 when Google allowed advertisers to promote ads related to crypto exchanges and hardware, software wallets. This officially marks the end of the ban that lasted for years on the promotion of crypto-related advertisements.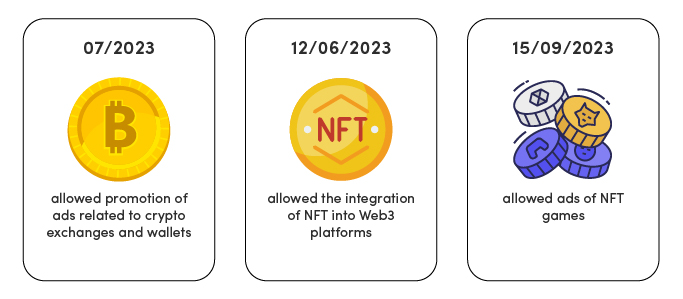 Since June, Google keeps reviewing and updating its Google Ads' Crypto policies.
On July 12, Google Play's policy allowed the integration of NFT into Web3 platforms. Players now truly own their in-game items and make money from playing games thanks to NFT.
In September 2023, Google made certain adjustments relating to its policy on Cryptocurrencies in order to clarify how blockchain games with NFTs can be advertised. And lately, on the 15th of September in 2023, Google announced that all advertisers can run Google ads for NFT games. However, their Google Ad's Crypto content must not relate anything to gambling.
What do these changes mean to advertisers?
This approach of Google's advertising policy implemented by Google has propelled cryptocurrencies into the mainstream. As a result, individuals who are not yet aware of the world of crypto may come across Bitcoin and other digital currencies while conducting Google searches. Such greater recognition and ease of use can bring positive effects to the cryptocurrency community and the entire market.
Advertisers can once again promote their crypto-related products and services through Google. They also tap into the vast Google Ads network to attract potential customers and investors interested in cryptocurrencies.
What types of Crypto Ads are allowed and prohibited on Google?
Allowed types (with limitations)
According to Google Ads' Crypto policy, there are certain types of Crypto ads that can be advertised on Google: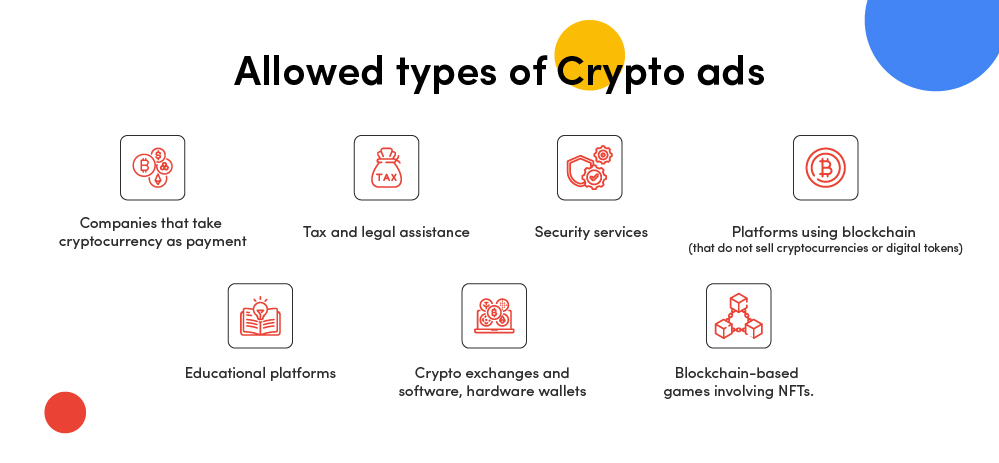 Prohibited types
On the other hand, Google stated that it would also prohibit the promotion of products that encourage the acquisition, selling, or exchange of cryptocurrencies and associated items: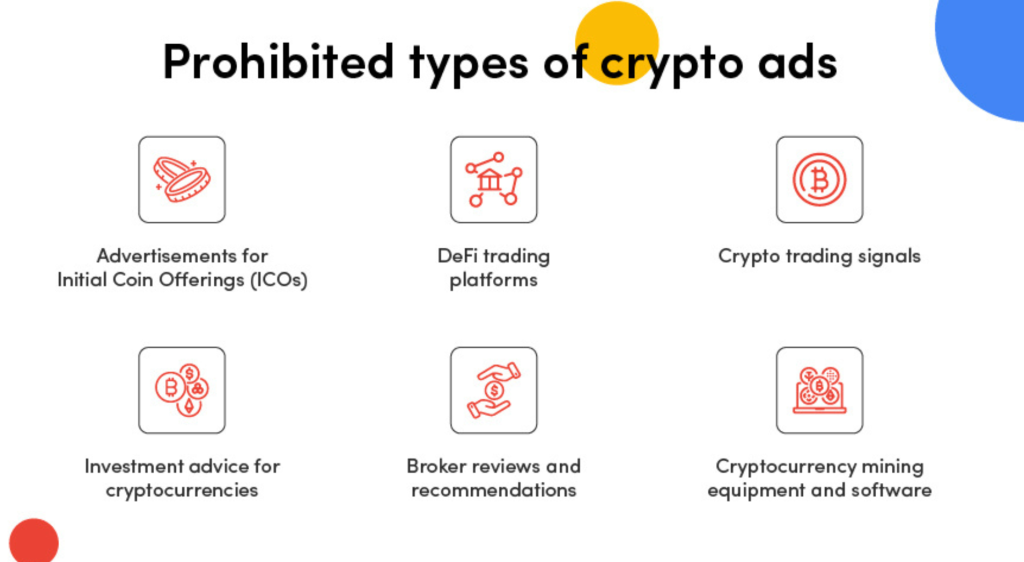 Relating to NFT games, Google won't allow the promotion of these ads:
Betting NFTs to win other NFTs or cryptocurrency.
Promoting casinos offering NFT rewards.
Directing to gambling websites.
Requirements for promoting Crypto Wallets and Exchanges
Google permits cryptocurrency advertisements for selected products and services that must meet specific conditions. In other words, you have to be certified by Google to promote Crypto content and target your ads to the approved countries only.
Your products, website pages, and advertisements must comply with the legal rules of the specific country or area where they want to be certified. This certification applies to all types of ads and related assets.
Here is the detailed list:
| Country | Requirements |
| --- | --- |
| Indonesia | Have the Crypto Asset Physical Trader license from the Bappebti |
| Japan | Certified as a provider of cryptocurrency exchange services by Japan's Financial Services Agency. |
| Malaysia | Must be licensed by the Central Bank of Malaysia or the Securities Commission Malaysia (SC) |
| Philippines | Holds an official authorization as a Money Services Business from the Central Bank of the Philippines (BSP) |
| South Korea | Successfully submitted a virtual asset service providers (VASP) Report to the Commissioner of the Korea Financial Intelligence Unit (KoFIU) |
| Thailand | Secured the necessary Digital Asset Business license from Thailand's Securities and Exchange Commission (SEC) |
| Bahrain | Possesses the correct Crypto-Asset Services license issued by the Central Bank of Bahrain (CBB) |
| France | Duly registered with the Autorité des Marchés Financiers (AMF) as a Digital Asset Service Provider (DASP). |
| Finland | Registered with with the Finnish Financial Supervisory Authority ("FIN-FSA") as a virtual currency provider |
| Germany | Possesses the necessary license(s) for the advertised operations, such as a financial brokering services license, multilateral trading facility license, and/or crypto custody business license, obtained from the BaFin (Bundesanstalt für Finanzdienstleistungsaufsicht) |
| Israel | Is authorized either (a) as a Financial Services Provider by the CMISA (רשות שוק ההון, ביטוח וחיסכון) or (b) as a banking corporation by the Bank of Israel (בנק ישראל) |
| United Arab Emirates | Is licensed by one of these authorities: the Securities & Commodities Authority (SCA), the Dubai Financial Services Authority (DFSA) in the Dubai International Financial Centre (DIFC), or the Financial Services Regulatory Authority (FSRA) in the Abu Dhabi Global Market (ADGM) |
| Canada | Is registered with FINTRAC (CANAFE) as a money services business |
| United States | Either (a) registered with FinCEN as a Money Services Business and with a state as a money transmitter, or (b) it is a federally or state-chartered banking entity |
If advertisers break this policy, Google won't shut their accounts right away. Instead, they'll get a warning at least seven days before suspending their accounts.
Tips to advertise Google Ads' Crypto Content

Research for customer insights
Successful crypto advertising depends a lot on understanding customers and if you can reasonate with them – the cryptocurrency community. For example, one insight of cryptocurrency enthusiasts is that they are usually concerned about security and privacy. Advertise therefore can create an ad that highlights these features because viewers are likely to respond positively to products or services that prioritize these aspects.
Create credibility and trust
The presence of cryptocurrency marketing experts adds credibility to your campaigns. As crypto ads have been banned due to dishonesty and scams before, audiences in the crypto space are more likely to trust ads created by professionals who understand the industry inside and out.
Adapt to constant policy changes
The world of cryptocurrency advertising is dynamic, and Google's rules may evolve in response to industry shifts and increasing concerns. Indeed, Google has modified its regulations regarding crypto content in Google Ads multiple times in 2023. Because these rules will keep changing, staying updated with the latest policy and market trends is therefore helpful for sustained success.
Have a strategic multi-channel planning
Cryptocurrency marketing extends beyond Google Ads. You may advertise your ads on the Crypto Ad Networks or Facebook ads as well. However, each of these platforms has distinctive features and serves different purposes. It is therefore important to choose the right content appearing on the right platforms because if done right, this multichannel approach can reach a mass of your target audience.
Ask professional advice
If you're new to advertising cryptocurrency, consider consulting with digital marketing experts who specialize in this niche. Their insights and expertise might be helpful for you in terms of spending and budget, and optimizing campaigns. They can also help you if you are struggling with the process of verification or running campaign on Google Ads.
Frequently asked questions
Does Google allow NFT ads?
Google has allowed the promotion of NFT ads since September 2023. However, make sure that you have met all the requirements and rules in the Google Ads' cryptocurrency policy.
Where can I advertise crypto?
Besides Google Ads, there are some more crypto ad networks where you can advertise your crypto content such as Coinzilla, Cointraffic, CoinAd, DOT,…
How much does a Google Ads on crypto content cost?
The ad content doesn't affect the ads cost, whether you are advertising restricted content such as crypto, gaming, medical content,…. The costs depend on the different types of ads and bidding strategies.
Final words
The easing policy on Google Ads crypto content has allowed many blockchain-based businesses to put their products and services under the spotlight. However, as Google strictly controls crypto-related content, it is not easy for advertisers to run smoothly on this giant platform.
Mega Digital, as a Google Ads expert, is here to guide you through the process of local authorization and Google verification. If you encounter challenges with your Google Ads campaign on crypto content, don't hesitate to reach out to us for assistance.