Google Ads account suspended for circumventing systems is an unwanted problem that happens to every advertiser once in a while. This could be considered a serious violation in attempts to bypass or manipulate the system. If you are struggling to solve the issue with Google's support team, then this blog is what you're looking for.
Let's start!
How do I know if my Google Ads account is suspended because of Circumventing Systems?
If your Google Ads account has been suspended for Circumventing Systems, all your activities on that account and the linked account will be suspended. With your ad being suspended, Google will stop you from:
Continuing to write content or running ads on any platform.
Using linked accounts, both payment and email accounts.
Activating related Google Merchant Center accounts and creating any new Google Ads accounts.
Why was my Google Ads account suspended for Circumventing Systems?
To find out why a Google Ads account was suspended for Circumventing Systems, take time to check these first:
Circumventing Systems policy
Violations refer to accounts suspended for Circumventing Systems
Google Ads Circumventing Systems policy
First, you must understand that this violation is often related to ad setup and links leading to the website. In the checking process, Google will suspend your account if the content, activities, or click trackers on the account appear suspicious, inappropriate, and deceiving. This kind of violation would fall under a circumventing system violation. Check Circumventing Systems policy Google Ads to detect the reason.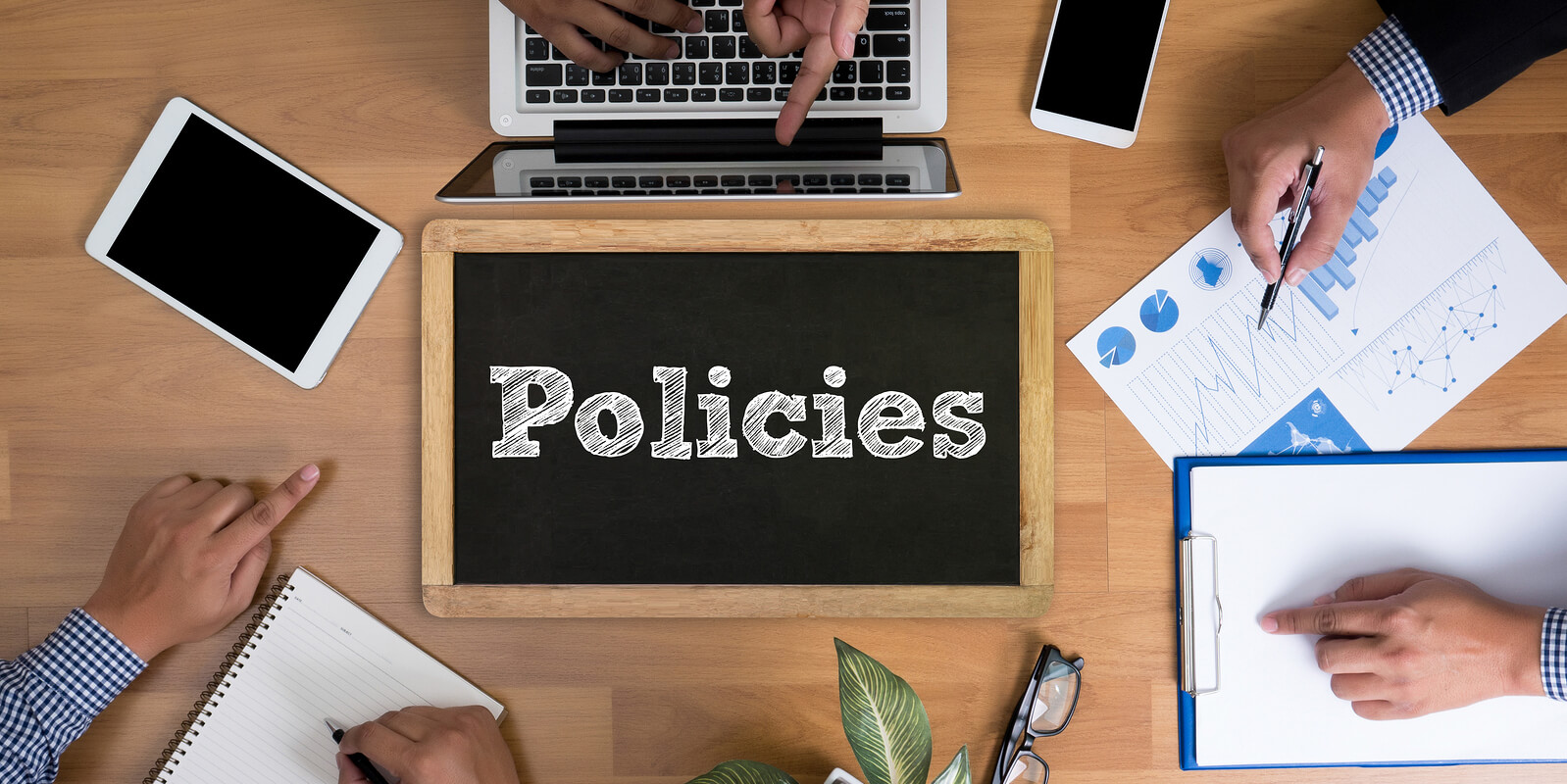 These restrictions come from the ultimate purpose of Google to protect users and create a healthy advertising ecosystem. There are a variety of unscrupulous actors who wish to take advantage of Google's traffic to harm and sabotage individuals or businesses. Google uses automatic and human resources to verify whether Google Advertising adheres to the principles, so ensure to follow Google Circumventing Systems policy.
Violations refer to Google Ads account suspended for circumventing systems
Common violations leading to account suspension are:
Cloaking
Violating ad, being denied multiple time
Creating violate ad
Violating policy multiple times
Paid-for call directory service
Cloaking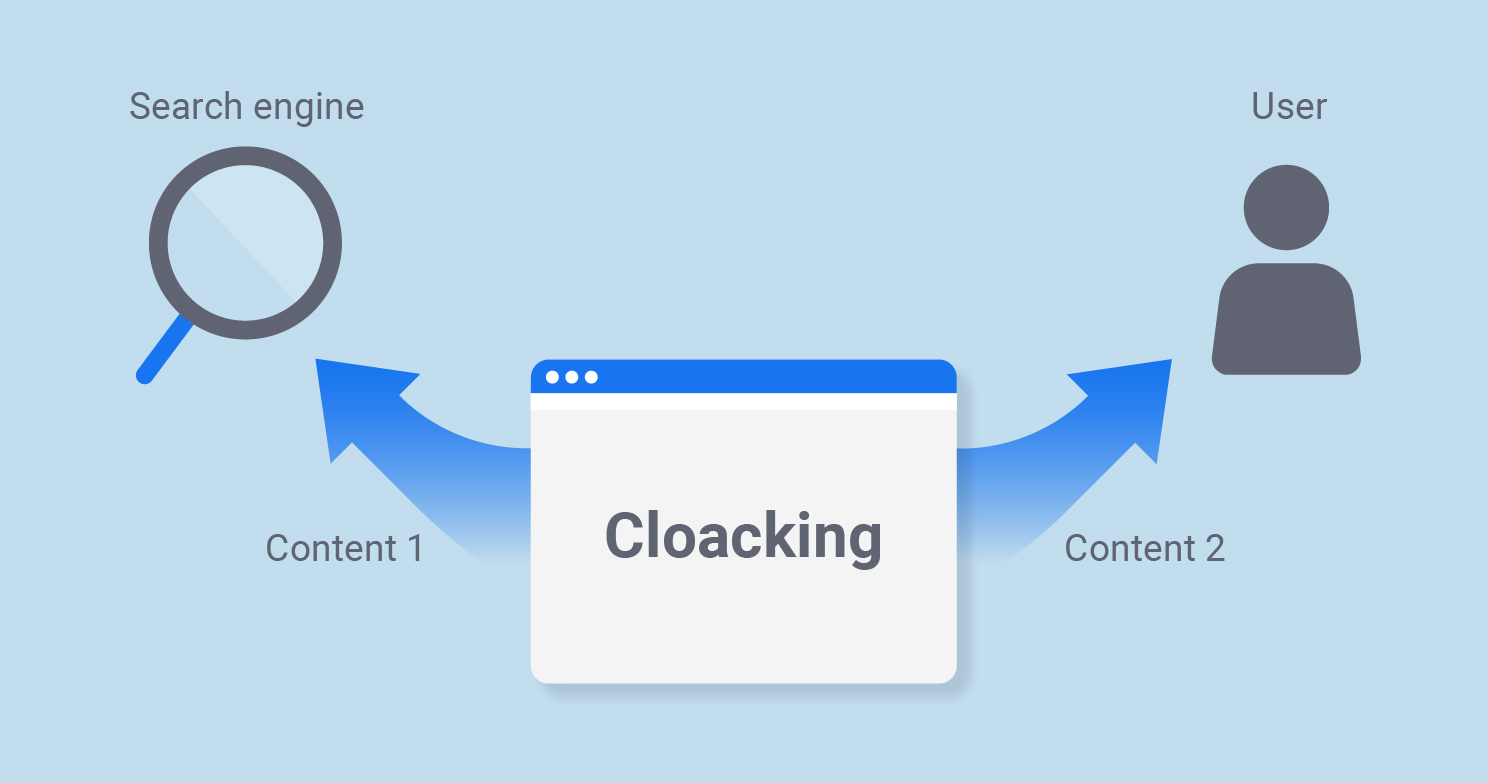 This is a way of displaying different material to specific users (including Google) that intends to or results in interference with its review processes. In particular, the act of trying to conceal noncompliance action with Circumventing Systems Google Ads:
Redirect to non-compliant content.
Insert DNS to link to another page or content.
Limit access to your landing page and manipulate the content page.
Violating ad, being denied multiple time
Having ads being constantly denied because of violation. If the ad has an error, you must fix it immediately to avoid it because leaving it for a long time can easily lead to suspension.
Creating violate ad
Using Google Ads product features to show violated content to gain more users or traffic.
Creating versions of prohibited advertising, websites, or content to avoid detection and enforcement processes (for this or any Google Ads policy), such as having multiple accounts leading to one final URL and using hacked domains or tools.
Using text manipulation by text that comes from different languages or Unicode blocks such as:
Intentionally misspelling forbidden words or phrases.
Changing trademark to avoid restrictions of copyright and patent. Generally speaking, using your competitors' trademarks at any stage or trademarking in the ad title or ad copy throughout your marketing campaign is not a good idea.
Violating policy multiple times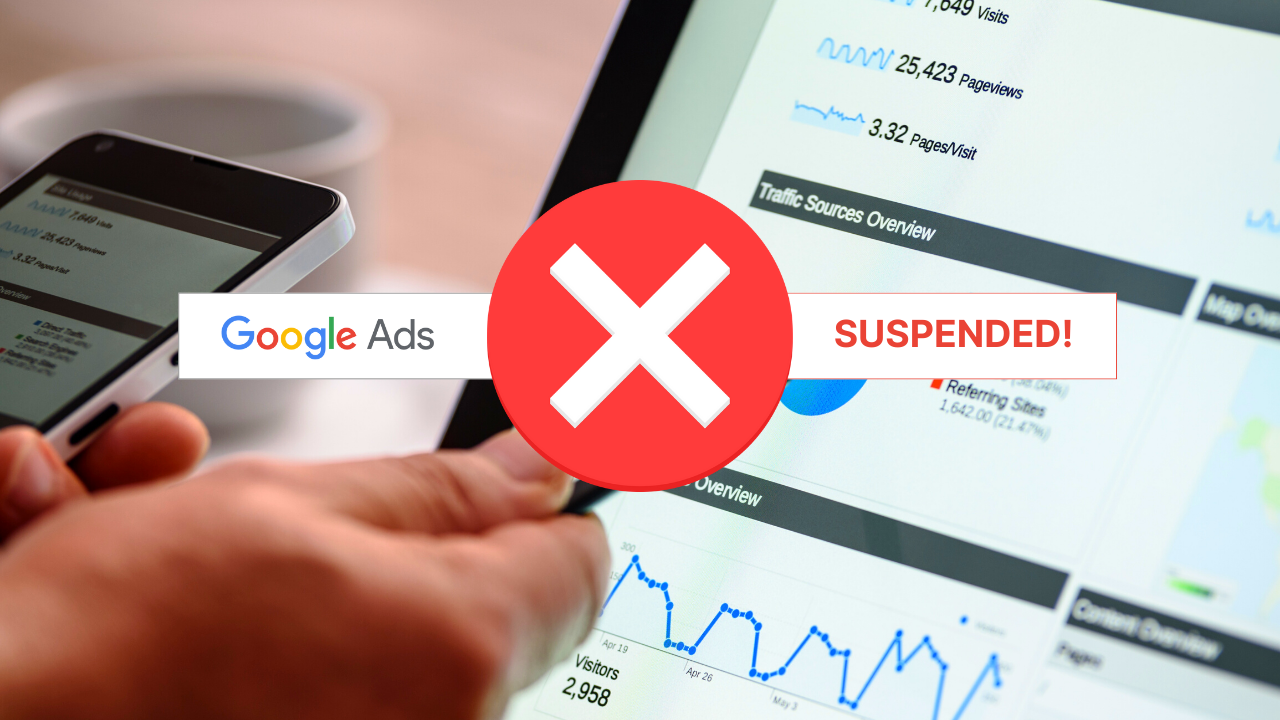 One of the common mistakes is having ads constantly denied because of violations. If the ad has an error, you must fix it immediately to avoid it because leaving it for a long time can easily lead to suspension. Some other violations that lead to suspension:
Repeating policy violations across any of your accounts. This includes creating new domains or accounts to post ads similar to ads that have been disapproved (for this or any other Google Ads policy).
Attempting to create a new Google Ads account to re-enter the system after the suspension.
Including suspicious billing details such as an address, credit information, or overdue amounts.
Double serving or using an unqualified account.
Paid-for call directory service
Frequently adding or removing keywords related to unaffiliated companies or governmental services is a paid call directory service practice. This strategy directly violates the Sale of the Free Items rule.
When Google authorizes a non-premium phone number ad, the service modifies the landing page to replace the contact number with a premium number.
Overall, Google Ads regulations are divided into four basic categories: Forbidden material, prohibited behaviors, limited content, and editorial and technical standards. With a policy violation, you will be notified and requested to correct the problem beforehand.
Meanwhile, malicious violations will put Google users in danger of an instant suspension. Failure to pay Google for advertising expenditures is at the top of that list. Next, we will give you advice in each step on how to resolve this problem.
What to do in this situation?
What you shouldn't do
A suspended account will surely make you panic, especially when it also suspends all your linked accounts. Moreover, you would undoubtedly be under much pressure if you were in charge of paid user acquisition.
Circumventing is one of the hardest violations to regain your account, so you need to calculate beforehand every step you take. Some of the mistakes that marketers usually make in this stage are:
Rushing for appeal without knowing what went wrong with your account or trying to correct the problem as soon as possible.
Google has already tracked your account's behavior, so do not assume you haven't done anything wrong. Do not intend to create a different Google Ads account with the same entity as the previously suspended one.
Avoid arguing with Google because the outcome will harm both of you. In all your communications with them, act professionally. Keep in mind that they control it because it is their platform.
Please only submit one appeal. The logical extension of this is to make your one appeal after careful thinking.
What you should do
For easy mistakes related to your ad, discover the problem to find out the error. A disapproved ad could also be because of using a forbidden word or trademarked phrase, which Google will send you an email with a notice. Take the information in the email, promptly update the ad, and use the warning email to prevent making similar mistakes in the future. Once you've corrected the violation, submit a report detailing your adjustments and file an appeal to overturn the suspension.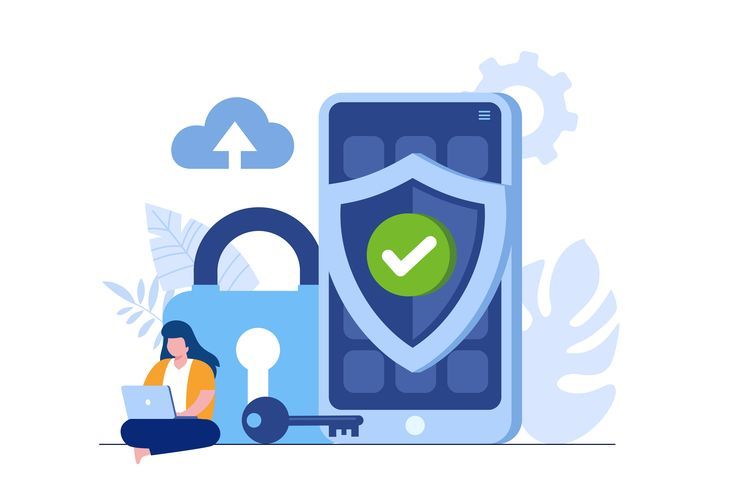 But for other problems, there are a few steps you should take to solve the issue:
Review your account or your violation carefully
You can review your account based on the violations we have mentioned. It's essential to check your email first since Google will notify you about your account activity. They might include a link to the broken policy if the email doesn't describe what went wrong.
Take action on what needs to be changed
Scanning and checking your website, find out whether you have been hacked. After that, you've already made progress toward resolving the most pressing problem.
The information on your website and your Google Ads account should then be compared. The shipping costs, about us page, terms and conditions, and other sites with identifying or price-related information are right. Has the website lately been upgraded, but not the Ads account? Although it's a genuine mistake, this could be the reason for the suspension. These differences are viewed as misleading by Google.
Rectify all policy violations
Troubleshoot your account and find out the problem. Here is the basic checklist for your account:
Clean up any malware on your computer.
Adjust the content and review your advertisement.
Checking your payment issues.
Don't let multiple accounts link to the same site. Make sure all have different URLs.
Create a new ad account
Make sure you clear everything from your cache and make sure to use an old-active account rather than a new Gmail ID. Don't use old information in your new ad because the prior information might match when scanning, and you will get in trouble.
Ask for expert support to regain your account
Additionally, If you feel there was an error and have yet to violate the policy, file an appeal and explain why. But this procedure can be lengthy and exhausting since Google takes considerable time to check your account. And there is no 100% guarantee that you can regain and receive your money back.
Therefore, for every business or marketer, we advise them to own an agency account for its effectiveness and sustainability.
Mega Digital is one of the agencies with experience and expertise in dealing with account suspensions. But instead of dealing with these troublesome problems, you can experience outstanding benefits with our Google Advertising service. With a team of experts, we can easily allocate the budget to ensure it complies with Google's advertising policies.
A step-by-step guide to sending an appeal to the Google support team
Following that, we will walk you through every step of the Google appeal process, including advice for increasing your chances of regaining access to your Google Ads account.
Step 1: Go into your Campaign
With your suspended account, go into your Campaign or check your email to submit an appeal.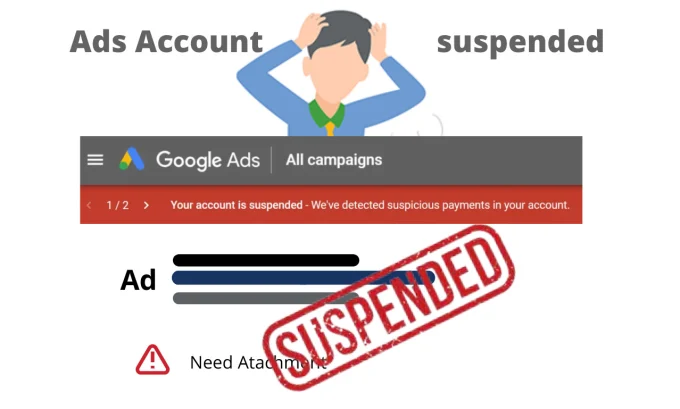 Step 2: Check your violation reasons
Google will guide you to your violation reasons and show you your next step. Make sure to double-check your account again based on our recommendation. Click "Appeal your suspension".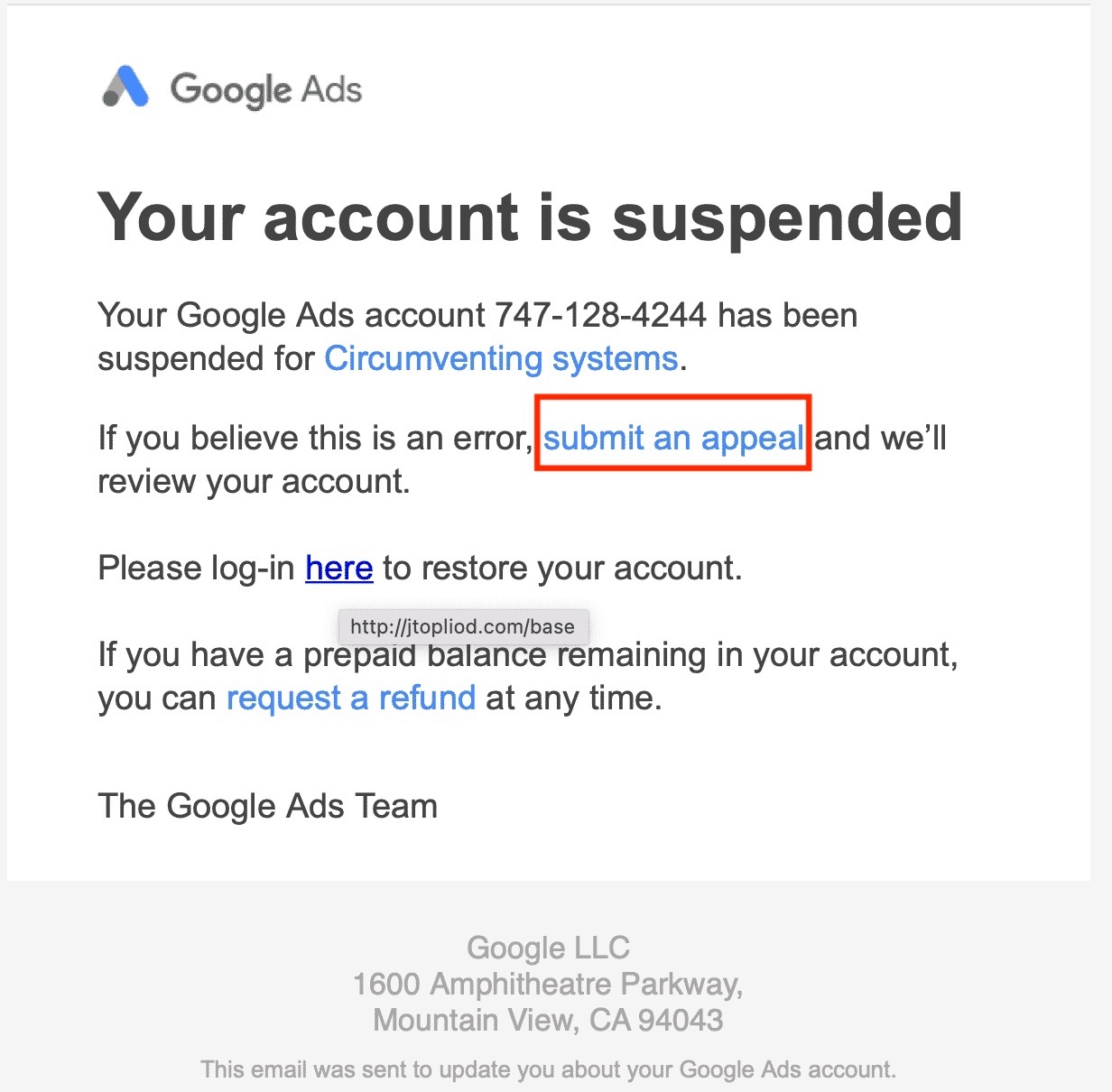 Step 3: Fill in the details
Fill in the required field, including:
Contact name
Contact email
Email CC
Select a Google Ads Customer ID (choose the ID of the suspended account)
Website
Sample keywords from one of your campaigns
Billing details
Street address
Zip/Postal code
Billing City
Then answer questions related to your account most straightforwardly:
There could be more than one reason, so make sure your reasons are clear and logical with each other.
Consider this is your last chance to take back your Google account. Any mistake you write or provide wrong information could reduce the ability to regain your account.
The most important part would place in summary your problem and here are some tips you can follow:
Not only summarize the issue, but you also need to explain and analyze each step you took to fix the problem.
Take advantage of the attached file since you can send Google proof of the malware you removed on your website and send a clear file to Google.
Here is a sample of the Google Ads suspension appeal form for you:
"Hi Google Ads team,
My account got suspended for circumventing's violation. I have paid all my bills, and after going through everything, my account hasn't violated any Google policy. I hope you can check and fix the problem.
Attached is the proof that I own the account registered in 1xx-xxx-xxx Google Ads number with my billing proof.
Thank you, and I'm looking forward to your support."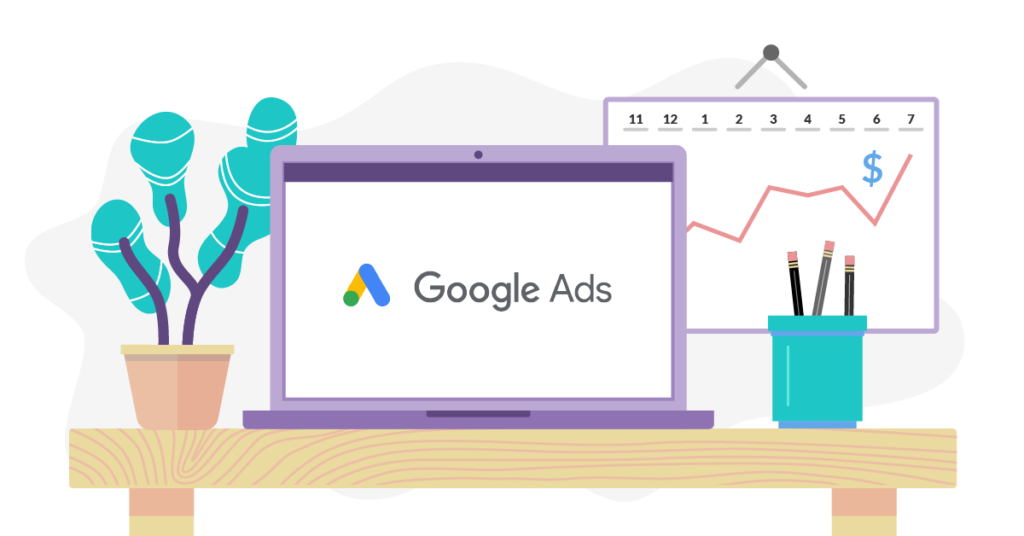 Step 4: Submit your appeal
Submit and wait for Google's reply on Google Ads account suspended Circumventing Systems.
Step 5: Check your email
After receiving the notification email, there will be 2 cases as follows:
Notice of Account Suspension Continued: This will be Google's final judgment. Please remove this account.
Account Recovery Notice: Congratulations. You can continue to do advertising campaigns. You will probably think resistance is also simple but a little more complicated through this. The rate of resistance to your account is only about 30%.
Suspended for Circumventing Systems FAQs
How long does it take for Google to reactivate my account?
Google will evaluate your appeal within five working days. However, it may take longer at times. When your appeal is successful, Google will send a confirmation email and re-activate your account in 24 hours.
What should I do if I get rejected?
Regardless of our recommendation, Google can still reject your appeal due to its policy and terms. If you are certain about your ad account, there is one more final option. You can contact the Google Ads team to ask about your problem openly.
You can call Google Ads Support at 866-246-6453.
Support is offered Monday through Friday from 9:00 a.m. to 8:00 p.m. EST.
Or you can email the support team via [email protected]
How to delete my Google Ads account?
After putting in a lot of effort, but still couldn't regain your account. Then it's best to delete your account and re-create a new one so you can continue with your marketing strategies. Deleting your Google account means deleting all of your Google product accounts linked to it, including your ad account.
This is the final option, as you need to create a new account with different information to avoid any suspension from Google. Steps to delete your Google account: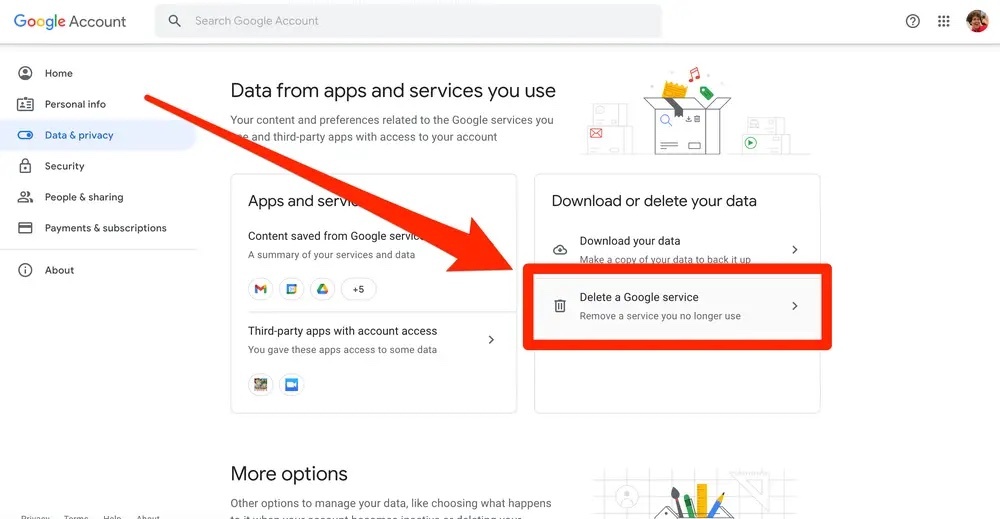 Sign in to your Google account, as usual.
Click the control panel to "manage your Google account". On the left side, choose the "Data and Privacy" section.
In the section "More Options".
Click on "Delete Your Google Account". Confirm all the conditions and accept the deletion of the account.
Future prevention for suspended Circumventing Systems
Being trustworthy and transparent are things you should follow to maintain your account and avoid losing your efforts and money.
Regularly checking your account to ensure all your actions comply with its policy and don't miss any notice from Google.
Be careful before adding any new product to your campaign; double-check whether it is suitable with Google's policy.
If you receive a message from Google about a policy infringement, take quick action to resolve the issue and follow any instructions provided by Google.
Considering creating an agency account. With Mega Digital's Google Ads account rental services, we guide how to avoid similar suspensions in the future. Having an agency handle your Google Ads account can also free up time and resources, allowing you to focus on other aspects of your business while we handle your advertising effort. Contact us to learn more about our agency account rental service.
Final words
Google Ads is an intelligent system that will always detect whether an account engages in unethical behavior. We hope this article has helped you determine why your Google Ads account was suspended for Circumventing Systems and how to prevent this problem from happening again.
If your Google Ads account has been suspended due to circumventing systems, you may face challenges in running your advertising campaigns effectively. However, with Mega Digital's agency account rental service, you can access a compliant and reliable account to continue advertising and achieve your marketing goals without issues.