For a successful campaign, it's important to team up with a skilled Google Ads agency. Benefit from their skills in choosing keywords, improving ads, and analyzing data. With their help, you can make the most of Google Ads and do well in your business. Let's check out the top 10 Google Ads agencies in Bangalore to pick the most suitable one for you!
Top 10 Google Ads agencies in Bangalore
Right now, there are many Google Ads agencies in Bangalore. They can help you make ads, pick the right people to show them to, make ads better, and give you reports.
1. Mega Digital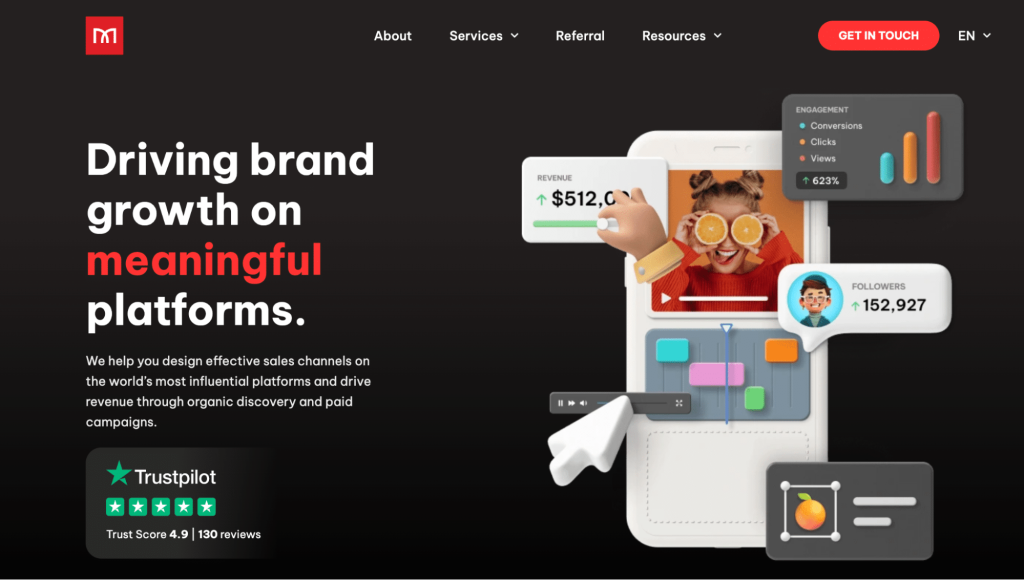 Mega Digital is known as the top Google Partner and TikTok agency in Asia-Pacific. They're professionals at digital marketing on Google, TikTok, and Facebook. While Mega Digital isn't based in India, their 24/7 support ensures you receive timely assistance. They're committed to your success and, when needed, their experts are willing to travel to provide direct client support. Your satisfaction is their top priority.
One of Mega Digital's customers, New Top Deal, when they started working with the agency, they made an extra $50,000 each month. They also spent only half as much on ads. The team cared a lot about the client's money, did a great job on the project, and used their know-how. Overall, they did amazing work.
Pros: Lowest tax fee on the market, have exclusive data from Google, and provide budget-friendly prices with personalized plans.
Services:
Google Shopping Advertising
Google Ads Agency Account for rent
Google Advertising
SEO
2. Digital Corsel

Digital Corsel is a creative and forward-looking online marketing company based in Bangalore, India. They're experts at providing great online marketing answers to clients all over the country. Because they have lots of experience and endless creativity, Digital Corsel is a well-known online marketing Google Adwords agency in Bangalore.
Pros: Skilled team for all-around projects, clear and flexible pricing.
Cons: Might not work well for big companies with special marketing requirements.
Services:
3. Growth Hackers Digital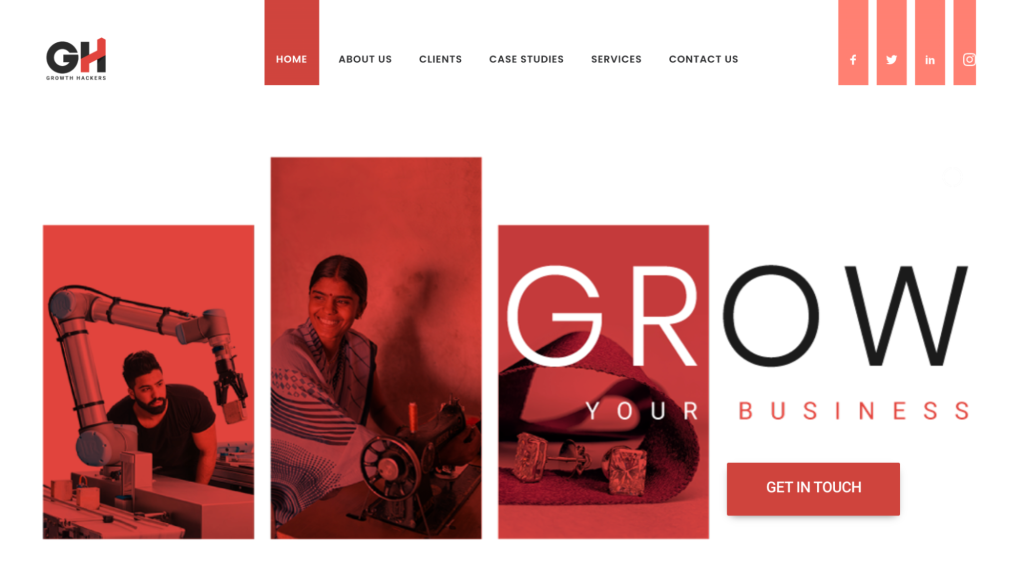 Growth Hackers Digital is a top advertising company in Bangalore. They're great at solving growth problems for startups and big companies. They make things grow naturally, get new customers, make content, and make ads better. They've helped lots of companies do well.
Pros: Expertise in getting new customers, planning and buying ads, and making content.
Cons: Limited experience with some specific types of businesses.
Services:
4. 7Edge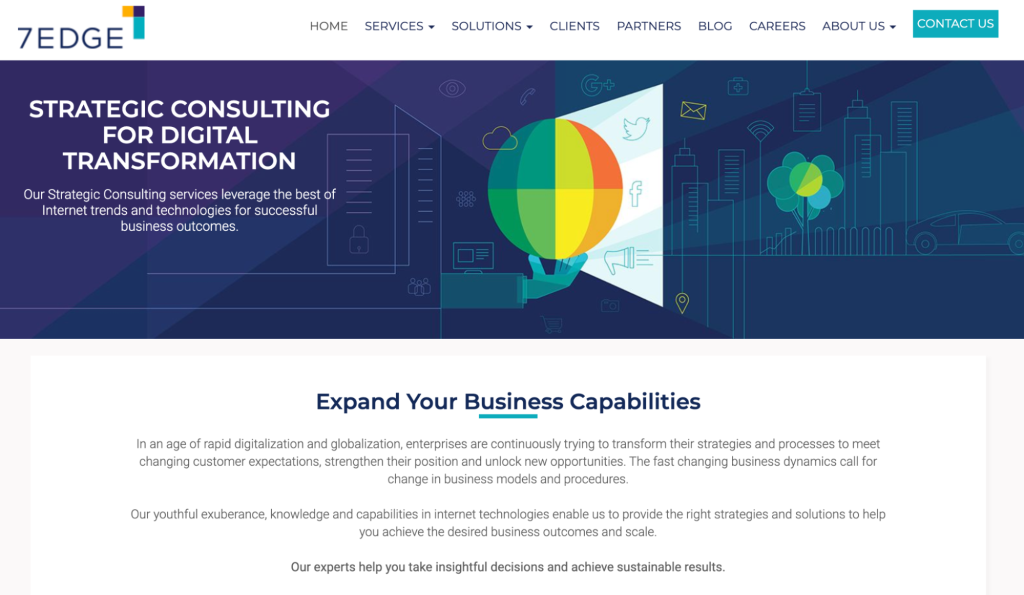 7Edge is a modern agency that understands how important it is for businesses to be online nowadays. They're dedicated to giving businesses the latest digital plans that match today's trends and technologies.
Pros: Specialized in Google Shopping Ads
Cons: Prices might be high.
Services:
5. Mathew Digital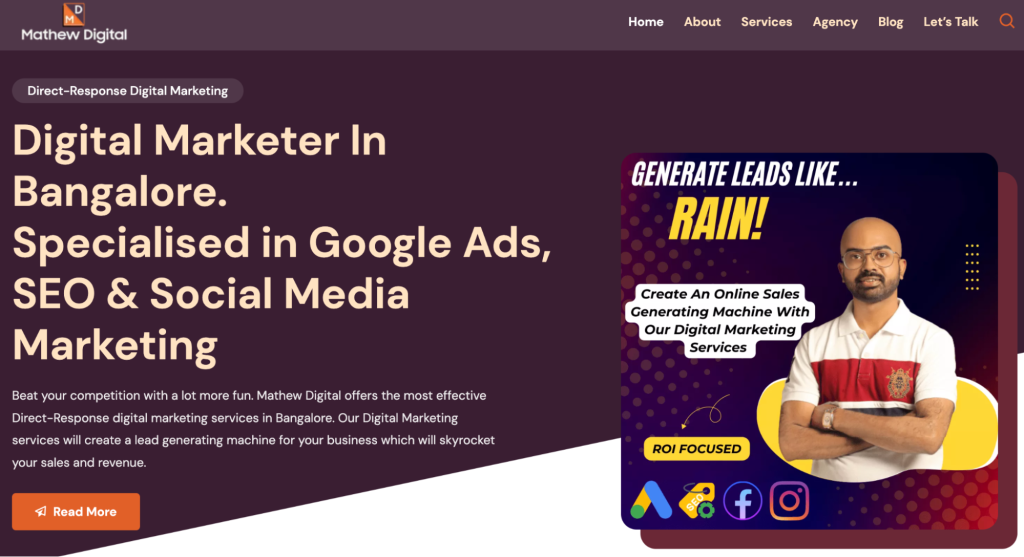 Mathew Digital, a prominent digital marketing consultant based in Bangalore, stands out with their impressive ten years of hands-on experience. This extensive experience shines through in their approach, which is all about achieving tangible results for their clients.
With a deep understanding of the digital landscape and a track record of success, Mathew Digital is a trusted choice for businesses looking to thrive in the online world.
Pros: Expertise in social media content marketing.
Cons: Not much practice in specific specialized markets.
Services:
Google Ads
Search Engine Optimization
6. GBIM Technologies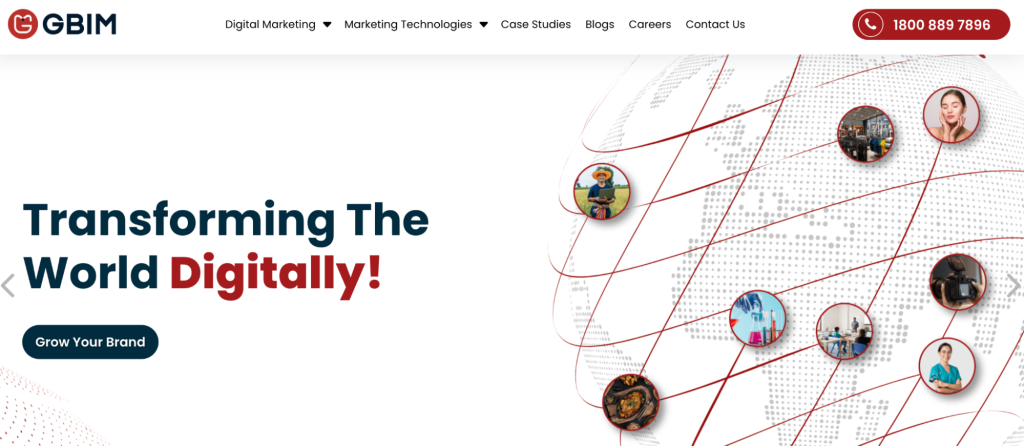 GBIM Technologies is a comprehensive digital marketing agency situated in Mumbai, India, and also with an office in Bangalore. They excel in delivering a diverse array of digital marketing solutions, which cover search engine optimization (SEO), pay-per-click (PPC) advertising, social media marketing, content marketing, and other services. Their team comprises certified experts who work closely with every client to design individualized strategies that match their business goals effectively.
Pros: Helping all kinds of businesses with digital solutions.
Cons: Might not be suitable for bigger companies with unique marketing needs.
Services:
Google Adwords
PPC Advertising
7. King's Marketing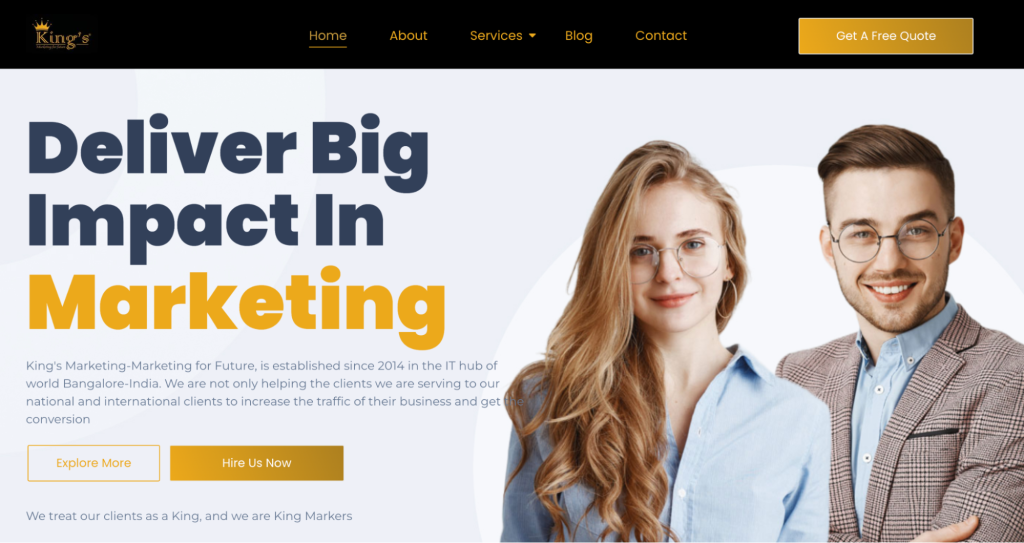 Based in Bangalore, India, Kings Marketing is a digital marketing company that focuses on offering comprehensive digital services. Their expertise spans website creation, search engine optimization (SEO), pay-per-click (PPC) ads, social media marketing, and content marketing. Renowned for their data-centered strategy, they're dedicated to achieving concrete outcomes for their clients.
Pros: Skilled at branding, social media marketing, and creating eye-catching product listings.
Cons: Costs might be high for smaller e-commerce enterprises.
Services:
Social Media Marketing
SEO
Content Marketing
8. Tempest Advertising

Tempest Advertising is a Bangalore-based Google Ads agency in India. They provide an array of services, including creative design, media planning, brand strategy, digital marketing, and more. With a big emphasis on creativity and fresh ideas, Tempest Advertising stands out in achieving visible outcomes for their clients. The agency's remarkable work has been recognized with several awards and they've partnered with leading brands in the country.
Pros: Provides a wide range of marketing help to both new and existing companies.
Cons: No case study information.
Services:
Digital Marketing
Designing
9. WebShark Web Services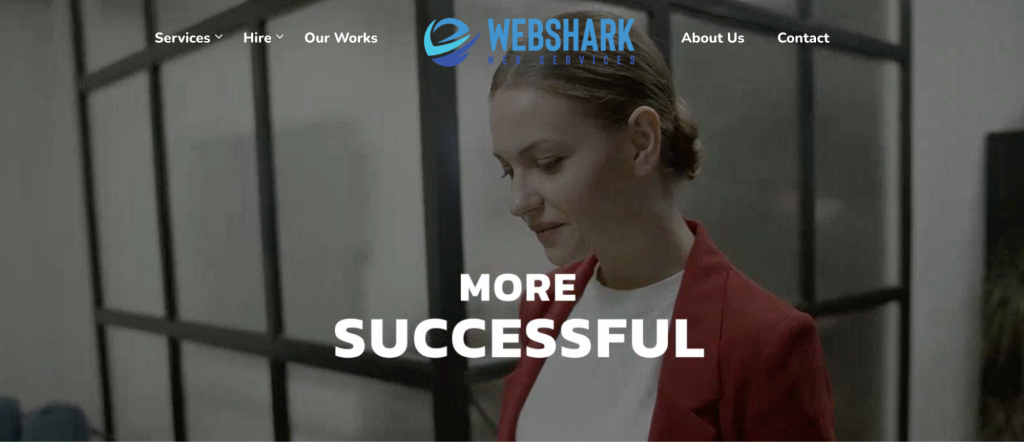 WebShark is a Google Adwords company in Bangalore that makes websites and does digital marketing. They started in 2008 and have always cared about doing things well. They want to be a really honest company that always does things really well.
Pros: Delivering custom and focused marketing answers to businesses of any scale.
Cons: Small e-commerce businesses might face higher pricing.
Services:
10. BUD INDIA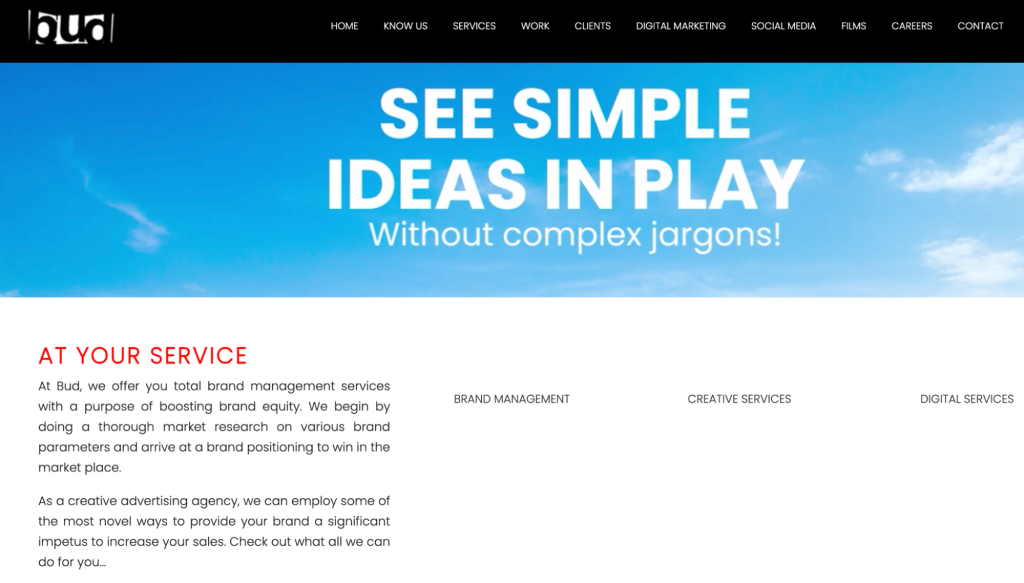 Bud is an imaginative studio that provides all-in-one communication answers for ads, digital, and printing. Since 2010, they've partnered with famous national and international brands, creating special communication tactics. As a top digital marketing firm in Bangalore, they focus on brand identity, generating leads, and giving customized outcomes via creative digital solutions.
Pros:
Specialized in creating captivating Video Ads and managing brands effectively.
Impressive visibility on YouTube and expertise in social media marketing.
Cons: Limited in specific specialized markets.
Services:
PPC Advertising
SEO Services
Picking the right Google Ads agency is really important for businesses in Bangalore to do well online. They have good prices, high Google ratings, and are skilled at making ads that work.
>>> Read more: Best 11 Google Ads Agencies in India (2023 Updated List)
Tips to select the right PPC company in Bangalore
All Google Ads agencies in Bangalore have things they're good at and things they're not so good at. So, when you're thinking about a certain company, you need to think about some stuff to see if they're a good fit for your business. Here are some important things to think about.
Cost
When you're picking a Bangalore ad company, you've got to think about how much it costs. Even if the company looks professional, it's not the right one if their services are too expensive for you. Find a company that you can pay for and still trust their skills.
>>> Read more: How Much Does Google Ads Cost in India
Trustworthiness
Before you team up with a Google Ads company in Bangalore, you should get some basic info about them. Find out where they're based and if they're allowed to work. Search for their name on Google and see if you find any info about them. Also, see if there are any bad reviews.
After that, compare what's on their website with what's on their social media. This helps make sure their details are the same. A good ads company usually shows up in different places to make customers trust them.
Experience and Skills
To know how good a company is, look at their past, what they do the most, who they've worked with, and what they've achieved.
History: A company that's been doing well for a long time and has done big things is probably strong and dependable. But even new companies can be trusted if they know what's going on and have a clear plan.
Focus: Each company is best at one thing. That's where they know the most and can do the best. To find out what a company is best at, check their blog and social media to see what they talk about.
Clients: Looking at who they've worked with before can also help you know. If they've worked with many different people in different industries, it means they have a lot of experience. If most of their clients are from one industry, it means they're excellent at that.
Final words
Every company has things they are experts in, like using data for plans, making interesting videos, and knowing a lot about app marketing. They also have special services like showing Google Shopping Ads, showing ads to people again, and making sure you show up in local searches. They've worked with lots of different industries, so they know about all kinds of businesses.
Choosing the right Google Ads agencies in Bangalore that match your business goals can help you do really well with Google Advertising, even when things are always changing.