Planning is essential for the success of most businesses and organizations. A structured website planning will give a clear direction for your operation and ensure that the new website delivers effectively and delights users. Whether you are a web designer working with clients or a business owner, this ultimate guide will help you plan properly and lay the groundwork for the coming ones.
What is website planning?
Website planning is the first phase of the overall website development process. It's a strategic activity aiming to define and document the purpose of your website, its visual appearance as well as other considerations regarding web building process.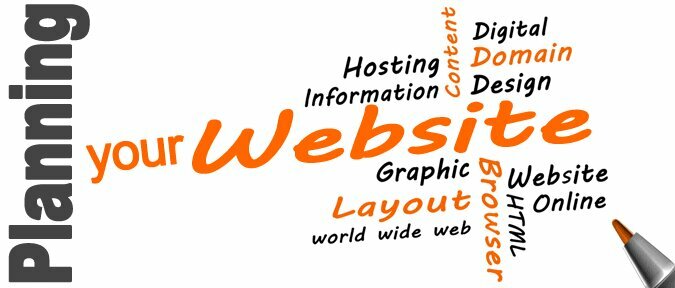 Now that you've got the basic definition of website planning, you might wonder why the website planning process always comes first. Reasons for this practice lie in the benefits of planning before we move to the building steps.
Save time and money
Normally, if you hire a third-party team to have your desired website built, you would need to get a quote for it. With extremely detailed website planning and structure, you can be relieved that there will be little chance of additional fees. Plus, the team can maintain a smooth workflow without having to consult with you for any further information. On the contrary, if you provide a loose guide, you could likely be paying handsomely for the additions when the quote doesn't cover all of your requirements. And there's a chance that the website building process could end up being a mess and prolonged process, which is not the desired result for both parties.
If you are using an in-house team to build a website without planning, you might lose opportunity and resources every extra day the project runs over if problems arise.
Alleviate many design issues
Design, or visual representation, is an essential stage in web projects. This process is executed with knowledge of the end product, including the content, goals, and functions of each element being designed.
Without planning in advance, the design team is likely to be confused about the overall purpose of the website, the role assigned for each page, and objects within those pages.
Provide better results
Like business planning, you need a thorough roadmap to achieve the goals of your website. There is nothing more disappointing than to hear from a client saying "it's not what I expected", "it doesn't work" or "it doesn't do what I wanted it to do". The lack of a clear and detailed expectation map to your developers can cost you project failure or fall behind your competitors in the long run.
On the other hand, detailed website planning can be a savior to help you achieve business goals with better results. For example, if you need quality leads, your website should be able to effectively attract prospective buyers. With a comprehensive website planning and design guide, your website will appeal to customers, increasing the time-on-site, and conversion rate afterwards. 
10 important steps involved in the website planning process
Set your purpose and goals
Once you have decided to create your website, you should already know the purpose of it. Whether your purpose is to set an online presence of your business or just to have a place to share your creativity with the world, setting goals is essential to get you where you want your website to be. On top of that, your goals should be measurable, specific and importantly in line with your marketing plan. 
Below are some examples of goals and purposes that could give you an idea of what they should be: 
Increasing profit
Generating leads
Informing readers 
Once you have decided on your main goals, it's advisable to break them into smaller pieces to make it easier to execute in a given time-frame. 
Another way to set your goals and purposes is to opt for the SMART approach. SMART stands for Specific, Measurable, Achievable, Relevant, and Time-bound. These milestones lie under your big picture goals, and help you easily track the performance.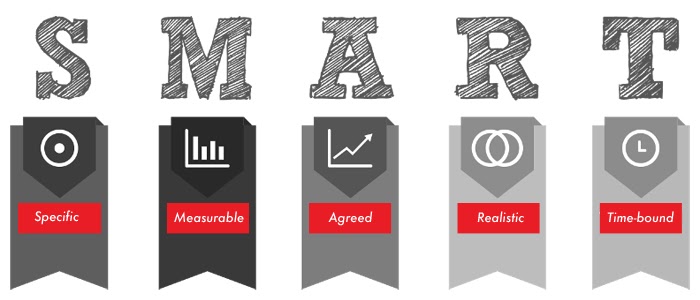 Create a budget
Setting a realistic budget is an important part of website planning. When preparing your budget, you should consider not only the costs associated with the process of website creation and launching but also the maintenance costs for at least the first couple of years running the website.
The costs you may need to estimate and plan in your website planning checklist should include:
Domain and hosting
Graphic design
Website design and development
Marketing research
Content writing
Marketing and advertising 
Updates and maintenance
It is a good practice to consult with professionals to ensure you are on the right track. A reputable and insightful consultant team with thorough working experience and proven track of record is of great importance to your business success in the long run.
Assign roles
It's important to assign responsibilities that fit with your team members' capabilities or expertise. This practice will ensure a stable workflow as anyone is aware of their position and what they are expected to deliver. Thanks to proper allocation, your human asset can work efficiently, stay up-to-date with deadlines or new developments. 
Here are some basic roles involving in a website project:
Company stakeholders (including the owner, CEO, or anyone representing a primary function of your business)
Marketing manager
Web developer
Content writer and/or editor
HTML/CSS professional
Web and graphic designer
Create a content strategy
Every website needs content to nicely present itself to visitors and tell them what the business has to offer. Content is not just about blog posts, but anything that contains information, such as videos, images, documents, guides, and how to's, sales copy, infographics, podcasts, slideshows, etc.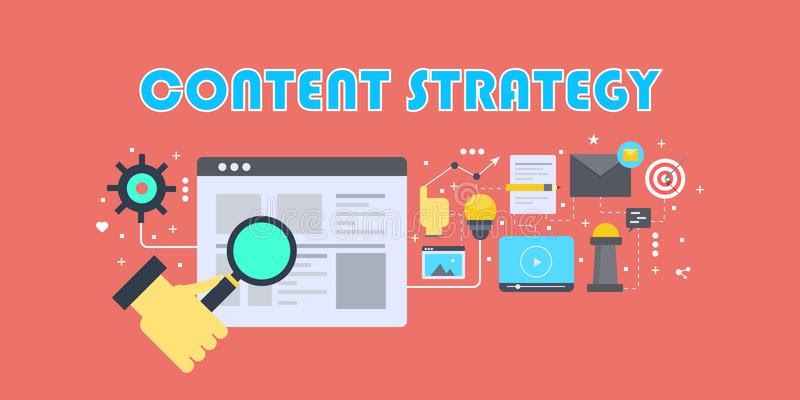 A content strategy is a way that content is displayed on the website over time for a specific purpose. For example, when developing a website project, you might want to post blogs and infographics about your end-product in a proper timely manner to generate leads. At this point, planning is important as it directly affects your marketing efforts. This is because the detailed, engaging and categorized content will pay off in traffic and rankings for your website. 
Since content is a vital aspect of a website, you should either stay consistent with a wireframe for your self-created content or hire experienced writers. It is a good idea to incorporate some professional looking pictures if your budget allows it.
Finally, you also need to choose a content management system to help you create, manage, and update the content in a most convenient way that can be done by any of your marketing team members with or without knowledge in writing HTML code. Among conventional options such as WordPress, Wix, Joomla,… Magento 2 stands out as the optimal tool for modern businesses. Compared to other CMS, Magento 2 integates intuitive features to fuel your business growth:
Compatible with more popular platforms that include PHP versions ( 5.4 or above), HTML 5, CSS3, my SQL (5.6 or higher), etc.
Improve the customization process
Incorporate a new testing framework
Improvements in performance and scalability
Easier front-end development
Reduce upgrading costs and efforts
Structure your website
Now when you are equipped with all information about your website's goals, content and target users/customers, structuring a new website layout will be much easier.
A successful website calls for a proper organization, an easy and intuitive transition from one page to another, and a user-friendly interface. To achieve these standards, you should consider the followings:
The number of pages, categories, and subcategories
The most important pages and/or categories to be presented at the main menu
The features on each page to meet the needs of your business
If you stumble difficulties in putting pages into appropriate categories, you can also conduct a sorting session beforehand. In detail, you should write down the names of all the needed pages. Then, from the user perspective, you can start arranging them into groups that you find logical to your customers. The classification you've just completed turns out to be the suitable categories and subcategories of your website.
Create a mock-up
A page mock-up, also known as a wireframe, is a must-have section in website planning. It is the first draft of your website usually created in Photoshop. However, there's no need to put too much detail into this stage. All you need to do is to give your team members an idea or just scratch on the surface of what the website should look like. Then, you can consult their opinions to better modify any features. 
It is no big deal if you don't have any design program or application available.. You can map out a mock-up page with pen and paper to grasp a general feel of what the website should look like. Next, you can send and explain the draft to your designer to help them better visualize your idea in a professional outlook.
Start designing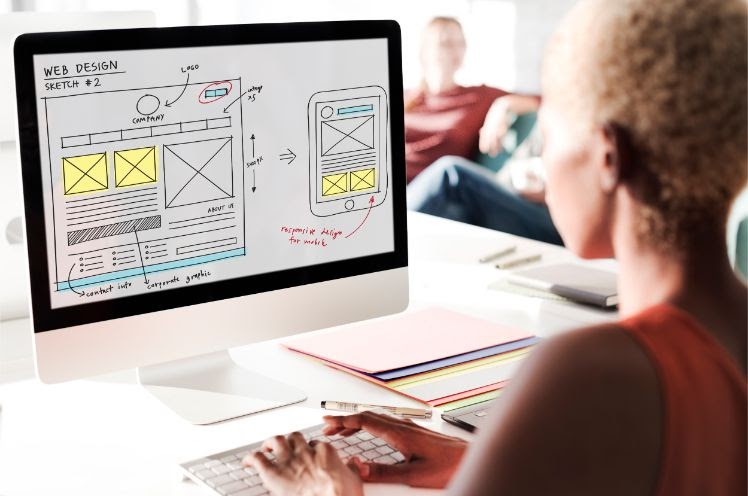 Once the mock-up is completed, it's time to start designing. There are 2 approaches you can consider when designing your website:
Using a website builder app/ platform: Suitable for projects with limited budget or people with little coding knowledge.
Hiring a professional web designer (team): Best when planning a more complicated website.
The importance of good web design cannot be underestimated. An ill-designed website will drive away visitors, thus dumping all your marketing efforts. To avoid such a situation, you'd better keep in mind some basic rules as follows: 
Create user-friendly navigation: Research shows that vertical and centered navigation at the top of the page is the optimal choice to engage users.
Make sure the website fits the screen: You can use responsive design to fit your website to all screen sizes.
Keep your website light by compressing images for a quick loading process.
The business logo and tagline should be prominent on the page.
Keep the text in an easy-to-read font: Styles and colors should also be consistent across the whole website.
Ensure clear and concise copy, and put important information and features above the fold.
Make notes about any changes to be done with the style or features.
Test it out
Testing is an important step in website planning. This practice can help identify any potential bugs or catch details that might have been missed initially. Here is the checklist for testing:
Make sure the website shows up the exact desired way in all browsers, including computer-based ones such as Chrome, Internet Explorer, Firefox, and mobile-based ones like Safari.
Test the website on personal digital devices such as cell phones, tablets to check whether your website maintains its consistent appearance regardless of the screen.
Make sure all of the links work perfectly and the images are properly sized. See whether all the input fields are working or not.
Maintain your site
Once your website is officially launched, the work isn't over. A website is an ongoing entity representing your whole business, so maintenance is a continuous task. You always have to monitor your analytics software to see your website's performance. Some major metrics you should take into consideration could be the number of unique visitors, organic traffic, bounce rate, and the most popular pages of your website. This way, you can come up with a more strategic approach to compete against your competitors.
Other than that, you might also need to keep an eye on the site security and get feedback from your users/visitors for improvement in the future.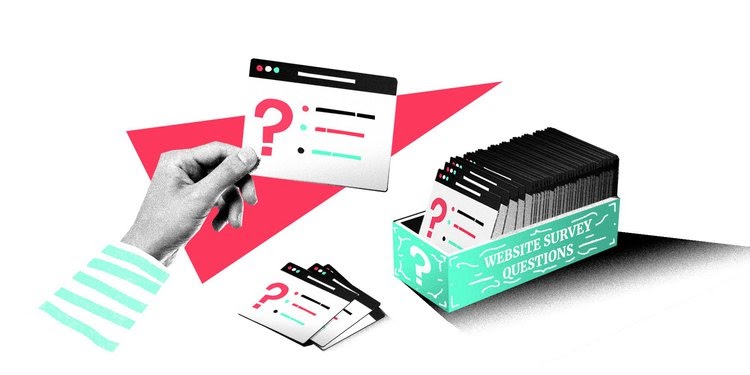 Decide on an SEO strategy
Without an effective marketing strategy, there is a high likelihood that very few people will reach your website. To improve your website traffic, SEO is the first step you need to take. Technically, SEO strategy is the process of organizing a website's content by topic, which helps search engines understand a user's intent when they search for certain keywords.
A successful SEO strategy can directly impact your online performance and success. To decide on the strategy, there are some tasks to be done along with your website planning: 
Create a list of potential keywords for content creation
Set up a blog 
Generate high-quality content
Analyze Google's first SERPs
Optimize on-page SEO
Build links to your website
Improve and update content
Measure and keep track of your content's success
With a detailed SEO plan containing the above aspects, you can build and execute an efficient SEO strategy that would help you easily recognize your success as well as identify areas of opportunity or shortcomings for further plans.
Final thoughts
Spending your time on website planning in advance is a great investment to success in running your business. Now that you are equipped with all the necessary knowledge about website planning, it's time to roll up your sleeves and get started.
If you encounter any hiccups when planning your website, let us know by leaving your comments in the comment box below. Our team will make sure to get in touch and help you come up with a suitable solution.